Cryptocurrency has taken the financial world by storm and continues to grow in popularity and value. As a result, crypto communities have grown exponentially, providing private spaces for individuals to come together and discuss their passion for digital currencies.
With so many crypto communities, it can be challenging to determine which ones are worth your time. To help, we've compiled a list of the top 11 crypto communities to join in 2023. These communities offer a wealth of information, resources, and opportunities for individuals looking to learn more about cryptocurrencies.
What is a crypto community?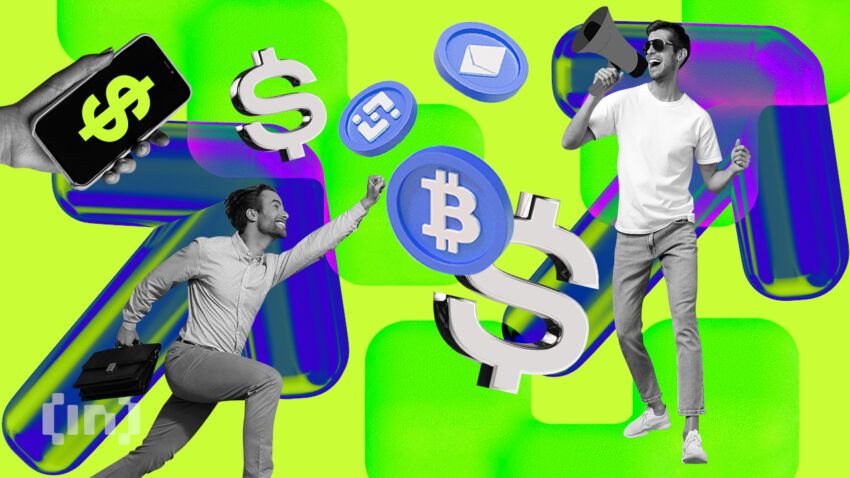 A crypto community is a group of individuals who engage in discussions, information sharing, and collaboration around cryptocurrencies and blockchain technology.
These crypto communities can exist online on forums or social media platforms. Some of them even offer in-person meetups and events. And even larger crypto communities have formed around industry-specific conferences, which unite individuals worldwide. Common topics are trading, industry development, crypto regulation, and adoption.
Telegram crypto communities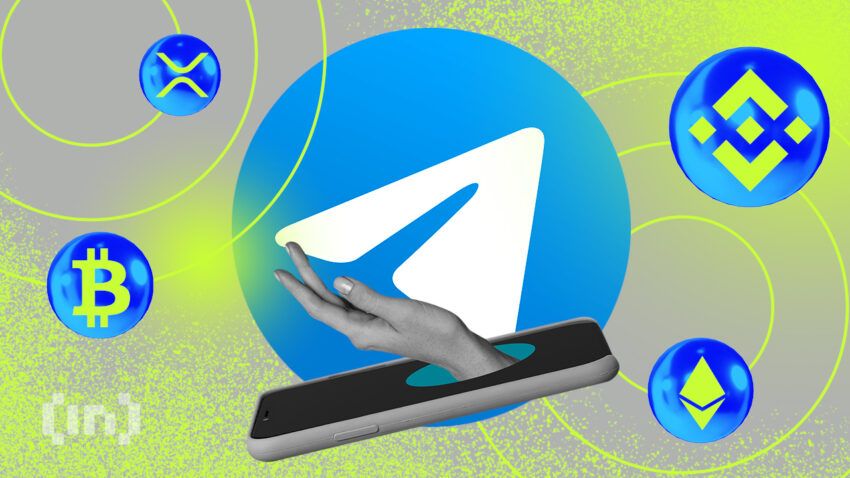 Telegram is a free instant messaging app popular among the cryptocurrency community. The platform has a user-friendly interface and offers end-to-end encryption.
Telegram is home to numerous crypto-focused channels and groups that offer a wealth of information, discussions, and resources to crypto enthusiasts. These groups and channels serve as a hub for crypto investors and traders to connect and share their knowledge and experiences. Telegram also facilitates closed groups, perfect for small teams or friends to discuss and share information about cryptocurrency.
Discord crypto communities
A Discord server is a virtual gathering place where individuals can discuss crypto-related topics. You may view these Discord servers as an instant messaging app. However, each server has its unique culture and set of rules. Administrators can remove any member who violates these rules.
While some Discord servers are public and open to all, most crypto servers are private and keep the information exclusive to their online community. To prevent spam, private servers often have verification processes in place.
Servers are further divided into channels or chatrooms, with each channel focused on a specific area of interest. Many crypto servers, for instance, have channels dedicated to topics such as non-fungible tokens (NFTs), decentralized finance (DeFi), technical analysis, and trade signals.
Crypto Discord servers boast some of the most dedicated cryptocurrency communities. They have even impacted community members' trading strategies, leading to gains for some users. Many blockchain companies have joined or created Discord servers to promote their product or service.
What are the benefits of joining a crypto community?
Joining a crypto community can bring several benefits, including:
Stay informed: Community members often share the latest crypto and blockchain news, insights, and developments. It's an accessible way to stay up-to-date on the industry.
Networking opportunities: A crypto community can be a valuable platform for individuals to connect with like-minded people. This may even lead to new partnerships or collaborations.
Knowledge sharing: Members can share their experiences, insights, and technical knowledge about cryptocurrencies and blockchain-related topics.
Trading support: Many crypto communities offer support and advice on trading strategies, market analysis, and portfolio management. However, this isn't meant to be used as financial support, and you should not invest given advice from an internet group.
Access to resources: Some communities provide access to educational resources, tools, and services that can help individuals improve their understanding of the crypto world.
Collective voice: Crypto communities can also serve as a collective voice for the industry, representing the views and concerns of its members to regulators and other key stakeholders.
Top 11 crypto communities to join in 2023
1. BIC Telegram
As a leading news and media outlet in the crypto and blockchain space, BeInCrypto has a monthly audience of over 10 million traders and crypto enthusiasts.
So, to facilitate discussions and offer professional advice, we established an open Telegram group (BeInCrypto Trading Community). This is an inclusive group for all crypto enthusiasts of all levels, from beginners to experienced traders. Anyone can use this group to ask questions and receive expert answers from the BeInCrypto team.
We also offer a free Premium Channel on Telegram for those seeking deeper insights, educational content, and signals (not financial advice).
The BIC Trading Community already has over 25,0000 members and offers multiple benefits. Here are some of the perks we provide for our community:
Comprehensive technical analysis of coin price movements and predictions. Stay up-to-date with daily analysis and weekly technical analysis videos. As a member, you can ask questions in the chat and receive a quick response from our expert traders.
The #BonusHunter section highlights the best opportunities in the crypto industry, including airdrops, tips for winning trading tournaments, and bonuses from BeInCrypto partners.
Get started with trading by taking our free Trading Basics course, featuring a series of easy-to-follow, five-minute videos.
Stay ahead of your peers with breaking news from the crypto world, including in-depth reviews of the best crypto cards, exchanges, wallets, and new coin listings.
Join our live Technical Analysis streams, where our Global Trader and Senior Analyst go live every Monday (usually at 6 PM CET) to share a market overview and price forecasts. Interact with the experts by asking questions during the stream.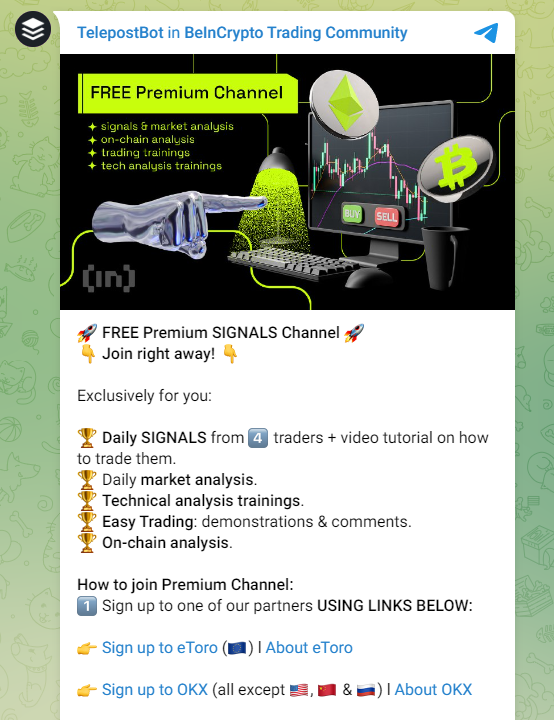 But that's not all. As mentioned above, Our BeInCrypto team also supports a free Premium Channel. Here, you will find a unique and personalized experience compared to other premium channels. Enjoy exclusive educational content provided by BeInCrypto's traders and analysts, such as:
Daily crypto trading signals are given by our team of experienced traders. We have a proud track record that we openly disclose in the open group.
Exclusive daily technical analysis, regular on-chain analysis, and a comprehensive course, "Introduction to Technical Analysis," taught by our senior analyst.
Improve your trading skills with regular demonstrations, complete with comments from our Technical Analyst and Trader.
2. r/Wallstreetbets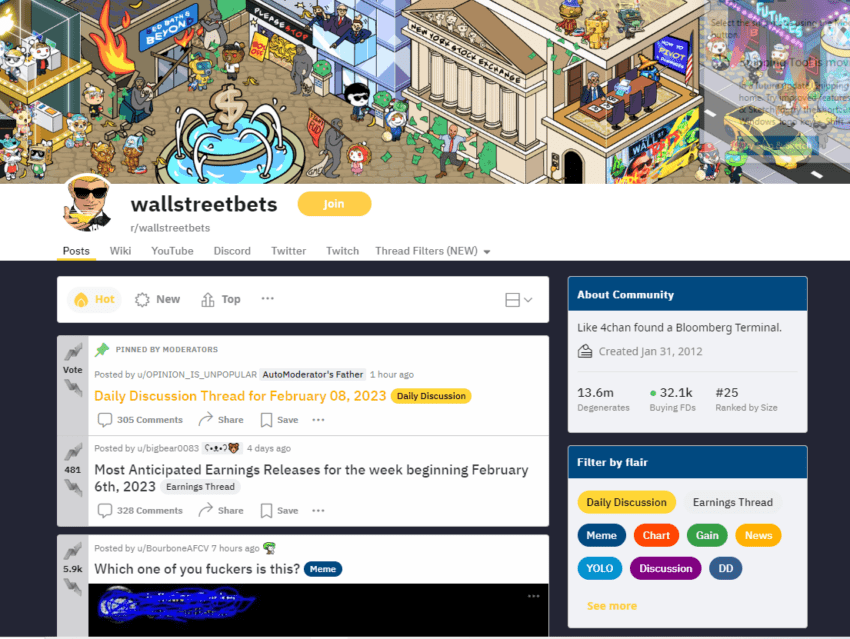 This is the Discord channel of the famous r/wallstreetbets subreddit crypto community. Often referred to as WallStreetBets or WSB, the community is focused on stock and option trading discussions. Its distinctive, lively language and bold trading approaches have gained the channel much recognition. But WSB became most famous for being a key player in the GameStop short squeeze. The financial event resulted in losses for some US companies and short sellers in early 2021.
You can join the r/wallstreetbets Discord here.
3. Cryptohub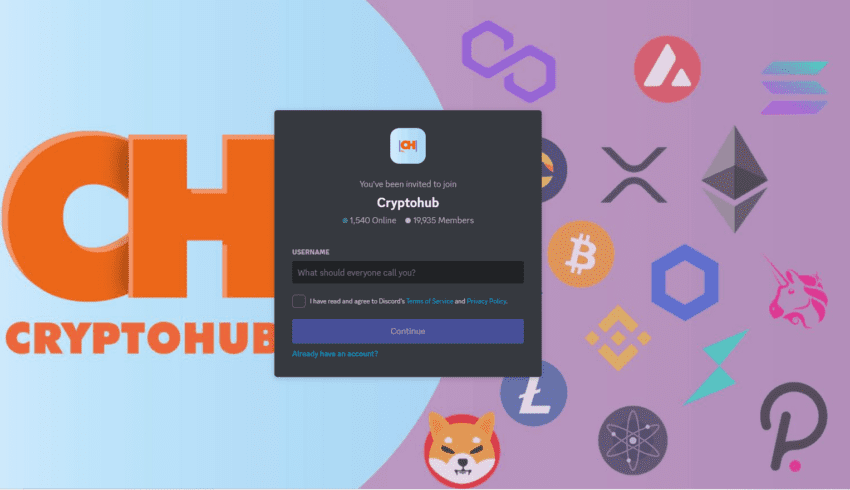 Cryptohub is a great Discord for those new to the crypto space. Here you will find plenty of free resources to educate yourself about how to trade cryptocurrency and how blockchain works.
The channel also features detailed guides to using some of the most popular cryptocurrency exchanges. They also offer trading tips, alerts, news, statistics, and general chat rooms. On top of this, there is also a premium trading signal channel. The VIP or premium channel comes at a fee and offers more trading opinions.
You can join the Cryptohub Discord here.
4. Cracking Crypto
Another great Discord is Cracking Crypto. This server offers news, alerts, free and premium trading signals, technical analysis, guides, and a general chat. You'll also find a few channels for more specific topics, such as coding or meme wars. The Cracking Crypto Discord is a strong community for traders looking to communicate with other crypto enthusiasts. The brand also has a YouTube channel, sharing insights and strategies for free.
You can join the Cracking Crypto Discord here.
5. r/CryptoCurrency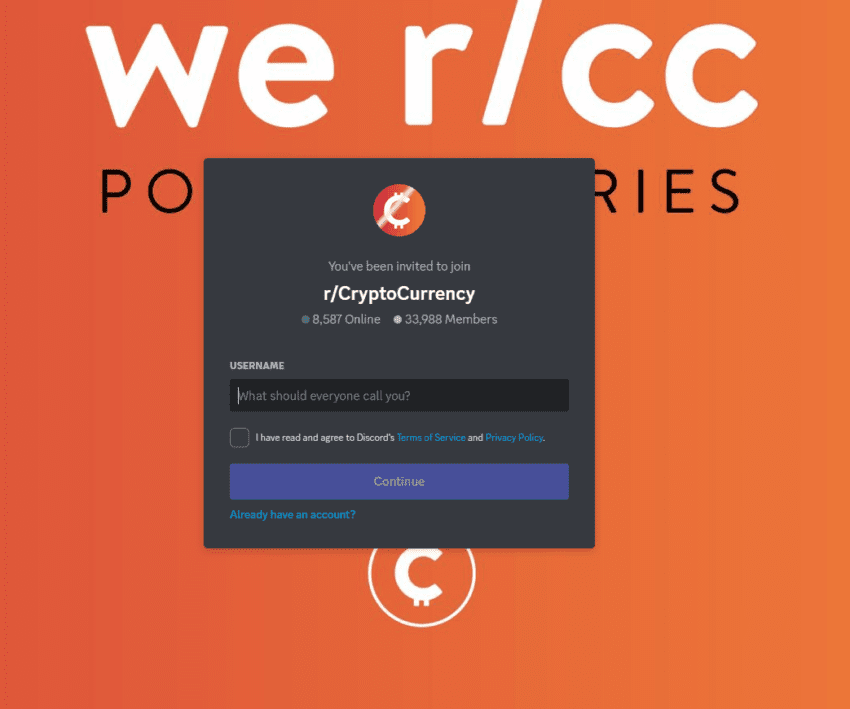 The r/CryptoCurrency Discord community is a hub for beginner crypto enthusiasts with over 92,700 members of diverse backgrounds and expertise levels. Members are awarded points and level up based on their activity on the platform, allowing them to access more advanced discussion channels.
The community's channels cover various topics in cryptocurrency, including NFTs, yield farming, mining, alternative coins, market analysis, technical analysis, and educational resources. Additionally, the server admin hosts fun events such as games nights and movie nights.
Upon joining, new members are subject to a two-minute cooldown period. They must familiarize themselves with the community rules before interacting with other members.
You can join the r/CryptoCurrency community on Discord using this link.
6. Crypto Signals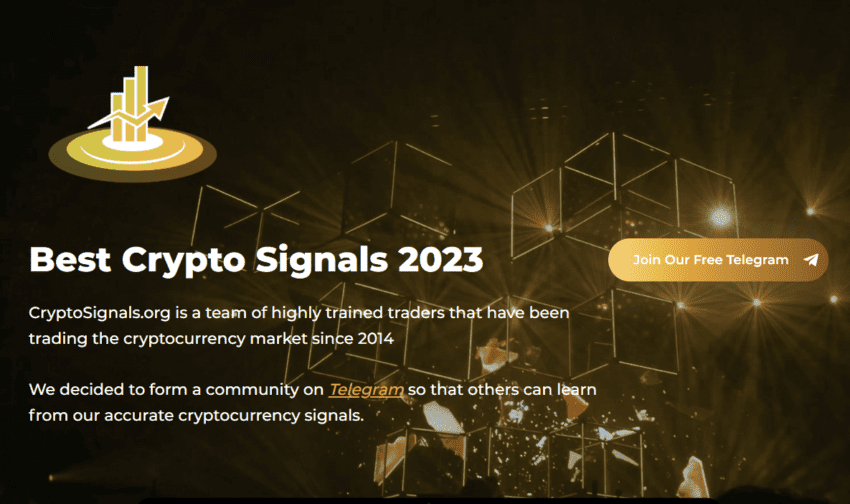 Cryptosignals.org is one of the top-performing crypto communities on Telegram offering expert trading signals. It has been providing these services since 2014, leveraging AI technology to collect market data and perform in-depth analysis.
The group comprises a team of skilled crypto traders who perform fundamental and technical analysis to provide the most optimized signals. This group may be useful for new crypto traders who might need ideas that indicate when to buy or sell a specific digital token based on market conditions. The Cryptosignals.org Telegram group provides detailed signals, including the ideal entry and exit prices for each trade. They also offer a premium trading signal group, which costs a monthly $50 fee. However, the free channel offers three signals per week.
The channel also offers insight into the analysis behind each signal so members can understand the reasoning behind trade recommendations.
You can join the Cryptosignals.org community on Telegram using this link.
7. ICO Analytics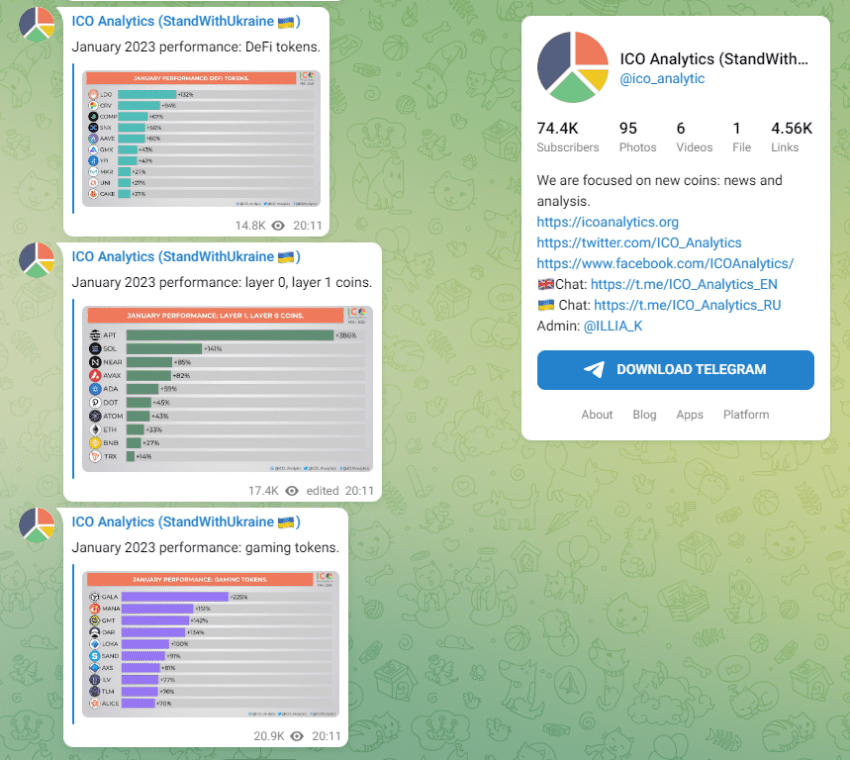 ICO Analytics is a free Telegram channel. Members can stay informed on new and emerging digital tokens in the crypto market. The channel provides updates on crypto ICOs, new coin listings, and presales, often within moments of official announcements.
ICO Analytics is a great Telegram channel to join if you want to stay ahead with early investment opportunities. ICO Analytics also sheds light on under-the-radar cryptocurrencies with a high growth potential.
For additional research, investors can visit the ICO Analytics website, which features a list of VC funds and their investment projects. This offers valuable insights which can support informed investment decisions.
You can join the ICO Analytics community on Telegram using this link.
8. Airdrop Ninja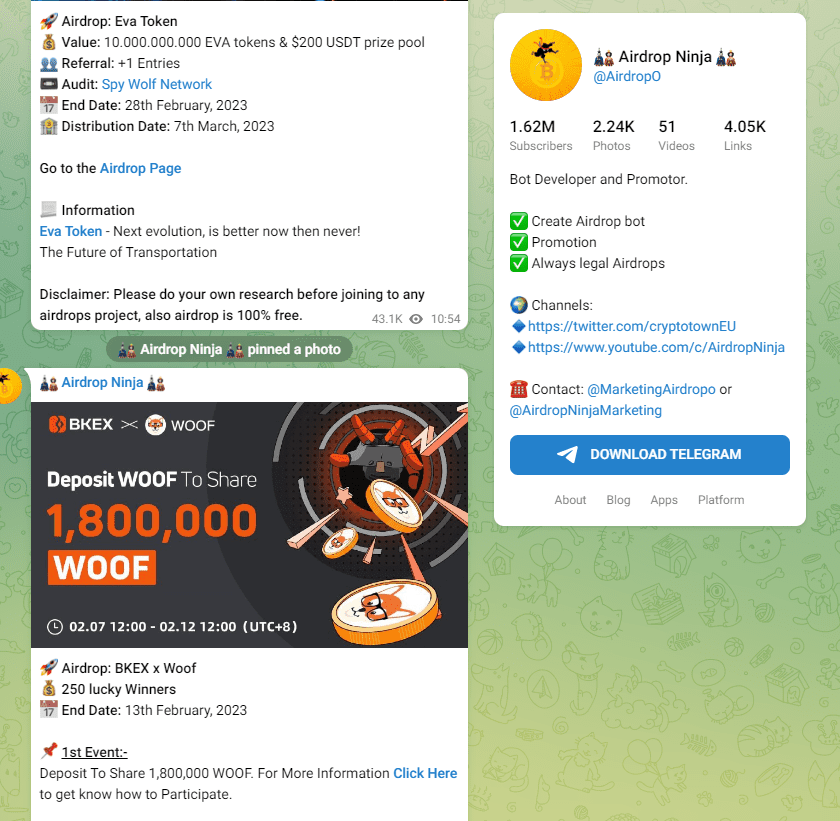 Airdrop Ninja is a Telegram channel that shares the latest crypto airdrops and explains how to participate. Airdrops are a marketing strategy used by crypto companies that give out free crypto in exchange for completing tasks to create brand awareness. Generally, companies ask users to follow a crypto project on Twitter or hold a certain amount of coins in a wallet to be eligible for an airdrop.
Participating in these airdrops means people can obtain popular digital tokens without risking any funds. For keeping track of new airdrop campaigns, Airdrop Ninja is one of the best Telegram groups to follow. While it may not cover every single airdrop, it mostly highlights up-and-coming cryptocurrencies that have not yet gained widespread popularity.
You can join the Airdrop Ninja community on Telegram using this link.
9. Verified Crypto Traders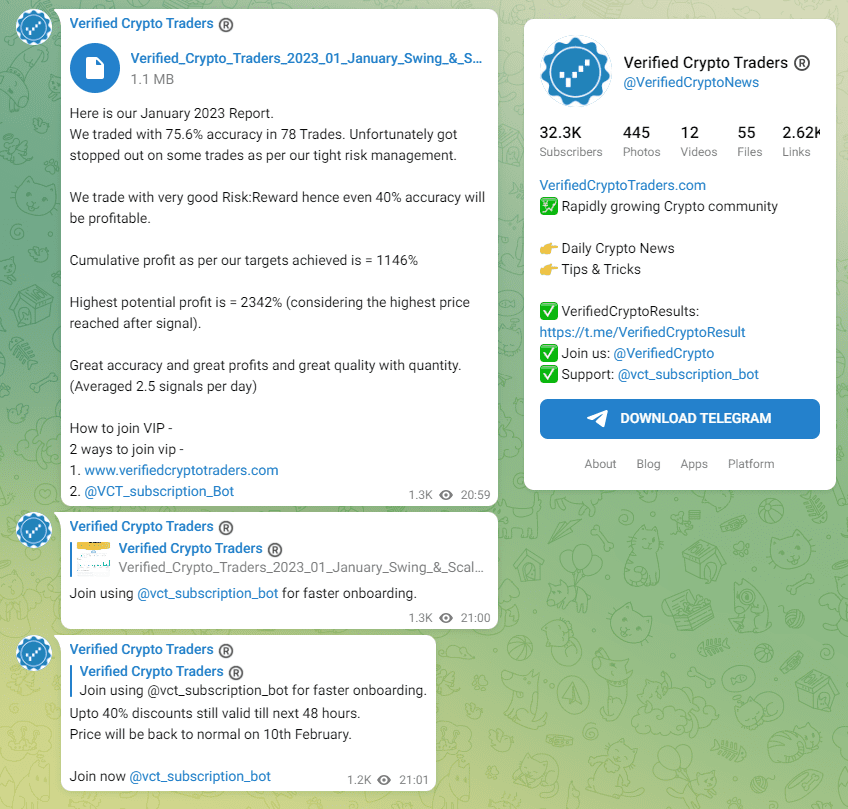 Verified Crypto Traders is another popular crypto signal community on Telegram, renowned for its precise spot trading signals and instructional YouTube videos. Over 30,000 members receive daily crypto news, tips, and tricks for trading.
The group boasts a team of seasoned analysts who leverage intricate mathematics and patterns to forecast market trends. The Telegram channel offers three options for members: three free channels and a dedicated group for platinum members.
You can join the Verified Crypto Traders community on Telegram using this link.
10. MYC Signals
MYC Signals is a crypto trading signals service from MyCryptopedia, a top crypto education website. The group offers dozens of trade insights each month from its experienced trading team. They offer spot and futures trading tips, which may be useful information for more advanced traders.
With over 28,000 members in its Telegram groups, MYC Signals has been delivering precise and high-quality signals since 2017.
You can join the MYC Signals community on Telegram using this link.
11. Binance Killers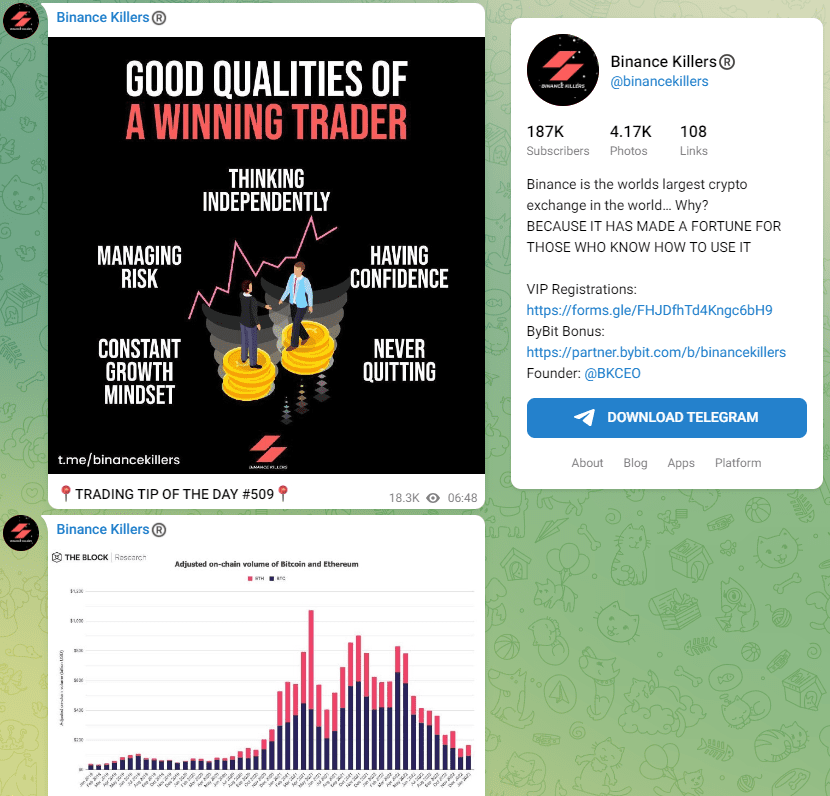 Binance Killers provides a gateway into the fast-paced world of decentralized markets and cryptocurrencies. The channel shares daily tips and market outlooks for crypto pairs found on Binance. It also offers a paid premium channel for more trading signals. Binance Killers has over 180,000 subscribers and is one of the largest Telegram channels.
You can join the Binance Killers community on Telegram using this link.
Frequently asked questions:
How do you get involved in a crypto community?
Research the different crypto communities available online and decide which ones align with your interests and goals. Join online platforms like Telegram or Discord that focus on cryptocurrency and blockchain topics. This is a great way to connect with like-minded individuals and start discussions. Consider joining a crypto project or contributing to an open-source project in the community.
How do I find crypto groups?
You can find crypto groups by using social media platforms like Telegram, Reddit, or Discord. Here's we've listed some of the most popular crypto communities to join right now. You can also join online forums and discussion boards focused on cryptocurrency.
What are the best crypto groups?
Determining the best crypto groups depends on personal preferences and goals. Some popular crypto groups are Telegram and Discord. Our BeInCrypto Telegram is an inclusive group for all crypto enthusiasts of all levels, from beginners to experienced traders. Anyone can use this group to ask questions and receive expert answers from the BeInCrypto team. We also offer a free Premium Channel on Telegram offering deeper insights, educational content, and signals.
What are the benefits of following crypto Telegram groups?
The benefits of following crypto Telegram groups include having access to up-to-date and relevant information, trading insights, and opportunities. Some groups even offer networking opportunities and knowledge sharing opportunities.
Disclaimer
All the information contained on our website is published in good faith and for general information purposes only. Any action the reader takes upon the information found on our website is strictly at their own risk.
At Learn, our priority is to provide high quality information. We take our time to identify, research and create educative content that is useful to our readers.
To maintain this standard and to continue creating awesome content, our partners might reward us with a commission for placements in our articles. However, these commissions don't affect our processes for creating unbiased, honest and helpful content.