2021 was a breakout year for some of the top crypto companies in the sector. And this year we expect to see an extension of the mass adoption trend. Public awareness of blockchain technology is on the rise. A new cohort of projects designed to fill more niche roles in society is likely to emerge in the coming months.
Bitcoin and ethereum may have opened the door, but the blockchain technology is transforming the global economy, and it won't end with just currency. The technology has a powerful potential to grant better control over and visibility into the supply chain than ever before.
Crypto and blockchain adoption is on the rise
Chainanlysis 2021 Global Crypto Adoption Index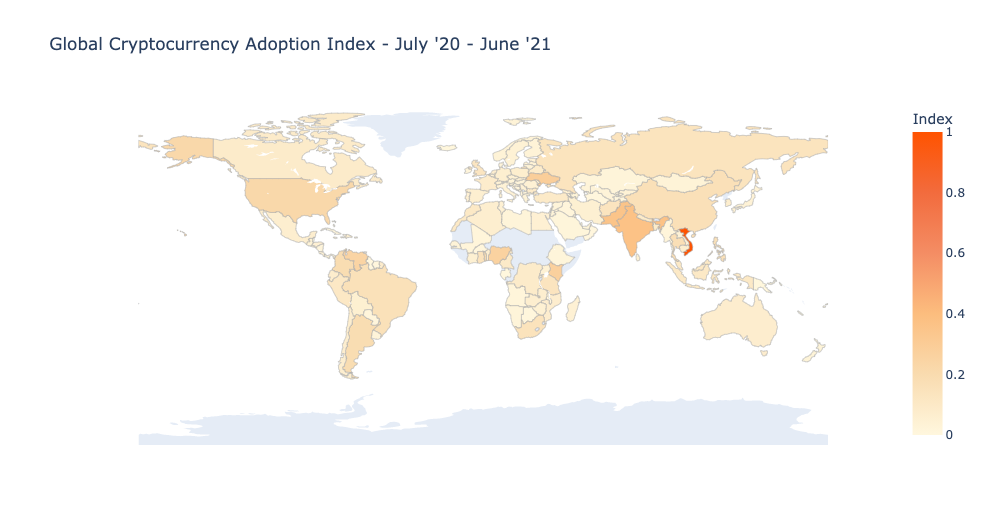 Chainalysis scores countries on three metrics: total crypto activity, trading activity of non-professional users, and peer-to-peer exchange trade volume. The weight is calculated by purchasing power per capita. Global adoption of cryptocurrency has taken off in the last year, according to the data from Chainalysis. It is the second year the blockchain data firm has released its Global Crypto Adoption Index, ranking 154 countries according to metrics.
These metrics include peer-to-peer exchange trade volume, rather than gross transaction volume, which typically favors developed nations with high levels of professional institutions to buy crypto. Chainalysis has said that the purpose of the index is to capture crypto adoption and to focus on use cases related to transactions and individual saving, rather than trading and speculation. The metrics incorporate the wealth of the average person and the value of money within particular countries.
Industries for blockchain
Human resource management is ripe for blockchain integration because of the security and data storage solutions offered. Blockchain would allow each employee to have a unique address, storing all the information cryptographically. HR also deals with the recruiting and hiring of new employees, an increasingly arduous task in today's world where the labor force participation rate stands at 61.9%, its lowest level since 1976.
For blockchain-related jobs within some of the top crypto companies, the task becomes even more challenging because of the limited number of people with the knowledge and capabilities to work in the nascent sector. Keep3rV1 is one protocol that focuses on connecting employers with workers, and they specifically designed the decentralized job board to connect blockchain projects with external developers that provide specialized services.
While Keep3rV1 focuses on blockchain developer jobs, if the model proves to be a success, they could easily expand the concept to serve a wider audience of jobseekers and employers. Payroll also falls under the HR category, and projects like Request (REQ) support a decentralized payments system where anyone can request a payment and receive money through secure means.
This is an ideal setup for freelancers. Experimental platforms like Sablier Finance also offer workers the option to be paid for their labor in real-time rather than waiting for the end of a payroll period to receive their paycheck.
The gig economy
Ridesharing services like Uber and Lyft, while freelance platforms like Fiverr were the bedrock of the gig economy. 2021 estimates show that 36% of the United States workforce took part in the gig economy either as their primary or secondary source of income. Data also shows that 55% of gig workers were also working a separate primary job.
Current projections show that by 2023, up to 52% of the U.S. workforce will be actively working in the gig economy or will have done so in their career, so it's a growing field that could benefit from integrating blockchain technology.
One project that has already established its freelancer job board is Chronos.tech (TIME), a blockchain-based recruitment, HR, and payment processing protocol. Their LaborX platform is like websites like Fiverr but conducts all transactions using blockchain technology and smart contracts.
Top companies making use of blockchain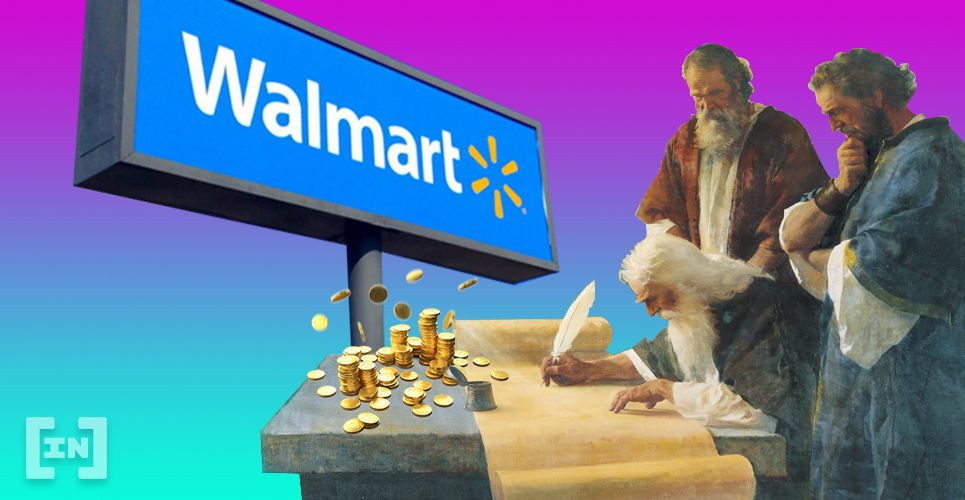 As companies have realized the potential of innovative technologies like blockchain and smart contracts. They have implemented it for real-time data access, privacy, and traceability for their supply chain management. This is because of the success some of the top crypto companies have come across with blockchain technology. The following are the top 5 companies that are successfully using or considering blockchain technology.
Walmart
Walmart utilizes blockchain technology to add transparency to the food supply ecosystem by digitizing the entire food supply chain process. Thanks to Hyperledger Fabric, the company can make the process transparent, traceable, and reliable. Employees can track products for their origin, and it only takes a few seconds to scan dozens of products to know where the food has come from and where it has been stored.
Technology helps Walmart employees track the origin of food in a few seconds instead of days. It reduces paper waste, automates the entire process, and speeds up supply chain transparency.
Ford
In late Jan. 2020, it announced that Ford Motor Company is preparing to utilize blockchain technology to trace supplies of cobalt, an essential ingredient for electric car batteries. Ford, with IBM, plans to track its raw materials like cobalt from the suppliers.
Utilizing blockchain technology, the motor company wants to ensure that it gets authentic products. When cobalt is mined, it will get on the ledger, and then the company can track where it's going from there.
De Beers
De Beers, the world's biggest diamond producer by the value of its gems, is also utilizing blockchain technology to track every natural diamond from the mine to the retail counter. The blockchain platform known as Tracr helps in verifying the authenticity of diamonds and ensures they are not from conflict zones, where gems may finance violence.
Bruce Cleaver, chief executive of De Beers, noted that Tracr can track diamonds across the supply chain, offering asset traceability assurance in a way that was not possible before.
UPS
The United Parcel Service (UPS) is another company using blockchain technology in the supply chain. In Nov. 2018, this logistics giant joined the blockchain in Trucking Alliance (BiTA) to increase transparency to the supply chain among all organizations.
In Mar. 2019, UPS and e-commerce Technology Company Inxeption collectively rolled out a blockchain-powered platform to enhance merchant supply chains. Apart from that, UPS has also filed a patent for a blockchain system that would store package destination, movement, transportation method, and other crucial information, thus ensuring efficiency and transparency.
FedEx
FedEx, which is one of the largest shipping enterprises, sees blockchain technology as an innovative way to guard its chain of custody. To track its shipments, it has decided that the best option is using blockchain technology. The enterprise has joined BiTA and launched a blockchain-powered pilot program.
Implementing blockchain technology will enable clients to receive information in a faster and more reliable manner and their customer service people to answer queries promptly.
The top 11 crypto companies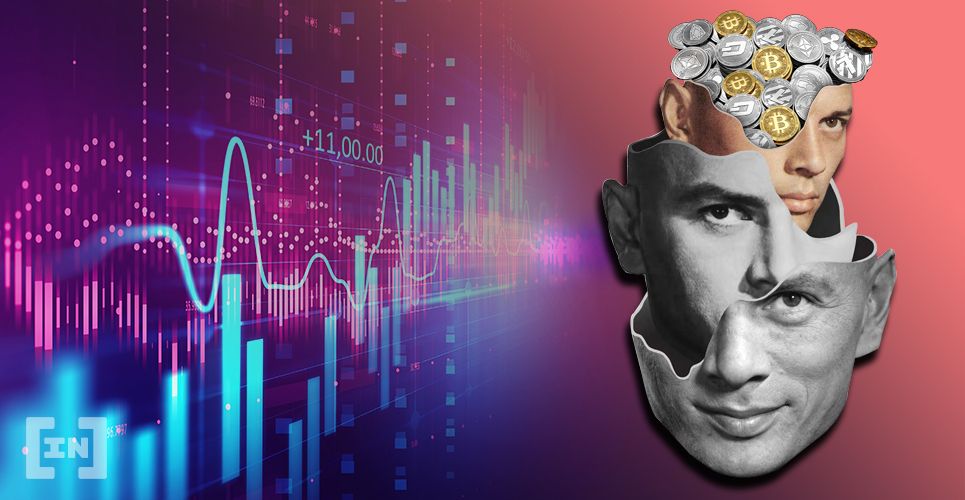 With the emerging interest of the world towards the blockchain. Startups and enterprises are investing in building proof of concepts to full-fledged running products and services. Since the entire blockchain industry is emerging and changing every day, it's hard to find the ideal team that can convert your idea into a working blockchain product or service.
Companies within the industry include financial technology companies, cryptocurrency miners, manufacturers of blockchain technology, etc. Let's take a look at the 11 top crypto companies that are playing a significant role in the market.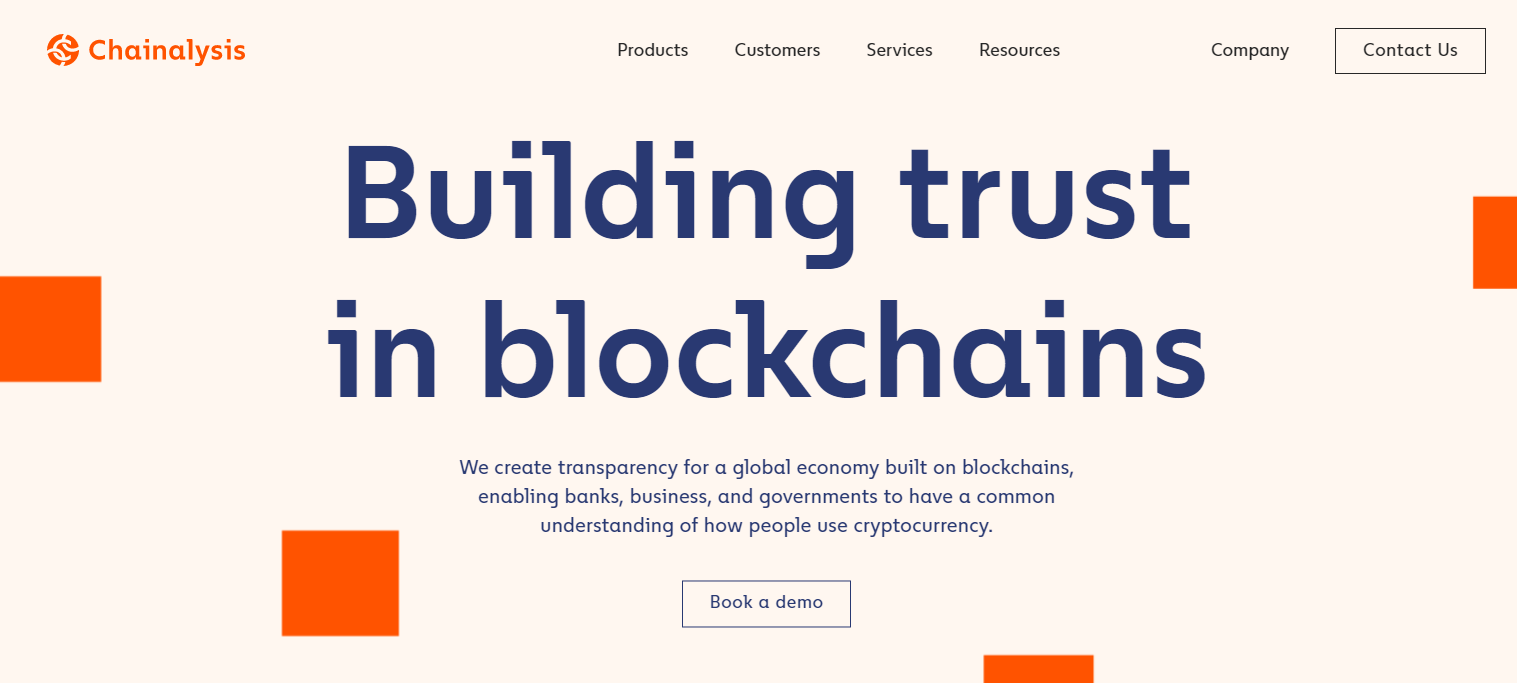 Industry:
Blockchain
Fintech
Security
Software
Offices:
New York, NY (HQ)
Washington, DC
Chainalysis help banks, businesses, and governments track and investigate blockchain activity. Cryptocurrencies have become a mainstream way to transfer value. However, because cryptocurrencies obscure real-world identities, criminals have used this technology to avoid detection. Proceeds from darknet markets or hacked/stolen funds, often laundered through legitimate crypto exchanges or mixing services.
To ensure that cryptocurrencies are used for good, institutions need the ability to see what's happening on the blockchains and identify/differentiate the bad actors from the lawful ones. This is where Chainalysis plays a central role. By providing cryptocurrency investigation and compliance software to leading institutions in this ecosystem, it has become the common link between participants.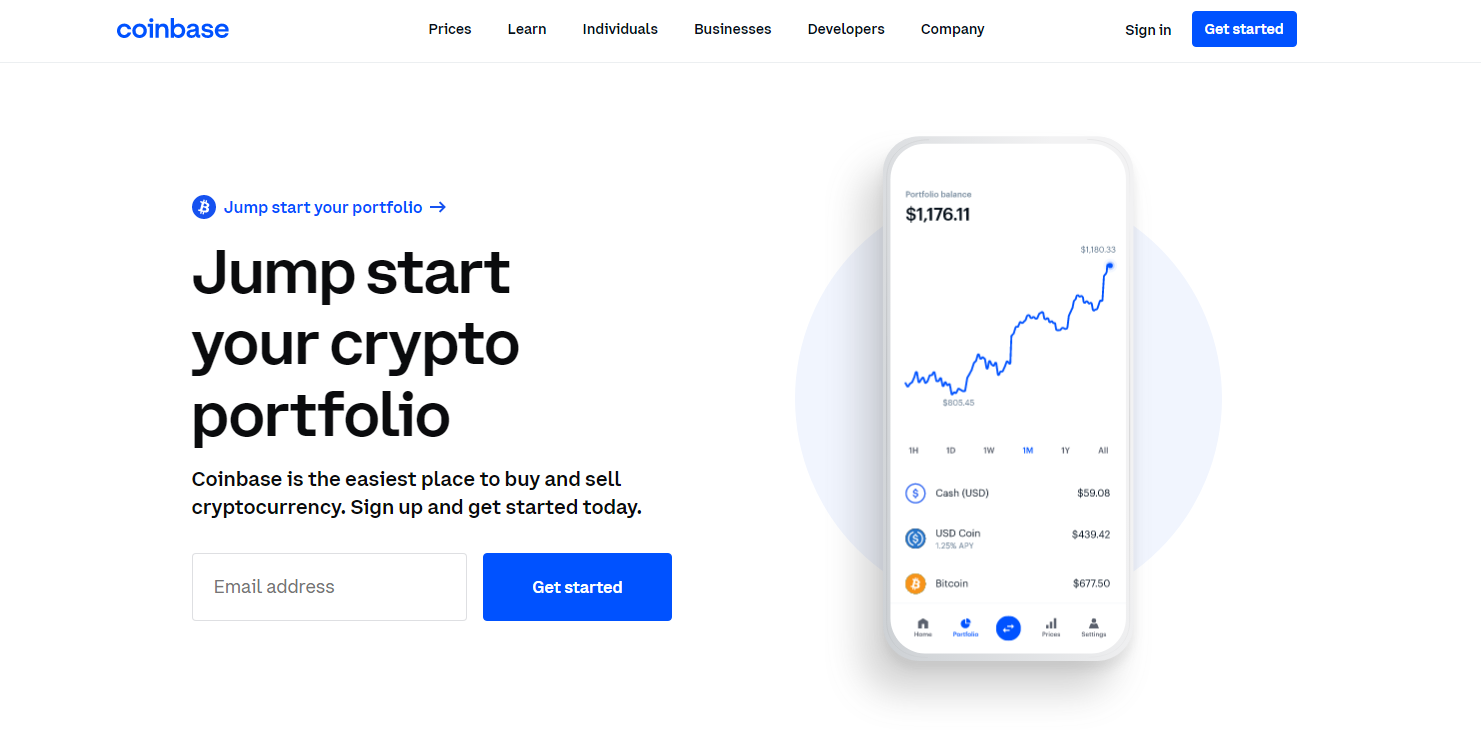 Industry:
Offices:
Coinbase is a global provider of financial infrastructure, including transaction services, and technology-based products designed for the crypto economy. The company's platform enables its retail users to invest, spend, save, earn, and use cryptocurrencies. The platform also provides institutions with a deep pool of liquidity for transacting in crypto-assets and enables crypto ecosystem partners, to build crypto-based applications, as well as securely accept crypto assets as payment.
Coinbase went public in Apr. 2021, which is why there is no one-year trailing total return data for the company.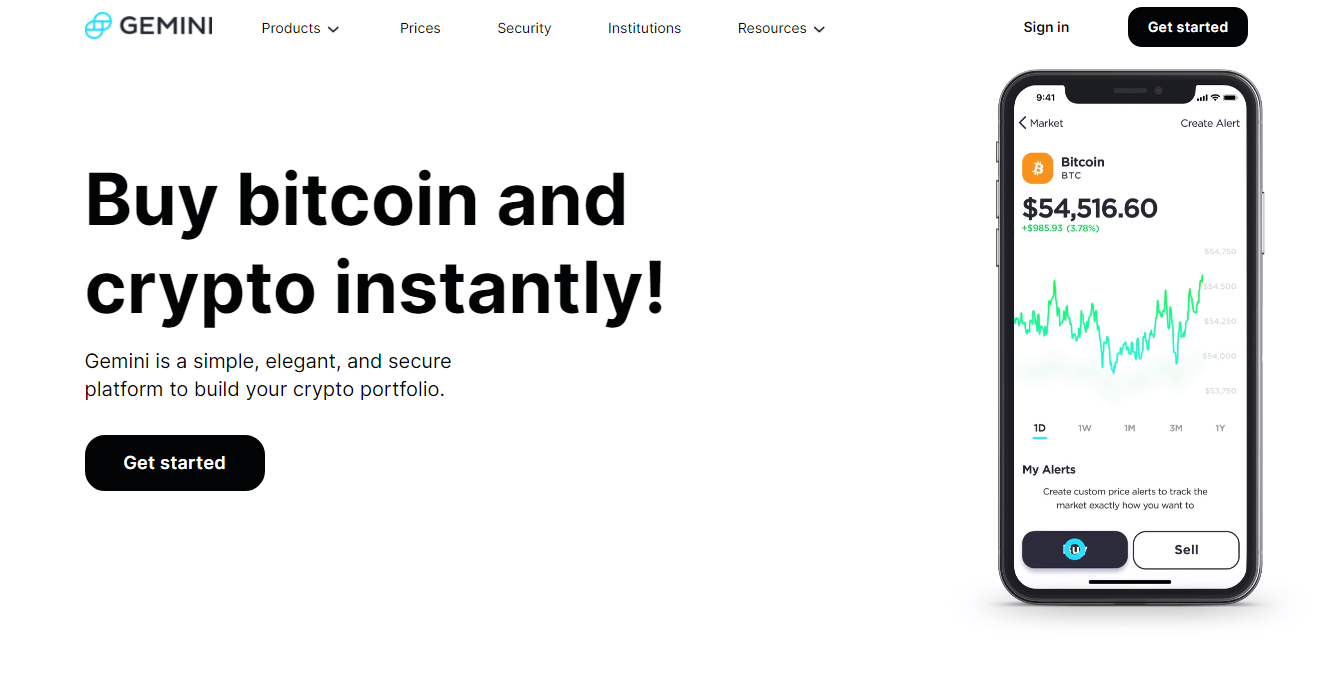 Industry:
Offices:
At Gemini, no job is too small and no project too big as they endeavor to build the future of money. Gemini is a licensed digital asset exchange and custodian. Gemini was created, so customers can buy, sell, and store digital assets (e.g., Bitcoin, Ethereum, and Zcash) in a regulated, secure, and compliant manner.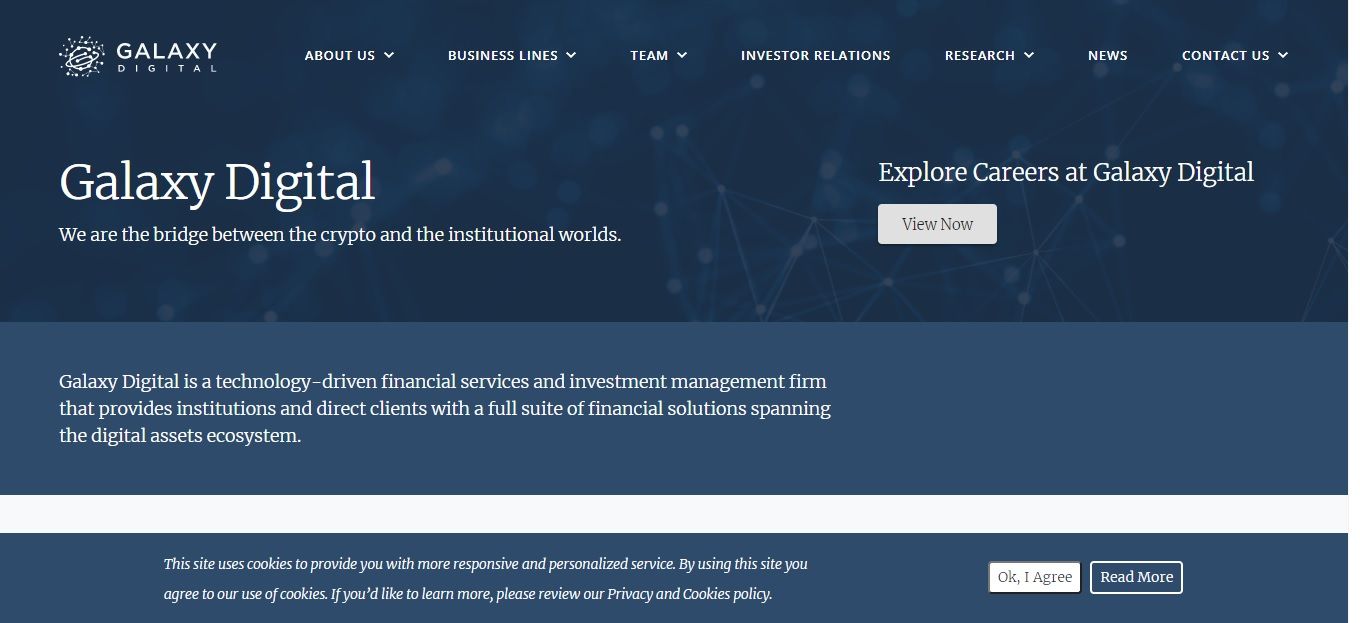 Industry:
Blockchain
Financial Services
Offices:
Galaxy Digital is a tech-driven financial service and investment firm that provides institutions and direct clients with a full suite of financial solutions. The company operates five synergistic business lines: trading, asset management, principal investments, investment banking, and mining.
The CEO and founder is Mike Novogratz, with headquarters in New York City. Its mission is to drive systems to change through technology. Today, Galaxy Digital is primarily focusing on digital assets, cryptocurrencies, and blockchain technology.
Industry:
Offices:
OpenSea is a game-changing marketplace for buying and selling NFTs. If you're wondering, NFTs stand for Non-Fungible Tokens, collectible digital things like in-game assets, avatars, trading cards, and art. Devin Finzer and Alex Atallah found it in New York on Dec. 20, 2017.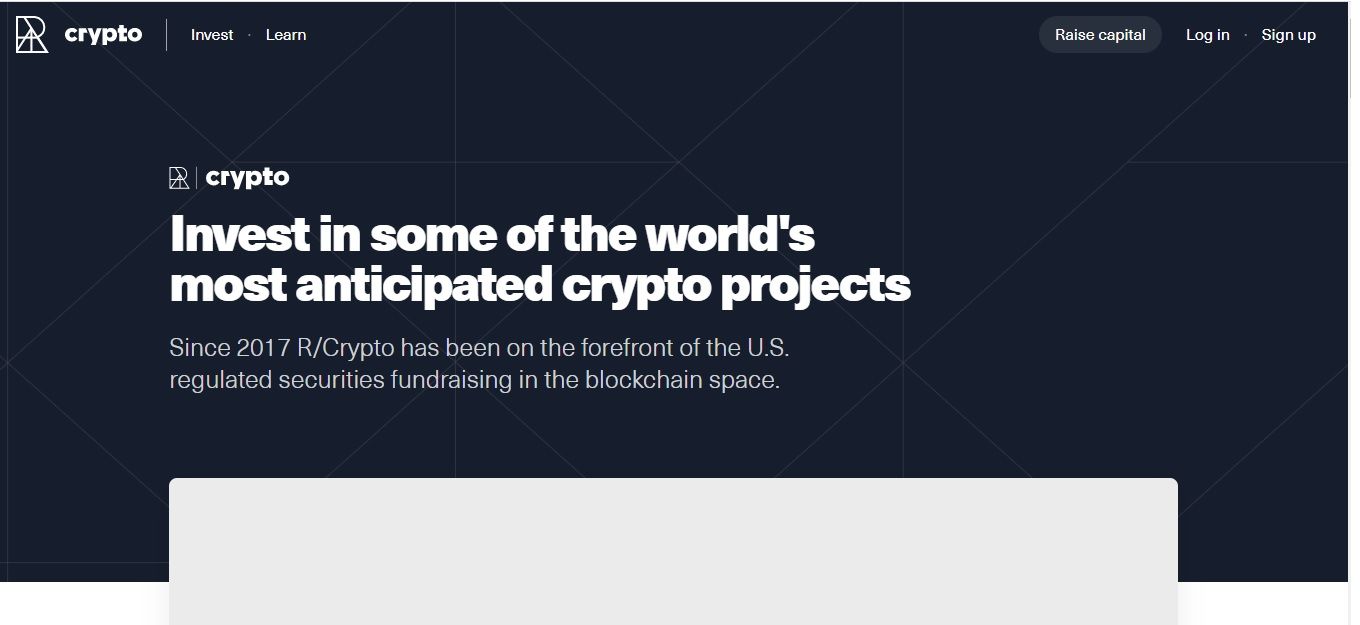 Industry:
Offices:
Republic gives people the power to invest in the future they believe in by providing access to startup, real estate, crypto, and video game ventures. Focused on creating a diverse, sustainable, and connected world.
Republic has facilitated over $250 million in investments from over one million global community members. Headquartered in New York City with a team in six countries, Republic is backed by Binance, AngelList, and Passport Capital, among others.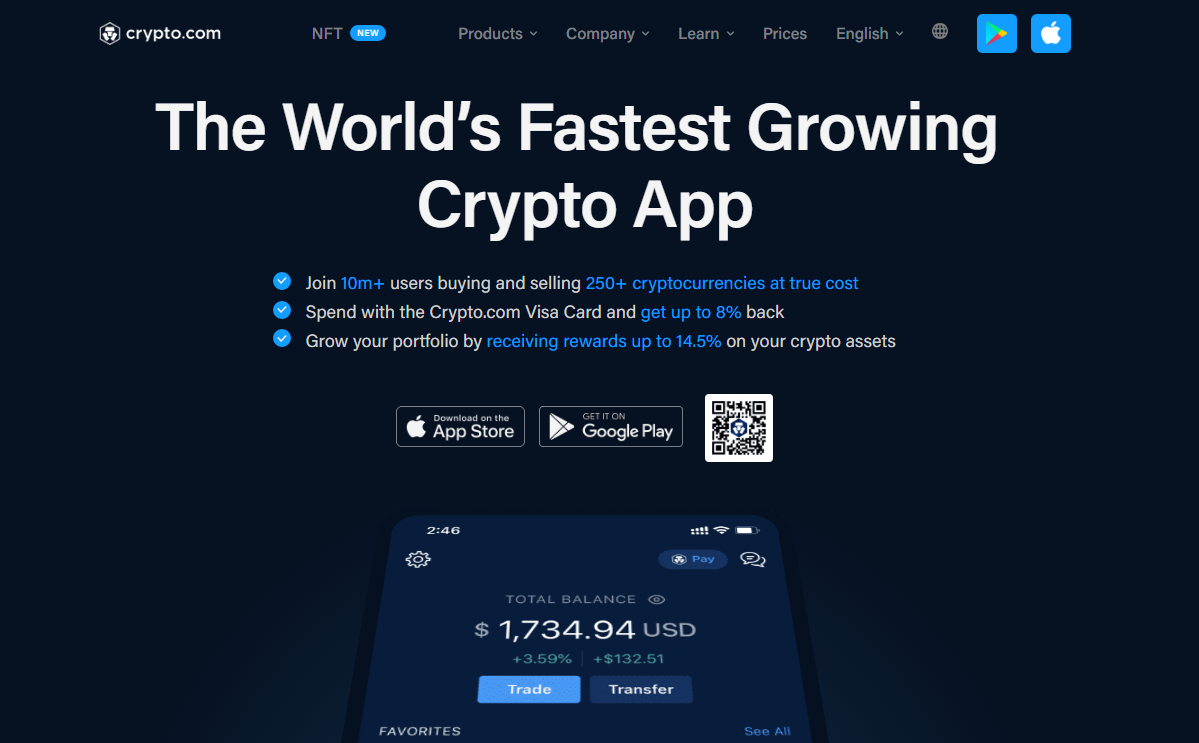 Industry:
Offices:
Crypto.com is a cryptocurrency exchange app based in Singapore. It is a trademark of Foris DAX Asia Pte. Ltd, a Singapore-based company that is a subsidiary of Foris DAX MT Limited. The app currently has 10 million users and 3,000 employees.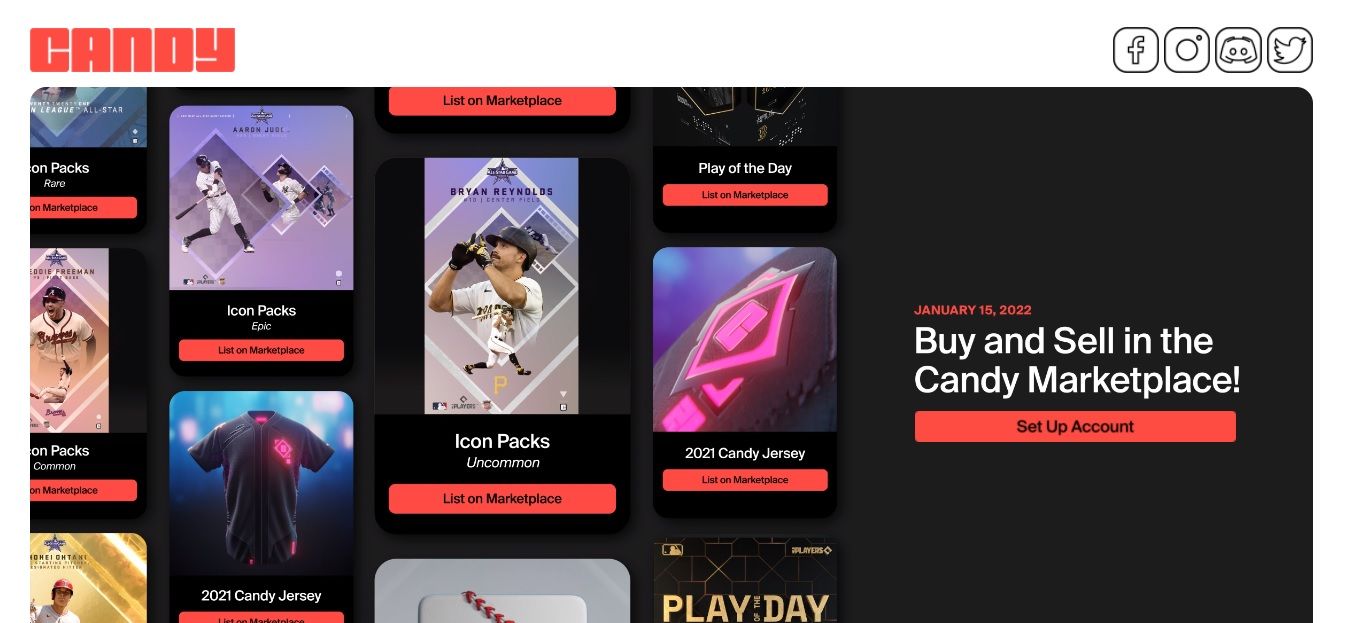 Industry:
Blockchain
Digital Media
eCommerce
Gaming
Sports
Offices:
Candy is a new digital asset content company building an innovative new NFT ecosystem. It focuses on changing how fans and collectors engage with their favorite sports, music, art, and cultural icons.
Candy has an innovative design team leading a creative studio that collaborates with athletes, artists, and content owners to bring new NFT projects to life. In addition, its unique virtual storefront will provide fans and collectors with the opportunity to explore and purchase officially licensed digital collectibles and trade them in a secure secondary marketplace.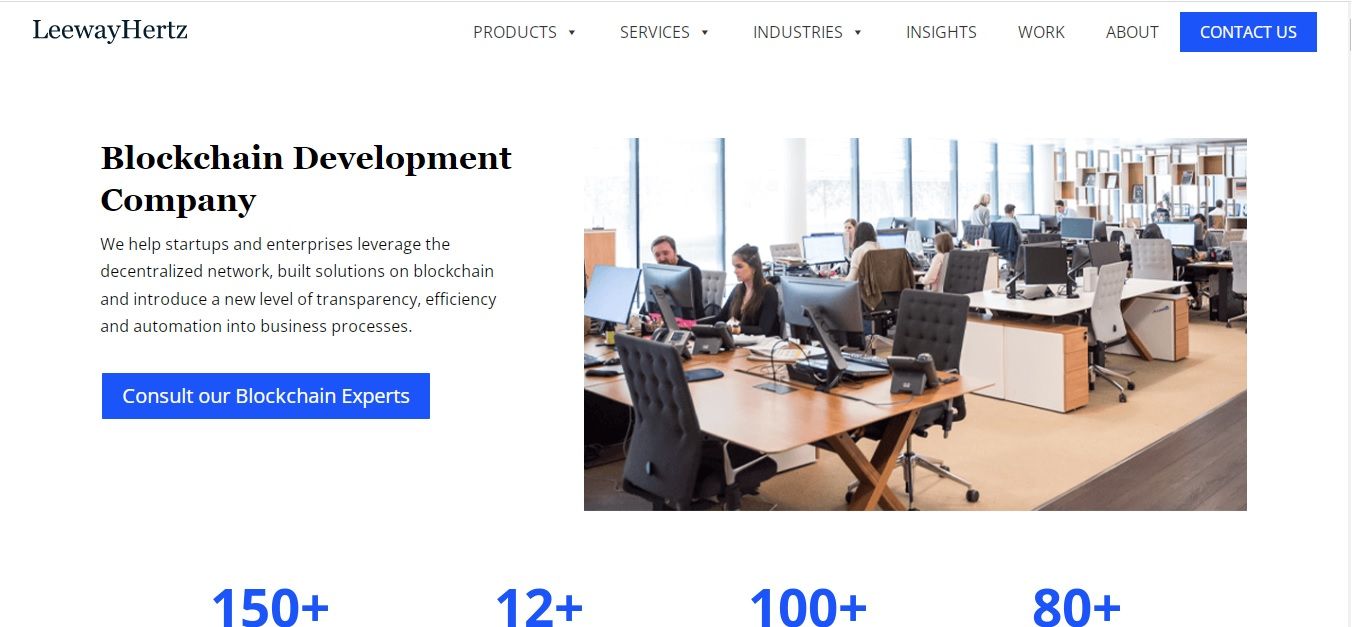 Industry:
Offices:
With over a decade of experience in building enterprise applications, LeewayHertz is the leader in blockchain development with in-depth knowledge of Artificial Intelligence (AI), Internet of Things (IoT), Augmented Reality/Virtual Reality, and cloud services. The company provides end-to-end blockchain solutions, ranging from blockchain consulting to user experience and design, blockchain development, deployment, maintenance, and upgrades.
The blockchain experts at LeewayHertz have deployed over 80 smart contracts and developed over ten blockchain applications.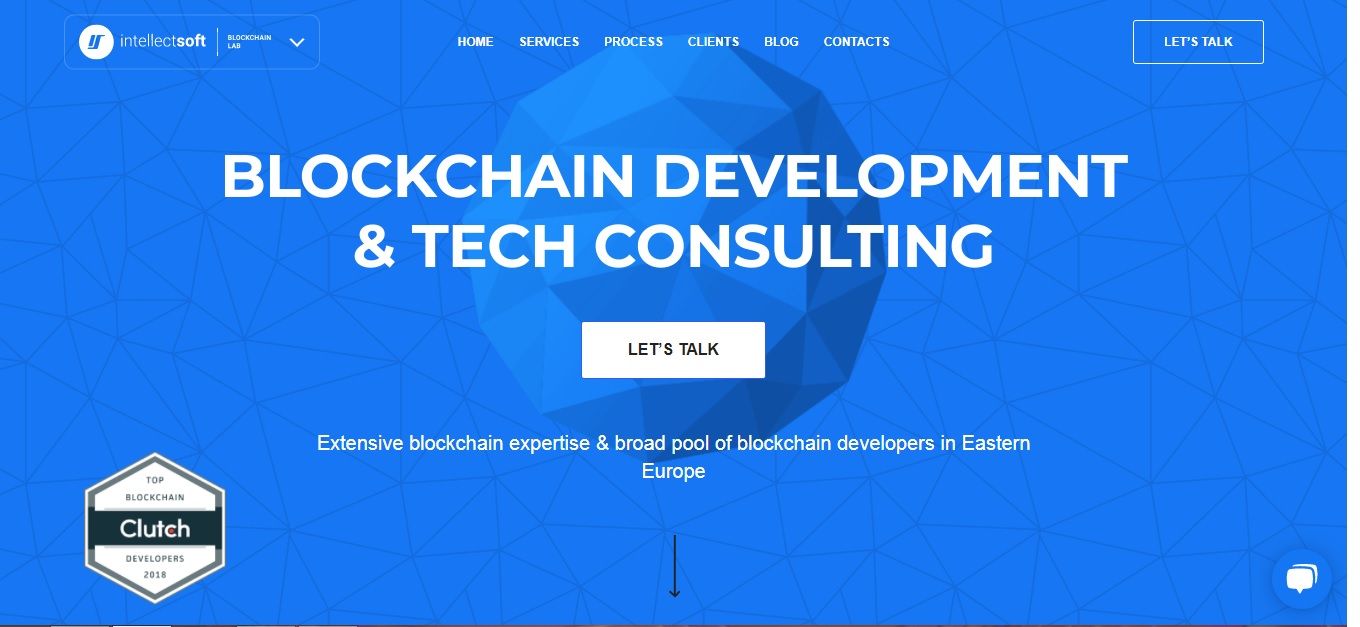 Industry:
Offices:
Established as a mobile app development company, Intellectsoft is proficient in providing custom software development and consultancy services in technologies such as blockchain, Artificial Intelligence, the Internet of Things, cloud computing, and Augmented Reality. For the last 13 years, the company has helped organizations design, develop, and maintain software solutions efficiently.
Offering blockchain development services for both startups and enterprises, Intellectsoft has become a top blockchain company.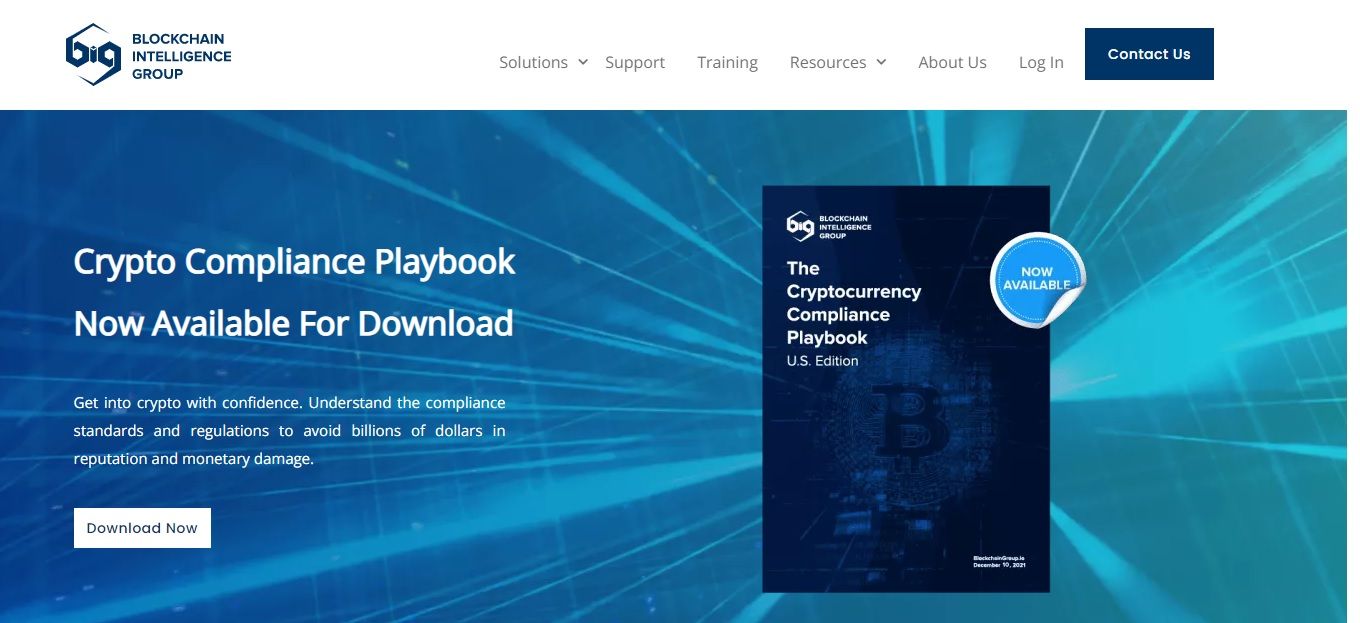 Industry:
Offices:
Blockchain Intelligence Group is a company that helps their overseas clients with blockchain consultation services required to build applications. Operating on a global scale, they deliver the best services at the earliest in the competitive range. The Blockchain Intelligence Group aims to provide an optimum solution for reducing the risks associated with cryptocurrency transactions.
Blockchain revolutionizing various industries
These are not all the companies that are building success in this space, but these are the ones you want to look at for job listings or potential investments, to list a few. Blockchain technology is a powerful tool that will be used with every aspect of business in the future.
Frequently asked questions
What are the top 10 crypto companies?
Which is the biggest crypto company?
Disclaimer
In line with the Trust Project guidelines, the educational content on this website is offered in good faith and for general information purposes only. BeInCrypto prioritizes providing high-quality information, taking the time to research and create informative content for readers. While partners may reward the company with commissions for placements in articles, these commissions do not influence the unbiased, honest, and helpful content creation process. Any action taken by the reader based on this information is strictly at their own risk.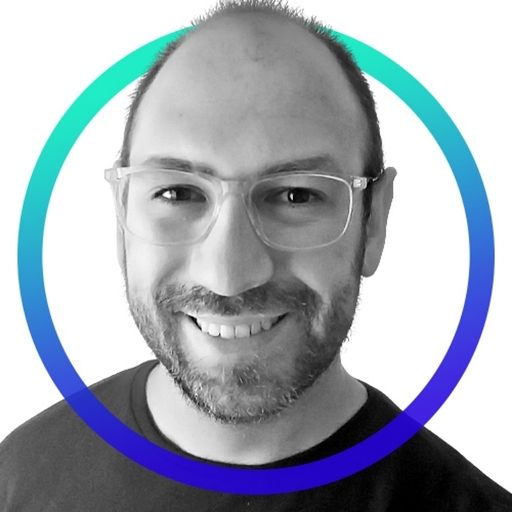 Marc Aucamp is from Cape Town, South Africa. He discovered cryptocurrency in 2017 and since then he has been learning about not only cryptocurrency but also the entire blockchain...
Marc Aucamp is from Cape Town, South Africa. He discovered cryptocurrency in 2017 and since then he has been learning about not only cryptocurrency but also the entire blockchain...
READ FULL BIO
Sponsored Sponsored