On March 12, Chiliz (CHZ) achieved what thousands of altcoins only dream of. It got on CoinMarketCap's top 10 trending list as the second one.
Find out what made Chiliz so popular and will it maintain such popularity moving forward within the next five years.
Chiliz Coin: A Brief but Fundamental Analysis
According to CoinMarketCap, the 24-hour trading volume is around 4,111,575,594 US dollars in mid-March 2021.
Since then, Chiliz Coin has taken 47th place in the CoinMarketCap ranking and scores with a market capitalization of $2.8 billion. There are currently 5,586,355,378 CHZ in circulation, out of the maximum supply that is limited to 8,888,888,888 CHZ coins.
Should you decide to invest in Chiliz Coin, the most popular crypto exchanges are Binance, Huobi Global, StormGain, OKEx, HBTC, and FTX.
The secret to Chiliz Coin's success is its tokenization of sporting events, as one of the leading blockchains in the e-sports arena. Its inception started in 2016, until the project finally kicked off with the Socios.com platform in 2019.
The added value for the owners of Chiliz is that they can use the tokens to digitally interact with their favorite sports teams and athletes, even to the point of participating in the team's decisions. Sometimes, they even organize physical meetings.
What Makes Chiliz So Special?
To answer that question is to understand the relationship between Chiliz and Socios — a tokenized platform on which sports fans can vote on the decisions of their favorite teams.
Chiliz is the means by which this is accomplished. Consequently, the original Chiliz.net platform has now been fully integrated into Socios.com. In a nutshell, Socios is an ecosystem of sports clubs, like Juventus, that tokenizes the interaction between them and the fans.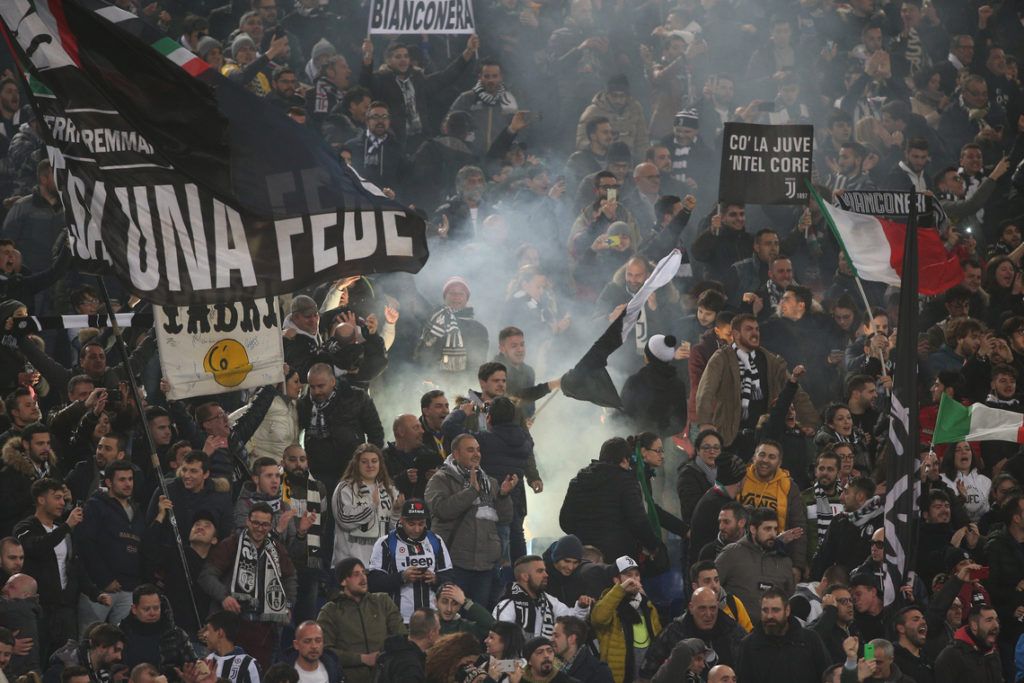 Fans can use Chiliz tokens as voting rights on a number of decisions in a team's day-to-day operations. Such novelty interaction that has practical impact has grown highly popular, with over 100 sports teams joining the platform.
In an interview with BeInCrypto, Chiliz CEO Alexandre Dreyfus said:
"With Socios.com and our fan tokens, clubs can now structure this into something that is far more valuable to fans. Fans can buy tokens to support their clubs, but in return they receive a valuable digital asset that gives them the right to participate in their club."
The native cryptocurrency of the Chiliz ecosystem, CHZ, is used to purchase fan tokens on the platform. Every sports club can set up its own token. The fans can then use them to partake in either binding or non-binding surveys that affect the team's performance or aesthetics.
Chiliz Price Predictions For 2021, 2022, and in 5 Years
When it comes to determining the long-term outlook for Chiliz, it is clear that it attached itself to human activity that is never going away. From time immemorial, humans organized competitive sports as both entertainment and a replacement for tribal warfare.
As we now live in the digital world where everything pretty much happens on the Internet, Chiliz is there to connect the world of blockchain to the world of sports.
Also, keep in mind that the massive popularity of Fantasy Football has already demonstrated the proof of concept for Chiliz. People participate in Fantasy Football and other fantasy virtual events because:
Fans get a sense of empowerment through participation
Fans love the competitive nature of sports, especially the managerial part
Fans receive a healthy stress relief
The same reasons apply to the Chiliz ecosystem but even better because the fans interact via CHZ tokens with real sports teams. Therefore, one should approach Chiliz with a bullish outlook, if the developers continue to manage it as they have done so far.
Chiliz Price Prediction 2021
In 2021, the Chiliz Coin has already made some new investor fans. As we can see from the TradingView chart, this was mainly due to the sudden price increase during the first two weeks of March.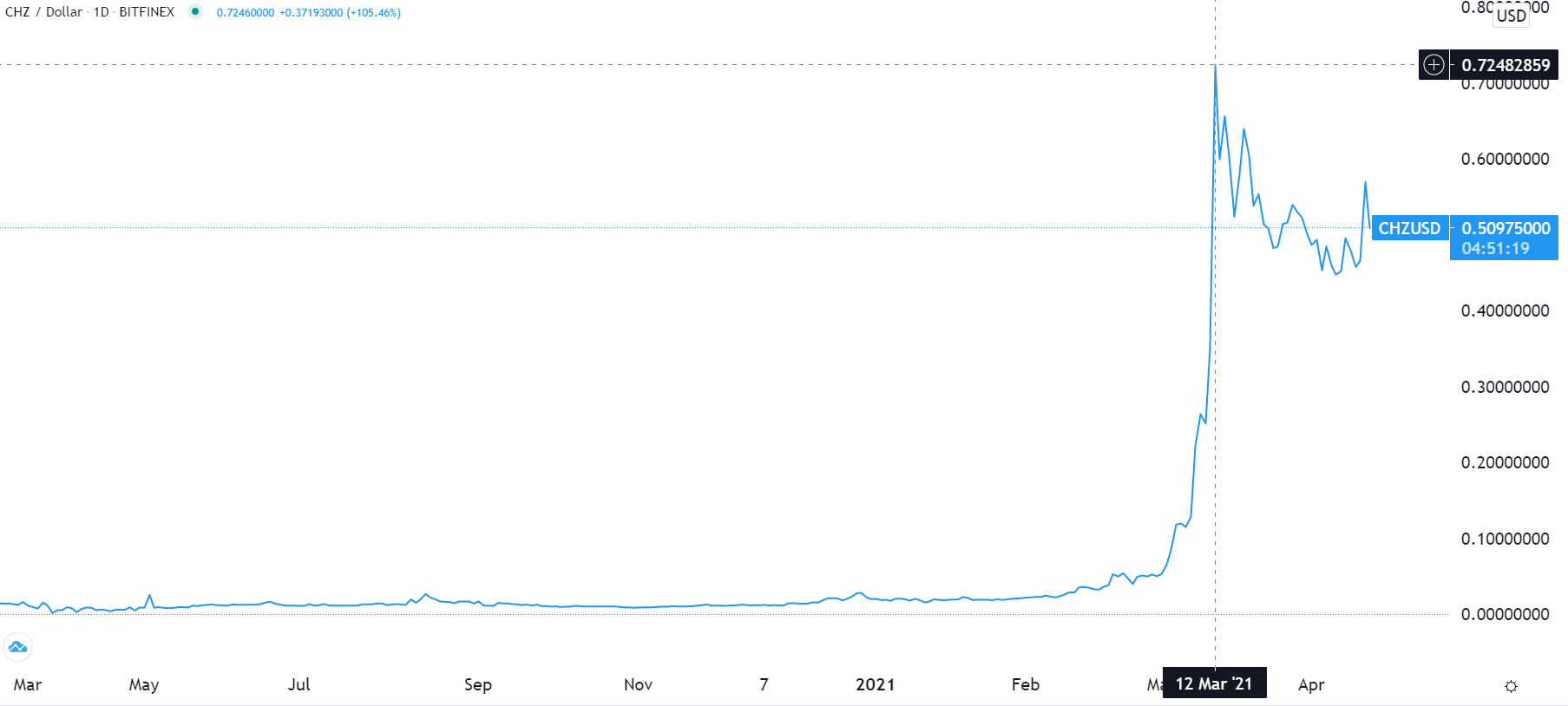 But, as is usually the case with market cycles, after the big pump there is another dump. Nonetheless, this price drop represents buying-the-dip opportunity in Chiliz.
You will be pleased to note that analysts at Wallstreetinvestor forecast CHZ is a good long-term investment:
"If you are looking for virtual currencies with good returns, CHZ can be a profitable investment option. Chiliz price equal to 0.629 USD on 03-15-2021. If you buy Chiliz for $ 100 today, you will get a total of CHZ 158,952. Based on our forecasts, a long-term increase is expected."
Likewise, the analysts at DigitalCoinPrice are also forecasting growth of around 64% for the Chiliz price by the end of 2021.
Chiliz Price Prediction 2022
But what if we go beyond a year? WallStreetInvestor gives three pieces of information for the end of 2022:
An average chiliz price $0.895
Minimum Chiliz price of $0.817
And the maximum Chiliz price of $0.970
On this chart we can see quite well how the Chiliz price could go on in 2022: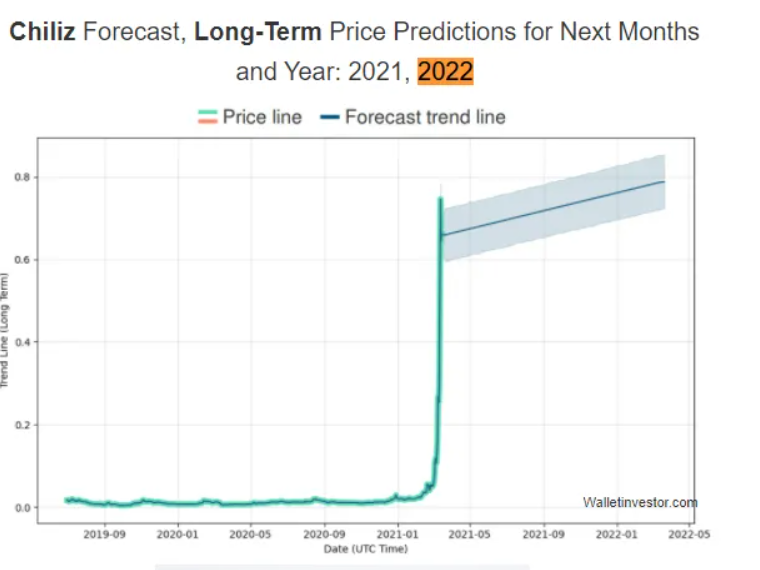 The Chiliz price prediction for the year 2022 by DigitalCoinPrice looks even more bullish: 1.2 US dollars.
At PickAcrypto, analysts assume that the CHZ price could move between $0.30 and $1.00 between 2022 and 2025. This would be due to the further development of its ecosystem and the word-of-mouth proliferation by fans across social media platforms.
Chiliz Price Prediction: What's in 5 Years?
If we are talking about a long-term investment, then the CHZ price for the next five years must also be discussed. Wall Street investor explains:
"With an investment of 5 years, a turnover of around + 108.53% is expected. Your current investment of $100 could be up to $208.53 by 2026."
DigitalCoinPrice is also extremely bullish with regard to the CHZ price and is forecasting a Chiliz price of $2.47.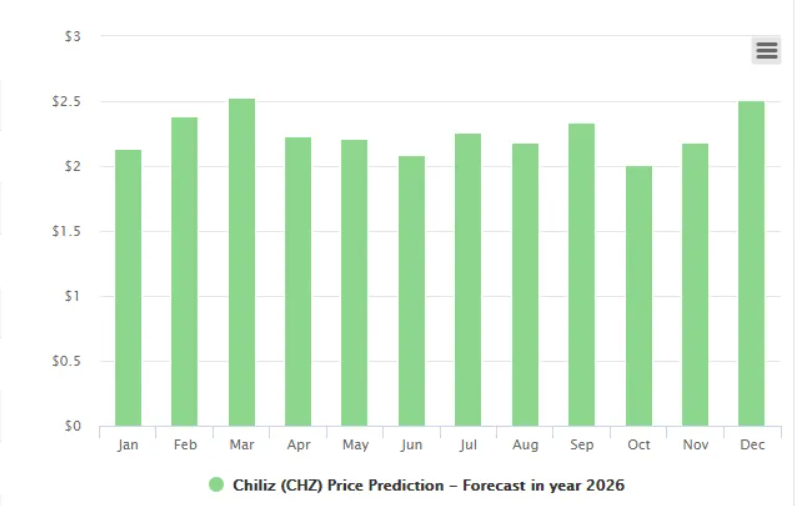 Overall, we are dealing with a bullish community of analysts who see the best prerequisites for the CHZ price in the coming years.
Based on the entrepreneurial strategy behind Chiliz, a good basis for long-term success has been created.
Thus, Chiliz should not only be an interesting investment for sports fans, but also for the trading and investment community.
Chiliz Tapped into A Thriving Niche
As with every speculative endeavor, make sure to carry out your research. However, the psychological and historic examples of the factors that drive fan engagement is already well established. If the team behind the Chiliz ecosystem — led by Alexandre Dreyfus, Emma Disking, and Max Rabinovitch — continues to be agile, it is difficult to see why CHZ would drop in price.
We also see that Chiliz is building more and more partnerships and collaborations with large sports clubs. Accordingly, the vision is spreading in the sports sector, more and more fans and potential investors are joining and CHZ continues to fulfill important functions in the Chiliz ecosystem.
Chiliz is certainly an interesting cryptocurrency that could be lucrative for investors and sports fans alike.
Frequently asked questions
What are the benefits of Chillz?
Disclaimer
In line with the Trust Project guidelines, the educational content on this website is offered in good faith and for general information purposes only. BeInCrypto prioritizes providing high-quality information, taking the time to research and create informative content for readers. While partners may reward the company with commissions for placements in articles, these commissions do not influence the unbiased, honest, and helpful content creation process. Any action taken by the reader based on this information is strictly at their own risk.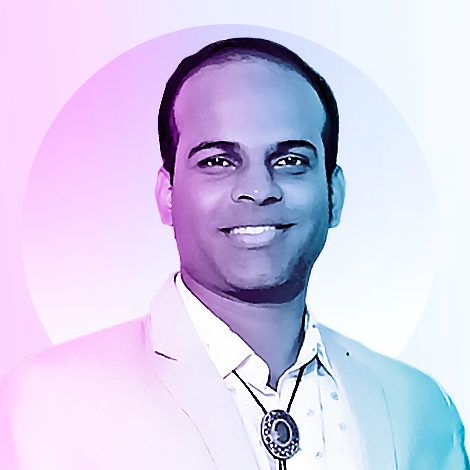 Rahul Nambiampurath's cryptocurrency journey first began in 2014 when he stumbled upon Satoshi's Bitcoin whitepaper. With a bachelor's degree in Commerce and an MBA in Finance...
Rahul Nambiampurath's cryptocurrency journey first began in 2014 when he stumbled upon Satoshi's Bitcoin whitepaper. With a bachelor's degree in Commerce and an MBA in Finance...
READ FULL BIO