Crypto newbies often prefer trading platforms that are easy to navigate and aren't overwhelming in terms of features. BYDFi, formerly BitYard, is one such exchange, serving the crypto-curious since 2020. But should you try BYDFi when there are several more established exchanges to choose from? This BYDFi review covers the origin of the exchange, feature sets, fee structure, quality of its customer care system, and other factors. By the end of this discussion, you should be familiar with the strengths and weaknesses of the centralized exchange.
BYDFI review at a glance: Our overall rating
To be so fresh in the industry, BYDFI is a well thought out and planned platform. The exchange has offerings on par with industry veterans. However, it could benefit from more products and services. What BYDFI lacks in experience, it will have to make up in giving customers more options.
Criteria
Fees
Assets
Features
Security
Customer
Experience
BIC Score
Score
4/5
4/5
3/5
4/5
5/5
4
What is BYDFi?
BYDFi, formerly BitYard, is a global exchange with its roots in Seychelles. It operates as BYDFi Fintech LTD, where BYDFi stands for BUILD Your Dream Finance. On paper, it adheres to the regulatory standards of some leading crypto exchanges like KuCoin.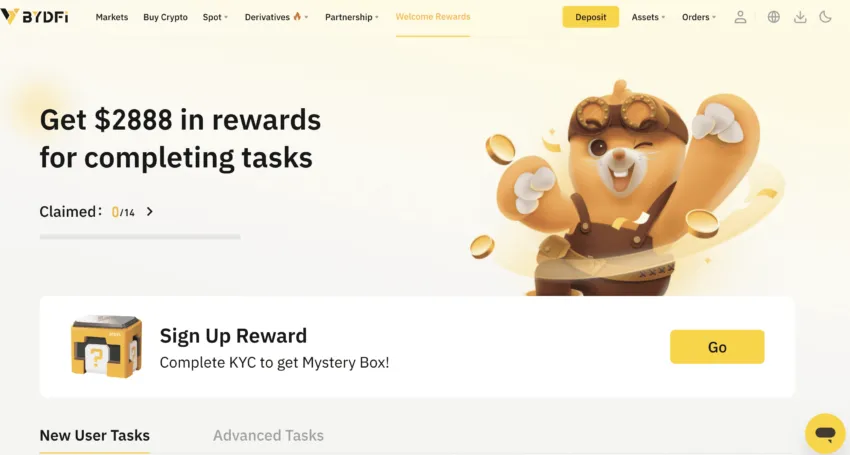 Official website: www.bydfi.com
History
BYDFi started as BitYard in 2019-20. Since then, the crypto exchange has spread out to 150+ countries and is currently headquartered in Singapore. As for the team, BYDFi has several reputed members in its wake, including Michael Hung, the Chief Marketing Officer; Hung Mao Tsai, the Product Manager; and more.
Did you know? BitYard was rebranded as BYDFi in January 2023. The name change aimed to bring users a more inclusive crypto ecosystem. 
Numbers
BYDFi has a massive user base of 500K, making it one of the bigger players in the crypto space. BYDFi has a 24-hour volume of almost $213 million as of early September 2023, followed by 228 cryptocurrencies and close to 400 markets or trading pairs.
When it comes to liquidity, the CEX falls in the same 520+ category as Gate.io and KuCoin. Also, if you look at the Exchange-specific trading volume since June 2023, things have been steady for BYDFi, with a significant dip witnessed in mid-August.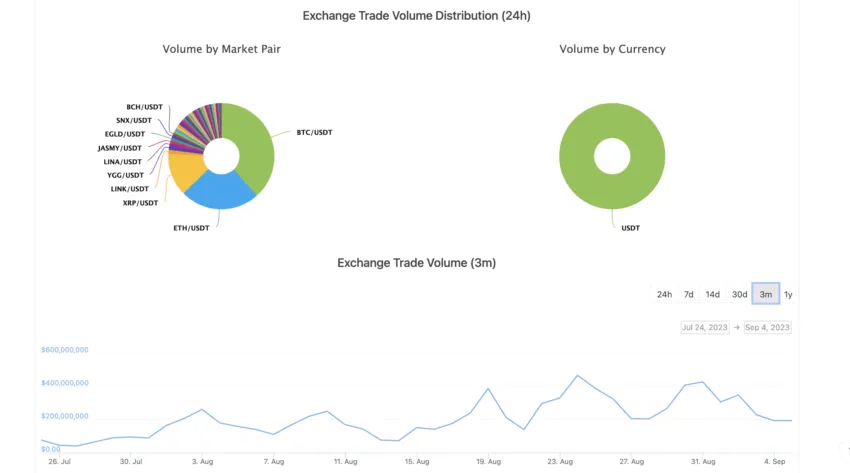 Based on the exchange-specific ranking, which considers trust and other factors, BYDFi is ranked 100.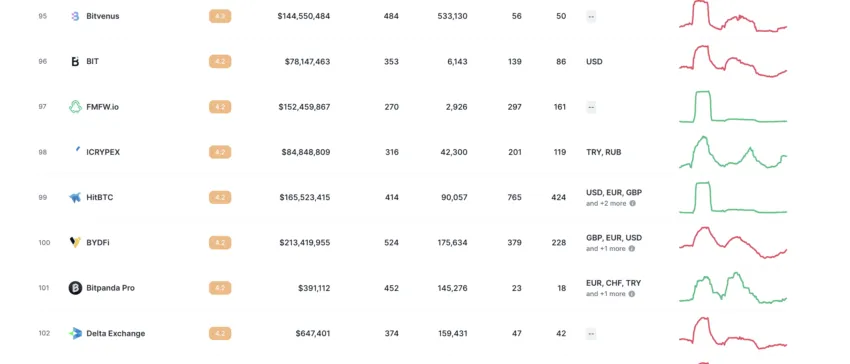 Regulatory landscape
BYDFi adheres to internationally recognized KYC and AML standards. On top of that, this cryptocurrency exchange boasts Money Services Business licenses in Canada and the United States, allowing it to operate like an exchange. Getting hold of dual licenses means that BYDFi has met specific regulatory guidelines to protect customers and prevent activities like money laundering.
Who is this BYDFi review for?
This BYDFi review aims to evaluate the features, customer support, security measures, and other aspects of using the crypto exchange. This review should be useful to:
Anyone looking for a lesser-known exchange with decent liquidity
Beginners looking to choose their first crypto exchange
Those wanting trading-heavy features without advanced frills like passive earning
BYDFi review: exploring the features
BYDFi isn't loaded with fancy traits like staking or web3/earn products. It sticks with trading only and has features aligned to this singular use case. Let us explore them in some detail:
Spot trading support
Every crypto newbie starts or should start with spot trading. This concerns buying a specific token at a given price and selling the same at a different (preferably higher) price. BYDFi offers this feature but segregates the same into three tiers.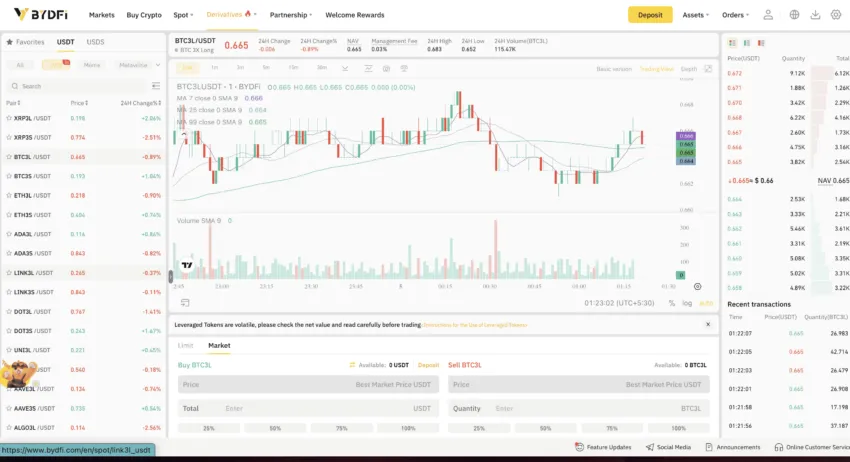 The first "Classical" tier involves a simplistic UI for quick buying and selling. The second "Advanced" tier features an all-inclusive trading dashboard. Also, these interfaces offer advanced charting tools and an interactive market depth analyzer to help you make better decisions.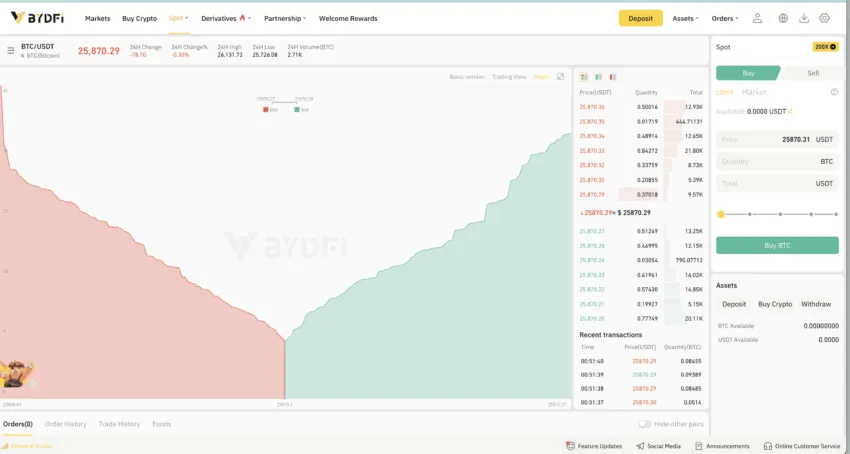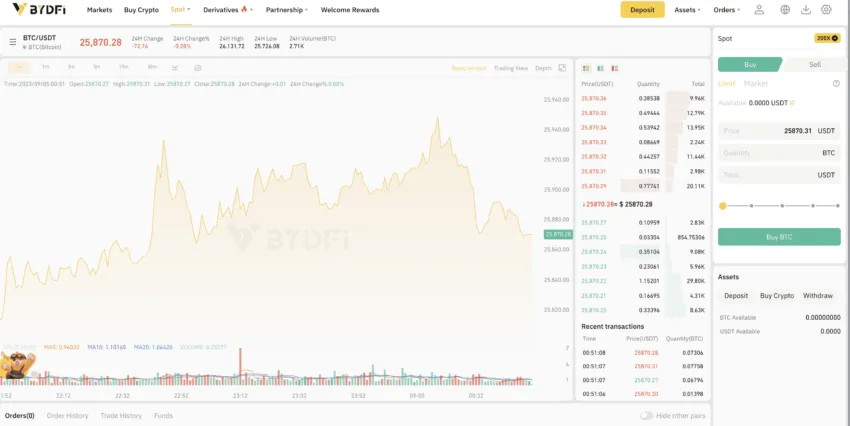 The third "Convert" tier is different. It is more of an over-the-counter Crypto-to-USDT converter, meant for users who do not want to off-ramp but convert their holdings to stablecoins.
Just to reiterate, BYDFi has close to 250 cryptos to work with, with their USDT pairs hogging all the limelight.
Perpetual contracts
Crypto traders with some experience prefer trading features related to futures or derivatives — putting faith in the long-term bullishness or bearishness at a specific counter. While there are futures contracts with specific expiry dates, the crypto space allows you to trade perpetual futures with no expiry dates. This means you can keep holding the position for as long as possible.
At BYDFi, trading these perps is possible, and that too with up to 100x leverage. However, it is advisable to keep the leverage on the lower side to minimize the risks of liquidation.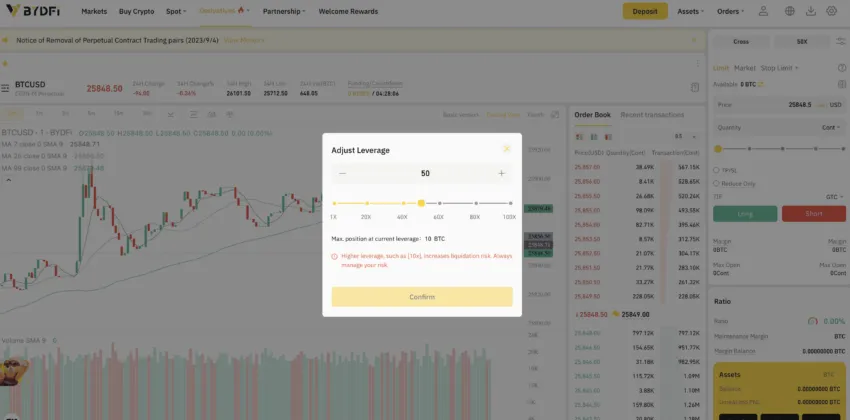 At BYDFi, Perp contracts can be either USDT-margined or Coin-Margined. The former involves looking at the margin, profits, settlements, and more in tether (USDT), whereas Coin-M involves all of the mentioned activities and settlements in the contract's underlying crypto.
Both these contracts are leveraged at BYDFi, allowing trades to ride short-term price movements.
"The Crypto Cycle & Leverage and where we are now…

Crypto is cyclical. Always has been. Its value is derived from a simple formula:

Value of the underlying technology

+

Global Liquidity

This is why I often say it trades like a call option on the future. "

Raoul Pal, CEO of Real Vision: Twitter
Leveraged tokens
BYDFi stands out from its competition courtesy of its leveraged tokens offering. These over-the-counter tradable tokens look like standard cryptocurrencies, but they come with built-in leverage, allowing traders to purchase high quantities of the same and ride small yet rewarding price movements.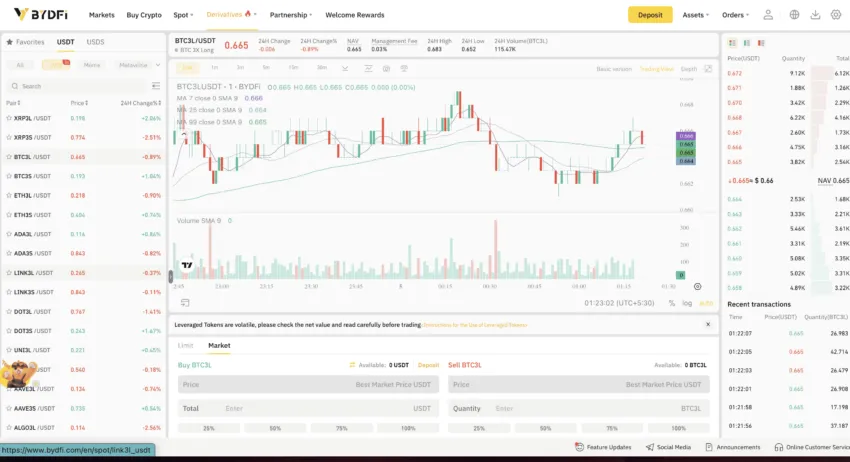 Unlike setting up leverage and choosing margin manually, leveraged tokens allow traders to explore the same world via spot trading.
Here is a quick bit on the current state of leveraged tokens:
Copy trading
Here is a BYDFi exclusive — a feature that allows newbie traders to mirror the trades initiated by the more experienced folks. Traders who are kind enough to be copied also generate additional income streams.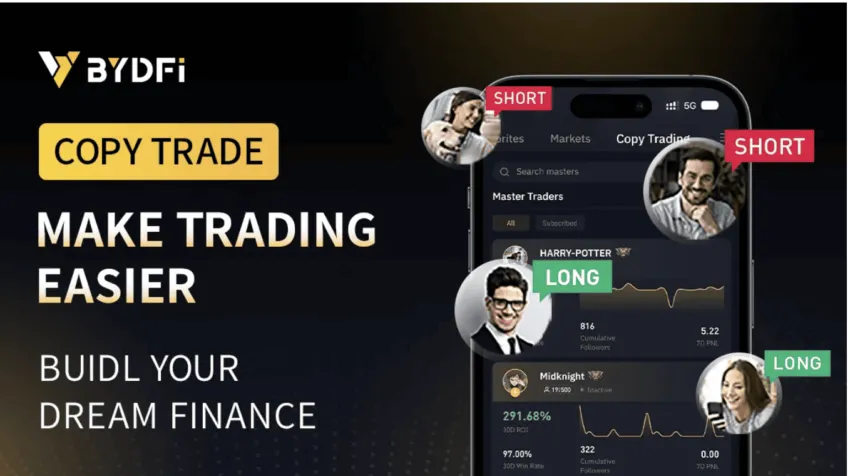 The crypto exchange has a stellar and massive lineup of experienced traders whose strategies and records have been validated by their past performances. At BYDFi, such traders have been termed master traders.
Master traders can earn up to 8% when someone profits by copying your trading strategy.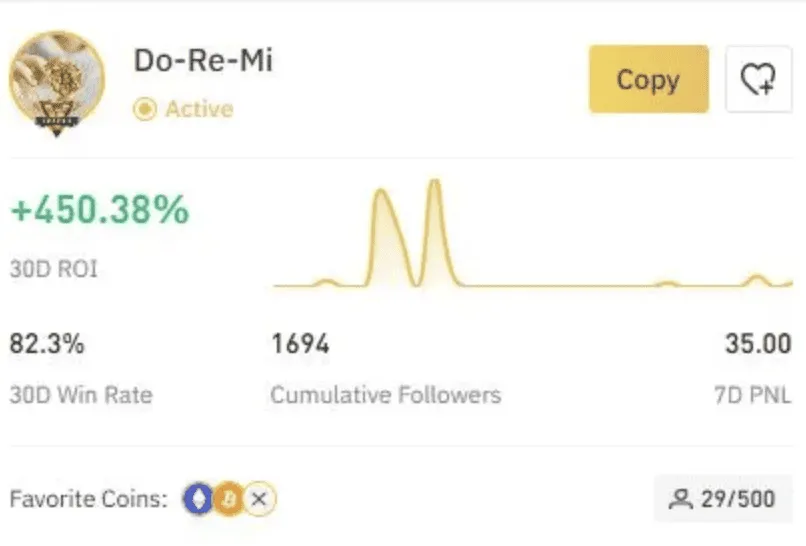 Token listing support
One of the less celebrated features of BYDFi has to be its token listing functionality. The crypto exchange offers an interactive yet user-friendly platform for new startups to list their projects and tokens. Despite the ease of connecting, the vetting process is stringent, and BYDFi aims to only list credible project tokens and avoid scams.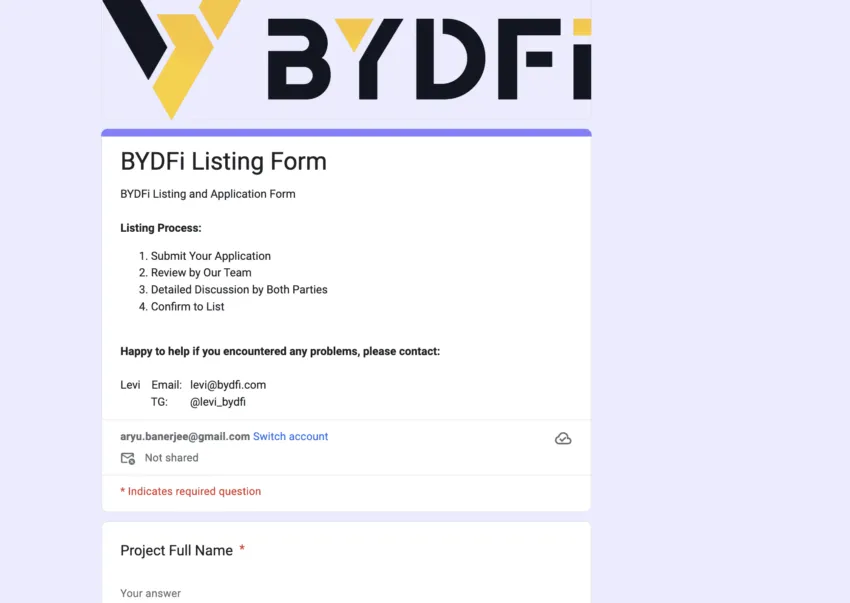 API coverage
For someone interested in setting up a trading platform, BYDFi even offers API access. It is possible to choose from various offerings, including basic token data, market depth, currency info, details regarding token pairs, and more.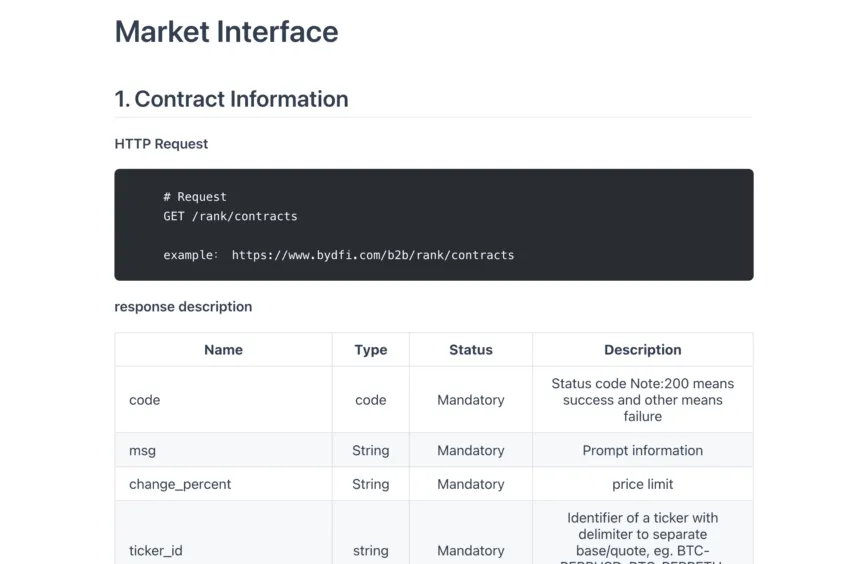 Affiliate program
BYDFi has one of the more rewarding affiliate programs in crypto, offering commissions as high as 50% for referrals. To explore and benefit, you can either use the exclusive link to onboard a user or send out invites to your network.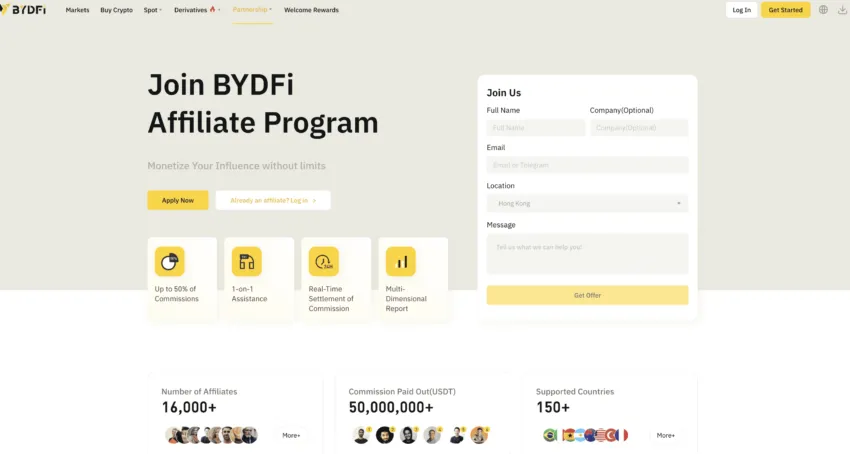 Besides the mentioned features or offerings, BYDFi doubles down as a real-time block explorer courtesy of its integration with Blockchair. From procuring data about specific addresses and wallets to blocks to transactions, anything and everything blockchain-specific can be accessed using the BYDFi-Blockchair combo.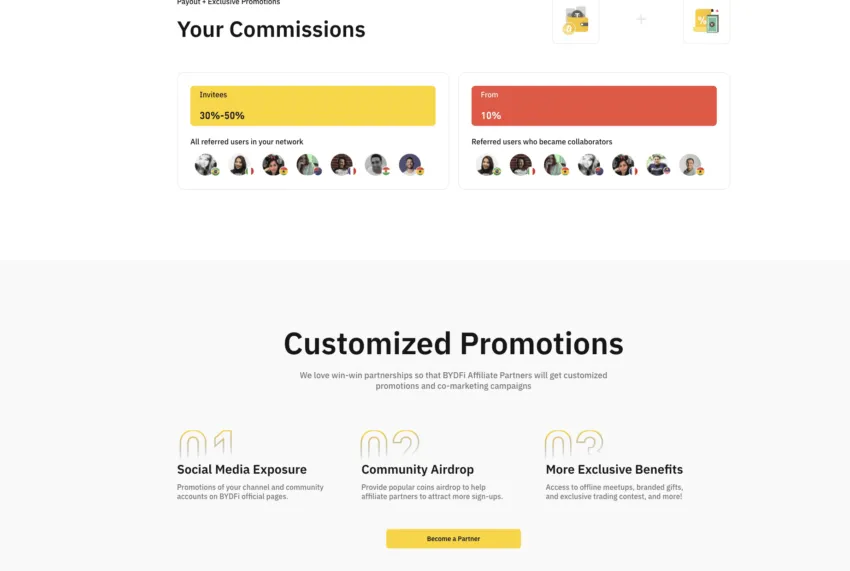 The exchange has also recently introduced the BYD point system, allowing users to leverage additional trading-specific and airdrop benefits.
Is BYDFi suitable for beginners? Unpacking the user-experience
Even though BYDFi claims to offer the best exchange for crypto beginners and also pro-traders, it is definitely a better bet for the former. BYDFi stands out from the crowd as it is one of the few exchanges to offer copy trading — a feature meant to drive new crypto traders to the right trading pathway, all while incentivizing the professionals.
The inclusion of this feature alone makes this evidently crypto exchange beginner-focused. Plus, there are no fancy earning and staking resources — features crypto stalwarts often rely on to generate passive income from their held tokens.
Setting up BYDFi
Another positive aspect of BYDFi is the solid user experience on offer. As it is a no-frills platform, setting up a profile is as easy as it gets. You can either register using your phone number or email ID. You can access the features once you confirm the email or your number by feeding in the supplied OTP.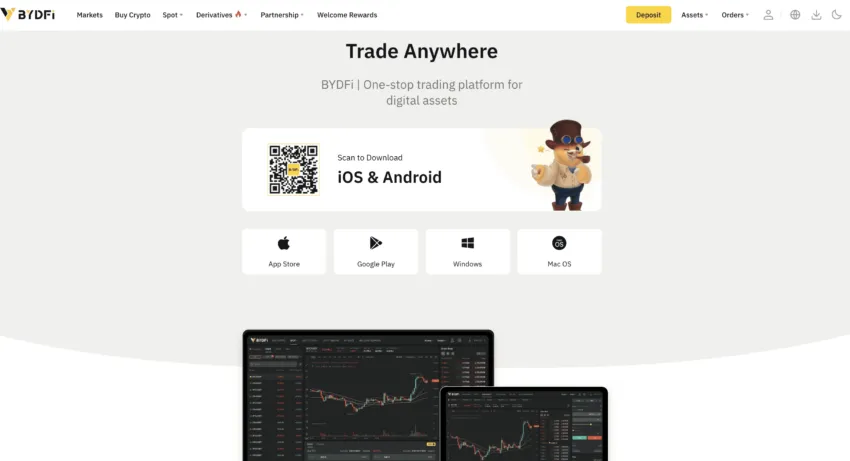 As for the trading platforms and interface, BYDFi lets you trade on iOS, MacOS, Windows, and even the Android ecosystems, courtesy of platform-dedicated resources. The mobile app(s) for Android and iOS are interactive enough and show real-time trading insights, similar to the web interface.
Creating an account and making the first trade
Once inside BYDFi, you can start crypto trading immediately by migrating or depositing your crypto on-chain. There is no requirement to complete KYC verification at this stage; you must only pay the network-specific transaction fees.

However, you must complete the country-specific KYC verification to active on-ramps or fiat currency deposits to purchase and trade crypto. You can even enhance the daily transaction limit to 10 BTC.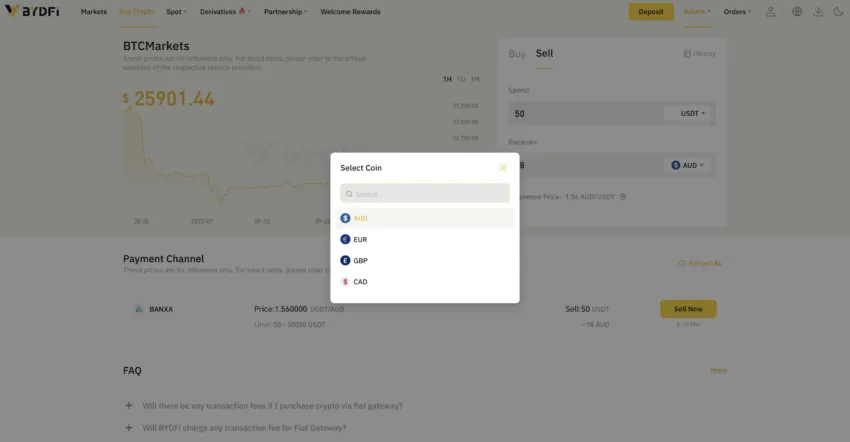 Once verified, you can make fiat currency deposits using a wide range of payment options, including bank transfers, Apple Pay, and more — depending on which country you are operating from.
Also, if you are using the BYDFi mobile app, there is ample handholding to help you initiate the first trade.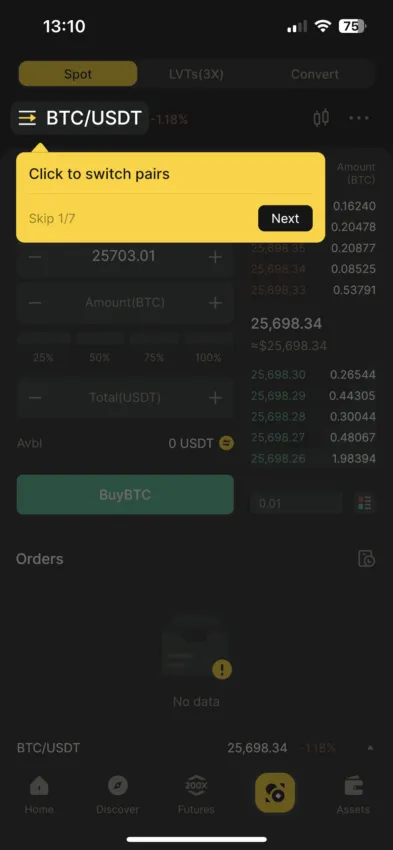 Welcome bonus / offer
Finally, BYDFi also has an immersive "Rewards" setup, allowing users to earn non-withdrawable but redeemable USDT tokens for completing specific tasks. These include joining the community, making an initial crypto deposit, trading a leveraged token, and more. Do note that these USDT rewards can only be used across the perpetual contracts space.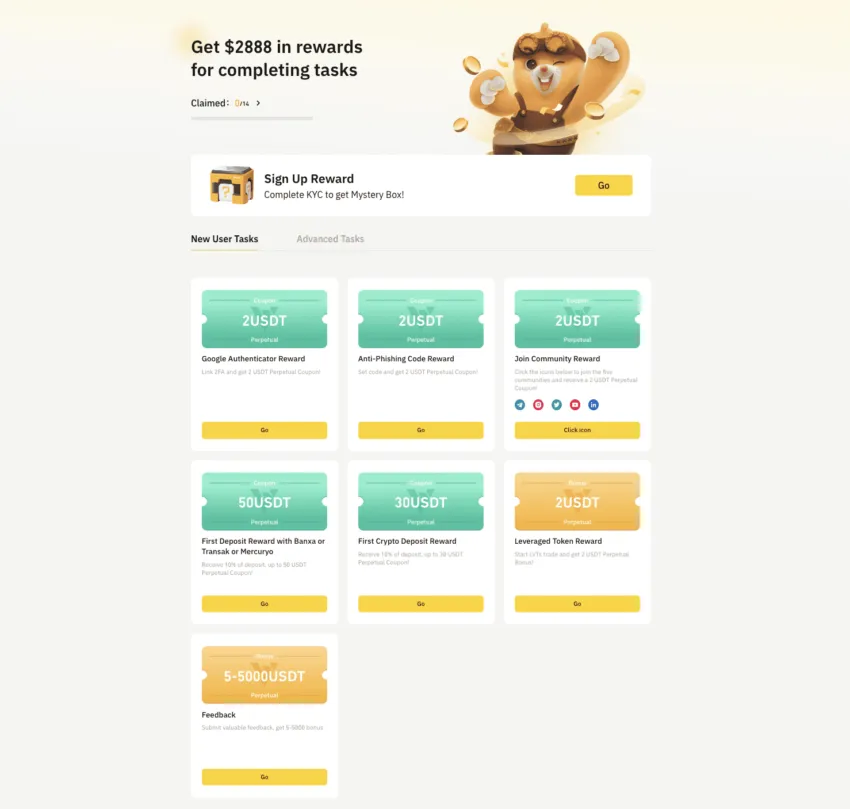 Navigating the BYDFi interface
Another aspect of BYDFi's seamlessness is the user-friendly UI. On heading over to the "Markets" section, you first notice how spot, derivatives, and leveraged tokens are listed based on their highs, lows, volume, and a one-touch option to "Trade."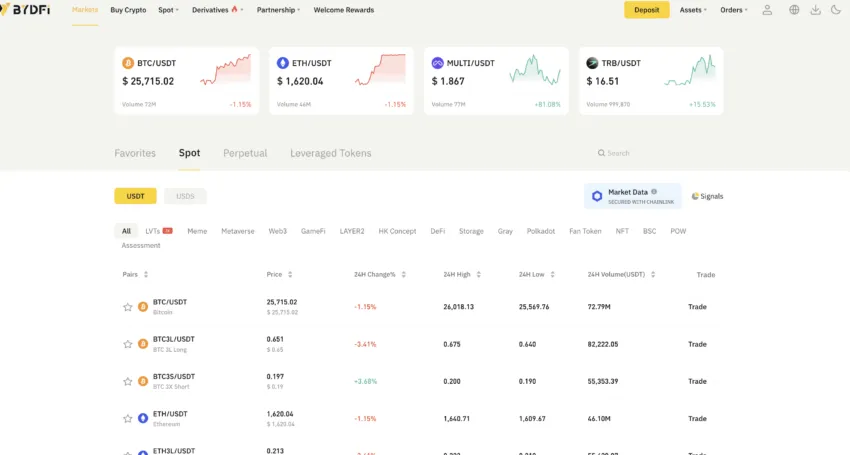 The tokens are organized depending on the ecosystems and use cases they belong to. For instance, if you choose to look at tokens on the Binance Smart Chain (BSC), BYDFi has these listed for you.
BYDFi has recently launched a feature called "Coin List," allowing users to prepare their own watchlist for closer analysis of any preferred tokens.
The mobile app also has a "Discover" section that tracks top traders, alphas, and even blockchain insights related to key crypto events. And then there is the updated "News" section to stay abreast with the current crypto happenings.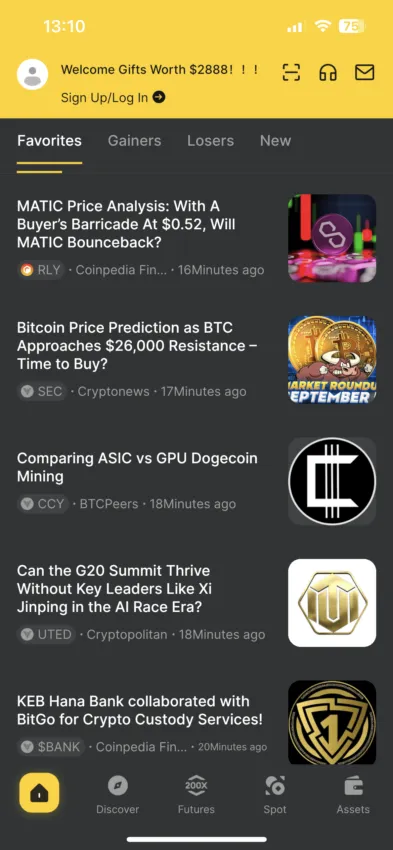 What is the trading fee for BYDFi?
It all comes down to the fee structure when dealing with an exchange. BYDFi has a 0.1% to 0.3% tier for spot trades for any crypto trading pair. However, for a trading pair, you can either be a maker (limit order) or a taker (market order). That way, the fees for spot markets can move between the given range, depending on the assets' liquidity and available markets.
Here is how important liquidity can be:
"The price of altcoins are more so a function of excess liquidity than they are about who wins a court case."

Benjamin Cowen, founder of ITC Crypto: Twitter
Remember the "Convert" functionality we discussed in relation to the spot trading feature? BYDFi charges anything between 0.1% to 0.15% for those crypto-to-USDT conversions.
Perpetual contracts are charged anywhere between 0.06% for the taker and 0.02% for the maker, rates that are competitive and in line with international standards. These rates hold for Lite Perpetual Contracts settled in USDT and the Coin-M or the Inverse Perpetual Contracts.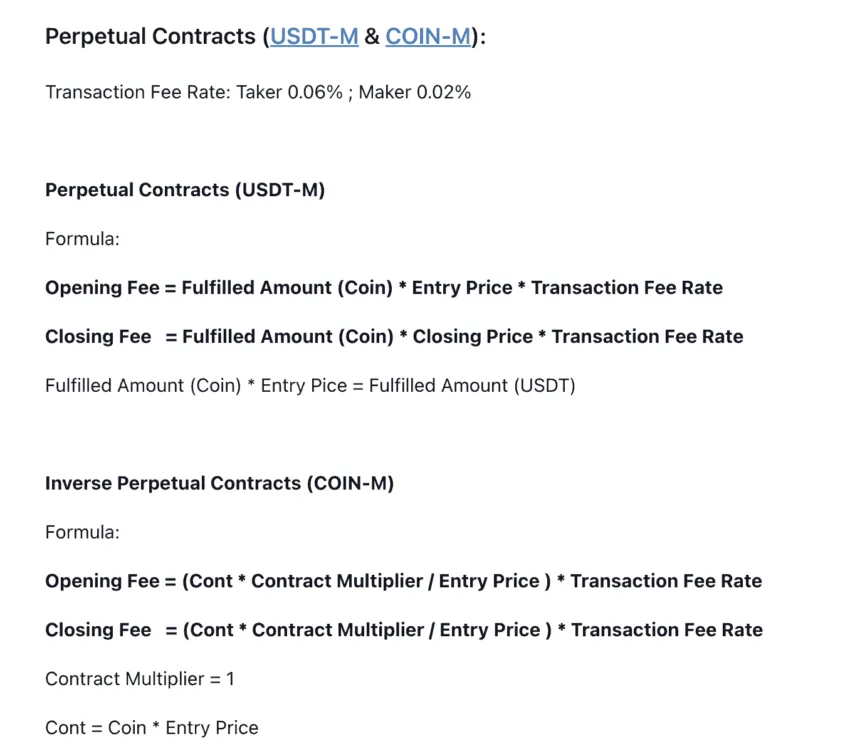 And finally, there are charges for dealing in leveraged tokens. A flat transaction fee of 0.2% is charged for every buying and selling event.
Overall, the transaction rates are competitive and depend on the liquidity exhibited by a given asset.
How safe is BYDFi?
BYDFi is a relatively safe exchange with no platform-specific incidents reported to date. Additionally, the exchange has several security implementations in place, allowing users to trade with peace of mind. Some of the most impactful measures include:
Two-factor authentication with a focus on bringing in another line of defense while accessing accounts.
Stringent verification standards involving email addresses and phone numbers.
Email binding for ensuring that every withdrawal and transfer of crypto is verified with an OTP.
Anti-phishing support via codes ensures that traders only communicate with verified BYDFi profiles and accounts.
Multi-party approvals, which ensure that high-value transactions are verified before being confirmed.
Whitelisting involves verifying IP addresses and accounts to ensure that you are accessing the BYDFi interface from a secure zone.
In addition to these measures, BYDFi also relies on account segregation — a practice that keeps users' funds separate from that of the exchange, thereby building an environment of trust and transparency.
Here is what the entire security-specific dashboard looks like: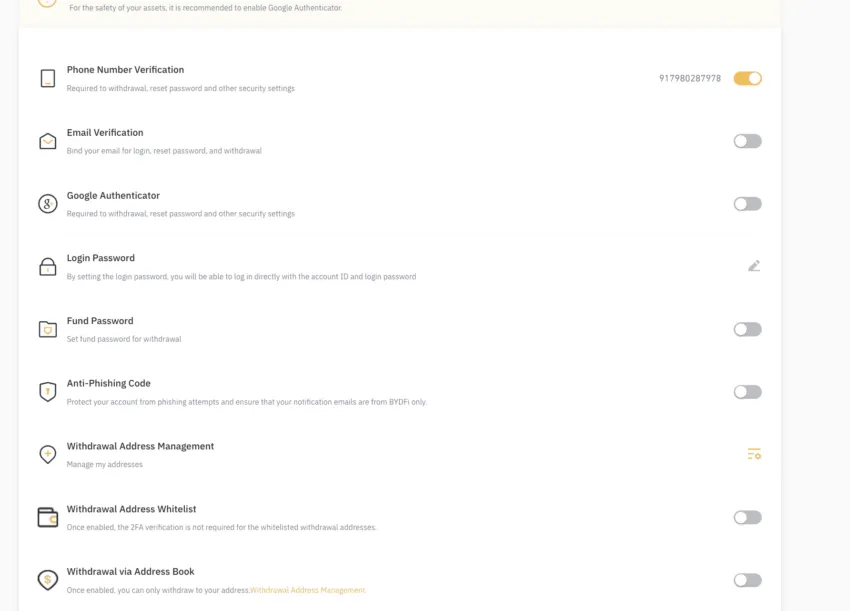 Deposits, withdrawals, and more: exploring BYDFi further
Not that the exchange offers third-party fiat currency gateways for some assets to make direct purchases even without KYC verification. It is worth noting that not all crypto assets are supported. As for the deposit limits, there is no threshold once you are KYC verified. However, for network-based movements, a limit of 10 BTC is placed post-KYC verification.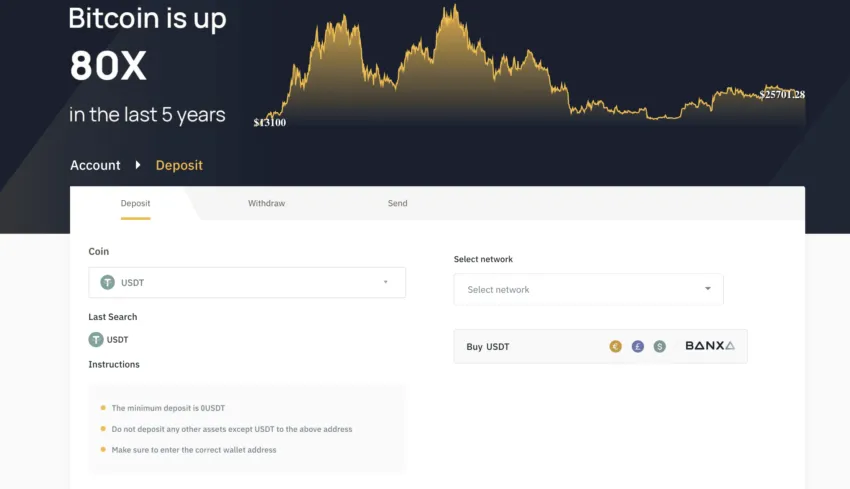 The minimum withdrawal limit is set at 20 USDT. As for the deposit limits, there is no fiat-based threshold. However, if you are talking crypto deposits, the limit depends on the type of asset you plan to deposit and the chain you plan to explore for that.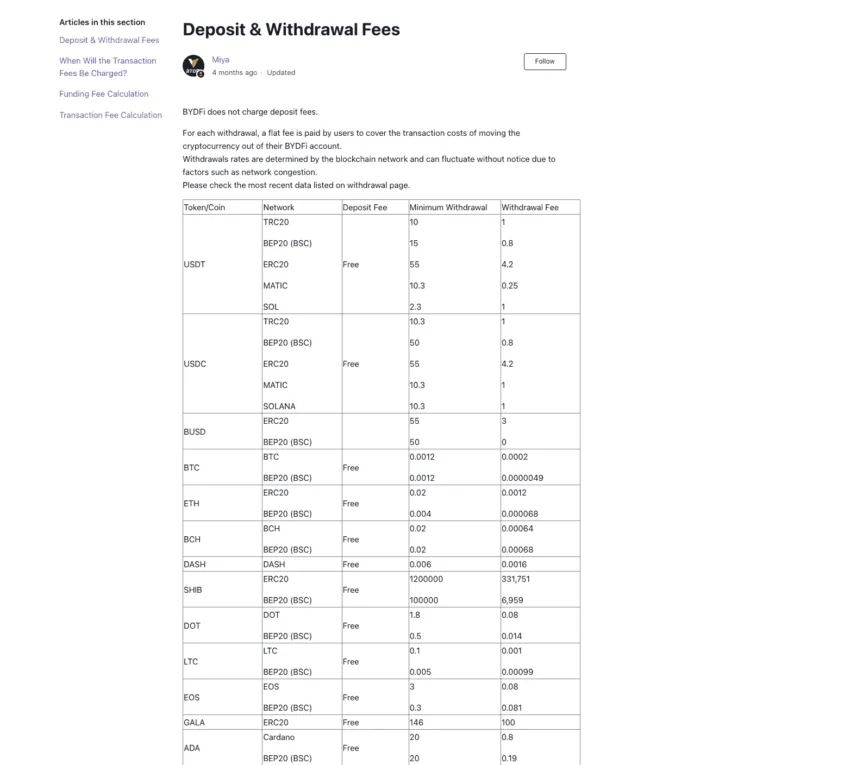 Additionally, the deposits aren't charged with any overheads, whereas withdrawals attract a network-specific flat fee.
BYDFi review: customer support system explored
Based on our live tests, BYDFi seems to have a robust and prompt customer support system, as any crypto exchange needs. Here are the standard inclusions:
Live chat: This functionality covers your queries 24/7, offering immediate assistance related to trading, withdrawals, deposits, and more.
Email support: A feature that allows you to elaborate on your issues and receive replies within 24 to 48 hours. You can head over to

[email protected]

to communicate any concerns.
Help sections: The website has a dedicated section for FAQs, where almost every solution to every possible query is listed. This approach is meant to handle smaller issues that might not need escalations.
Apart from the mentioned avenues to connect in case of concerns, BYFDI also has a pretty active Twitter (X) page. There are also country-specific Telegram groups to cater to local individuals. Additionally, BYDFi offers other user-centric support systems, including the likes of:
Detailed account verification by official representatives.
Multi-lingual platform access
Detailed tutorial for the affiliates
Account managers meant for high-value and institutional clients
The BYDFi Army partner program to help spread the word about the exchange.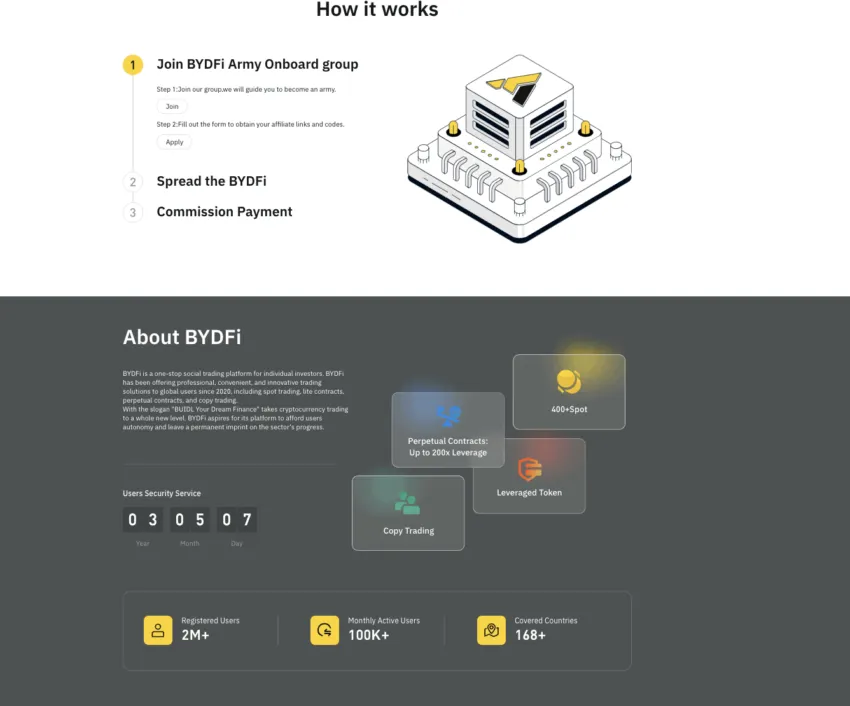 BYDFi review: pros and cons
Still unsure as to what you think of BYDFi overall? Here is a list of pros and cons to go through:
Pros
Robust security standards
Extensive trading options
Option to initiate leveraged trades for perps
Balanced and minimalist interface
U.S. and Canadian user base showing adherence to regulations
A dependable customer support system
One of the few CExs to offer copy trading functionality
Cons
Limited "Learn" based educational resources
Doesn't support staking-like earning plans
Liquidity can be an issue for the less common trading pairs
Moderate trust score as no proof-of-reserves are declared
Invest responsibly
While trading on platforms like BYDFI can offer potentially rewarding opportunities, it's vital to recognize that trading inherently carries risks. Investors should always prioritize risk management, keep their funds separate, and never invest more than they can afford to lose.
Furthermore, this BYDFI review should not be considered investment advice. Investors should take into account their personal situations and do their due diligence before investing.
How does BYDFi compare against the crypto behemoths?
Even though BYDFi has a way to go before it can be truly compared with the likes of heavyweight exchanges such as Binance, Kraken, or OKX, it is on the right path. With advanced security measures and a well-thought-out interface, this BYDFi review shows the value of a simplistic interface. For crypto traders who plan to explore the world of spot markets, derivatives, and leverage, BYDFi is a pretty solid option, even with the behemoths around.
Frequently asked questions
What are the payment methods for BYDFi?
What is the minimum deposit for BYDFi?
How do I withdraw from BYDFi?
Disclaimer
In line with the Trust Project guidelines, the educational content on this website is offered in good faith and for general information purposes only. BeInCrypto prioritizes providing high-quality information, taking the time to research and create informative content for readers. While partners may reward the company with commissions for placements in articles, these commissions do not influence the unbiased, honest, and helpful content creation process. Any action taken by the reader based on this information is strictly at their own risk.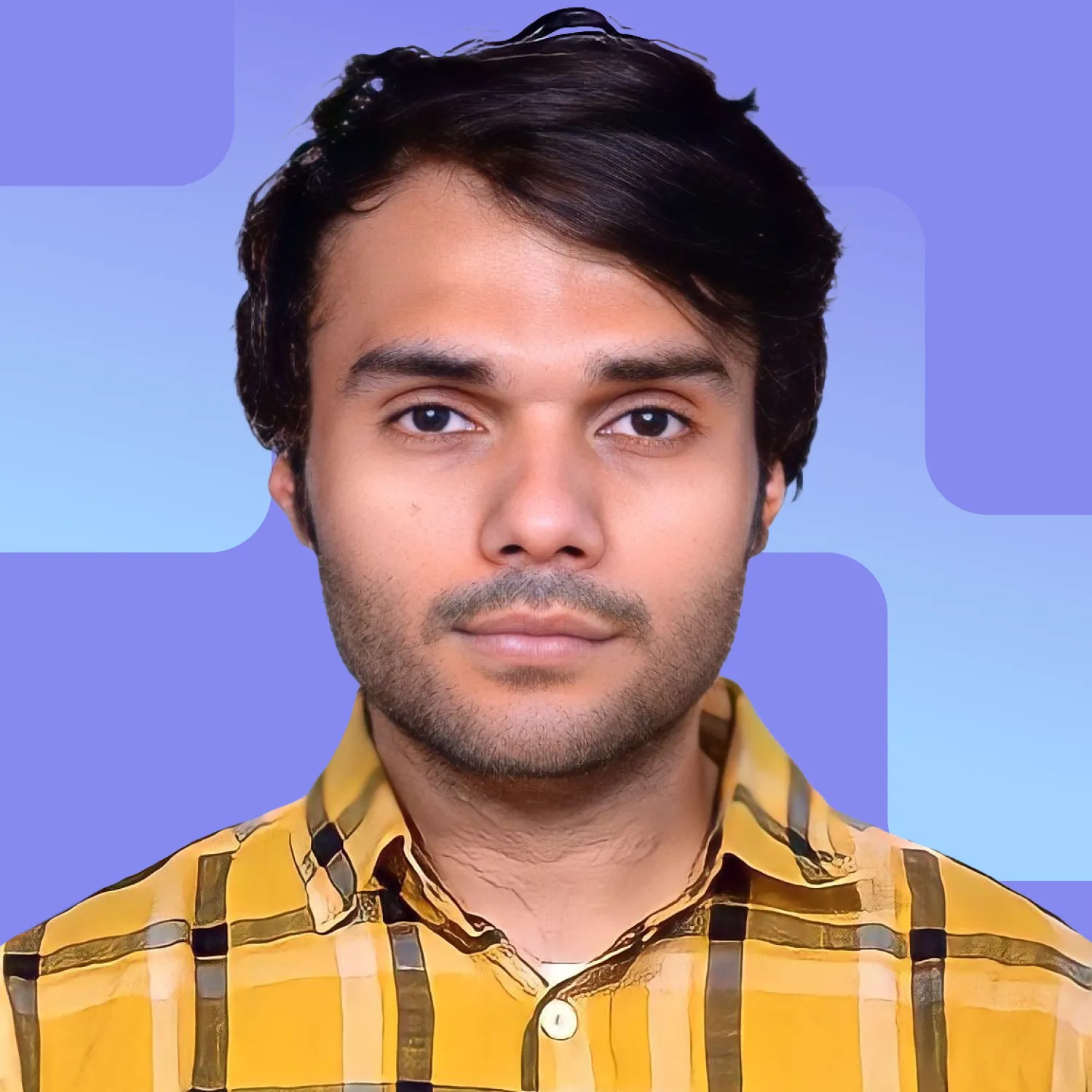 Ananda Banerjee is a technical copy/content writer specializing in web3, crypto, Blockchain, AI, and SaaS — in a career spanning over 12 years. After completing his M.Tech in...
Ananda Banerjee is a technical copy/content writer specializing in web3, crypto, Blockchain, AI, and SaaS — in a career spanning over 12 years. After completing his M.Tech in...
READ FULL BIO
Sponsored Sponsored