Copy trading is a great way to create a cryptocurrency portfolio. Most new crypto investors have no idea where to start and how to pick the best assets for investments. But luckily, the most popular trading platforms offer multiple features to help you on your investment journey.
Imagine what if you could open the same traders as professional investors. Well, you can do that right now through copy trading. The first company who released such feature on the crypto market was eToro who still delivers the iconic experience in copy and social trading. Nowadays copy trading is one of the most popular features for traders (according to the research in BeInCrypto Trading Community) and many exchanges offer such functionality to their users. Here's an extensive guide on how to do copy trading. Replicate the trading activities of financial experts and earn a passive income without spending time researching every investment you make.
Watch Video Recap
*Copy Trading does not amount to investment advice. The value of your investments may go up or down. Your capital is at risk.
What is copy trading?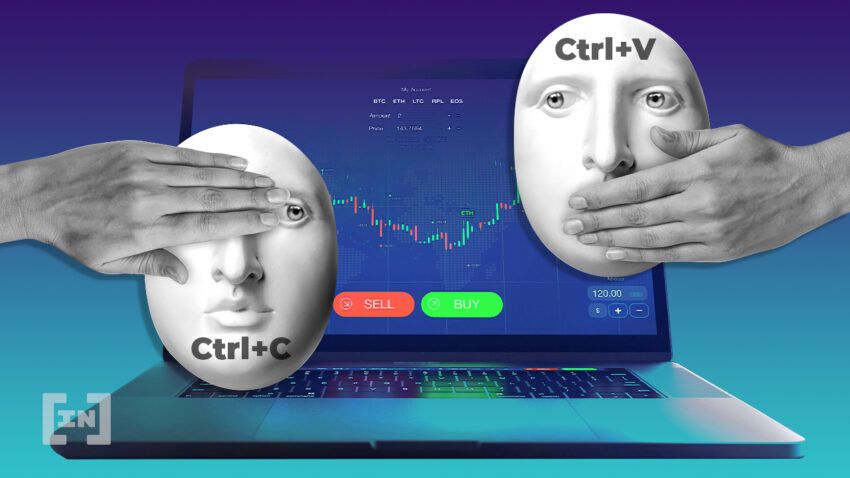 Copy trading is a special type of trading activity that involves copying trades from other traders.
Many brokers now offer automated copy trading, along with many other features. When choosing to copy the trades of other traders on the platform, you may filter those traders. They will have useful stats and insights about each investor, their profit/loss ratio for the last year, and their investment strategy.
The copy trading platform automatically opens the trades on your account when a trader you follow opens them. You can also decide how much capital you wish to use for these trades and the total risk per trade. For instance, if a trader opens an order to buy gold at 5% of his trading account size, that same trade will appear in your trading account. If you are more risk-averse than the trader you are following, you can limit the risk per trade.
As soon as you start using a platform for copy trading, you'll be able to easily filter through trading results from experienced traders. This makes it simple to find the best fit for your trading style and risk tolerance. Let's examine the top trading platforms offering copy trading.
What are the benefits of copy trading?
The main advantage of using copy trading is that it allows you to take advantage of another person's investment experience and knowledge. Without having someone guide you and give you trading tips, you would have to spend hours analyzing and deciding which stocks you should buy or sell. You would have to become an expert at fundamental and technical analysis and follow the market trends and price movements.
But all that effort is not needed with copy trading. Furthermore, you can start copy trading without having prior trading experience. You simply need to follow a professional investor on a trading platform that offers copy trading.
You are free to choose the professional traders to follow. By using the copy trading feature, if you find a trader that has consistently generated high returns, then you could theoretically copy their trading systems to achieve the same results.
Is copy trading for beginners? Yes, even new investors can use copy trading because it is a passive system. This means that you can leave the difficult work of selecting investments to others. It's possible to earn returns on your portfolio without spending hours researching the market. Since the professional trader directs investment decisions, diversification and risk management can also be done.
There are several criteria to consider when choosing an investor to follow and copy their trades:
How long have they been trading?
Their investment success rate
The number of open positions
The average holding time for investments.
Preferred type of investment instruments (crypto, stocks, etc.)
As a new investor looking to use the copy trading system, you should decide on your goal. For instance, you might copy someone who is more interested in hedge funds, commodities, etc. But if your goal is to beat the market, an index strategy might be more appropriate.
How does copy trading work?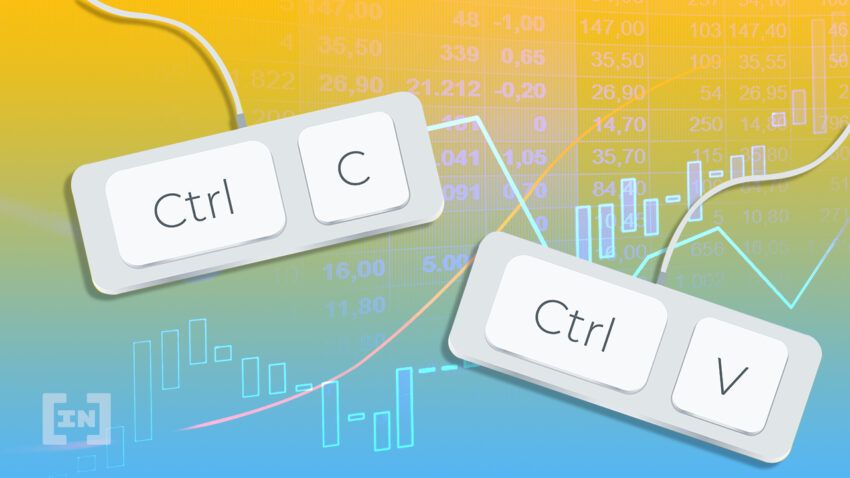 Copy trading works in all financial markets. It can be used to trade crypto, Forex, stocks, commodities, metals, and other financial markets.
Many traders who seek to replicate the trades of other traders are primarily interested in their trading performance, not in the markets they trade. Of course, you may choose to copy traders who focus on crypto trading.
Since the cryptocurrency trading market is rather new, it might be a good idea to follow a professional trader who has more technical knowledge than you have. If you don't have enough experience trading cryptocurrency, it makes sense to copy their trades.
Here's how to do copy trading for cryptocurrency trading.
Step 1. Search for traders available for copy trading
You may filter traders based on their location, the markets they invest in (Forex, crypto, commodities, stocks, indices, or ETFs), their profit margin from the last month (and up to two years), and other factors.
This is what that search function for people looks like on eToro.
Step 2. Select one trader to apply the copy trading strategy
After filtering and selecting the trader that focuses on your preferred assets, you may check out more detailed stats on their profile. You may see how many are already following and copying their positions.
Step 3. Enable "Copy trading"
After deciding on the trader you want to copy, simply click on the "Copy" button. You will have to set the details for the traders before the platform can start copy trading.
After you have set the amount to invest and the setting for closing the investment (Stop Loss), click on "Invest."
After you start your investment, you will have the same traders in your portfolio as the trader that you just copied.
Step 4. Close the investments at any time
You will now see that you are copying this trader. On their page, you will see all the details of your copy investment. You'll find the same information on your portfolio page.
You can close this investment and stop copying their traders at any time. While there is no need to keep an eye on your copy investment because the trader you are copying is already doing that, you may choose to stop copying their investments.
To do so, you have to go to your portfolio, find that trader that you want to stop copying and on their page, go to settings and select "Stop Copying."
5 best copy trading platforms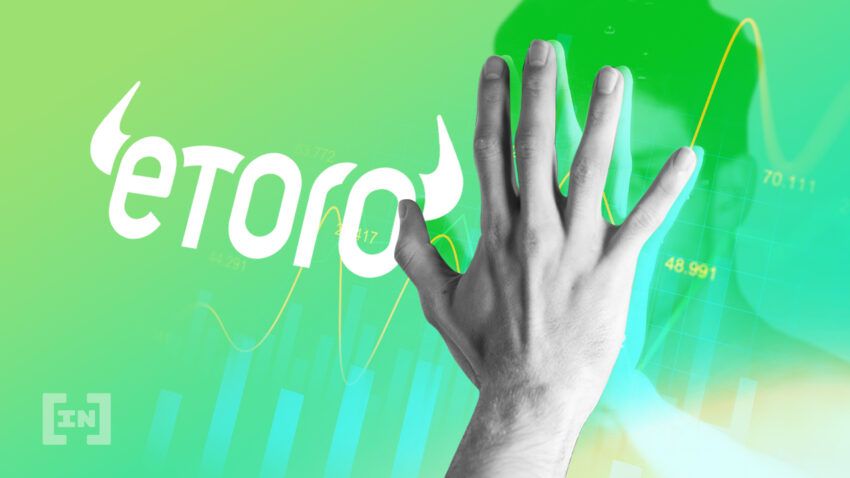 eToro is one of the best copy trading platforms, and it offers a wide range of assets (Forex, crypto, commodities, stocks, ETFs, and indices). The platform is based in Tel Aviv, and it was launched in 2007 by Ronen Assia (current CEO), David Ring, and Yoni Assia. The copy trading feature was added in 2010, and it established itself as the world's leading social trading network.
In 2014, eToro became the first trading platform to support cryptocurrencies when it added bitcoin (BTC) support.
Four years later, in 2018, the platform added support for ether (ETH) and ripple (XRP). Since then, the number of cryptocurrencies supported by the platform has continued to grow. eToro strives to improve its crypto trading services and also offers a crypto wallet to traders that wish to own the underlying asset.
eToro allows you to trade and invest in crypto. US customers can only trade cryptos/stocks/ETFs. You can trade more than 50 cryptocurrencies for fiat, and you can use multiple payment methods to purchase, sell, or withdraw. These include bank accounts, debit and credit cards, PayPal, wire transfers, and bank accounts.
It is the most widely used and largest copy trading platform in the entire world.
eToro features
Web, PC, and mobile iOS and Android platforms
Copy trading and investment strategies of other users
Free demo account (up to 100k virtual portfolio)
Customer service via support tickets
50+ cryptocurrencies
Provides professional tools
0% commission stocks
eToro Money Visa Card (free and instant deposits with no conversion fees and instant withdrawals)
Many deposit options for fiat (credit/debit card, bank transfer for the first deposit, and PayPal, Skrill, and Neteller after the first deposit)
eToro Club (exclusive market info from financial experts)
Pros and cons of using eToro
Pros
Social trading (copy trading feature)
Offers access to more than 50 cryptocurrencies
Cons
High non-trading fees
Your account can only use one currency
Not all features are available in the US.
eToro fees
For deposits: the minimum deposit is $50
For withdrawal: $5 fee, the minimum amount is $30
There are no trading and transaction fees for stocks and ETFs
Crypto transactions incur a 1% fee
There are no management, rollover, ticket, or additional broker fees
FX fees apply on non-USD deposits and withdrawals
Inactivity fee: $10/month
Withdrawals and deposits are conducted in USD. Any other currency will have to be converted and, therefore, will incur a conversion fee.
OKX is a "crypto household" name. Along with its sister exchange Okcoin , the OK Group — which is founded by Star Xu — owns OKX. Initially created in China 2017, the company would eventually transition to Malta, for more crypto friendly regulations. In time, OKX would become the world's largest exchange by turnover in 2018. However, the company currently is seated as one of the top 10 exchanges.
Formally known as Okex, the Seychelles based platform is a crypto spot trading and derivatives exchange. OKX provides three types of contracts: futures, options, and swaps. It offers weekly, bi-weekly, quarterly, and bi-quarterly crypto margined contracts and Tether margined futures. Options are only available for Bitcoin, but there are perpetual swaps for other assets.
Unlike many of its competitors, OKX has been dubbed a one-stop shop, due to the variety of services that it offers. User's will be happy to know that OKX's suite of products is bound to meet most of their needs. In addition to spot trading and derivatives, the global platform offers bridges, cloud services, mining, loans, and copy trading.
OKX Copy Trading aims to create a trading tool that is efficient, transparent, and profitable for OKX traders. There is a low minimum trading limit for copy trading. In a single click, copy traders can explore new revenue streams, gain exposure, and engage with the larger trading community. This feature also provides new revenue streams for lead traders.
OKX Features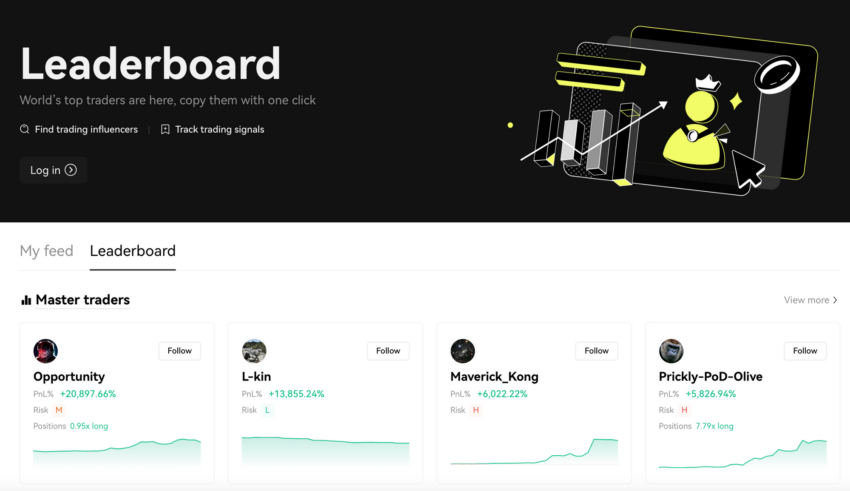 Offers spot, margin, and derivatives (options and futures) trading for a multitude of cryptocurrencies
Single and multi-collateral for fixed and flexible-term loans for up to 10 cryptocurrencies
OKX Cloud — White-label cloud services for building your own exchange
Mining pools for BTC, LTC, ETH, ETC, and DASH, and staking pools on a variety of assets
OKX social trading
Pros and Cons of using OKX
Pros
Many educational resources
Accounts can be opened in a variety of fiat currencies
Vast suite of products
User friendly and advanced trading interface
Hundreds of trading pairs
Demo trading
Cons
Unavailable in many countries, including the US
Can only fund account with crypto unless you use a 3rd party
OKX Fees
Vary depending on two types of users — Regular user and VIP user 30-day trading volume, and OKB holdings (for Regular users)
Maker fee (Regular): Spot-trading (0.06-0.08%), Futures and Perps (0.015-0.02%), Options (0.015-0.02%)
Taker fee (Regular): Spot-trading (0.08-0.1%), Futures and Perps (0.03-0.05%), Options (0.03%)
Maker fee (VIP): Spot-trading (-0.008-0.06%), Futures and Perps (-0.015-0.01%), Options (-0.01-0.01%)
Taker fee (VIP): Spot-trading (0.02-0.08%), Futures and Perps (0.02-0.03%), Options (0.013-0.02%)
AvaTrade is a trusted global brand that is well-known for its extensive asset range for crypto, Forex, and CFD traders. It also offers exceptional educational content. The platform was launched in 2006, has its headquarters in Ireland, and is regulated by nine financial authorities, including The Financial Futures Association of Japan (FFAJ), Cyprus Securities and Exchange Commission (CySEC), Israel Securities Authority (ISA), Central Bank of Ireland (CBI), Australian Securities and Investments Commission (ASIC) and others.
AvaTrade was tested and found to be excellent for copy trading, competitive on mobile, and in line with industry standards for pricing and research. The platform registers over 2 million trades every month and has a monthly trading volume that surpasses $70 billion. This makes AvaTrade one of the best copy trading platforms for traders interested in all financial markets, not just cryptocurrency.
AvaTrade features
Offers a wide range of investments (1200+ supported assets)
Impressive trading platforms available to traders (MetaTrader 4, MetaTrader 5, Meta Trader for Mac, Meta Trader for mobile trading, Meta Trader for web trading, the AvaTradeAct platform — proprietary platform)
Automated trading software (MQL5 Signal Service, API Trading, Duplitrade)
Negative balance protection
Offers a wide array of financial trading instruments (Forex, cryptocurrency, indices, stocks, bonds, ETFs, commodities, options)
AvaSocial — replicate the trades of successful investors.
Pros and cons of using AvaTrade
Pros
Free deposit and withdrawal options
A wide range of trading instruments
Customer service support in 14 languages
Cons
The trading platform's interface is less user-friendly
Does not accept customers from the U.S.
Deposits may take up to five days. Withdrawals could take up to ten days.
AvaTrade fees
No deposit, withdrawal (bank transfer), and account fee
Inactivity fee: $50/€50/ £50, charged after three consecutive months of non-use
Administration Fee: $100/€100/ £100, charged after 12 consecutive months of non-use
Currency Conversion Fee: for all trades on instruments denominated in a currency different from your account's currency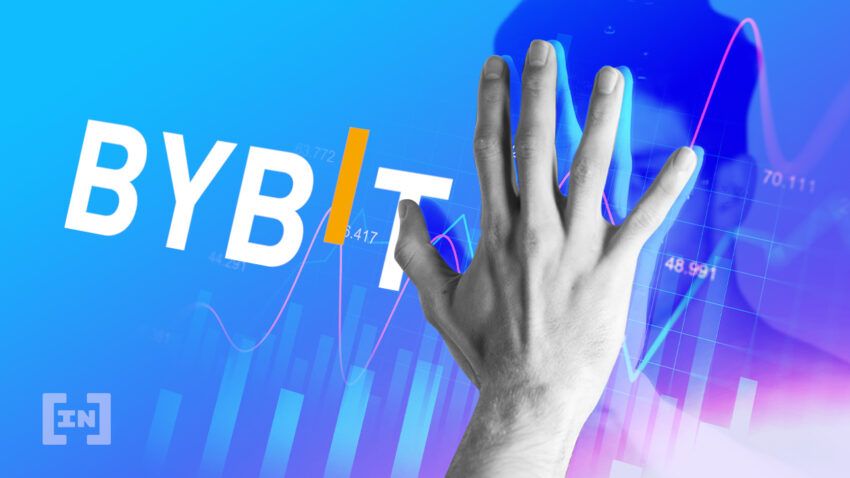 Established in 2018, Bybit is a fast-growing and innovative cryptocurrency derivatives exchange. The Bybit founders are a team of professionals with expertise in the Forex and investment banking industries. Bybit is registered in the British Virgin Islands and has its headquarters in Singapore.
Bybit aims to provide a secure and transparent trading environment. The platform has more than 5 million users worldwide. It remains customer-focused and strives to offer the best user experience.
The copy trading crypto feature allows all Bybit users to follow experienced traders and realize similar gains while only contributing 10% of their profits to Principal Traders as commission.
The copy trader program has a low entry barrier, as you only need to make your first deposit.
When you become a follower, you can open and close trading positions automatically, get access to their trading history and earn more out of your crypto without any prior knowledge. This makes Bybit one of the top trading platforms and the best copy trading for beginners if you're focusing entirely on the crypto market. After you become the Follower of a Principal Trader, the copying and execution of trades are automatic. All Principal Traders go through a strict audit to ensure outstanding performance and stable earnings.
Bybit features
Offers trading derivatives products, including bitcoin and other cryptocurrencies, and contract options
Wide range of trading features, including cross and isolated margin trading
Comprehensive data analysis tools
Intuitive user interface
Offers VIP program for traders that surpass a certain monthly level
24/7 customer support
Over 100 cryptocurrencies supported
Bybit Earn allows investors to earn a passive income through liquidity mining and staking
100,000 TPS system
Pros and cons of using Bybit
Pros
No KYC is needed for opening a new account (limits account withdrawals to 2 BTC)
Offers Insurance Fund guarantee to cover potential losses
Bybit leverage is very high, up to 100x
Cons
Lack of regulation
U.S. citizens are not allowed to trade
Trading volume cannot be verified
Bybit fees
Spot Fee: up to 0.10% (Maker/Taker)
Derivatives Fee: up to 0.01% (Maker), 0.06% (Taker)
No deposit fee
The withdrawal fee is different for each crypto
No minimum deposit is required, but there are minimum withdrawal amounts.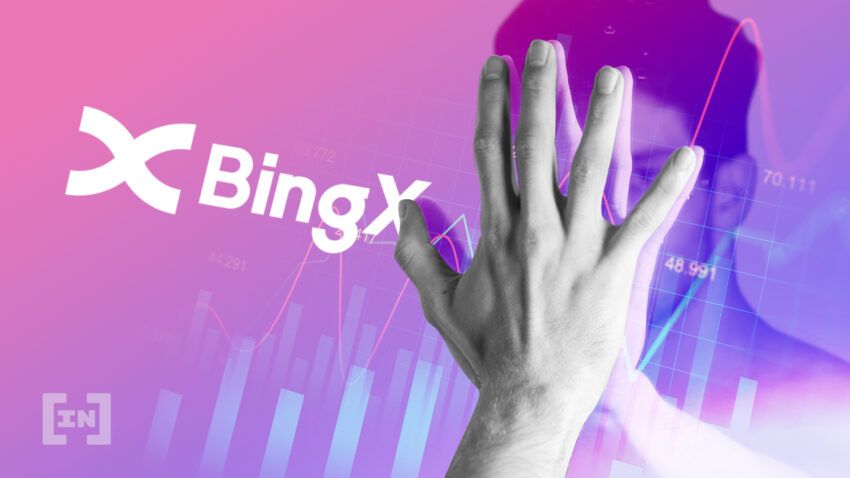 BingX is an innovative crypto exchange that allows users to follow top traders. The platform was founded in 2018 and has its headquarters in Singapore. BingX aims to empower even new investors with the knowledge needed for making the right investments. The platform's excellent analytics and crypto social trading network mean that you don't have to navigate the crypto space alone. There are models that you can use to build your strategies, but you also have the option to copy the strategies of other traders through the copy trading feature.
BingX is a leader in the industry with no deposit fees and the lowest fees. It offers all these features of a regular crypto exchange and seamless crypto derivatives trading. It is an all-encompassing platform that can meet all your trading needs.
The platform offers over 150 crypto assets, has over 3 million global users, and is one of the few derivatives platforms that offer an automatic copy trading system. New crypto investors can easily follow and copy the trading strategies of successful traders. The follower pays 8% of the profits to the trader.
BingX features
Buy and sell cryptocurrencies worldwide
The most advanced copy-trading features in the crypto market
24/7 customer support
Provides fiat support through third-party protocols
Offers a perpetual swap feature
Beginner-friendly user interface
Pros and cons of using BingX
Pros
The largest copy-trading platform
No KYC needed to begin trading
24/7 customer support in ten languages (email and live chat)
Cons
Crypto-to-crypto transactions are limited; only crypto-stablecoin pairs are available
U.S. traders are not allowed
No staking or earn programs
BingX fees
No deposit fee, but a fee may be applied if you transfer fiat to crypto through a third-party provider
Withdrawal fee is different for each crypto, but higher than the industry standard
Trading fee: around 0.05% (Maker) and 0.10% (Taker), but it's different for each pair
Spread fee (0.02-2%) differs for each crypto pair
Cryptocurrency conversion rate: 0.20%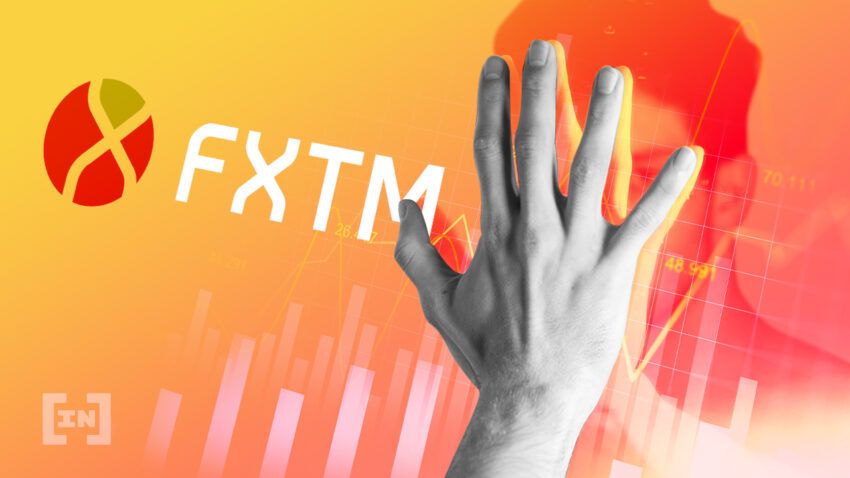 FXTM, or ForexTime, was established in 2011 and is one of the top global brokers of CFDs and Forex. The FXTM headquarters is in Cyprus, and it is regulated and supervised by various financial authorities, including the U.K. Financial Conduct Authority and the Cyprus Securities and Exchange Commission.
FXTM is a global network and has more than two million clients from 150 countries. It offers outstanding online trading services to an institution and retail clients. They have access to segregated accounts at top banks, secure deposits, withdrawals, competitive leverage, and tight spreads. You can trade over 250 instruments and have access to a range of optimized accounts and platforms. There are also exciting forex contests and trade-enhancing bonuses.
FXTM provides excellent educational resources for new traders, including live webinars, local seminars and videos, tutorials, and a demo account — all free of charge. FXTM offers clients the MetaTrader 4/5 (MT4&5) platform support. This gives traders a familiar, sophisticated trading interface they can use immediately. The software is also available as a mobile application. This broker platform is able to meet your needs, regardless of whether you are a forex trader newbie or an experienced trader.
FXTM features
FXTM offers maximum leverage up to 1:2000 (has a tiered system)
Demo account
Commission-free trading accounts (Micro and Advantage Plus) and one commission-based alternative (Advantage)
MT4/MT5 trading platforms and has developed its own mobile app (FXTM Trader)
FXTM Invest (audited and verified traders to follow and copy their trades)
Market analysis and FXTM Trading Signals
24/5 multilingual customer support (phone support, including a call-back function, e-mail, and FAQ section)
Pros and cons of using FXTM
Pros
Low trading fees
The variety of trading instruments is huge
Great educational resources
Cons
The broker is closed on Saturday and Sunday
Limited product portfolio
Withdrawal fee
FXTM fees
Each account type features different fees, has CFDs fees, forex fees
Standard accounts have no commission but offer higher spreads
ECN accounts have lower fees and commissions only when opening a position
Inactivity fee: $6 per month after six months of inactivity
Withdrawal fee: $3 for credit card, $20–$40 for bank transfer, $0 for Neteller, and Skrill. Note that this varies based on your country of residence, the method you use, and the currency.
Copy trading can boost crypto portfolios
Copy trading is one of the best ways to automate your investment strategy. This eliminates the guesswork and the lack of experience that's needed when choosing how to invest your hard-earned money. Of course, the copy trading strategy might not be the best strategy for all investors, but copy trading systems have worked for many retail investors.
Before investing, we recommend that you thoroughly research the associated risk with cryptocurrency investment. Note that some of these experienced traders are using complicated derivatives instruments, which may bring high rewards, but they also expose you to greater financial risks. Talk to your financial advisor to discuss the pros and cons associated with copy trading.
Before engaging in any type of financial investment, you should clearly define your financial goals. And never invest more than you can afford to lose.
Frequently asked questions
What is copy trading in crypto?
Crypto copy trading is a trading strategy that allows anyone to replicate the trades of experienced crypto investors. The copy trading feature means that all trades opened and closed by the trader are replicated in the follower's account.
Is copy trading profitable?
Yes, copy trading can be profitable, but it depends on the trader you've chosen to follow.
Is copy trading legal?
Yes, copy trading is legal, but each country may impose its own regulations. Note that not all trading platforms are available for all regions. Brokerage platforms are submitted to much stricter regulations than crypto exchanges, offering crypto trading features. 
Is copy trading safe?
Copy trading is safe, but if the trader opens a bad trade, your account will replicate that trade, and you might lose your funds. The biggest challenge is to find an experienced trader to follow, who focuses on the assets that you're interested in. Furthermore, you can always decide to stop copying the traders of others.
What is copy trading on eToro?
Copy trading is a concept that eToro pioneered. This allows you to automatically copy traders and replicate their financial trades. In other words, it's trading in financial markets with other people around the globe doing the trading for you.
What is the benefit of copy trading?
Both the expert trader and the follower trader benefit from the copy trading feature. In the case of the expert trader, he can gain followers, make a name for himself and also earn a commission for every successful trade from his followers. As for those copying his trades — if the trades are successful, they make a passive income.
Which platform is best for copy trading?
The best platforms for copy trading are eToro, AvaTrade, Bybit, and BingX. Each investor should carefully research the offerings of the available platforms, as some may offer support for other cryptos. Furthermore, each platform has slightly different terms and conditions, such as fees, spreads, and worldwide availability. 
What is a copy trading platform?
A copy trading platform is a financial trading platform that offers retail investors the option to follow and automatically copy the trades of more experienced traders. Usually, these platforms offer social trading. Meaning, that they will offer a social component to the trader community, where they can communicate and share investment ideas and strategies. 
Disclaimer
In line with the Trust Project guidelines, the educational content on this website is offered in good faith and for general information purposes only. BeInCrypto prioritizes providing high-quality information, taking the time to research and create informative content for readers. While partners may reward the company with commissions for placements in articles, these commissions do not influence the unbiased, honest, and helpful content creation process. Any action taken by the reader based on this information is strictly at their own risk.