With so many news stories highlighting crypto scams and hacks, it's understandable that you may be hesitant to buy bitcoin or any other crypto online. The process is actually much simpler and more straightforward than it sounds. In this guide, we walk you through how to buy crypto with a credit card in just a few minutes. Plus, we provide step-by-step instructions using a trustworthy exchange where you can conduct your purchase safely and securely.
Buy crypto with a credit card on OKX
This guide will take you through how to buy crypto with a credit card using OKX. The Seychelles-based cryptocurrency centralized exchange (CEX) is well-known, offering millions of users the option to trade crypto. This includes basic spot trading as well as futures and margin.
OKX is also renowned for providing a portal to the web3 space by offering additional features, including a decentralized exchange (DEX), an NFT marketplace, a hot wallet, and decentralized applications (DApps).
The OKX project also has its own native blockchain — OKX Chain — and native token OKB, enabling developers to efficiently deploy their DApps and take advantage of the OKX Oracle.
Finally, OKX provides a variety of coins for users to purchase. And users who create an account and make a deposit or buy crypto with a credit card using its platform are guaranteed an airdrop of up to $10K.
How to buy crypto with a credit card
Below are the steps to take to buy bitcoin with a credit card. This process works for any cryptocurrency; just choose how much fiat you wish to spend, and you will receive the equivalent in the crypto chosen. After your account is registered, the purchase takes literal minutes. Let's begin with the first step.
Step 1: Register an OKX account
If you do not already have an account with OKX, you must register before buying and trading on the platform. Setting up an account will require you to confirm your identity for security purposes. Users must provide an ID or driver's license. Once you're set up, you can now buy crypto.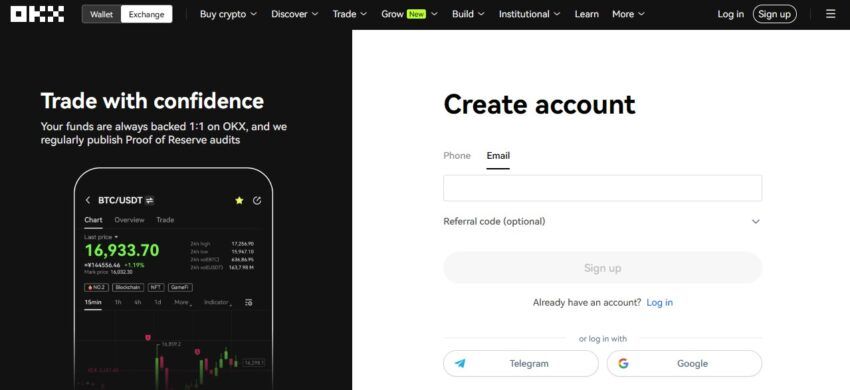 Step 2: Add your credit card
To buy crypto, head over to the "Buy Crypto" tab on the top menu and select "Buy with Card." From here, the process is straightforward. The other option for P2P trading will be used once you are ready to cash out your earnings.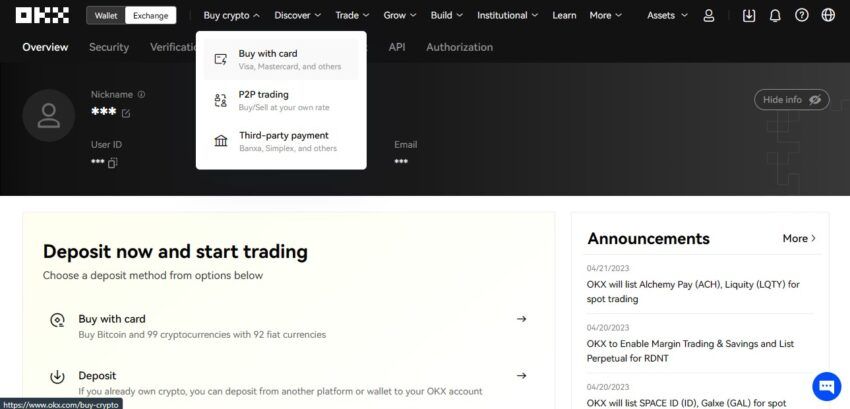 Step 3: Buy crypto
In the following section, you will be prompted to select the crypto you wish to purchase with the corresponding fiat you are using. In this example, we are buying bitcoin with 1,000 USD. The converter automatically tells you how much bitcoin you will receive for this amount, which in this case is 0.035507 bitcoin. When you're ready, click on "Buy BTC." The amount of cryptocurrency purchased will show up in your spot account under "My Assets."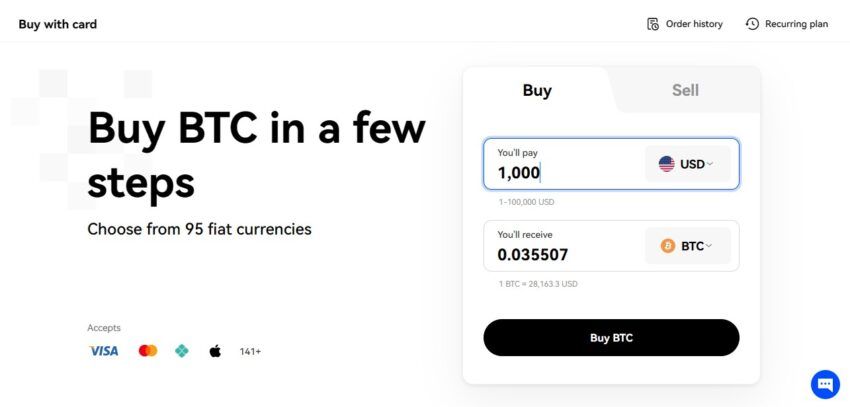 Step 4: Trade crypto for fiat
This step is optional. However, most people will want to cash out their crypto earnings after making a profit. And to do this, you will need to trade the cryptocurrency for the fiat currency you wish to cash out. So in the P2P trading section, select the trading pair (crypto/fiat) you wish to trade and sell the crypto. Connect your bank account or add a payment method to use on the P2P marketplace.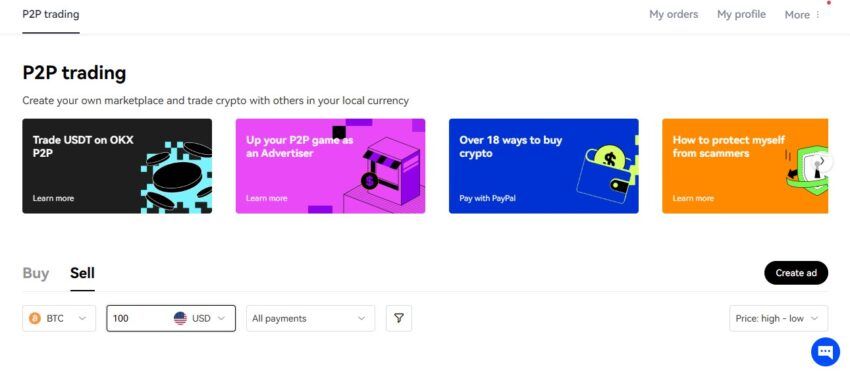 Pros and cons of buying crypto with a credit card
Buying cryptocurrency using a credit or debit card certainly has advantages, including speed and convenience. Yet, just like with any other investment or online purchase, there are always risks to consider.
It's important to be aware of what can go wrong before you provide your credit card information on any platform, not just with crypto. Let's go over the pros and cons when it comes to buying crypto with a credit card specifically.
Pros
Convenience: Many people don't always have the funds available in any other form, such as in an account balance. Some cards have credit lines that you can use on the go without bank hassles and long wait times.
Speed: Sending money to an exchange from a bank account can take hours or even days for some. However, credit card purchases are quick and on the spot. This makes them a very attractive option for people who want to buy instantly.
Timely entrances: To take advantage of the price changes in a volatile market such as crypto, you must have a timely entrance. Buying at the right time can only be done with a swift purchase.
Cons
High fees: Some credit card companies treat crypto purchases as cash advances, so these transactions are subject to cash advance fees. In addition, cash advance interest rates may apply. Other potential fees include foreign transaction fees or fees deducted by the exchange itself.
Fraud: Cryptocurrency vendors can become scammers, and cardholders risk giving away valuable credit card information in the transaction.
Credit score: If you're going big and buying a large amount of crypto, this can use up all your available credit on your card. In effect, this can adversely affect your credit score in the long run.
How to earn with crypto rewards credit cards
Users can now earn cryptocurrency with their credit cards as a reward-incentive program. Crypto rewards credit cards are no different from traditional rewards cards. Transactions are processed through large payment processing networks such as Visa and Mastercard.
If Visa issues your crypto rewards card, you can use it anywhere that accepts it. Some rewards cards are eligible for benefits and card protection by the company. Basically, you can earn rewards by simply using the card for purchases and earning cash back. However, in this case, rewards are in the form of bitcoin or other cryptocurrencies.
What to do after you buy crypto with a credit card
It's easy to learn how to buy crypto with a credit card. But you shouldn't take your eyes off the ball once you know how. You may be aware of the crypto adage "not your keys, not your crypto." It means the crypto you leave on exchanges is not yours! Never leave your crypto on an exchange. Once you have purchased your desired amount, you should send your funds to a crypto wallet. You can choose from a hot wallet which is online, or an offline cold wallet. Cold wallets are safer since there is less risk of hacks. These wallets can come also in physical forms, such as a Ledger or Trezor hardware wallet. Remember to consider security at all stages when interacting with blockchain ecosystems.
Frequently asked questions
Is it safe to buy crypto with a credit card?
Can you buy crypto using credit card rewards?
Can you use a credit card to buy crypto?
Which credit cards support crypto purchase?
Can I buy on Coinbase with a credit card?
Disclaimer
In line with the Trust Project guidelines, the educational content on this website is offered in good faith and for general information purposes only. BeInCrypto prioritizes providing high-quality information, taking the time to research and create informative content for readers. While partners may reward the company with commissions for placements in articles, these commissions do not influence the unbiased, honest, and helpful content creation process. Any action taken by the reader based on this information is strictly at their own risk.