You might be wondering, "How do I buy bitcoin without fees?" But the real question should be, "Can I buy cryptocurrencies without fees?"
Unfortunately, buying crypto online without any fee is almost impossible, but there are certainly some platforms that are better for buying bitcoin than others. Let's dig into this topic and find out what the fees associated with bitcoin are and how to buy bitcoin at comparatively low fees.
What fees are associated with bitcoin?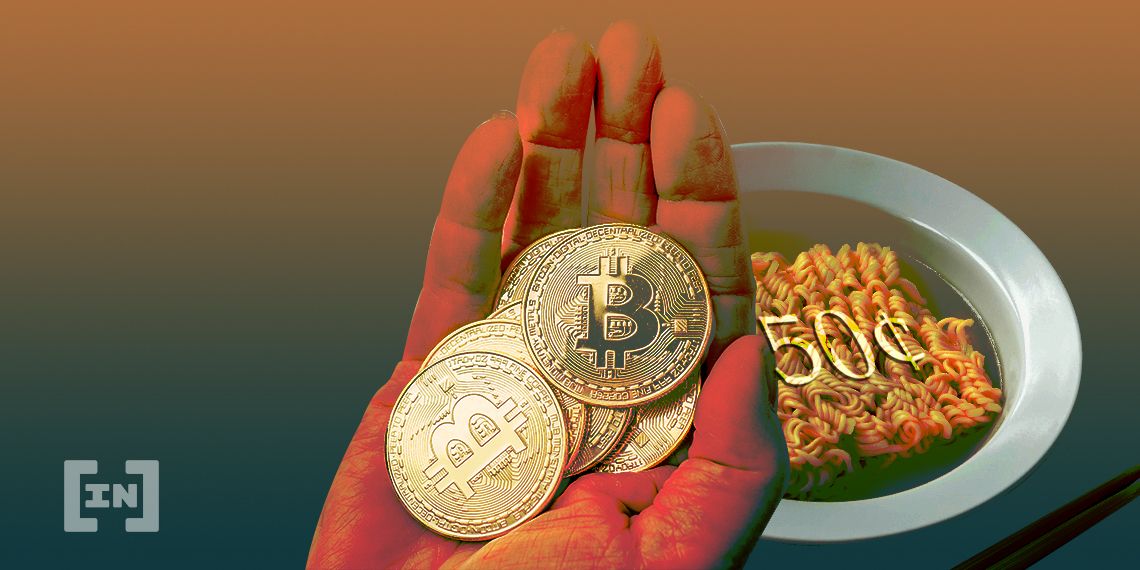 If you're looking to buy bitcoin without fees, then you should know that's not possible.
Novice crypto investors, beware the types of fees associated with bitcoin and other crypto transactions. There are four types of fees for crypto trading:
network fees
exchange fees
trading fees
premiums
While investors looking to buy bitcoin without fees might feel disappointed at first, you should know that there are cryptocurrency exchanges and bitcoin wallets that offer lower fees than others.
But we get into how to buy bitcoin without fees and where to buy bitcoin, you have to understand what fees are expected for each transaction, when you have to pay it, and how to keep it to a minimum.
Network fees (mining fees)
When buying cryptocurrency, the network fee is the one fee that everyone has to pay to get the crypto transaction through. If you want to buy bitcoin without a fee, you might find cheaper services, but you will have to pay the transaction fee.
A network fee for a bitcoin transaction, also known as a mining fee, is paid to the miner who mines the block, which includes your transaction. This network fee is used to verify and add your transaction to the blockchain.
The cost of the network fee is constantly changing, and it is affected by the total number of people using the network to send transactions. It's important to check the current transaction fees before you send or buy bitcoin. Furthermore, a higher transaction fee helps to get your transaction registered on the blockchain faster.
This fee directly correlates to the blockchain's ability to handle multiple transactions at the same time. It is the main reason for which investors prefer proof-of-stake mechanisms when deciding what crypto to invest in. Unfortunately, Bitcoin is a proof-of-work blockchain, which typically have higher network fees.
It's important to note that the network fee doesn't increase according to the value you send. You will have to pay the same bitcoin network fee, regardless of how much you're sending to your wallet. The total transaction amount you want to send includes the fee.
Trading fees
The cryptocurrency exchange you use to purchase bitcoin charges trading fees. These trading fees can vary between 0.5% and 2% for every trade performed on that platform. This is a low fee for a one-time transaction, but it can quickly add up if you perform frequent crypto trades.
Crypto exchanges and brokers refer to these trading fees as "maker" and "taker" fees. These terms come from the person "making" the order, the one who adds a new order to their services, and the person "taking" the order or the one who fulfills the order listed by someone else.
Maker fees are usually lower, as a new order listed on the platform provides liquidity and helps the crypto exchange.
Exchange fees
Cryptocurrency exchanges and brokers may charge a deposit and withdrawal fee when moving funds to and away from their platforms.
The exchange fee applies to fiat and cryptocurrencies. Some services have a flat fee, which varies from $2 to $5, while others charge a percentage (0.02% up to 1%) of the amount you want to send or receive.
It's important to research these exchanges if want to to buy bitcoin without fees. Using a service with a flat fee might be an inconvenience if you only want to transfer a small amount of crypto, but it can be an advantage when transferring more. Services that charge a percentage fee can have different levels, depending on the traded amount.
Exchange fees can also vary when using different ways to deposit or withdraw your funds. Credit and debit cards might have higher deposit fees (and are the fastest way to buy bitcoin) than bank transfers, which can take a few days.
Premiums
There are cryptocurrency exchanges that offer you the option to buy bitcoin without fees. However, there are services that charge a higher price when they sell bitcoin and offer to buy bitcoin at a price below the market value. That is the only way they can make a profit and sustain their business.
The "spread" is the difference between the selling and the buying price on a platform.
Other services offer a premium version of their services, for which you can pay a monthly or yearly subscription and benefit from no-fee bitcoin trades. For instance, Crypto.com App and Phemex are premium options if you want to buy bitcoin without fees.
Crypto exchanges to buy bitcoin without fees/with low fees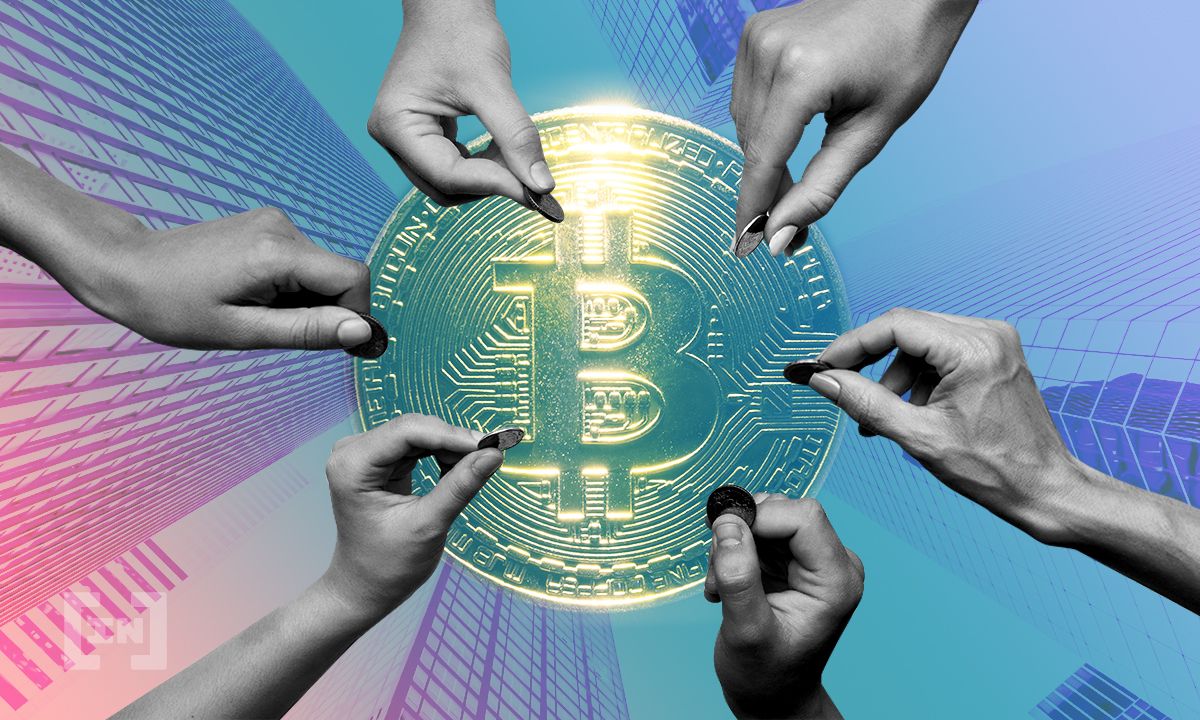 Talking about all the different fees might make your head spin, but we have done the research for you.
Unfortunately, with a lot of exchanges you can not buy bitcoin without fees; however, there are some cryptocurrency exchanges that offer their services at a discount fee:
Another thing to remember is that services offering discounted fees or that have no service fee are usually not the cheapest place to buy bitcoin.
How to buy bitcoin without fees
We've talked a lot about different fees that investors have to pay when buying bitcoin. It all comes down to your preferences, the country you're in, and the amount you want to purchase. You have to take into considerations all these things before choosing the best service to buy bitcoin without fees or with the lowest fees.
Assuming you're ready to become part of the crypto community, let's explore three different services that offer direct card payments for bitcoin purchases.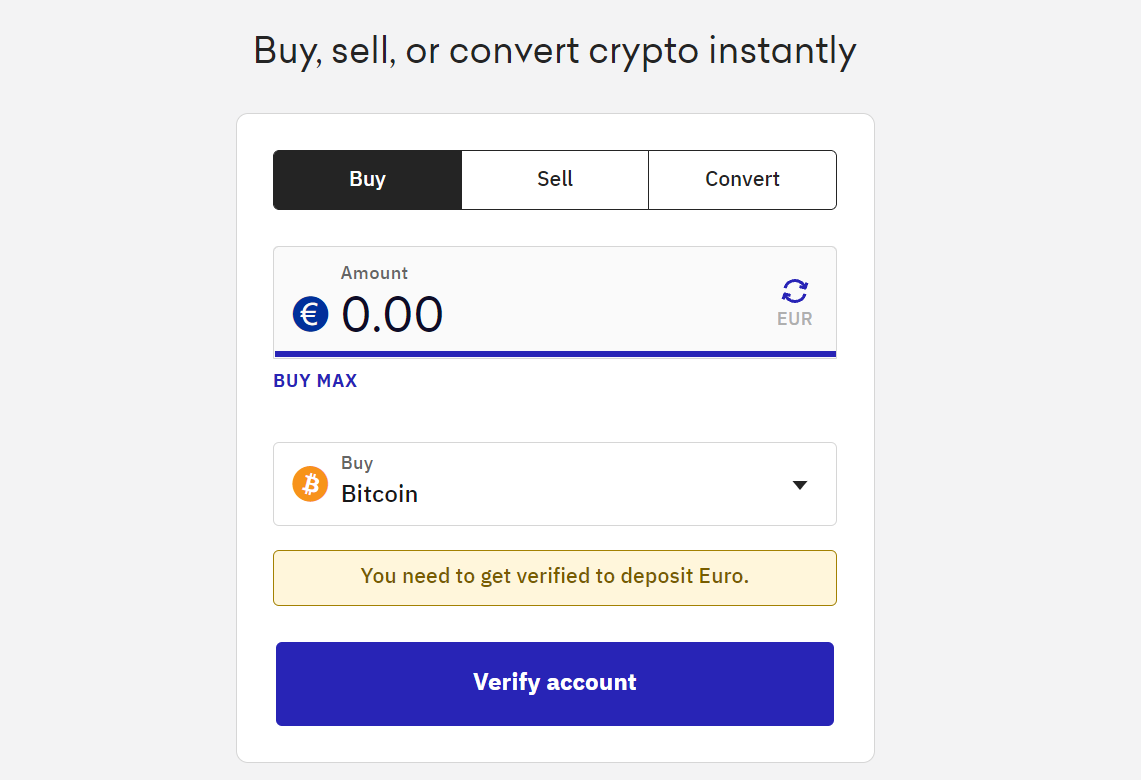 Kraken is another great option to buy bitcoin instantly with low fees. It might not be the perfect answer to how to buy bitcoin without fees, but it is a good option for low fees. Kraken offers over 60 cryptocurrencies, but the options might differ for users, depending on their country of residence.
Buying bitcoin on Kraken is easy. You will first need to get verified, just like in the case of the other cryptocurrency exchanges. The verification process shouldn't take more than one day.
After your Kraken account is at Intermediate or Pro level, go to Buy Crypto. Enter the amount in fiat that you want to convert to bitcoin, and select the preferred fiat coin. Next, enter a payment method. Afterwards, you will be prompted with the bitcoin purchase preview. In that preview, you can clearly see the fee and total bitcoin amount that you will get.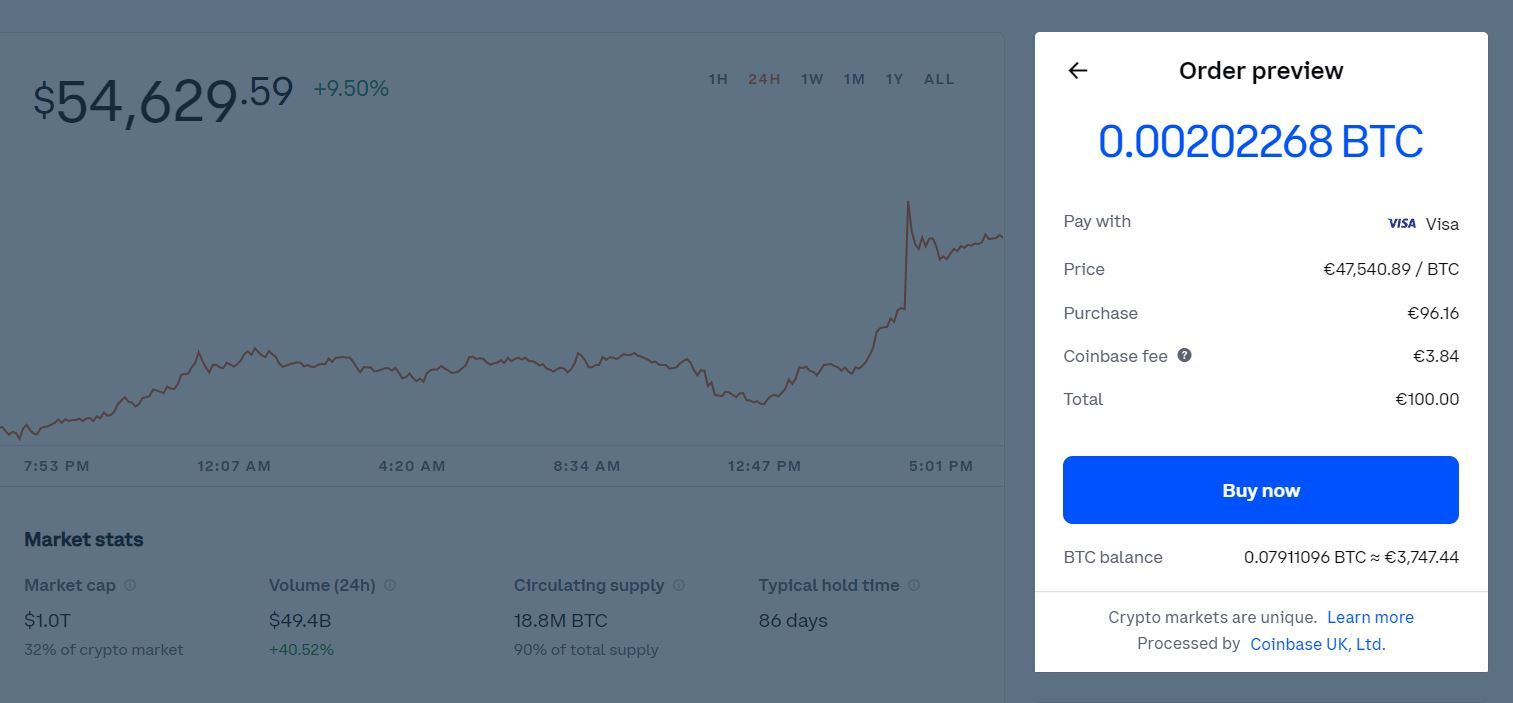 Coinbase is one of the most beginner-friendly cryptocurrency exchanges out there.
Coinbase has a listing of over 50 assets, which is growing, and Coinbase Pro has over 100 trading pairs listed.
You can easily set up an account on the exchange, and submit the required documents to get verified. The verification process takes less than one day. After you are verified, you can enter your card details for instant purchases, or you can deposit fiat funds via bank transfers, which have a flat fee but take a few days.
If you decide to pay online using a credit or a debit card, you need to find bitcoin in the list of cryptos. After you find it, open the page and enter the amount you want to purchase (in BTC or in fiat). You will be prompted with the order preview, where the exchange fee is listed, as you can see in the picture above. The fee is subtracted from the total amount you entered.
Although you can't buy bitcoin without fees on Coinbase, it is one of the easiest and lowest fees from all the exchanges where you can buy bitcoin.
After you have your funds in your account, open the Coinbase Pro account. Transfer your BTC there if you want to start crypto trading. On Coinbase Pro, you benefit from a 0.5% transaction fee. This is the lowest transaction fee on any exchange in 2021.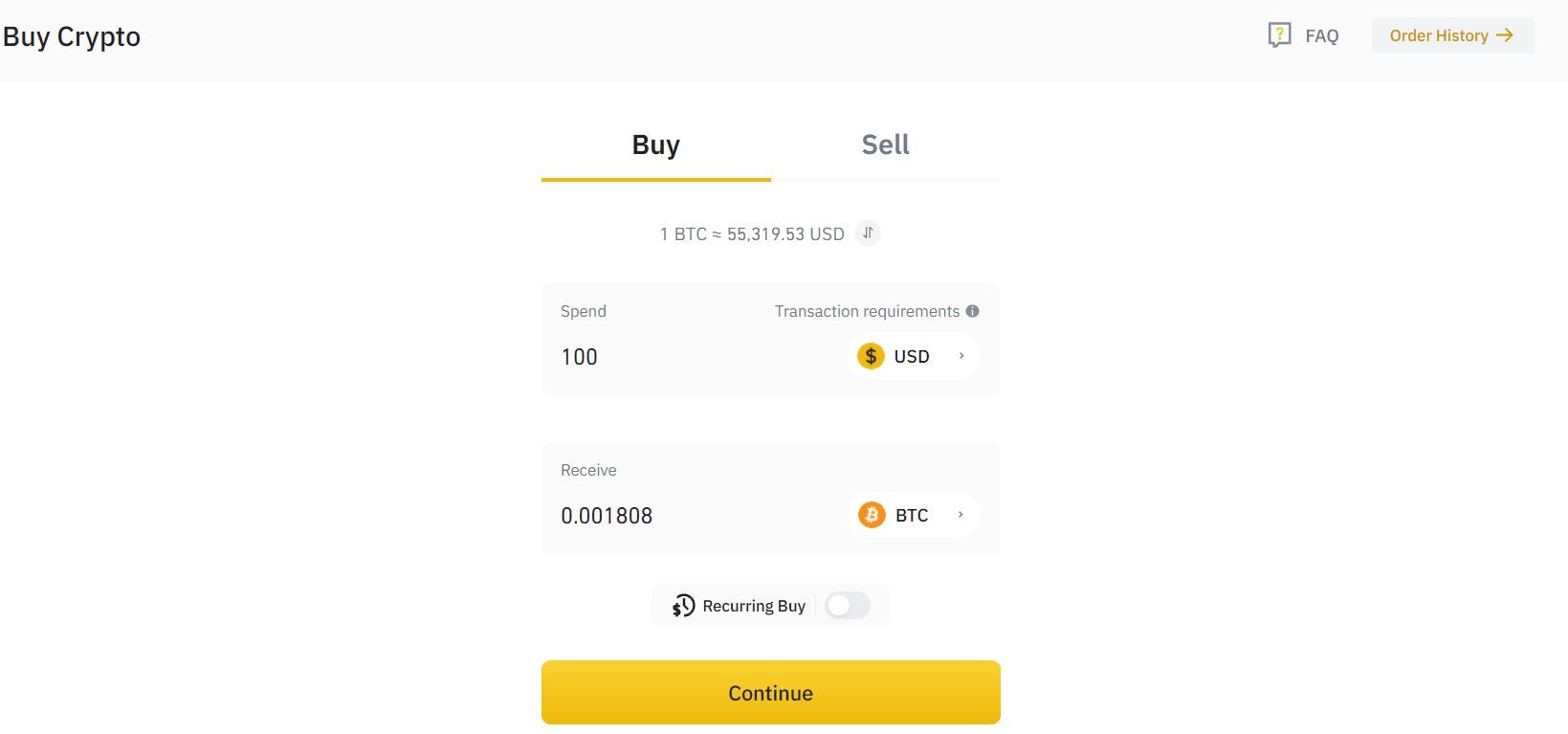 Binance is one of the most popular crypto exchanges, known for its long altcoins listing. With over 150 altcoins, it's not hard to understand why many prefer this 
You will have to get verified to be able to deposit fiat or make direct card purchases on the platform.
After your account is verified, go to Buy Crypto > Credit/Debit Card, and you will be able to choose your fiat coin of preference and the amount you want to spend to buy bitcoin.
Click Continue and you will be asked to enter your card details to finish your purchase.
After you have the BTC in your Binance account, you can start trading. All trades have a 0.1% trading fee. BNB holders have a 0.075% trading fee.
You can also withdraw your funds to a crypto wallet or another exchange, but there is a 0.0005 BTC withdrawal fee, and the minimum amount you can withdraw is 0.001 BTC. Despite the low fees on Binance, you still can't buy bitcoin without fees.
How to buy bitcoin without fees: Is it really possible?
Unfortunately, it is very difficult to buy bitcoin without fees. There are some fees when it comes to buying crypto online. The good news is that there are some services that offer better deals and lower fees than others. Investors should do their own research and decide what the best option is.
In the end, buying BTC at a fair price and from a reputable exchange is far more important than trying to get a slightly better deal from an unknown exchange that might disappear without a trace by tomorrow.
< Previous In Series | How to buy Cryptocurrency & NFTs | Next In Series >
Frequently asked questions
Can you buy bitcoin without fees?
If you want to buy bitcoin without fees, you need to check out new crypto exchanges which might offer promotional discounts to new users.
How do I avoid bitcoin fees?
Yes, you can still find services that offer special discounts to new users. That could be one way to buy bitcoin without fees.
Another way would be to get a subscription to a premium exchange that offers 0% trading fees. But they will still have fees when you purchase bitcoin. Services such as LocalBitcoins have no fees for selling or buying bitcoin, but they might have higher prices for crypto than more popular exchanges.
Is there a fee for buying bitcoin?
Buying bitcoin online will attract other fees, such as exchange fees and trading fees. Each cryptocurrency exchange has a different fee, and you should carefully research each option before making a purchase. Fees can fluctuate over time.
Disclaimer
In line with the Trust Project guidelines, the educational content on this website is offered in good faith and for general information purposes only. BeInCrypto prioritizes providing high-quality information, taking the time to research and create informative content for readers. While partners may reward the company with commissions for placements in articles, these commissions do not influence the unbiased, honest, and helpful content creation process. Any action taken by the reader based on this information is strictly at their own risk.