What if we told you that the Bitcoin we all know and love might not be the original Bitcoin? This Bitcoin SV price prediction will discuss why this blockchain might be closest to Satoshi Nakamoto's vision of Bitcoin.
Bitcoin SV, with its native coin BSV, is an independent blockchain, albeit with similarities with the current Bitcoin. Bitcoin SV's approach toward stability and scalability is aligned with the original version of the blockchain. This is the primary reason that some purists are biased toward it and expect the price of Bitcoin SV to scale higher. But will the expectations and optimism around BSV hold? Let's take a look.
#BonusHunter | Best bonuses you can get with BSV🔥
BSV price prediction and fundamental analysis
Bitcoin SV is a fork of Bitcoin Cash, which again is a fork of Bitcoin. Rather than focus on timelines, this segment will discuss why we are looking at the price of BSV.
Reason 1: Bitcoin SV intends to remain a scalable blockchain focusing on peer-to-peer exchanges, which aligns with Satoshi's vision.
Reason 2: The initial modus operandi of the Bitcoin ecosystem returns, much to the excitement of the Bitcoin purists. BSV has stretched the block size to 4GB, facilitating over 50K transactions each second.
Reason 3: The huge block size allows transactions to reach finality quicker and reduces costs and fees.
Other traits which make Bitcoin SV popular are detailed in the below graphic: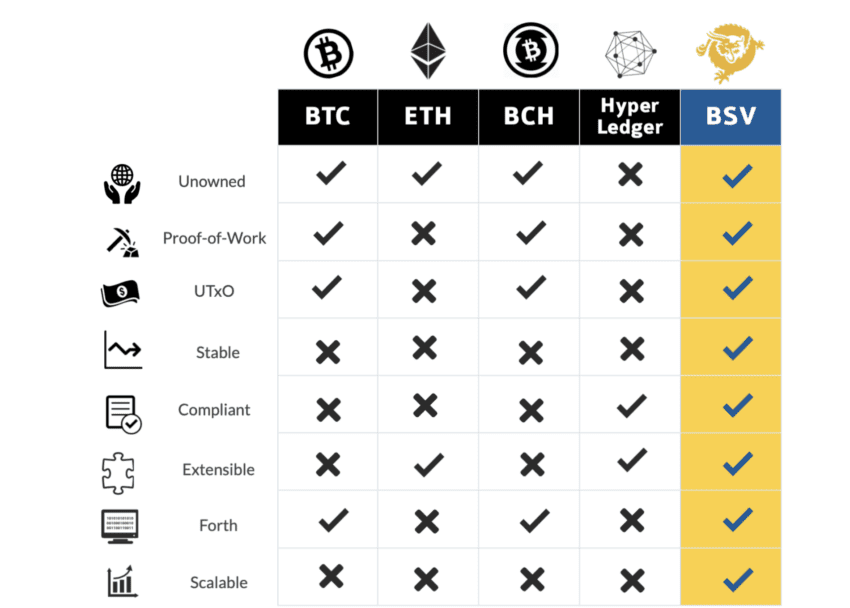 Bitcoin SV aims to rival the offerings of Visa in a way the more popular Bitcoin could not. It also has the scope to include smart contracts freely, something Bitcoin hasn't adopted openly.
Overall, the fundamentals look strong, especially from an enterprise perspective. BSV can literally scale as per requirements, making it the more robust version of the original Bitcoin vision.
Bitcoin SV tokenomics and trading markets
Like Bitcoin, Bitcoin SV has a capped supply of 21 million. At present, 92% of the same make the circulating supply. The market cap is a steady $868.10 million, and BSV — the native crypto — is ranked 55 globally.
In terms of utility, the BSV token is used to pay for block rewards and transaction fees. And even BSV follows a halving schedule similar to Bitcoin. As such, the tokenomics model is disinflationary and deflationary after the circulating supply equals the fixed supply.
Plus, if you look at this all-time market cap chart, you will notice that BSV's market capitalization peaked all the way to $7.93 billion on May 6, 2021. The trading volume during the peak was also high — $3.3 billion, to be precise.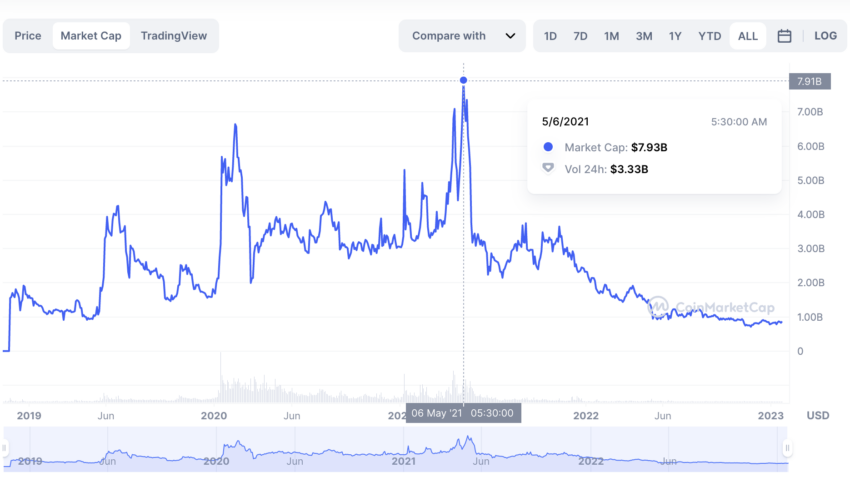 In comparison, the current levels are pretty underwhelming, even with a crypto rally around. As of Jan. 22, 2023, the market cap and trading volume of BSV are $868.10 million and $42.76 million, respectively. This means there has been a drop in trading activity over the past few months.

Also, spot trading markets for BSV indicate there aren't many other players except KuCoin and its multiple trading pairs. Also, BSV has recently been unlisted from Robinhood (as of Jan. 11, 2023) — another prominent exchange — pushing the prices down due to negative social sentiments. This shows that the trading popularity and intensity have dipped slightly compared to its better-established sibling — Bitcoin.
Bitcoin SV price prediction and other key metrics
Let us start with something interesting. Holder statistics show that the top 100 BSV holders only manage 28.46% of the circulating supply. This statistic gives hope to the retail investor, ensuring that massive token dumps and crashes aren't BSV commonplaces.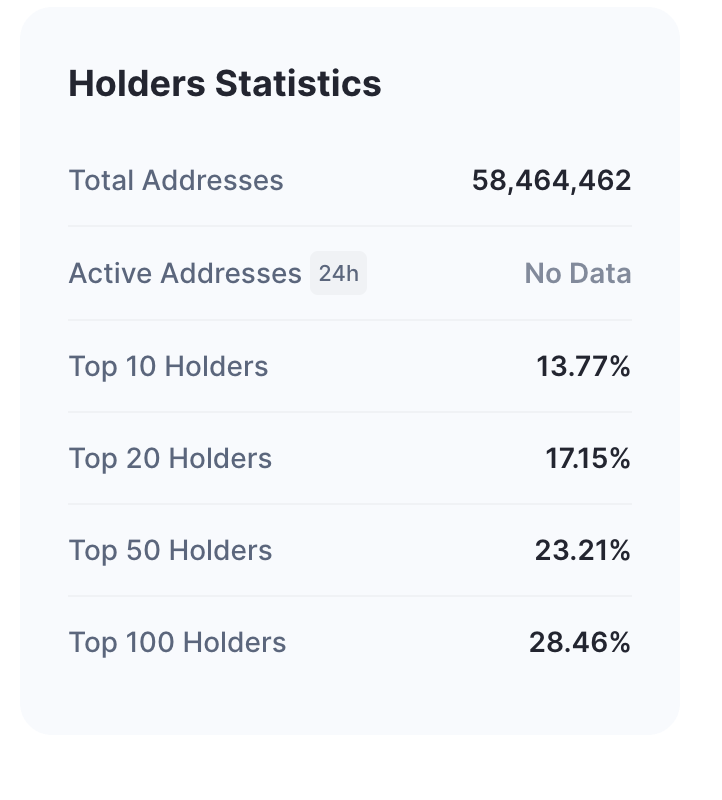 Moreover, the 4-week price volatility of BSV has seen a significant dip in 2023. And as expected, the prices have started looking up since. Despite the Robinhood debacle, BSV prices recovered at a clip and are currently trading close to $45.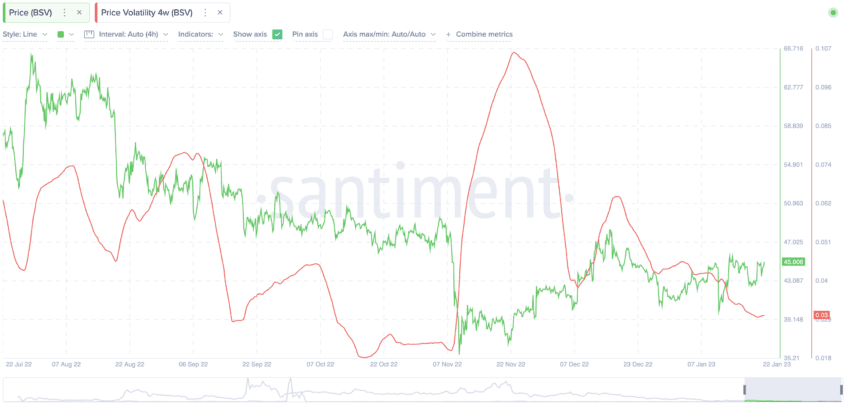 As of late December, the social volume of BSV peaked. If you look at the historical data associated with social volume, the prices have always responded positively to the increase in chatter. If BSV continues to make news — obviously in a positive sense — you can expect the price of BSV to surge.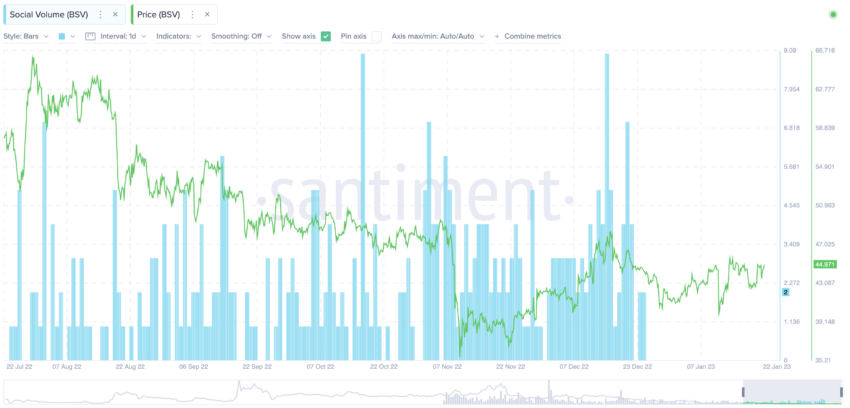 BSV price forecast and technical analysis
Now let us shift our focus to the weekly price chart of BSV, looking for patterns.
Here is the raw chart for your reference: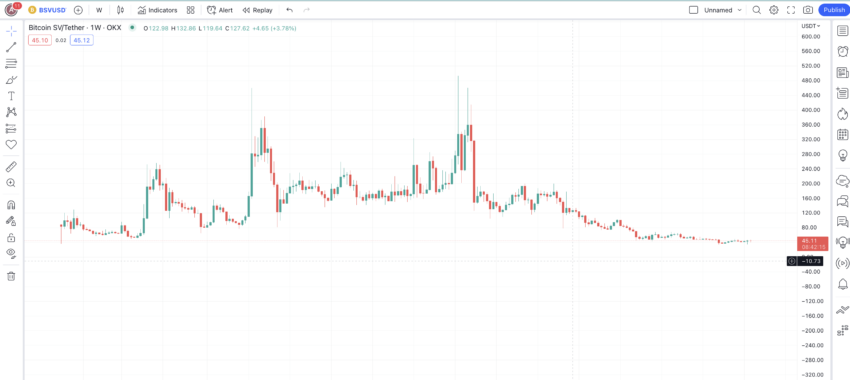 There is a clear pattern in sight. The price of BSV starts making higher highs till it reaches a peak of $491.64 on April 16, 2021. Post that, there have been two lower high formations, hinting at a foldback or mirror-image formation. Therefore we can expect the left side of the chart to repeat itself once the price of BSV hits a low on the right side.
Let us mark all the crucial highs, lows, and corresponding horizontal lines to locate the average price moves and the days taken for the same.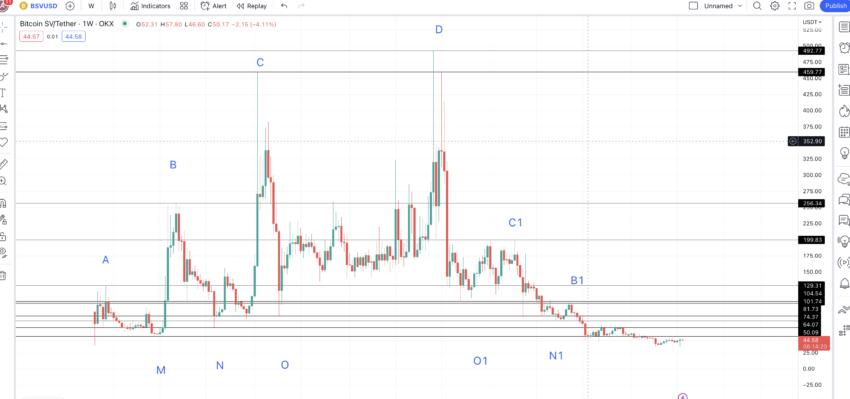 Price changes
Assuming that the price of BSV traces the path from A to D, we can now identify the price changes — both percentages and time taken. We shall focus on two paths here: D to A and D to B1. Once we have the values, we will try to locate the next low after B1, which can be M1, and then the next high to A1.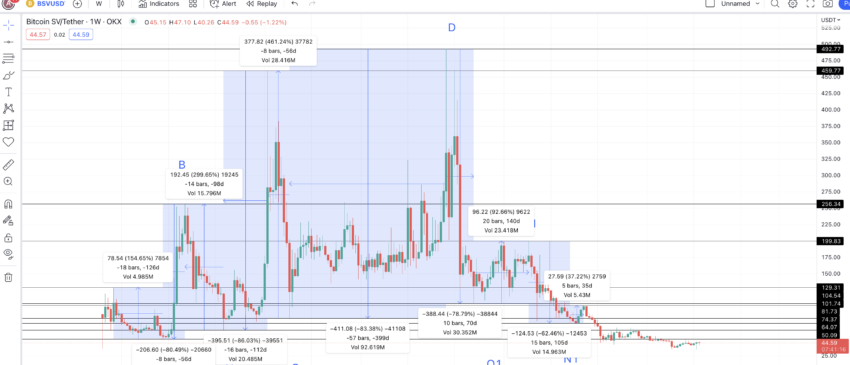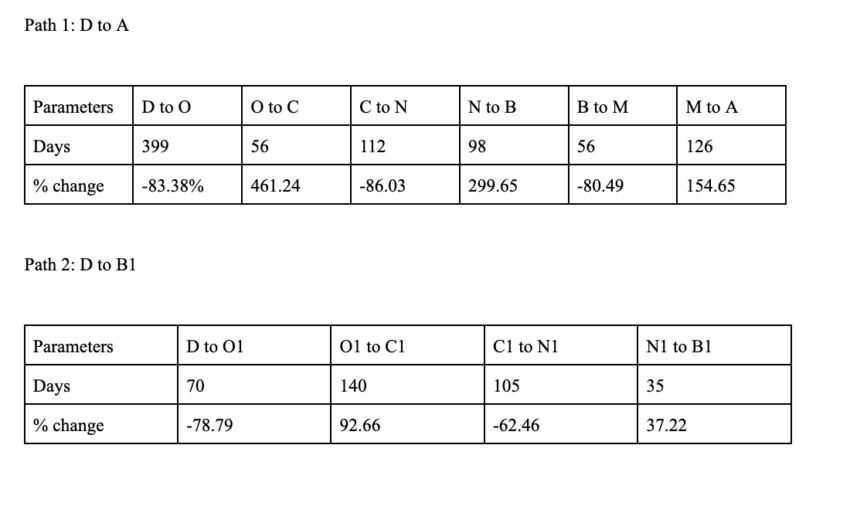 Columns with negative values signify high-to-low moves. The average of that, in terms of price change percentage and days taken for the same, is -78.23% and 148 days.
Columns with positive values signify low-to-high moves. The average in terms of price change percentage and days taken is 209.08% and 91 days.
Note the price drop and growth might not always follow the average values. They will move between the lowest and highest values depending on the condition of the crypto market.
Bitcoin SV (BSV) price prediction 2023
Outlook: Bullish
Now that we have the last point at B1, we can use the high-to-low average to locate the next low. Let us see if the low is in sight or already here.
The average drop in price is 78.23% and might happen in 148 days — per the average from the tables above. But then, we will even take a drop of 62.46% — which is the lowest drop percentage from the table above. Do note there was a drop to $34.51 — a dip of 66.08% — which aligns with our calculations. This shows a successful BSV price prediction level — validating our calculations further.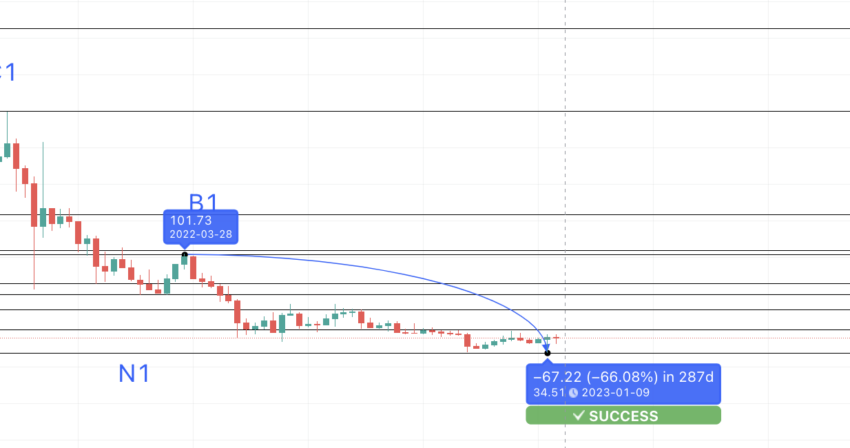 Also, this level showed up in 2023 and might just surface as the minimum BSV price prediction level for 2023.
We can mark this minimum price point as M1. From M1, we can use the low-to-high average to locate the next point or A1. As per the left side of the pattern, A1 might just be lower than B1.

The low-to-high average is 209.08% from the table above. While the average distance is 91 days, it can go as high as 140 days (maximum time as per table 2), depending on the state of the crypto market. Also, at an average price hike of 209.08%, we can expect the price to sit at $106.68 — by mid-2023.
Projected ROI from the current level: 137%
Bitcoin SV (BSV) price prediction 2025
Outlook: Bullish
Notice A1 moves higher than B1, hinting at a possible uptrend at BSV's counter. This might just break the previous foldback pattern and ensure that BSV follows a different path altogether. Also, considering the average price drop of 78.23% and the lowest price drop of 62.46%, we can plot the Bitcoin SV price prediction low for 2024 at $40.17.
Do note as the 2023 low took 287 days from B1 to show up, we have also taken 287 days to plot the price prediction low for 2024.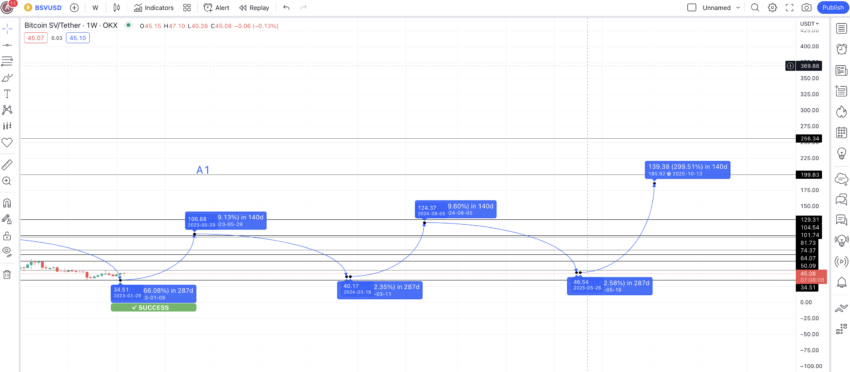 If the same growth path is followed and the adoption of BSV grows among the purists, the next high can surface in 140 days and at a level 209.08% higher than the 2024 low of $40.17. This puts the maximum price prediction for BSV in 2024 at $124.37.
Following the same path, we can place the 2025 low for Bitcoin SV at $46.54. Notice we have used the standard "287 days" timeframe. The next high might surface at a high of 299.65% (higher percentage growth from the tables above) from the 2025 low. By now, BSV should be able to move higher than average, owing to the lasting higher high formation.
This assumption places the Bitcoin SV price prediction for 2025 at $185.92.
Projected ROI from the current level: 313.33%
Bitcoin SV (BSV) price prediction 2030
Outlook: Bullish
The low, post-2025 high, can again trace the "287-day and 62.46%" path. The 2026 low for the price of SV can therefore settle at $69.89. The next high from this level should account for a standard correction. Therefore, we can circle back to the average growth percentage of 209.08% instead of the 299.65% hike we assumed in 2025.

This average percentage growth places the Bitcoin SV price forecast level for 2026 at $216.35. Notice that the price prediction for BSV in 2026 isn't much higher than the 2025 high. This seems like a standard practice as every price forecasting calculation should take some weakness at the counter over the years.
Now we have 2025 low and 2026 high. So, we can connect the points using the Fib indicator. This way, we can trace the path till 2030 and beyond. If the same growth pattern is followed, we can expect the BSV price prediction for 2030 to reach a high of $1555.34.

This level can only become a reality if the price of BSV manages to breach its previous all-time high of $491.64 by mid-2028.
Projected ROI from the current level: 3357.84%
Bitcoin SV (BSV's) long-term price prediction (up to 2035)
Outlook: Bullish
You can refer to this table if you plan on holding BSV through to 2035 as a long-term investment option.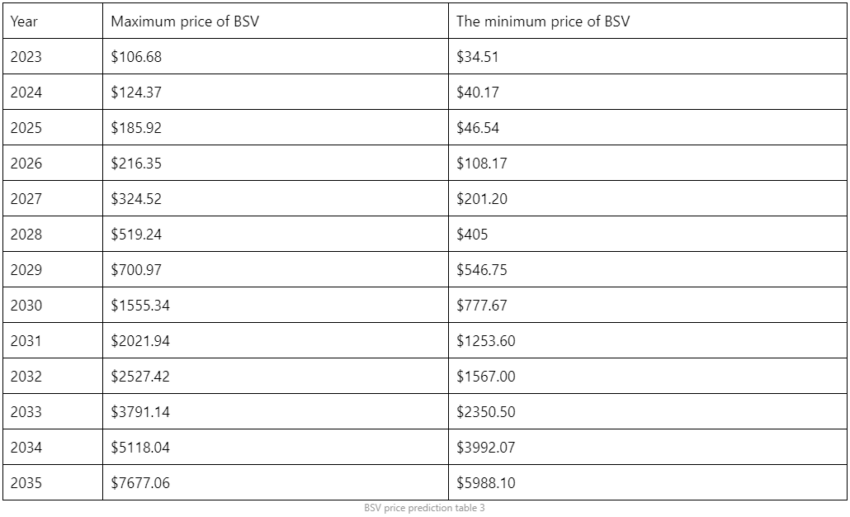 Is the Bitcoin SV price prediction model accurate?
This Bitcoin SV price prediction focuses on data-backed technical analysis. It also captures short-term price impacts courtesy of crucial on-chain metrics and fundamentals. As such, this BSV price prediction model covers every aspect of Bitcoin SV's probable growth and future price. Of course, the crypto market is volatile, and tracking average prices, as opposed to highs and lows, will offer the most accurate reflection of BSV's future price.
Frequently asked questions
Will Bitcoin SV reach $10,000?
At present, we aren't expecting Bitcoin SV to reach a high of $10,000 any time soon. Even the most ambitious part of our BSV price prediction puts Bitcoin SV at a high of $1,555 by the end of 2030. However, if the growth rate continues and Bitcoin SV starts seeing more network activity and participation in years to come, we might see it heading toward the $10,000 mark close to 2040.
Is Bitcoin SV better than Bitcoin?
Bitcoin SV is a fork of Bitcoin. However, BSV is nowhere close to BTC in terms of popularity. Yet, this doesn't undermine the features of Bitcoin SV. It still can manage transactions faster than Bitcoin  — at 50,000 TPS — and is closest to the original vision of Satoshi Nakamoto. Lastly, transacting on BSV costs less than on the Bitcoin network.
Is Bitcoin SV a good coin?
Bitcoin SV is a highly usable blockchain, making its native token BSV a really good and dependable coin. This crypto can be used to pay miner rewards and has a fixed supply token economics model. Plus, our Bitcoin SV price prediction model puts the price of BSV at a premium by the year 2030.
No BSV isn't a stablecoin. Instead, it is the native crypto of the Bitcoin SV ecosystem, with a focus on incentivizing miners and handling transaction costs. Plus, BSV is an actively traded cryptocurrency, having visibility across exchanges like KuCoin and more. However, Robinhood — another popular exchange — recently delisted BSV.
Who owns BSV?
Bitcoin SV and its native crypto BSV is the brainchild of Craig White — who once claimed to be the OG Satoshi Nakamoto himself.  However, like Bitcoin and every other adequately decentralized platform no one actually owns Bitcoin SV. It is instead a fork of Bitcoin and was created out of the Bitcoin Cash blockchain, also as a hard fork. In simple terms, Bitcoin SV is the hard fork of a hard fork.
Disclaimer
All the information contained on our website is published in good faith and for general information purposes only. Any action the reader takes upon the information found on our website is strictly at their own risk.
At Learn, our priority is to provide high quality information. We take our time to identify, research and create educative content that is useful to our readers.
To maintain this standard and to continue creating awesome content, our partners might reward us with a commission for placements in our articles. However, these commissions don't affect our processes for creating unbiased, honest and helpful content.