If you're interested in trading crypto, it is key first to learn the ropes. Trading is risky, and with a volatile market like crypto, you risk big losses in single trades. So should you use an AI trading bot? Which trading strategies should you pay attention to? We have compiled the top nine crypto day trading courses on the market to guide you through your journey. Take your time to read through this guide and research each before deciding which one is right for you.
How do I learn crypto day trading?
To learn how to day trade cryptocurrency, it's best to start out with a comprehensive educational program. These courses will teach you technical analysis, key indicators to watch for, how to read price action, and other strategies. In addition, a good crypto day trading course will often offer a community, mentorship, and extensive video lessons.
Lessons will range from beginner to advanced levels, and mentors are often experts in the field who have personally achieved success with trading. Choose a course based on what you can personally afford and your current level of trading experience/expertise.
A day trading chart will look something like the one below, complete with key indicators like RSI and volume.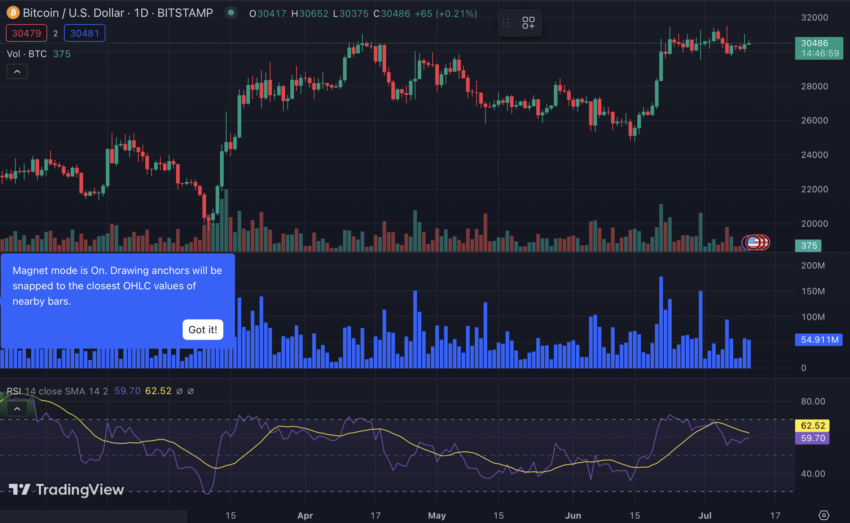 What are the best crypto day trading courses?
Below are the top seven trading courses we have curated for you. From here, you need to decide what features to prioritize, whether it's finding the right price or one that offers a great community to collaborate with. Remember that trading courses that are more catered to stocks or Forex also work well with crypto since the basics are the same regarding technical analysis.
Our first online educational platform, Coursera, provides global students with a wide range of massive open online courses (MOOCs). Through collaborations with esteemed institutions like Columbia University, Carnegie Mellon University, and Duke University, Coursera offers an extensive selection of courses.
Coursera doesn't develop educational materials internally. Instead, it forms partnerships with hundreds of universities to launch a huge breadth of courses.
So users have the added benefit of learning courses like "Trading Basics" from an esteemed institution such as the Indian School of Business. In this way, students can rest assured that their mentors have actual experience.
Pros
Affordable courses
Partnered with multiple universities
Some credits count toward degrees
Cons
Pricing model unclear
Instructors are not always available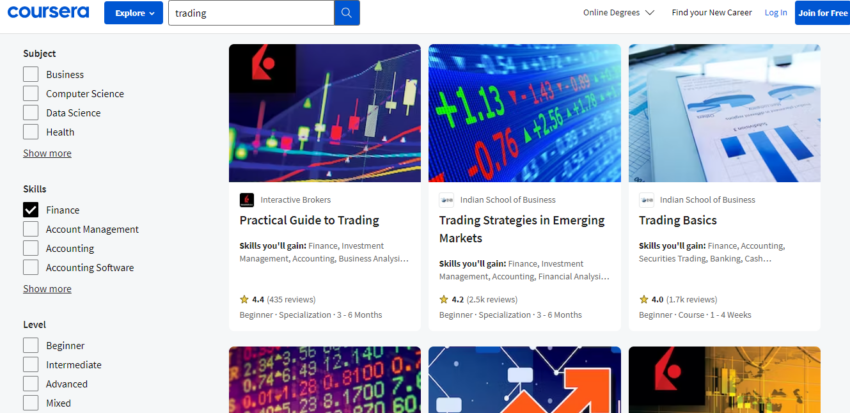 The next platform, Skillshare, provides a variety of practical courses to help people learn new skills or improve their existing ones. Skillshare operates on a subscription-based model in which members pay a monthly or annual fee to access their extensive library of courses.
The courses on Skillshare are primarily video based. Additionally, the platform covers many subjects, including design, photography, writing, illustration, marketing, technology, and — you guessed it — day trading. Instructors like Damanick Dantes, CMT, offer crypto trading in courses like "Intro to Cryptocurrencies, Blockchain and Crypto Trading."
Pros
Wide variety of courses
Free trials
Simple to use
Cons
Not all instructors are credentialed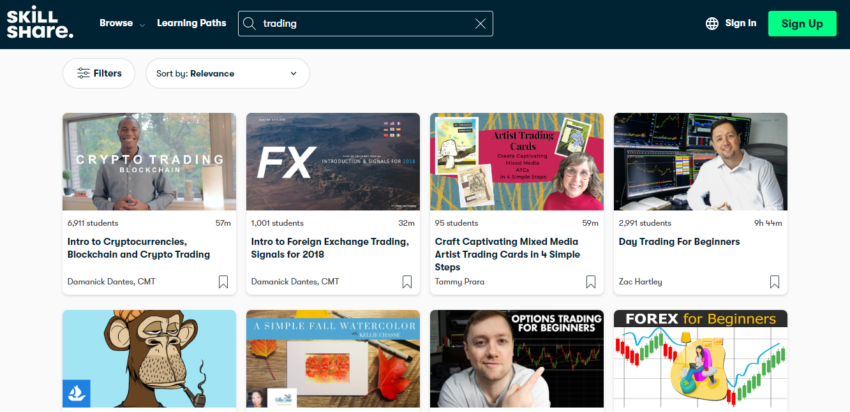 If you're new to trading and unsure whether you want to commit to a full course, then Udemy is a wonderful option. The program has a wide range of trading courses for a fraction of the cost you would pay with some of its competitors. Choose from an array of courses — such as Day Trading 101 for beginners starting at €14.99 — to more advanced ones. Although Udemy doesn't offer mentorship or community, you do get a 30-day money-back guarantee and lifetime access to the course materials.
Pros
Affordable prices
Lifetime access to courses
A wide variety of courses to choose from
Cons
No mentorship or community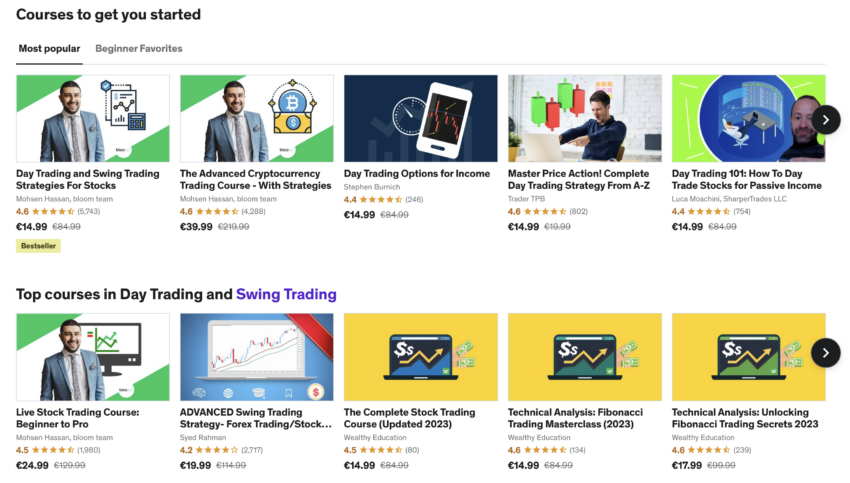 The Bear Bull Traders crypto day trading course was founded by Andrew Aziz, a successful trader himself. The program boasts varied levels of trading ranging from basic ($99 monthly) to elite ($199 monthly).
The course also covers options trading. Investors are encouraged to master the psychology of trading by developing proven strategies from the best all-around traders. A community program is available so that traders can stay connected with others on the same journey as well as receive one-on-one mentorship. Aside from an extensive video library, webinars, and downloadable resources, the course offers access to other traders to learn alongside. Trusted by Investopedia and Business Insider, Bear Bull Traders is a worthy contender for crypto trading.
Pros
Provides high-quality tutorials in an extensive library
Offers a community and chat rooms
Access to a trading simulator
Cons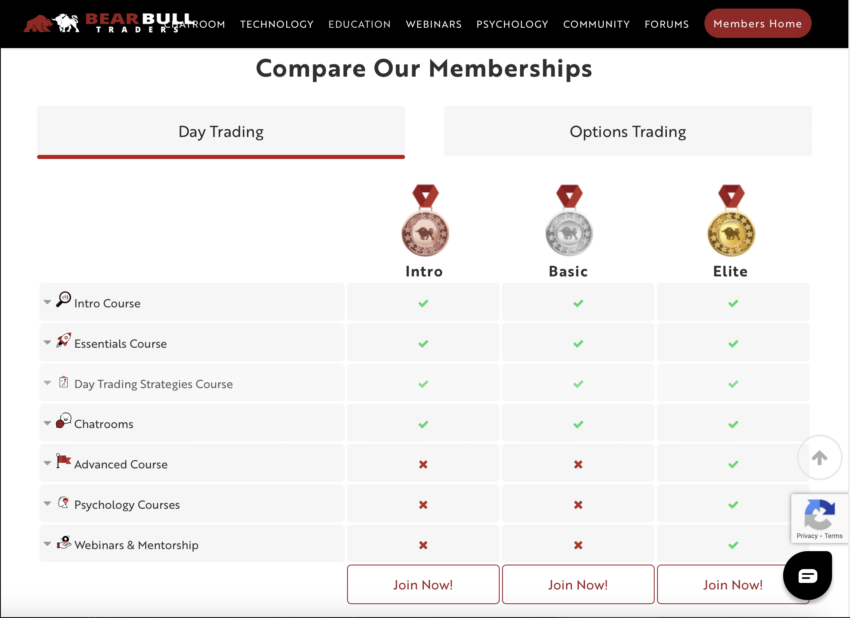 Contrary to Bear Bull Traders, Humbled Trader only offers one trading level, the Pro level. An array of videos cover 17-day trading units. These units range from learning candlestick patterns to risk management. As well as an educational basis, traders are provided with convenient trading watch lists.
In addition, course members can take advantage of the community by joining chat rooms which are separated between day and swing trading. You can delve deeper into the secrets of trading with weekly mentorship webinars or personalized one-on-one mentorship. Pro membership starts at $1,870 annually (which comes to $155.83/month).
Pros
New lessons and units are regularly added
Live premarket trade planning sessions
Mentorship programs
Cons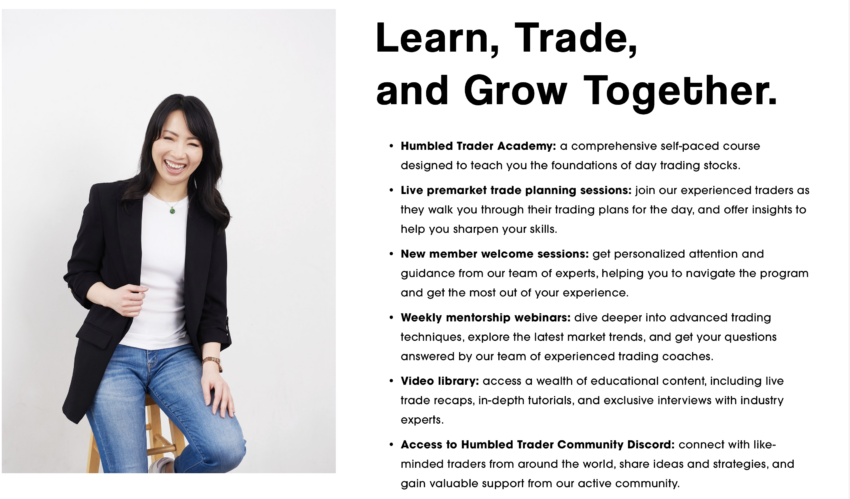 Best for its active community, Investors Underground offers a multi-range of interpersonal collaboration. Various chat rooms are dedicated to swing trading, penny stocks, and interaction with other course members. Nathan Michaud founded the trading course in 2008 and provides his users with a team of day trading experts constantly monitoring the chats.
In addition to 1,000+ video lessons, a nightly watchlist, a pre-market broadcast, a live trading floor, and trade caps, Michaud successfully built a network centered on community. Currently, membership costs $297 per month, or $1,297 per month, with the Textbook Trading, Swing Trading, and Tandem Trading course included.
Pros
Large and active chat rooms
Access to mentors
Beginner-friendly
Cons
Trading courses sold separately
Expensive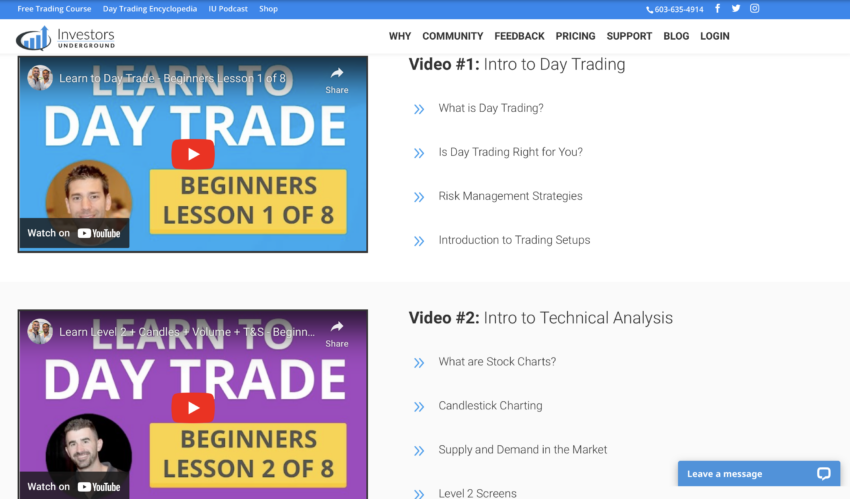 This crypto day trading course is a top choice thanks to its free introductory course. In addition, enrolled course members also receive a free copy of the "How to Day Trade" e-book, written by the platform's founder Ross Cameron. The Warrior Starter course offers three one-time membership fee packages to choose from. An 18-hour starter course costs $997, a five-course Warrior Plus $2,497, and five-course Warrior Pro $3,997.
Access to the chat room, live stream, news, scanners, and mentor sessions costs between $97 and $197 per month, and you can purchase a trading simulator as a monthly add-on.
Pros
Free intro course
Free copy of the e-book "How to Day Trade"
Quality live-trading performance confirmed by account statements
Cons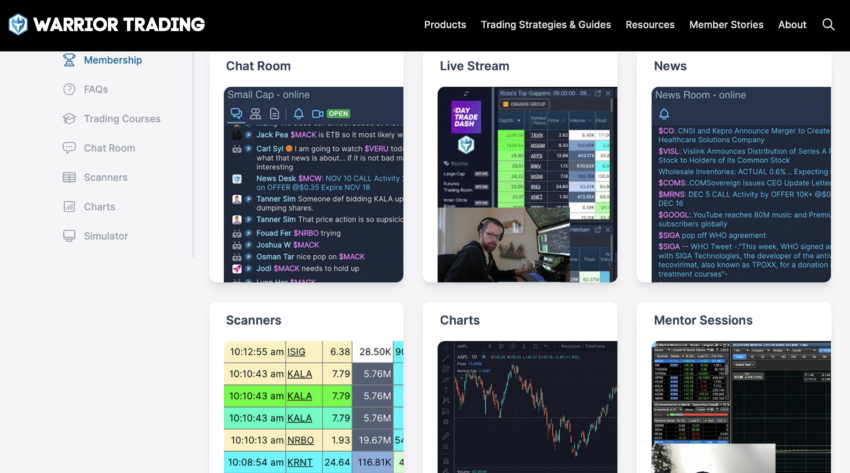 If your budget is tight and the price is a big factor for you, then Bullish Bears may suit you. For just $47 a month, you can acquire comprehensive resources to improve your trading, whatever your skill level. The platform even offers a seven-day free trial. That means you can use the chat rooms or join the Discord channel to learn how to trade anything from options, penny stocks, or futures.
Course members gain insights from daily live streams from trading experts and master trading strategies with in-depth courses tailored to their specific needs.
Pros
7-day free trial
Live-stream screen share for mentoring
Great value for comprehensive packages
Beginner friendly
Cons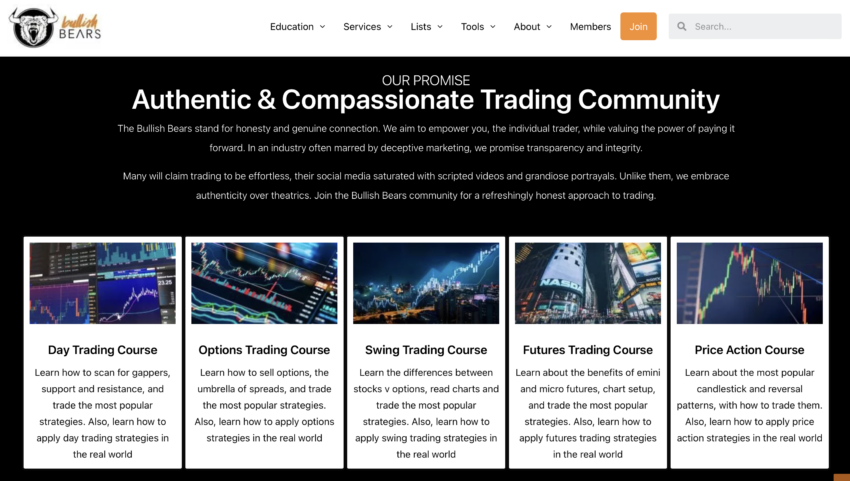 One of the best crypto day trading courses on the market is Fast Lane Traders. The course caters specifically to cryptocurrencies, whereas other courses integrate stocks.
Learn how to read crypto charts and interpret common signals such as RSI indicators and other TA patterns. Course modules include Trading Basics, Technical Analysis, All About Indicators, Trading Profitably, and Entering Strategies. As with the other courses, Fast Lane Traders also provides a Discord channel.
Apart from offering a lower monthly fee than other courses, the program also has a 30-day money-back guarantee. There's a 3-day free trial (which includes a $7.95 sign-up fee), and then the courses are priced at $86.61 monthly.
Pros
Offers a 30-day money-back guarantee
Provides actionable alerts
3-day free trial
Cons
You have to pay a sign-up fee for the trial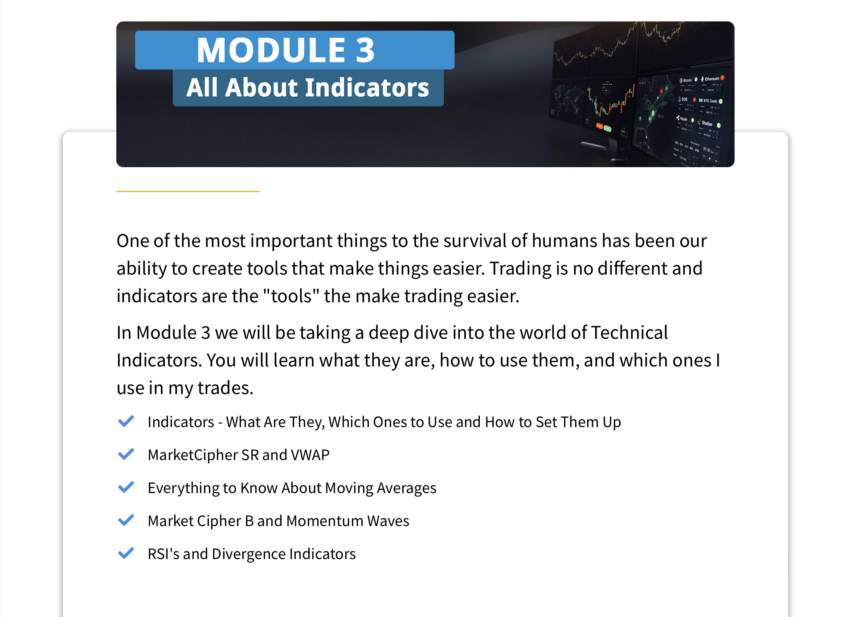 Is crypto good for day trading?
The cryptocurrency market is volatile, which makes it good for trading peaks and valleys. Due to this volatility, some traders prefer to trade stocks or Forex, which provide a more stable price action. Yet, crypto's extreme highs can provide a good profit margin if traded correctly.
Note that crypto day trading does not guarantee an income. In fact, some of the best traders don't often profit. To maximize your earnings, extensively research the market and asset you're trading very well and enroll in a day trading course that offers mentorship and a strong community.
Choosing the right crypto day trading course
Other courses are available apart from the ones on our list; however, these were chosen based on resources, community, and expert instruction. The right crypto day trading course for you will depend on your needs. Are you just getting started and don't want to make a commitment? Then, perhaps start with Udemy. If you prefer a course with a strong community or mentorship, then Investors Underground or Humbled Trader will be a good choice.
Keep in mind when trading, always make sure you learn both the technical analysis and fundamental analysis of any asset you plan to trade. Trading is stressful, so it's also worth learning to control your emotions. Check out some free crypto trading platforms, and you're ready to get started!
Frequently asked questions
Which course is best for cryptocurrency?
Which crypto is better for day trading?
Which is the best crypto trading course?
Disclaimer
In line with the Trust Project guidelines, the educational content on this website is offered in good faith and for general information purposes only. BeInCrypto prioritizes providing high-quality information, taking the time to research and create informative content for readers. While partners may reward the company with commissions for placements in articles, these commissions do not influence the unbiased, honest, and helpful content creation process. Any action taken by the reader based on this information is strictly at their own risk.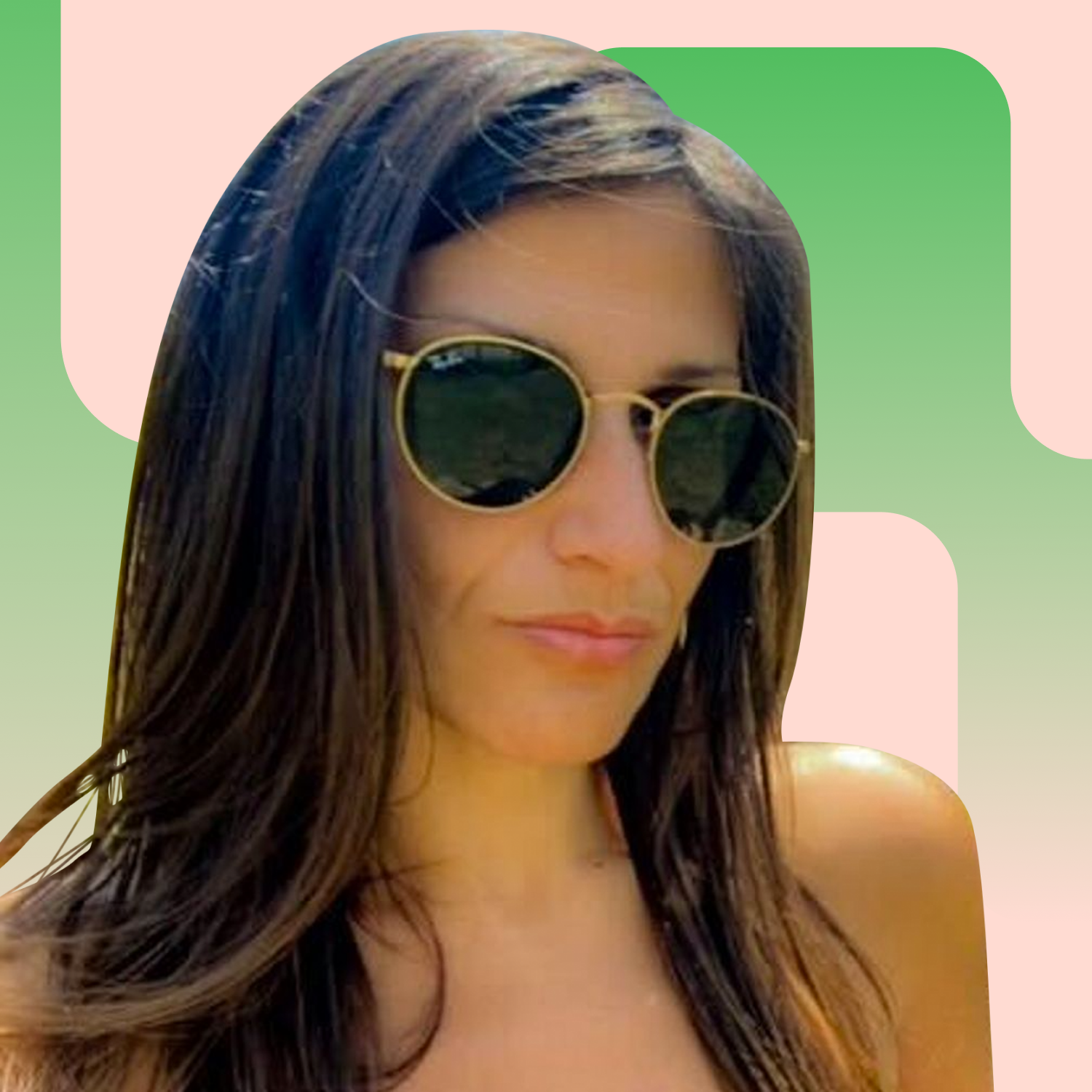 Xenia is a freelance writer and journalist in the web3 niche. Her work has appeared in major crypto publications around the world. She has been an investor in cryptocurrency since...
Xenia is a freelance writer and journalist in the web3 niche. Her work has appeared in major crypto publications around the world. She has been an investor in cryptocurrency since...
READ FULL BIO
Sponsored Sponsored