Ankr started as a cloud computing decentralized platform before moving into plug-and-play blockchain development and node infrastructure services. And despite the latest price surge (up 95% month-on-month as of Feb. 23, 2023), ANKR is still down 77% from its all-time high of $0.2252. So does the network have long-term staying power? This ANKR price prediction piece will help you make sense of the growth potential of Ankr Network and its native crypto, ANKR.
Want to get ANKR price prediction weekly?
Join BeInCrypto Trading Community on Telegram: read ANKR price prediction and technical analysis on the coin, ask and get answers to all your questions from PRO traders!
#BonusHunter | Best bonuses you can get with ANKR🔥
Ankr Network and the associated fundamentals
Before we delve into the nitty-gritty of the Ankr Network and ANKR price prediction levels, we need to understand what it actually does.
Simply put, Ankr Network is an IaaS (Infrastructure-as-a-Service) platform that allows network participants to run plug-and-play blockchains or nodes. And with Ethereum moving to PoS territory and ANKR previously supporting node hosting relevant to the Ethereum blockchain, ANKR has evolved into a liquid staking platform.
The platform now allows users to stake ETH for node validation without having to lock assets indefinitely. Hence, ANKR's presence as a DeFi platform is also substantiated.
Ankr Network is currently ranked 50th in the DeFi TVL space with a locked value of $164.88 million.
Liquid staking is expected to grow as a DeFi use case after Ethereum's Shanghai upgrade, presumed to happen in March. And protocols and projects like Ankr Network, Lido Finance, and Rocket Pool are expected to benefit. This makes us optimistic about the ANKR price prediction levels, both short-term and long-term.
However, that's not the only reason the market is watching ANKR closely. Microsoft's expected partnership with the Ankr Network and Tencent Cloud reaching out to Ankr for web infrastructure have both been recent sentimental drivers.
Overall, it's "make hay while the sun shines" for ANKR's price action, which isn't showing any imminent sign of slowing down.
ANKR price prediction and the role of tokenomics
The Ankr Network has a fixed supply of 10 billion tokens. The supply comes with no inflation and is strictly capped. At present, all of those ANKR tokens are in circulation, making the supply highly liquid. And the Ankr Network even burned close to 2% of the same to kind of introduce a positive demand-supply slope.
As for liquid staking, once you stake ETH, you get the equivalent ankrETH (a receipt like stETH) credited to your Ankr account. And as with any liquid staking protocol, you can use those ankrETH tokens to earn additional passive income as staking rewards.
Also, ANKR tokens have a presence across Ethereum and Binance, which makes them ERC-20 and BEP-2, and BEP-20 compatible. Plus, Ankr Network's interoperability extends to the Polygon, Fantom, and Avalanche blockchains.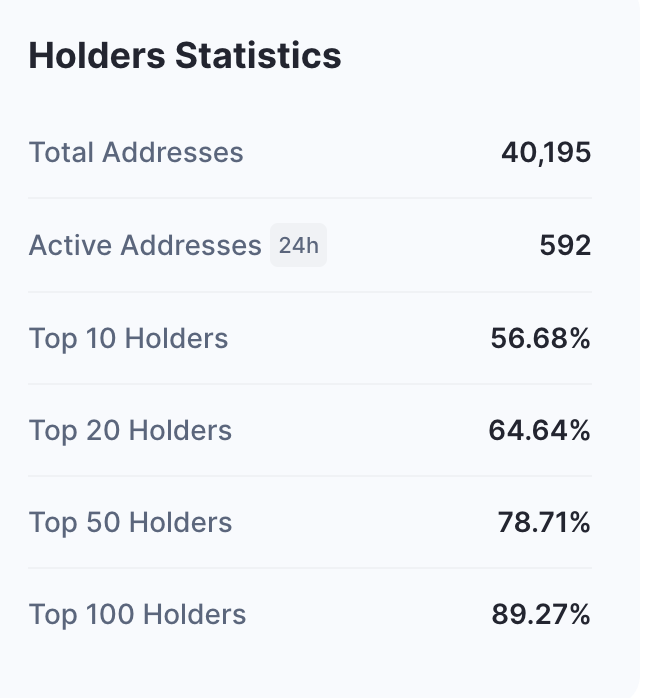 However, the only thing that could be cause for concern is the token-holding statistic. Per CoinMarketCap's data, the top 100 ANKR token holders are in control of 89.27% of the supply. This holding pattern can become tricky if holders feel like selling once the price is in their vicinity.
ANKR price prediction and key metrics
BIC metrics
Let's start with our in-house representation of Ankr Network's price action, market cap, and trading volume — represented month-on-month.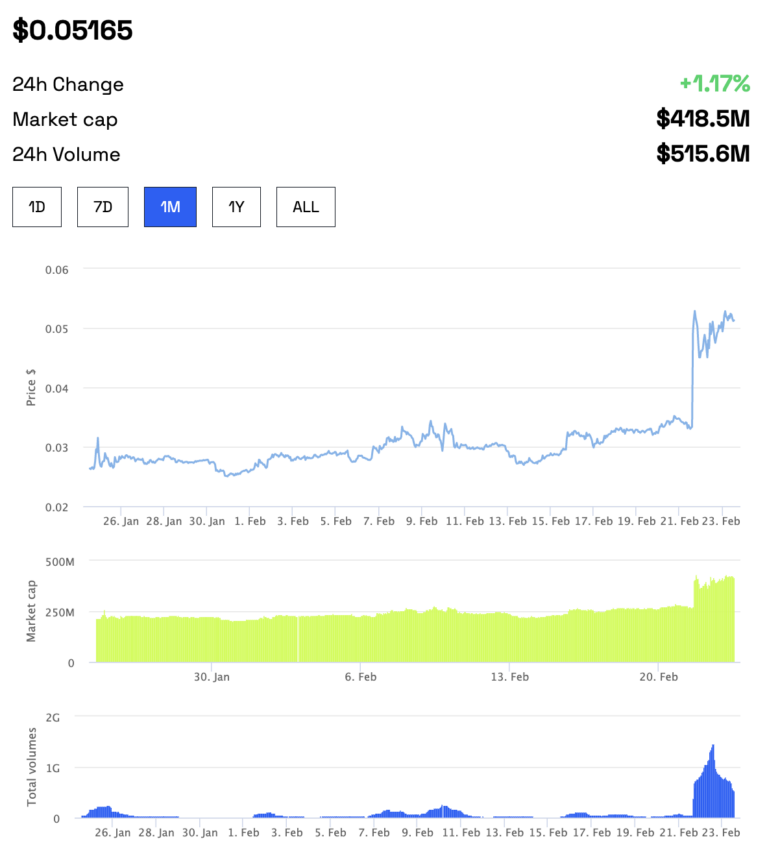 While the price surge is always a bonus for ANKR holders, the rise in the market cap and, most importantly, trading volume is also clear.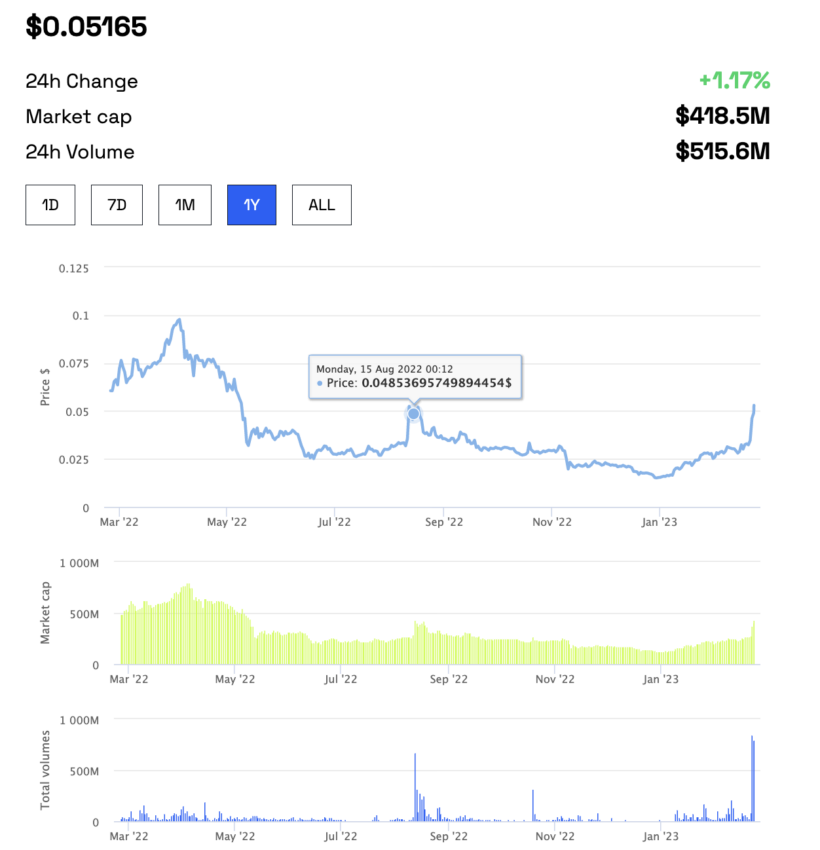 Things get interesting if we look at the yearly charts. While the price is still attempting to break above the August 2022 highs, the current trading volume is the highest ever, year-on-year. And while this sounds optimistic in terms of the increasing liquidity and attention that ANKR is receiving, a drop in trading action has been known to push prices down.
Hence, staying safe and making decisions after extensive research and with a proper plan is advisable.
On-chain and price-specific metrics
It goes without saying that active address growth can push the price of ANKR tokens higher. The chart below illustrates active address growth, with the peak surfacing in February 2023.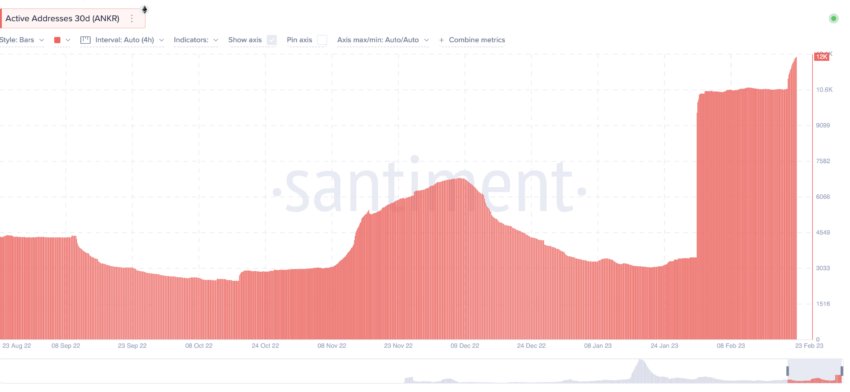 If you look at the volatility-price chart of ANKR, another interesting trend surfaces. Notice that there might be a volatility peak in the formation. As per the historical analysis of the chart, if the peak forms lower than that formed on Jan. 26, 2023, the price of ANKR could continue to rise. However, some consolidation might be on the cards if a higher high is formed.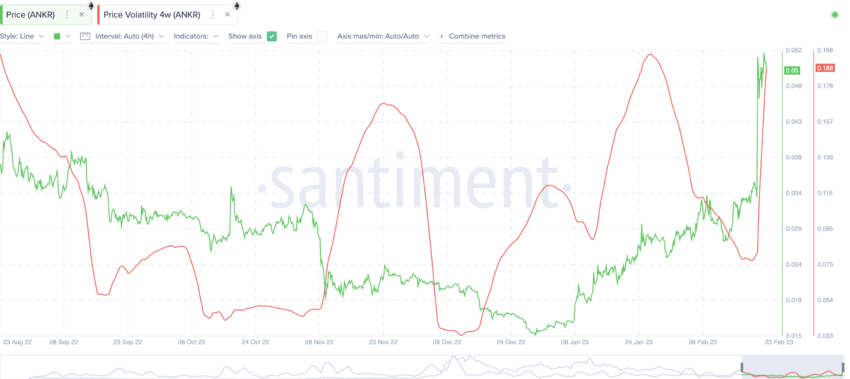 ANKR price prediction and technical analysis
Moving to the daily chart of ANKR, another interesting trend surfaces. Notice that ANKR recently broke out of the descending trendline. And while the formation looks more like a bearish descending triangle pattern, post a downtrend, this pattern can also indicate a reversal of sorts for ANKR.
Connecting the FIB levels give us a near-term max target of $0.10, which might be the case if the price of ANKR can breach the immediate resistance of $0.058. Do note that $0.058 serves as a very strong resistance level, and a breach must be accompanied by high trading volume(s).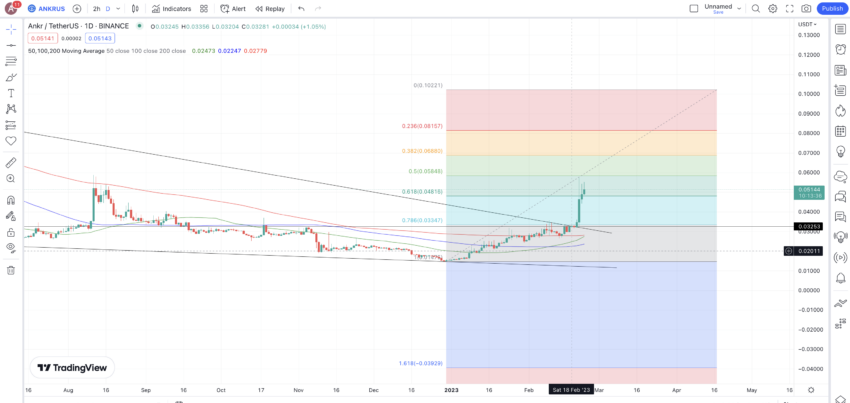 If you go by the moving averages, the green line (50-day moving average) is on the verge of crossing over the red line (200-day moving average). If this "golden crossover" succeeds in forming, we can see the price go up from the current levels.
And while the price action looks strong for now, a move lower than $0.032 might invalidate the bullish formations.
Now let us move to the weekly ANKR-USDT chart to locate long-term price prediction trends.
Pattern identification
The weekly chart shows a clear pattern. ANKR makes a high (say A) followed by another higher high (B). That's one part of the pattern.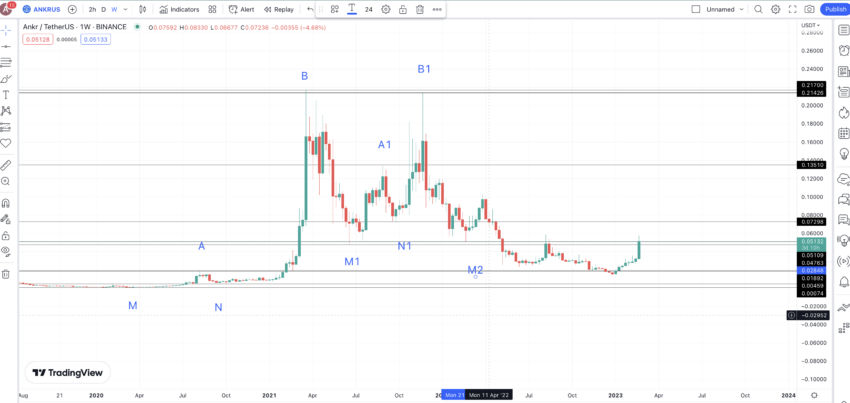 After a low, it forms another high (A1) and then a higher high (B2). Post B2, ANKR forms another low and a subsequent high (say A3). If ANKR follows the same set of patterns, we can expect the price of ANKR to form another high higher than A3.
Here is the chart with all the key levels marked: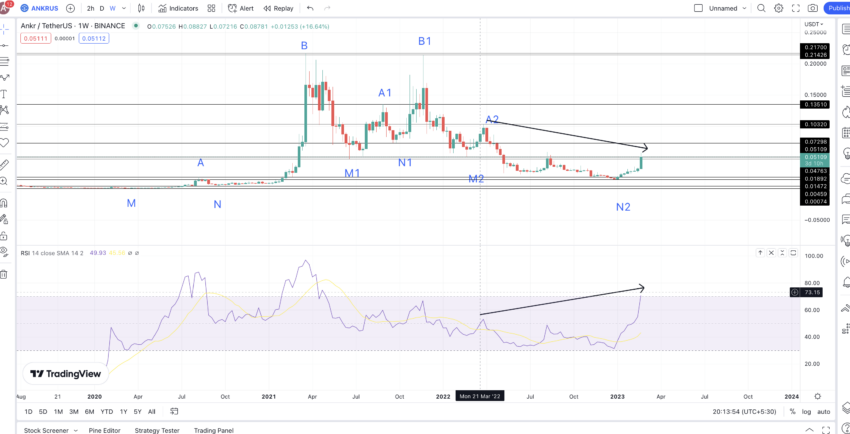 Notice the weekly RSI corresponding to the path from A2 to the current level is forming a bullish divergence against the dropping price action. Hence, our optimism concerning the price of B2 surfacing higher than A2 seems justified.
Price changes
Let us plot the price change percentages and distance between all the points corresponding to a specific pattern or path.
We will have three paths to look at here: M to M1, M1 to M2, and M2 to N2.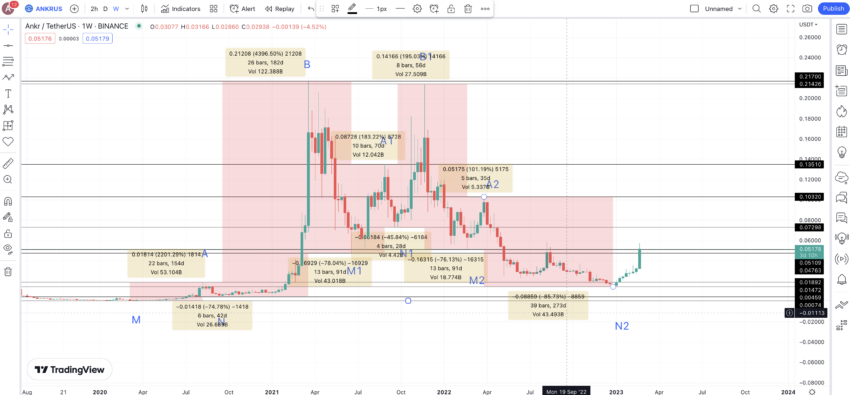 Let us start plotting: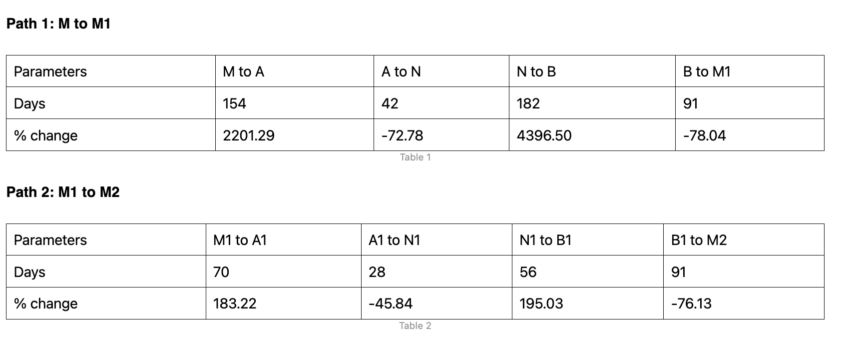 For each table (each path), we have some non-negative columns and some negative columns. We shall now take the average of the non-negative values and also the negative values to locate low-to-high and high-to-low average price percentages.
Low-to-high average: 1415.45% and 99 days (price growth can vary between 101.19% — the lowest value of hike and the average of 1415.45%).
Even the timeframe can go as high as 182 days (per table 1 or path 1)
High-to-low average: 71.70% and 105 days (price drop can vary between 45.84% — the lowest value of price drop and the average of 71.70%).
Even the timeframe can go as high as 273 days (per table 3 or path 3).
We shall now use the data to plot future ANKR price predictions.
Ankr Network (ANKR) price prediction 2023
Outlook: Bullish
N2 is the latest low we have in sight. From this level, the next expected high or B2 could go as high as 1415.45% in 182 days. This puts the ANKR price prediction high for 2023 at $0.223, somewhere in mid-2023.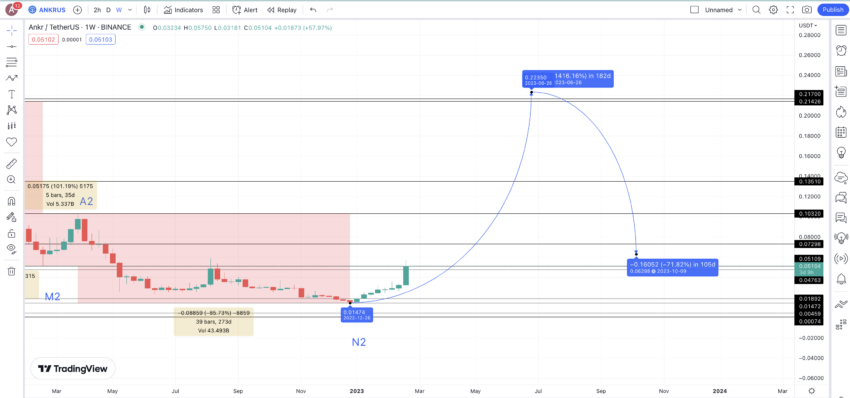 Depending on current market conditions, the next low can drop 71.70% (the average price drop). This puts the minimum price of ANKR at $0.069 by the end of 2023. We can mark this level M3.
Projected ROI from the current level: 350%
Ankr Network (ANKR) price prediction 2025
Outlook: Bullish
In 2024, once the liquid staking fever subsides a bit, we can expect the price growth to be more on the expected lines. Therefore, from M3, we can expect the next high to go up by 195.03% — the third-lowest price hike percentage.
This puts A3 or the ANKR price prediction high for 2024 at $0.186. The next low, as per the average, could drop 71.70%. However, considering the expected bullish at ANKR's counter and the higher maximum prices in B2 and A3, we can expect the low in 2024 to take support at $0.07298 — which translates into a drop of almost 61% and seems in sync with our calculations.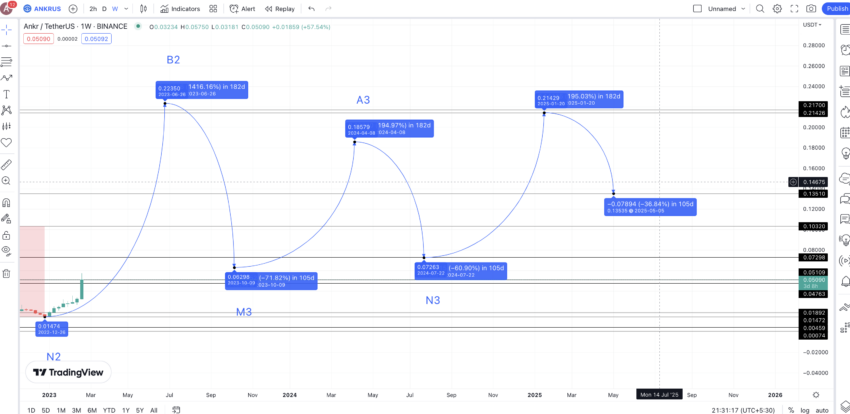 The next peak, from the lows of N3, can again move up by 195.03%, as it is the only percentage value immediately lower than the average of 1415.45%.
This puts the next high, or B3, at $0.2142.
ANKR price forecast till 2025: slow but steady?
Hence, once ANKR reaches $0.223, presumably in 2023, you can expect it to move in a range for the next couple of years — courtesy of increased selling or low trading volume.
The low in 2025 could take support at $0.135, provided the crypto market starts looking up and liquidity staking starts picking up in popularity again. This level is at a low of 36.84%, which is better than the minimum drop percentage of 45.84 (per table 2).
If the price of ANKR tokens takes support at $0.135 in 2025, we can expect the prices to start looking up again in 2025.
From the last projected low of $0.135 or M4, expect the next high to again chart a peak of 195.03% by the end of 2025. This puts the maximum price of ANKR in 2025 at $0.399.
Projected ROI from the current level: 705%
Ankr Network (ANKR) price prediction 2030
Outlook: Very bullish
From the last high or $0.399, the next low could surface in 105 days and take support at $0.21426, which coincides with B1 from the previous pattern. This translates into a drop of 46.25% — in line with our expectations from the tables above.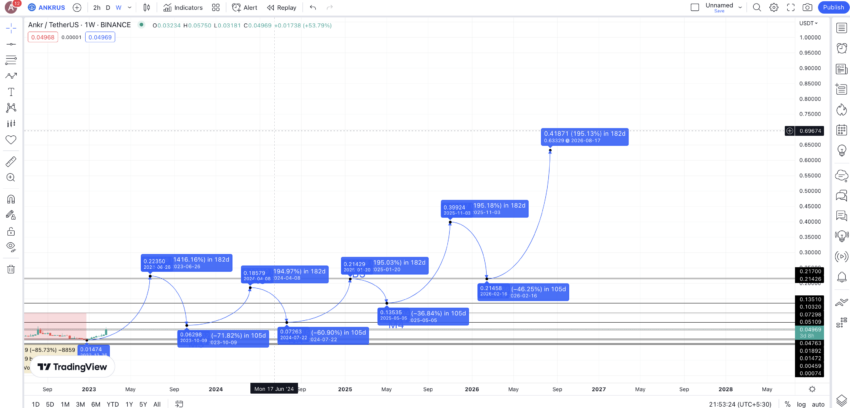 Considering the previous patterns, the next high could again surface at 195.03% from this level. This puts the ANKR price forecast for 2026 at $0.63329.
Using the low in 2026 and with the year's high in sight, we can extrapolate the ANKR price forecast levels till 2030 via the Fib levels. If the maximum prices of ANKR follow the same growth path, we expect the ANKR price prediction high for 2030 to reach $4.224.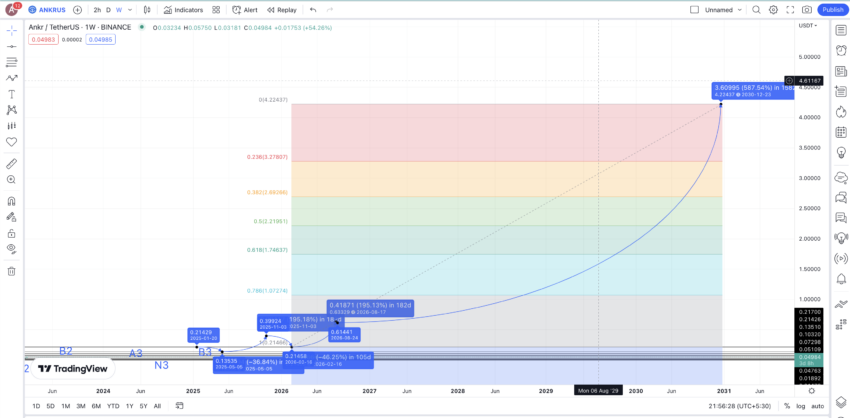 Projected ROI from the current level: 8426%
Ankr Network (ANKR's) long-term price prediction 2035
Outlook: Very bullish
Now we have plotted the minimum and maximum prices of ANKR till 2030, the below table can help locate the prices and gauge the growth of Ankr Network through 2030.
| | | |
| --- | --- | --- |
| Year | | Maximum price of ANKR | | Minimum price of ANKR |
| 2023 | $0.223 | $0.069 |
| 2024 | $0.186 | $0.073 |
| 2025 | $0.399 | $0.135 |
| 2026 | $0.63329 | $0.214 |
| 2027 | $0.95 | $0.59 |
| 2028 | $1.66 | $1.29 |
| 2029 | $2.49 | $1.54 |
| 2030 | $4.224 | $3.29 |
| 2031 | $5.07 | $3.95 |
| 2032 | $7.60 | $5.92 |
| 2033 | $11.40 | $8.89 |
| 2034 | $18.81 | $14.67 |
| 2035 | $22.57 | $17.60 |
Is the ANKR price prediction model accurate enough?
Before conducting an in-depth, data-backed technical analysis, this ANKR price prediction model considers the fundamentals, tokenomics, and other key metrics relevant to ANKR. Here, we have accounted for both short-term and long-term price progressions. As such, this ANKR price forecast theory is as reliable, accurate, and holistic as possible, given the dynamic nature of the crypto market.
Frequently asked questions
What will the ANKR coin be worth in 2025?
Our ANKR price prediction model puts the 2025 price forecast at $0.399. And if ANKR manages to reach this level, it will also reach a new all-time high. Yet, for this price prediction to become a reality, Ankr Network must continue to see growth.
Is ANKR coin a good investment?
While it is very hard to predict if a crypto investment is good or not, ANKR does seem to be a crypto with potential. Over the past 30 days (as of Feb. 23, 2023), ANKR moved up by almost 94%, putting many holders in profit. Also, our long-term ANKR price prediction (till 2030) puts the maximum price close to $4.22, making it look like an aggressive investment option.
Can ANKR crypto reach $1?
It is not impossible for ANKR to reach $1. According to our ANKR price prediction theory, it might end up breaching $1 by 2028. However, for ANKR to reach $1 or higher, it should keep growing as an IaaS provider, a liquid staking platform, and a blockchain facilitator.
What is ANKR's all-time high?
ANKR's current all-time high sits at $0.2252, which it reached on March 28, 2021. However, if liquid staking keeps growing, ANKR might be able to breach its current all-time high by the end of 2030.
Disclaimer
All the information contained on our website is published in good faith and for general information purposes only. Any action the reader takes upon the information found on our website is strictly at their own risk.
At Learn, our priority is to provide high quality information. We take our time to identify, research and create educative content that is useful to our readers.
To maintain this standard and to continue creating awesome content, our partners might reward us with a commission for placements in our articles. However, these commissions don't affect our processes for creating unbiased, honest and helpful content.