The world's largest asset manager, BlackRock, and the Ontario Teachers' Pension Plan Board are among those who have suffered from the fall of FTX. Both participated in a Series B-1 funding round for FTX.
The collapse of FTX has led to big dents in investments by multiple entities, including the world's largest asset manager, BlackRock, and the Ontario Teachers' Pension Plan Board. Other notable investors include Temasek, Sequoia Capital, and Tiger Global.
The Ontario Teachers' Pension Plan Board is the third-largest pension fund in Canada, participating in a Series B-1 funding round in October 2021. Even when the market was experiencing heavy volatility, it stuck to FTX. It has not been made public how much the OTPP has invested in FTX.
FTX's private investors have naturally all suffered greatly, with not much public commentary from private investors available yet. Even NFL star Tom Brady and ex-wife and model Gisele Bündchen have suffered losses, as they have been listed as angel investors.
It's a pretty steep fall for FTX and a concern for new investors in the crypto market. 2022 has been a rough year for crypto, with the fall of the Terra ecosystem still fresh in everyone's mind.
The world's largest asset manager also takes a hit
BlackRock and Tiger Global led the Series B-1 funding round last year, which saw FTX raise $420 million. The former is the world's largest asset manager, and its involvement in the crypto space is always taken seriously. However, it has not been disclosed how much it put in during the funding round.
BlackRock's stock value is down 2.43% today. While it's unlikely to see a massive impact from the FTX incident, it's still a notable victim. The asset manager has made diverse forays into the crypto space, launching a blockchain ETF in Europe and partnering with Coinbase to offer crypto to institutional clients.
Fallout from the FTX collapse contained for now
Among those private investors who have released a statement or update following the fall of FTX is Sequoia. The venture capital firm is marking its FTX investment down to zero. It stated that the funds that FTX was under suffered marginal damage and that a $150 million loss was offset by $7.5 billion in realized and unrealized gains.
Meanwhile, FTX itself is suffering considerably, saying that it could reach bankruptcy if it weren't rescued. There could be as large as an $8 billion shortfall. Binance was due to acquire FTX but backed out, citing mishandled funds and investigations.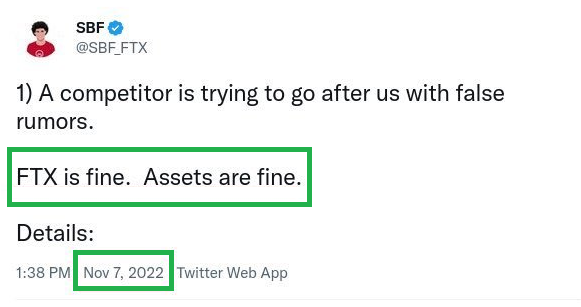 FTX CEO Sam Bankman-Fried has also deleted a tweet that said FTX customer funds are safe. The websites of FTX ventures and Alameda Research are also down.
Disclaimer
BeInCrypto has reached out to company or individual involved in the story to get an official statement about the recent developments, but it has yet to hear back.