In the final All Core Developers meeting for the year on Dec. 8, 2022, Ethereum developers agreed to roll out the anticipated Shanghai upgrade in March 2023.
The Shanghai upgrade, formally known as Ethereum Improvement Proposal 4895, would allow validators to withdraw their staked ETH from the Beacon Chain consensus layer after the successful completion of the Ethereum Merge on Sept. 15, 2022.
The Shanghai upgrade is a precursor to a scalability upgrade that would improve transaction throughput on the network.
Ethereum Shanghai Consensus Clients Ready
Developer Marius van der Wijden confirmed that full and partial withdrawals were working on two private Ethereum testnets, with plans to launch a public testnet on Dec. 15 or Dec. 16, 2022. A testnet is a version of the blockchain that copies the behavior of the main chain, like Ethereum. It allows smart contract developers to test applications without risking the loss of real funds.
After van der Wijden's update, teams developing popular Ethereum clients updated the group on their readiness.
Clients are software programs that turn ordinary computers into nodes that contribute to the security of the Ethereum network.
Post-Merge, each node runs a consensus and an execution client. The execution client carries out transactions on the Ethereum Virtual Machine, while the consensus client enables the network to reach an agreement based on processed transaction data from the execution client.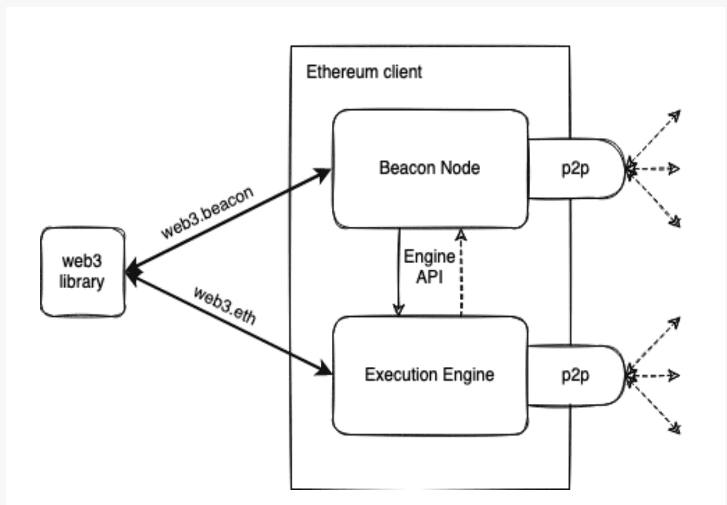 According to the Ethereum Foundation, Geth, Besus, Erigon, and Nethermind are popular execution client implementations, while Lighthouse, Lodestar, Nimbus, Prysm, and Teku are notable consensus implementations.
Lodestar and Teku consensus client developers confirmed their readiness for testing. Clients would initially need to interact with a public testnet
"Lodestar is able to start from a post-merge state…and we are pretty much good with withdrawals," said developer Phil Ngo.
One developer of the Teku client team confirmed that their product was "code-ready and feature-ready," but the Erigon team said that their client still needed work.
Pre-Sharding Upgrade Not Included
The developers also discussed whether including EIP-4844 with the Shanghai upgrade in March 2023 would introduce significant delays.
EIP-4844 will implement the framework necessary to support danksharding, an upgrade that will introduce a new transaction type called blobs that will hold cheaper data. Blobs will be stored on the Beacon chain consensus layer rather than the execution layer.
EIP-4844, called proto-danksharding, will introduce significant changes to prepare for future Ethereum sharding upgrades that will improve scalability.
Developer Peter Szilagyi advised against including proto-danksharding in the upgrade without proper scheduling. Another developer who goes by the moniker 'danny,' pointed out that writing wrong code that is closely coupled to the system becomes expensive to remove later on. Most developers agreed that implementing withdrawals was the chief priority and relegated EIP-4844 to the next upgrade.
The all-core devs team also agreed to exclude Ethereum Virtual Machine Object Format (EOF) from the Shanghai upgrade if all client development teams were not ready to test their code at the next hands-on meeting on Jan. 5, 2023. The EOF upgrade makes changes to the execution layer of the Ethereum network.
The team will host its second meeting on Jan. 19, 2023.
For Be[In]Crypto's latest Bitcoin (BTC) analysis, click here.
Disclaimer
In adherence to the Trust Project guidelines, BeInCrypto is committed to unbiased, transparent reporting. This news article aims to provide accurate, timely information. However, readers are advised to verify facts independently and consult with a professional before making any decisions based on this content.
David Thomas, a seasoned electronic engineer with nine years of expertise, has built a distinguished career by combining his passion for writing with an in-depth understanding of...
David Thomas, a seasoned electronic engineer with nine years of expertise, has built a distinguished career by combining his passion for writing with an in-depth understanding of...
READ FULL BIO
Sponsored Sponsored