The much-anticipated Ethereum Merge update went live on Sept. 15 as part of the network's proof-of-stake (PoS) switchover from an energy-intensive proof-of-work (PoW) mechanism.
The update formally marks the end of Ethereum's PoW mechanism. The mainnet, which was the execution layer, is now merged with the PoS consensus layer of Beacon Chain. Considered the most significant upgrade in the history of Ethereum, the transition also merges the entire transactional history with nothing lost.
At the time of press, ETH had fallen by 2.5% on the daily to $1,597.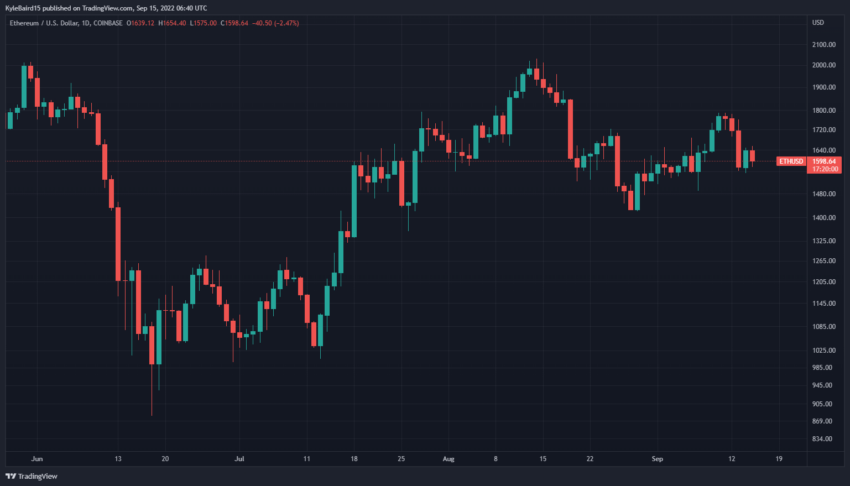 As a result, the Merge is expected to reduce the network's energy consumption by ~99.95%. The event also aims to solve Ethereum's scalability issue in terms of the number of transactions per second.
Validators will now be assigned to secure the Ethereum Mainnet and over the next year, the Shanghai upgrade will follow to allow stakers to withdraw their staked ETH.
While the Merge is the end of the mining process on the Beacon Chain, the hard-forked Ethereum PoW chain will continue to support mining. As part of an initiative under Chinese crypto miner Chandler Guo, the ETHW mainnet is set to go live within 24 hours and will continue to offer mining rewards.
TRON founder Justin Sun emerged as a significant supporter of the PoW fork in the past months.
However, in the long run, experts believe that it is to be seen if the PoW chain manages to garner a larger user base considering nearly all major dApps have put their weight behind a more energy-efficient Ethereum.
Disclaimer
BeInCrypto has reached out to company or individual involved in the story to get an official statement about the recent developments, but it has yet to hear back.