The ETH price rebounded following Ethereum staking withdrawals entering the testnet stage. The full launch will come in the Shanghai upgrade.
The ETH price is beginning to see some upwards momentum, jumping by 10% to over $1,200 in the last 24 hours.
The likely reason for the rebound is the fact that the staking withdrawal feature has entered the testnet stage.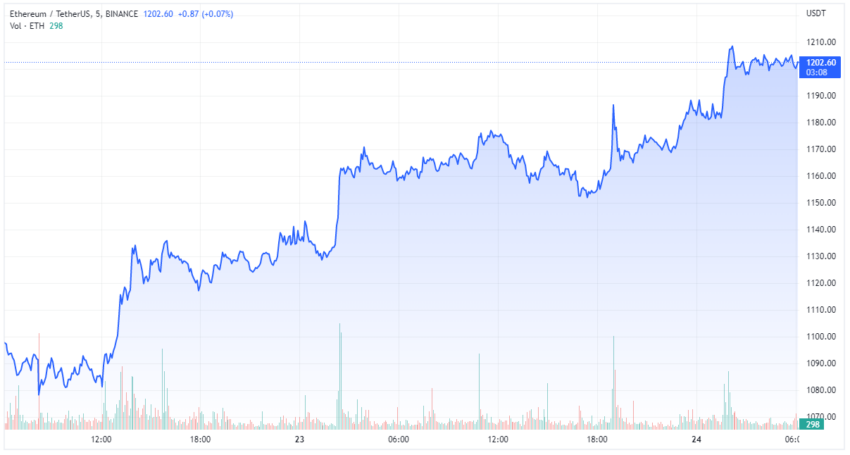 The Ethereum Foundation JavaScript Team said that it would relaunch the Shandong Testnet in the coming days. Shandong is a pre-Shanghai testnet that activates a set of selected Shanghai-considered EIPs for early client testing.
Ethereum developer Marius van der Wijden tweeted that a multiclient devnet had launched, which would allow the testing of withdrawals. Currently, it supports Lodestar, Teku, Lighthouse, Nethermind, and Geth.
The progress towards withdrawals will be gladly welcomed by Ethereum stakers, of which there are many. It's another step forward after the Ethereum Merge earlier this year. The Beacon Chain itself arrived far back in December 2020.
The Shanghai upgrade is set to roll out next year and will be the biggest development since The Merge. It will introduce several critical upgrades and make changes to the EVM functionalities.
FUD spreading over Ethereum and staking withdrawals
Meanwhile, as always, there are those that are getting worked up over Ethereum. The community is labeling Ethereum as the biggest fraud in the market, even bigger than FTX. The reasoning was that Ethereum was not entirely decentralized. Another individual cited the fact that the rewards for staking in ETH were pushed back. He even claims that it is "by its very definition, a rug pull."
The crypto community has been wondering about the staking withdrawal plan, but the words from the aforementioned individuals are perhaps extreme. BeInCrypto reached out to individuals, and Ethereum researcher Justin Drake said they would likely come in the next hard fork.
ETH staking yields as high as 25%
Meanwhile, there have been some notable developments in terms of ether staking yield. This has been on the rise in recent times, with Lido offering over 5% due to the fall in gas prices. The latter is an ether liquidation staking solution that uses the stETH token. Currently, there are over 102,000 unique Lido stakers.
Others have been using the Index Coop protocol to boost their yield to as high as 25%. Investors primarily use the Interest Compounding ETH Index, a leveraged staking strategy.
Disclaimer
BeInCrypto has reached out to company or individual involved in the story to get an official statement about the recent developments, but it has yet to hear back.