Making passive income while playing games is now a real possibility. Play-to-earn games are growing in number, and many of them offer distinct game mechanics that can be used to earn. One of these games is A3: Still Alive.
Here's everything you need to know about A3: Still Alive, the multiplayer game that allows you to earn real-world money while playing. We'll explain what it is and how you can earn tokens while playing it.
What is Netmarble?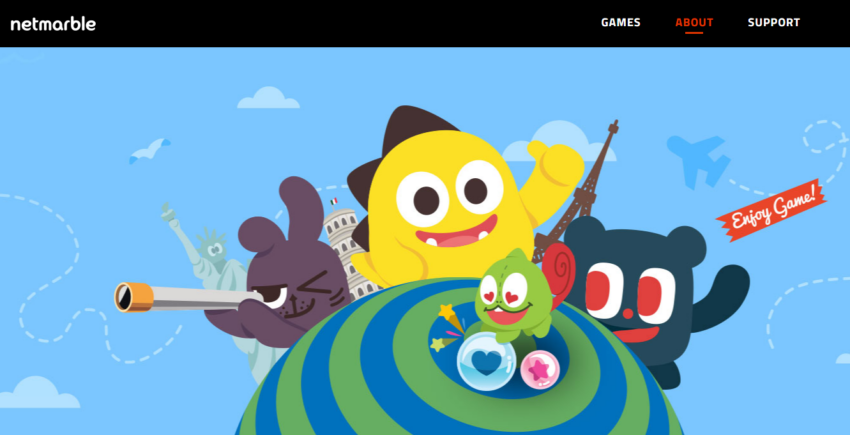 Netmarble is a Korea-based company founded in 2000, and it is considered as one of the fastest-growing mobile game companies in Asia. It is the eighth-largest gaming publisher and the top one in its country. It develops innovative free-to-play mobile games. The company publishes casual, action, sport, strategy, simulation, and social casino gaming.
Netmarble is known for publishing some of the most popular mobile games, such as MARVEL Future Revolution and Ni no Kuni: Cross Worlds, Lineage 2: Revolution, Seven Deadly Sins: Grand Cross, Blade & Soul Revolution, and Marvel Future Fight.
What is A3: Still Alive?
A3: Still Alive is the latest MMORPG (massively multiplayer online role-playing games) by Netmarble, and it is gaining popularity. The game is available on mobile devices and can be found on Google Play for Android devices and App Store for iOS. The game has recently introduced a beta version for Windows PCs, but you would still need to register your account on the mobile app first.
The P2E feature is enabled thanks to Inetrium, a utility token that exists in the Marblex ecosystem. The game introduces an Inetrium Dungeon feature that allows users to earn Inetrion Ore. The asset can then be exchanged for the INETRIUM tokens. Once you have these tokens, you can exchange them for other crypto assets or fiat.
A3's main game modes are:
30-Player Battle Royale: This is the survival game mode, where 30 players fight until only one is left standing.
Dark Presence: Dark Presence is an RvR (Realm versus Realm), free PK (Player Kill) mode. Players can participate in this Dark Presence mode after their character reaches Level 40.
Raid: Team up with up to five other players to defeat the monster. You can participate in this game mode after reaching Level 65.
Forte's Seal: This is a type of Boss Raid game mode that you can play with your guild members. It requires characters to have Level 30 or above.
Conquest: This is a Guild VS Guild PvP mode where guilds battle for territory. It is held every Saturday from 9 PM EDT, and it lasts about 15 minutes.
Soul Linkers: When traveling with a Soul linker, you can gain placement effects and receive assistance during the battle against enemies from your Soul Linker's unique normal and ultimate skills.
How A3: Still Alive works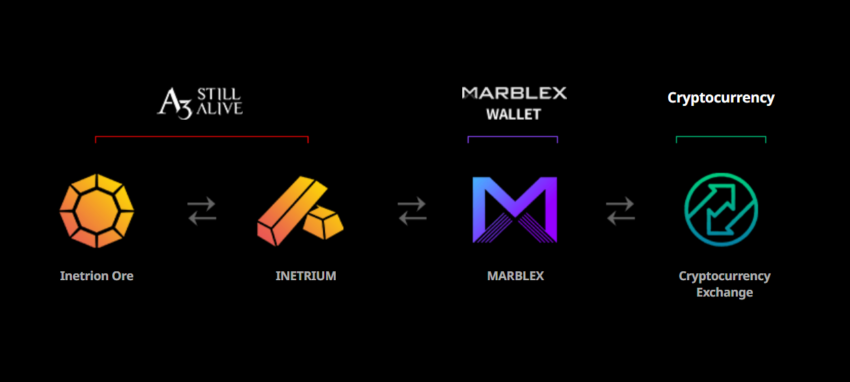 A3 introduces a blockchain-based economy system called INETRIUM, a cryptocurrency that can be earned and used in the A3 game, and which can also be traded outside the game.
INETRIUM coins can be used in real economic transactions, which lifts the limitation of owning assets that can only exist within a specific game.
A3 gamers can now enter a new game mode called Inetrium Dungeon, which allows them to earn Inetrion Ore when playing the game and capturing special monsters. These in-game tokens can be used to purchase character growth items. At the same time, gamers can convert (smelt) Inetrion Ore into INETRIUM currency in the INETRIUM Refinery. The exact exchange rate will be visible in the game. The exchange works both ways.
This new and exciting blockchain feature is effectively transforming the gaming world and directly connects it to the real world.
A3: Still Alive Inetrion Dungeon
The Inetrion Dungeon is the place to start earning Inetrion Ore, which can then be exchanged for the INETRIUM crypto. However, players need to be at least Level 190 or above to access the battlefield where Inetrion Ore can be acquired.
Players can hunt or battle monsters to earn Inetrion Ore. Each day, you can earn a maximum amount of 100,000 Inetrion Ore.
The rate at which a player can earn Inetrion Ore depends on the tier for which the character is eligible. There are three tiers for earning Inetrion Ore, and you will need a higher character Level to enter a higher tier. The A3: Still Alive team has posted a video explaining how to earn Inetrion Ore.
After the player has earned some Inetrion Ore, they can exchange it for INETRIUM tokens in the INETRIUM Refinery. The exchange rate fluctuates according to this formula on the Inetrium website. The INETRIUM Refinery can be found in the Menu, under the Shop tab.
Note that the player needs to have at least 200,000 Inetrion Ore in their account to be able to exchange it for INETRIUM tokens. Furthermore, you need to hold red diamonds, a special gemstone that has to be purchased in the game, to refine or exchange Inetrion Ore into INETRIUM tokens. In a way, these red diamonds are similar to blockchain gas fees that users pay when performing transactions on a blockchain network.
Inetrion Express Passes
Some players might get impatient about upgrading their character until they reach the required Level to start earning some real cryptocurrency in the A3: Still Alive game. Fortunately, there are ways to speed up the process. You can use two express passes. These passes will get your character to the point it can start earning Inetrion Ore. These assets can then be transformed into INETRIUM tokens.
There are two Inetrion Express Passes available for new players:
Inetrion Express Pass (free)
Premium Inetrion Express Pass (in-game cash product)
The first thing you'd want to do is to purchase the Inetrion Express Pass, which is available for free in the Shop section. This will instantly level up your character to Level 160.
However, to be able to access the Inetrion Dungeon, your character needs to reach Level 190. If you want to cut short this journey, you can purchase the Premium Inetrion Express Pass, at a cost of $27, that will immediately upgrade your character to the 190 Level and grant it a combat power of 4.3 million with provided equipment, Soul Linkers, and accessories.
If you wish to enable the P2E feature and start earning Inetrion Ore right away, then you should consider purchasing this premium pass that you upgrade the level of your character instantly.
Players should be aware that these express passes are only available to new players and can be activated only within the first seven days after first logging in. After the first week of playing the game the option will be gone, players cannot buy and activate these express passes.
What is INETRIUM token?
INETRIUM is a utility token created on the Marblex (MBX) ecosystem. Players of A3: Still Alive can start earning Inetrion Ore while playing the game and then exchange it for INETRIUM tokens that can be freely utilized outside the game, using the Marblex wallet.
The INETRIUM utility token can be used as follows:
In-game token: The INETRIUM token can be earned while playing the game.
Within different Netmarble games: All blockchain games developed by Netmarble will use it as a way to connect game assets to the real-world economy.
Preservation of value: The token can also be used as a way to preserve value as you invest more time and energy into playing the game. The exchange rate (Inetrion Ore to INETRIUM utility token) is also designed to help players preserve their investment. Moreover, by using the Inetrion Ore to play the game, players get better rewards over time, than by simply playing the game to mine the coins and get them out of the game.
Stable asset investment: The economy of the INETRIUM utility tokens was designed specifically for the Netmarble games, and it is used for exchanging the in-game assets, platform fees, and marketing purposes. The Netmarble company will not sell the tokens on the open market, thus preventing any market manipulation.
The Netmarble team will release a total of 1 billion INETRIUM tokens. However, according to their website, they might increase the total supply over time if it becomes necessary to expand the coin's ecosystem or when new games will be released.
As of Apr. 2022, the INETRIUM (ITU) token is distributed as follows:
77% Distribution via game currency and exchange (770 million ITU)
20% Marketing (200 million ITU)
3% Platform fee (3 million ITU)
What is Marblex (MBX)?
Marblex is a new ecosystem, based on the Klaytn mainnet, and it is designed for game creators to create their game tokens and use them together with the MBX tokens. According to the Marblex whitepaper, the ecosystem aims to attract publishers, game developers, and service providers.
Game publishers can use the Marblex network to integrate profit-generating activities for their players and expand and unite their in-game economy with the real-world economic system.
The major ecosystem creators share a common goal, which is to help grow the MBX ecosystem. When a service provider integrates token economy with game content, everyone involved benefits. The developers bring the token economy to life, game content creators create an additional revenue stream, and gamers can be rewarded for playing the game. Publishers can maximize in-app payments revenue by running token-activated games.
The Marblex (MBX) token ecosystem is integrated with tokens that are based on games with substance. The value of tokens is directly related to gaming features. Game publishers will ensure that well-made games are maintained in order to increase the token's value. Gamers will enjoy playing a satisfying game, while also generating an income.
The token ecosystem consists of three elements:
MARBLEX (MBX),
MARBLEX LINK (MBXL),
Each game's token. For A3: Still Alive, the game's token is INETRIUM (ITU).
To access all these tokens, A3: Still Alive players will need to create and connect a Marblex Wallet to their game account. The wallet is available for both iOS and Android devices. The wallet also promises to support Marblex NFTs in the near future.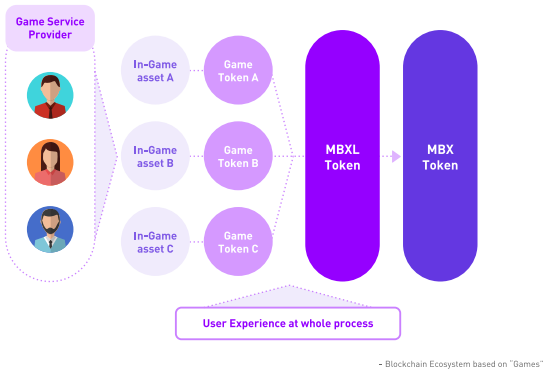 A3: Still Alive players will need to connect their Marblex wallet to the game before they can start earning INETRIUM in the game.
Marblex (MBX) token
The Marblex (MBX) token is a Klaytn Compatible Token ("KCT") based on Klaytn blockchain. The Klaytn blockchain offers a high transaction speed for game assets and also offers transparency and security.
The Marblex token's total supply is 1 billion MBX, and it is designed for long-term and sustainable operation. According to the Marblex whitepaper, the MBX token distribution is as follows:
75% Ecosystem and community
10% Team
10% Token sale
5% Marketing
How to earn crypto tokens in A3: Still Alive?
To start earning real crypto tokens in A3: Still Alive, you will have to start playing the game and upgrade your character.
As a new player in the A3: Still alive game, you will have to go through the following steps to start earning real tokens within the game:
Enter the Inetrion Dungeon
Collect Inetrion Ore
Refine Inetrion Ore into INETRIUM tokens
Get the INETRIUM (ITU) tokens out of the A3: Still Alive game.
Enter the Inetrion Dungeon
Please note that new players aren't allowed to enter this gaming mode. Only characters that reached the 190 Level or above are allowed in the Inetrion Dungeon. If you want to fast-forward this process, you can purchase the Premium Express Pass. This pass is available for purchase ($27) during the seven days after your first login.
Collect Inetrion Ore
Once your character has been allowed in the Inetrion Dungeon, it can start hunting monsters to earn Inetrion Ore.
Players can also collect Inetrion Ore outside the dungeon when your guild conquers the Skad Floating Island or Skad Sky Isle. When your guild achieves this, you can receive a certain percentage of Inetrion Ore as a tax. This tax-acquired Inetrion Ore is not included in the limited daily quantity, so it can be used strategically as an additional Inetrion Ore acquisition site.
Refine Inetrion Ore into INETRIUM tokens
You can refine the Inetrion Ore into INETRIUM at the Refinery. The daily exchange rate applies, and Red Diamond will be necessary as a special tax item. There will be a limit to the number of INETRIUM you can refine in one day. You can always turn it back to Inetrion Ore to use in-game, so don't worry! Daily exchange rates will also apply to this process.
It is worth noting that you will need Red Diamonds (paid assets) in your account, to be able to refine Inetrium Ore into INETRIUM tokens.
Get the INETRIUM tokens out of the A3: Still Alive game
You should see your INETRIUM (ITU) tokens in your Marblex wallet, which you connected to your game account. Using the Marblex wallet, you can exchange INETRIUM tokens to MBXL, and then to MBX, a cryptocurrency on the Klaytn blockchain.
Start earning by playing A3: Still Alive
There's potential to earn crypto by playing A3: Still Alive, and you can get started right now. Follow the steps in this guide, and you should be good to go. Play-to-earn will only become more popular so getting a head start may help.
< Previous In Series | Earn | Next In Series >
Frequently asked questions
What makes A3: Still Alive so special compared to other P2E games?
Compared to other play-to-earn (P2E) games, A3: Still Alive brings a high graphic quality that is comparable to the graphics of console-based games. A3's graphics are built using Unity Engine.  At the same time, the game features P2E factors and an attractive graphic that make it stand out from the competition. The P2E feature has just been rolled out in Apr. 2022. The developers promise to deploy more features connected to the new INETRIUM token. 
Will there be any other place users can use INETRIUM?
Besides the recently launched feature, where players can earn INETRIUM by simply playing the A3: Still Alive game, the P2E can be used to upgrade your in-game character. The A3 team promises to add future features to the game. Players are encouraged to follow the game's Discord channel for the latest updates. 
How can you speed up your character level in A3: Still Alive?
New players need to upgrade their A3 character to at least Level 190 before they can enter the Inetrion Dungeon. To do so, you can either play the game and organically upgrade your character or use the Premium Inetrion Express Pass ($27) to reach Level 190. However, it is recommended to reach Level 200 before entering the Inetrion Dungeon. When your character is Level 200 or above, you will qualify to enter the Tier 2 dungeon, which has a much higher rate of earning Inetrion Ore.
What's the fastest way to upgrade your character in A3: Still Alive?
While leveling up your A3 character might feel boring, you need to take advantage of the Level Up Missions to actively increase your combat power. According to the A3 team, you will receive + 3 million combat power if you carry out the missions. However, to be able to win the boss fights, you will need to use premium potions and try to control your character. 
The best way to upgrade your character fast is to play the game regularly and participate in the events featured in the game. 
The most common tactic used by users to upgrade their character and start earning tokens is:
Purchase the Premium Inetrion Express Pass

Level up to Lv. 200 

Purchase the Radienne's Protection

Earn around 600k Inetrium Ore per week

Refine it to INETRIUM

Exchange INETRIUM to MBX
There is also a simpler way to advance faster through the game if you are willing to spend money on special passes. To make the most out of your investments, you should purchase the following passes, in this exact order:
Premium Inetrion Express Pass

Legendary Shu – Growth Step Up

Artifact Step Up

Deneru's Instinct Achievement Package
Disclaimer
In line with the Trust Project guidelines, the educational content on this website is offered in good faith and for general information purposes only. BeInCrypto prioritizes providing high-quality information, taking the time to research and create informative content for readers. While partners may reward the company with commissions for placements in articles, these commissions do not influence the unbiased, honest, and helpful content creation process. Any action taken by the reader based on this information is strictly at their own risk.