December 2020 in sunny Florida. Art Basel Miami, one of the biggest and most important art events in the world, has been cancelled due to the corona panic. But the crypto art community does not surrender to the virus.
In Miami's art district Wynwood, around 100 people gather in the Bitcoin Mining Market to celebrate BitBasel, a get-together of crypto artists, collectors, and fans. You see lots of tattoos, funky hairstyles, and sexy dresses. Unlike most crypto events, the male/female ratio here is about 50:50.
An online live stream connects this bitcoin (BTC)-themed venue, which sports a bench built out of scrapped mining machines, with speakers from all over the world. Some interviews and the moderation take place on a small stage, but most speakers and panelists can only be seen on several flat screens.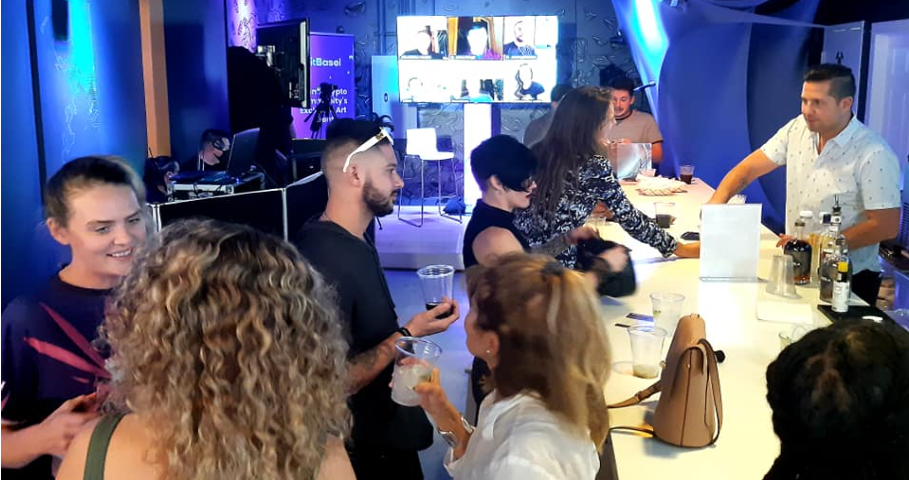 Around 1,000 viewers follow the event online. Two more screens showcase selected crypto artworks — most of them animations in bright, psychedelic colours, which were selected by crypto artist Johnny Dollar for this event. Many of these pieces can be acquired and traded on a blockchain in the form of non-fungible tokens (NFTs).
What exactly is crypto art?
But what exactly is crypto art? What attracts the Miami hip crowd and online viewers from around the globe to this new phenomenon? What differentiates it from other art forms?
The most precise definition of crypto art is: digital art that gets its scarcity through non-fungible tokens on a blockchain. Art can only be valuable if it is scarce. Paintings and sculptures are scarce by nature. Photographs, etchings, or lithographies usually come in limited editions signed by the artist. But digital files may be copied endlessly without a loss of quality and could therefore not be scarce — before the invention of blockchain.
Blockchain has been created to guarantee the scarcity of digital money without the need for a central institution you need to trust. Tokens on a blockchain can also represent other things than money, and art is one of them.
However, there is a big difference between money and art. Money needs to be fungible, which means that it does not matter whether I pay you in a note of ten dollars or in ten one dollar coins. As long as the value is right, you do not care about the form. The same is true for bitcoin or digital tokens. Every token that represents value is as good as any other one.
That is why the NFT was invented
Artworks behave differently: they are unique. That is why the NFT was invented. Every NFT is different. It can be clearly identified and comes with metadata such as an image or a description. Non-fungible tokens can be sent through the internet and stored in a wallet, just like bitcoin.
It can represent any kind of collectible, but digital art has become its most popular and successful use case. Traditional paintings can be represented by NFTs as well. Here, the benefit is not the artificial scarcity, but the fact that a blockchain token can prove an artwork's authenticity and provenance.
So far, collectors had to trust a gallery that an artwork was not forged. The gallery would also produce a document showing the prior owners of an artwork. All this can now be done much more efficiently by blockchain technology. This strengthens the position of the artists towards the galleries, who have been taking a high cut in every sale for their services.
Crypto changes this. Mexican artist Moxarra comments this by quoting the MTV logo (now spelled NFT) and the first song ever played on that channel, "Crypto Killed the Gallery Star." "This artwork comes in the form of a limited edition t-shirt. Only the owners of the corresponding NFT may wear it," explains Moxarra.
Crypto art marketplaces open new opportunities
Several marketplaces have been founded to cater for the needs of artists and collectors, and more of them are about to be launched. One of the biggest is OpenSea.io, where everyone can upload their art and sell it for digital money. SuperRare.com has a more selective approach: as an artist you have to apply for it, and they only accept unique artworks, no series or editions.
Rarible.com is open for anyone as well, and it offers an easy way to create NFTs both for unique and multiple artworks. Most of these platforms are based on Ethereum (ETH), but other blockchains like WAX or RSK are starting to compete for this new market.
"This opens new opportunities for artists to make a living from their art," says Gus Grillasca, a crypto artist from Mexico, adding:
"In the traditional art world, only a few superstars made all the money. Now, everyone has a chance. I am not a superstar, but when I sell an artwork on SuperRare, I earn 600 to 800 dollars with it, which is a decent amount of money in Mexico."
Another advantage these marketplaces offer to artists is that they get a share of secondary sales, usually in the range of 10 per cent. In the old art business, once an artist had sold his work to a collector, he would not see a penny if the collector sold it for a higher price to someone else.
If the artist had become famous in the meantime, only the owners of his early works would benefit from their higher prices, but not the artist himself. In crypto art, artists get their fair share.
However, it is not only the economic benefits that makes crypto art attractive. The technology also allows for new forms of expression. Many crypto artworks are not static, but animated. Some are interactive and include computer code.
The artwork ETH Boy, a portrait of Ethereum's founder Vitalik Buterin dressed as a Picasso-style Harlekin, by Alotta Money and Trevor Jones changes every day depending on data such as the price of ether or the gas fees in the Ethereum network.
"I was excited about the concept of this painting changing daily in response to external variables out of ours or anyone else's control," says its co-creator Jones. The ETH Boy was sold for 260 ETH ($151,684, at press time) on the platform Async Art, which specializes in programmable art.
A fascinating area of the crypto world
For me, crypto art is one the most fascinating areas of the crypto world. I am managing a young artist called Max Cryptohead, who is creating digital portraits of crypto pioneers such as Satoshi Nakamoto, Nick Szabo, or Adam Back at 21heads.com.
So far his artworks have been static, hi-res JPEGs that can be printed out on canvas to be hung on walls. But Max is totally fascinated by the new possibilities of crypto art, and he is learning to work with Adobe After Effects and other programs to create more dynamic forms of art. Max said:
"When I started to create my portraits of crypto heroes, I had no idea of the possibilities of Crypto Art. But the more I delve into it, the more I am intrigued by it. And I even made some money with my art already."

Apart from it, I've launched my new video show Café Moonmartre. In each episode I interview an artist, gallerist, curator, or collector who plays a role in this new and vibrant art scene.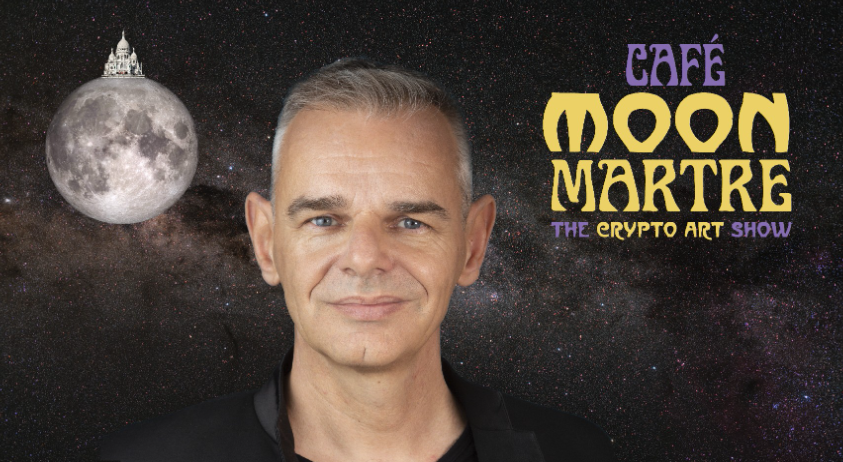 NOTE: The views expressed here are those of the author's and do not necessarily represent or reflect the views of BeInCrypto.
Disclaimer
The information provided in independent research represents the author's view and does not constitute investment, trading, or financial advice. BeInCrypto doesn't recommend buying, selling, trading, holding, or investing in any cryptocurrencies