DeFi
aggregator Cream Finance is taking aim at Uniswap with a new automated market maker (AMM) called 'Swap,' but it could be entering an already overcrowded market place. Token holders, on the other hand, don't seem vexed as CREAM has surged 60% on the day to an all-time high.
Cream Finance launched with little fanfare in early August 2020 with the primary goal of fostering an open and inclusive financial ecosystem, based on Compound Finance from which it forked. It initially launched a peer-to-peer lending platform on the Ethereum network, similar to the majority of
DeFi
protocols, but made a switch to
Binance Smart Chain
(
BSC
) when that went live on Sept 1. Following the now well-trodden DeFi path, Cream has a governance token with a total supply of 9 million. It carried out a token distribution to lure liquidity providers to the platform in August and has total liquidity of $4.6 million at the time of press according to
Uniswap
. Ten percent of the CREAM tokens were allocated to seed the project and it still operates largely under the guidance of founder Jeffrey Huang, though it has begun the process of ceding control to the community.
Cream Token Swap Protocol Launch
The latest move from Cream Finance is the launch of its Swap automated market maker which will allow users of the lending platform to switch their collateral positions without leaving it.
Swap launch pairs:$CREAM / $USDC$CREAM / $WETH
$crCREAM / $crYFI$crYETH / $crYYCRV$yETH / $WETH$yyCRV / $USDC

Deposits/staking for these pools open ~11pm UTC+8, one hour prior to the start of $CREAM rewards. Read more about Swap below:https://t.co/snYwWuN1Tx

— Cream Finance 🍦 (@CreamdotFinance) September 7, 2020
Currently, yield farmers plowing their way through the fields of DeFi liquidity pools need to use token swapping platforms such as Uniswap in order to convert their crypto assets. These additional steps incur further losses through
astronomical gas fees
and secondary trading fees—0.3% per trade in the case of Uniswap. Cream Swap, a fork of Balancer with a Uniswap-like user interface, aims to solve this. Yield farmers who create and deposit into liquidity pools on the new Swap platform will receive a pool token called CRPT (Cream Pool Token). This operation is similar to how Balancer issues BPT and other liquidity pools have native tokens representative of how much has been provided. The fee structure is slightly lower than Uniswap with all exchange fees set to 0.25% from the start. Liquidity providers will receive 0.2%, while the other 0.05% will go to the CREAM network. In addition to collateral from its own tokens, Swap can also support tokens from Compound,
Yearn
,
Aave
, Balancer, Uniswap, and TokenSet. There will be six pools to start, CREAM/USDC, CREAM/WETH, crCREAM/crYFI, crYETH/crYYCRV, yETH/WETH, and yyCRV/USDC.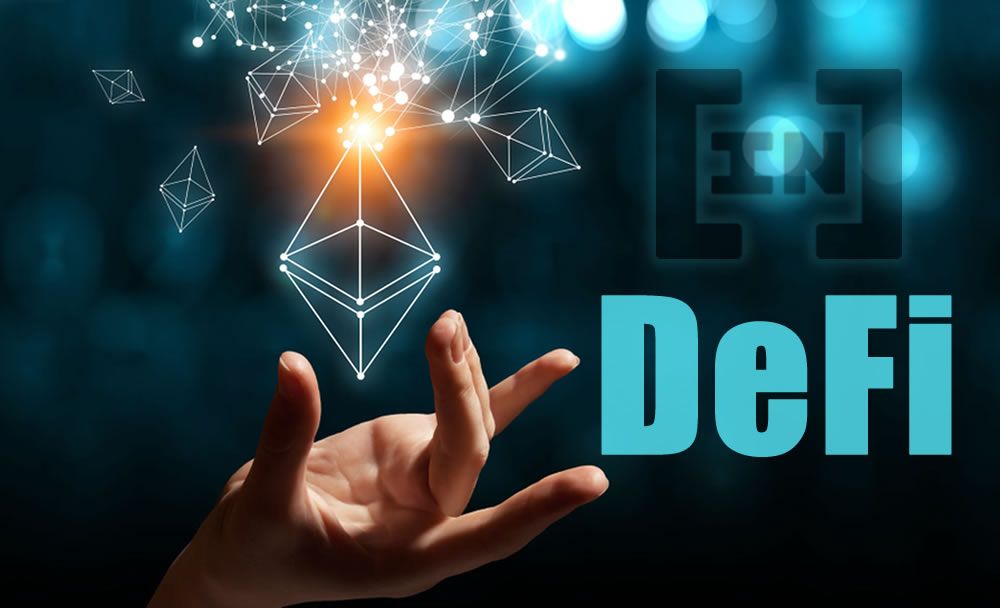 Pairs with USDC and WETH allow users to trade in and out of these two popular tokens, while 'creamed (cr)' pools enable platform users to trade between interest-yielding CREAM and
YFI
, or from ETH to stablecoins. The final two pairs will enable users to easily swap the Yearn liquidity provider tokens to the underlying tokens, wETH and USDC. In order to attract early liquidity, 3,000 CREAM tokens per day for the CREAM pairs and 500 tokens per day for the other pools will be distributed. Users will need to stake their CRPT tokens which will be locked for three days in order to be eligible for rewards. The launch of Swap has been scheduled for 23:00 UTC+8 on Sept 8. The incentive is currently set for seven days only but may be adjusted, the team added in the
announcement
. The thing that sets Cream Finance apart from its DeFi brethren is that it has chosen the Binance network over Ethereum's. The BSC is interoperable with Ethereum, but operates on its own blockchain so will not be subject to those frightening network fees. That said, average Ethereum transaction fees have fallen back to somewhat acceptable levels recently, dropping from an all-time high of almost $15 on Sept 2 to just under $3 today according to
BitInfoCharts.
CREAM Token Prices Pump 60%
The platform's native token has been surging recently, hitting an all-time high of $163 following a 60% pump on the day: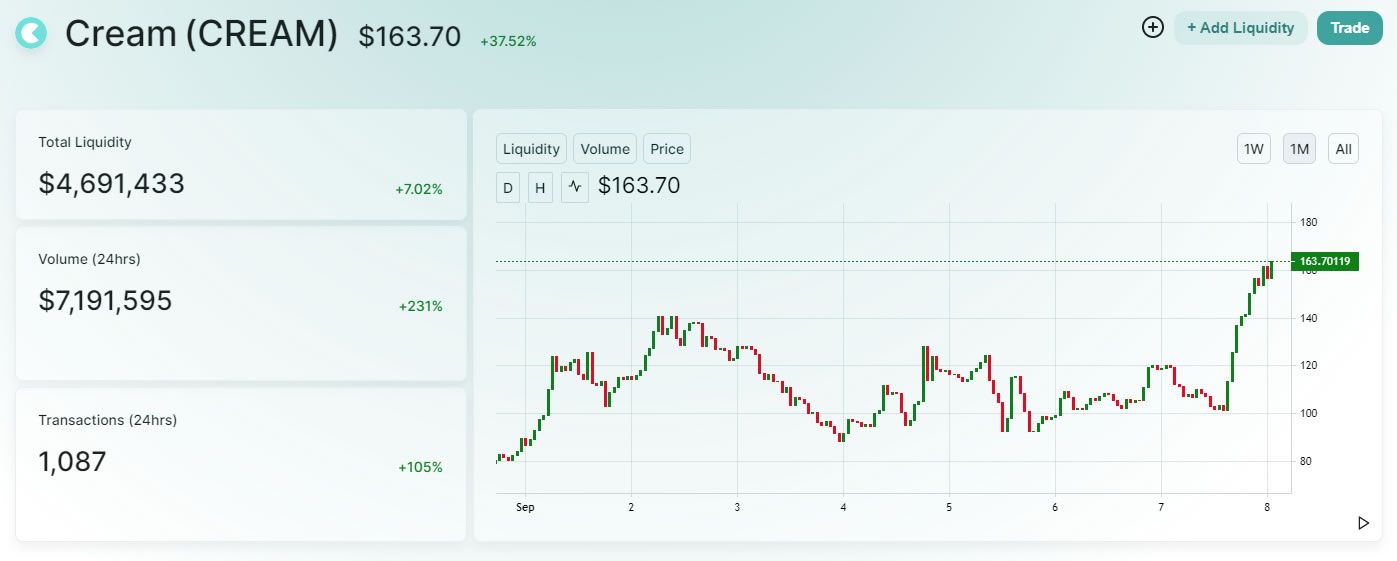 Upon launch, CREAM prices surged to $100 in an initial FOMO-driven pump that many of these latest DeFi tokens have been through. The dump quickly followed in a fall back to around $14, but since then (early August), steady progress has been made with a grind higher. Today's spike has clearly been driven by the new AMM launch and token distribution opportunities. Uniswap also reports that volume on the platform hit an all-time high of $6.7 million on Sept 7 with liquidity just under $5 million for the day. CREAM appears to be the
DeFi food
flavor of the moment following this past weekend's
SushiSwap shenanigans
.
DeFi Markets Top $8 Billion Again
Decentralized finance markets are back on the move again following their first total value locked decline since March. TVL is back over $8 billion again according to DeFi Pulse indicating that the uptrend is set to continue. Uniswap has maintained its lead with an increase in TVL of 4% taking it to $1.57 billion. The market share for the token swapping protocol is just under 20% and reported volume for the past 24 hours has been around $440 million. Second and third places in the TVL chart remain unchanged with Aave and Maker occupying their respective places with marginal gains over the past day. Today's top-performing DeFi platforms are Balancer,
WBTC
, and MCDEX, while Synthetix has lost 5.5% of its crypto collateral. The crypto crash-induced slump appears to have been quickly forgotten in the world of DeFi, and digital asset total market capitalization is also moving back in the right direction at the time of press.
Disclaimer
In line with the Trust Project guidelines, this price analysis article is for informational purposes only and should not be considered financial or investment advice. BeInCrypto is committed to accurate, unbiased reporting, but market conditions are subject to change without notice. Always conduct your own research and consult with a professional before making any financial decisions.

Martin has been covering the latest developments on cyber security and infotech for two decades. He has previous trading experience and has been actively covering the blockchain...
Martin has been covering the latest developments on cyber security and infotech for two decades. He has previous trading experience and has been actively covering the blockchain...
READ FULL BIO
Sponsored Sponsored