Blockchain startup ConsenSys has unveiled a new organization dubbed Mesh, which is part of the company's broader plan to separate its investment and portfolio management business from its software arm.
Mesh is
the brand
under which ConsenSys will oversee its blockchain startups, of which there are more than 100, including the likes of BlockFi, Trustology and Compound Labs, to name a few. It's designed to complement the software business. ConsenSys Founder Joseph Lubin
made the announcement
on Twitter, explaining that Mesh will continue the company's pioneering "mission of exploration," which is to "advance the adoption of decentralized protocols, infrastructure and applications." It is that very mission, Lubin said, that motivated him since
Ethereum
's earliest days. He also alluded to the launch of the
much-anticipated
Ethereum 2.0, which the Ethereum co-founder said is an "area of particular interest" for him.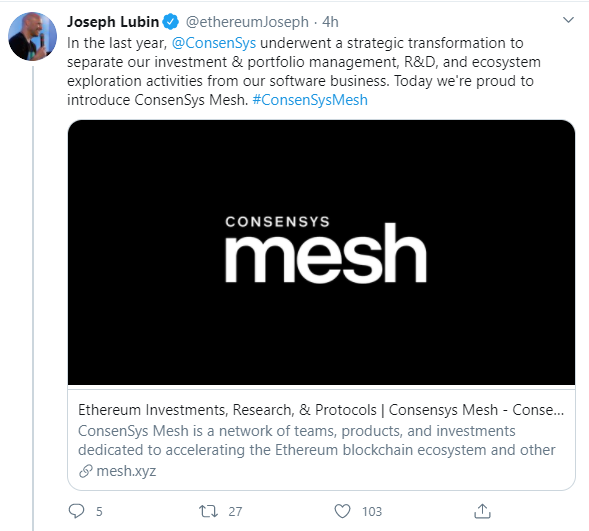 DeFi Dilemma
Lubin explained how the core of ConsenSys Mesh's mission is on open-source technology and the developers who are committed to the
goal of building
Web 3.0 as well as decentralized infrastructure and apps. Ethereum is already the go-to blockchain for decentralized finance (
DeFi
) projects, including high-profile protocols like decentralized exchange Uniswap, and it has been a blessing and a curse for the network.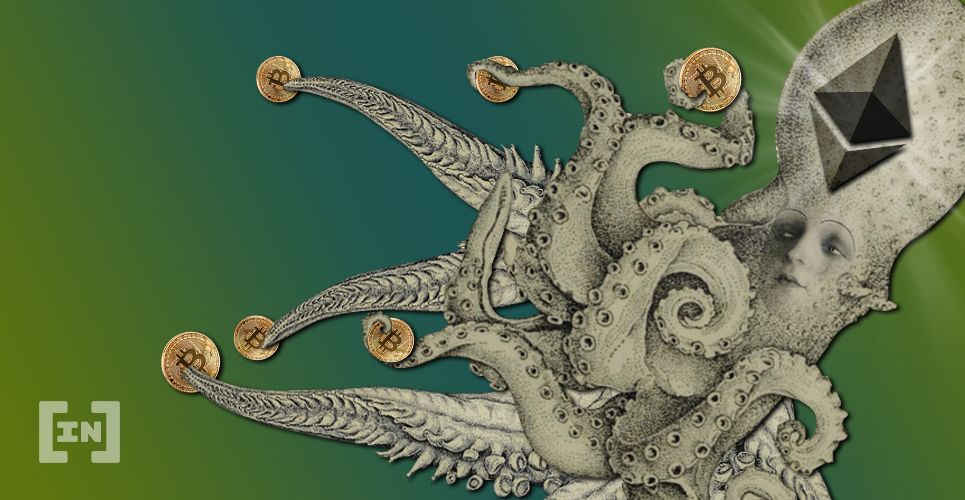 For instance, the rise of
DeFi
has put the ETH price back in play after it was stuck in the doldrums following its 2018 peak. Now that ETH has found its groove again, thanks to DeFi, the network itself is suffering from record-high
gas fees
, which has stifled the activity of projects that are directly affected by the ETH gas fees. For instance, Publish0x, which considers itself the crypto version of Medium, decided to change its payouts from weekly to monthly as a result of the
sky-high ETH gas fees
.
Ethereum 2.0 Is Happening
This problem has thrust Ethereum 2.0 into the spotlight once again, as the market continues to wait for the network's upgrade from a
proof-of-work
to a
proof-of-stake
system, which will introduce greater scalability and shard chains to the popular blockchain. According to the
latest update
, Phase 0 of Eth2 is planned for 2020.
Joe
Lubin assured his followers in his Twitter thread about ConsenSys Mesh that Eth2 is happening, in case there were any doubts.

iTrust Capital, which is an IRA trading platform for crypto and gold,
tweeted
that the
Ethereum 2.0 launch
could be sooner than later.
We are hearing from sources that Ethereum 2.0 launch announcement is coming within the next few weeks.

Is your portfolio positioned accordingly?

— iTrustCapital (@iTrustCapital00) September 28, 2020
It wouldn't be the first time that the crypto community got its hopes up. Though the ConsenSys team does seem confident that it's a matter of when — not if.
Disclaimer
BeInCrypto has reached out to company or individual involved in the story to get an official statement about the recent developments, but it has yet to hear back.