The
YFI
token finds itself in the spotlight after a meteoric 10,000% rise fueled by the
DeFi
craze. But can this fledgling governance token stay true to its purpose?
Left in the Dust
It's been quite a week for the new
yearn.finance
protocol. The ecosystem's YFI token originally debuted at about $35, then peaked at over $4,000. While $1,000 swings catch our attention, the functionality of the YFI token has come into question. Not to mention the risks.
$YFI price 6 days ago: $34.53$YFI high today: $3,052.40

This may be the fastest 100x in the history of crypto. Defi is wild.

h/t @Rewkang pic.twitter.com/tSoofDkLAV

— Luke Martin (@VentureCoinist) July 24, 2020
"In a nutshell, YFI is something that makes you money,"
said Community Manager Kelvin Lee in a
video
to investors at Santiment. But
yearn
.finance's creator Andre Cronje remains steadfast about the token's purpose. "Price doesn't change its function," he told BeInCrypto. He reiterated:
"So as far as I'm concerned it has no value. 1 YFI = 1 YFI and that's all that matters to the protocol."
The protocol gives YFI to users who offer liquidity to DeFi projects like Curve.fi. It works by automatically staking tokens at the decentralized protocol with the best returns. But as the community grows, the reality becomes more complicated.
Risky Business
As yearn.finance project members vote on new proposals like the
inflation
rate, the YFI landscape is a rapidly evolving.
"There's a whole suite of systems that's being built and released almost on a daily basis,"
Kelvin Lee told investors. "[Cronje] is coding very fast and he's always testing." As for the safety of such hasty coding, Lee says:
"Whatever is being turned out is safe until it's hacked or until it's exploited, and audits need to be made. There's tons of risk involved, but that's not stopping people."
Since yEarn is not simply a set-it-and-forget-it staking scheme, there are many things that could go wrong. Rewards are reaped for both staking and providing liquidity, so things can get technical.
"There is a lot of risk… because if something goes wrong here in terms of yield optimization, then everything collapses,"
says Kerman Kohli of the youtube channel DeFi Weekly
.
"If something goes wrong in Curve, then everything collapses. If there's a bug … this whole thing collapses."
A developer known as Weeb McGee of yieldfarming.info, however, explains that depending on what set-up and pool you stake with, the loss is not all that great. In his example, even
if YFI drops 100x, your staked asset would only drop 8.8% in value.
Despite the risks,
users have been warned
. And Cronje has made it very clear that the YFI token is "valueless". Cronje tweeted that if you don't understand his software, you shouldn't go near it.
Disclaimer: when I build software, I build it for myself. If you do insist on interacting with it, please use caution, there will be bugs. Interfaces are built to make my life easier. I will make mistakes. If you don't understand it, please don't use it.

— Andre Cronje (@AndreCronjeTech) March 5, 2020
Today, YFI distribution is stalling and the future of yield farming looks uncertain.
Putting on the Brakes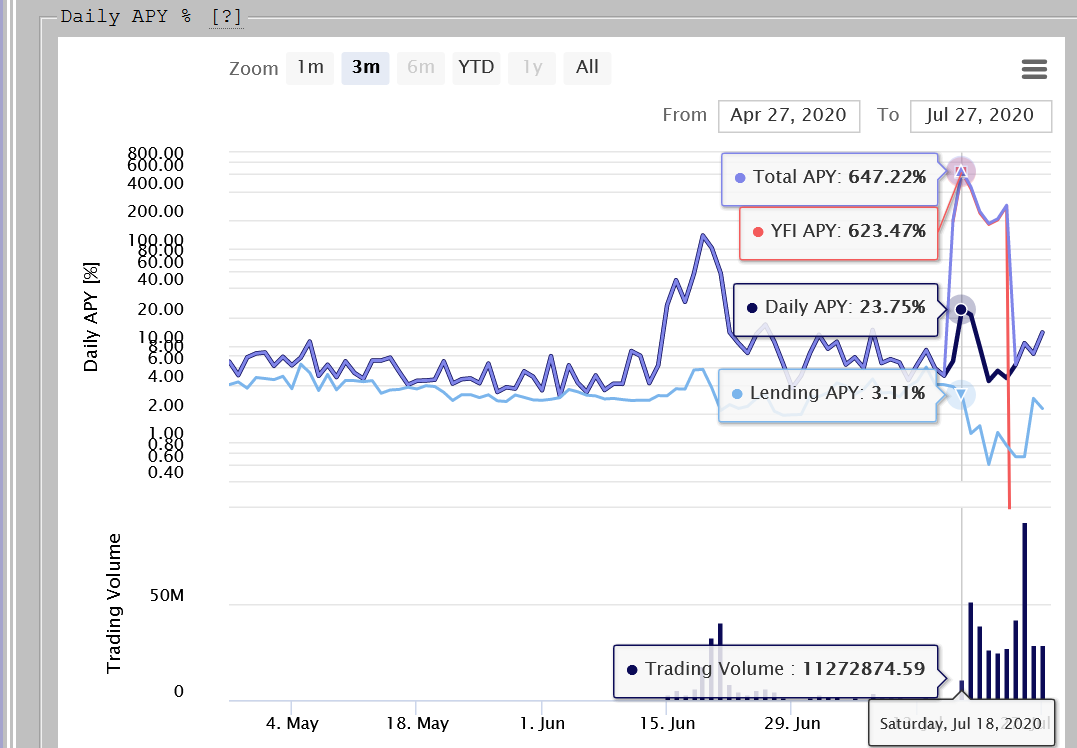 Part of this yield frenzy was fueled by the planned
CRV token on the Curve.fi platform.
Users providing liquidity were rewarded in YFI until this week but will be rewarded in
CRV
when that token is released. Last week, so-called "yield farmers" were providing liquidity for Curve.fi and seeing APRs of 500% – 1000%. Some of the return was in YFI. Now, the ability to receive YFI on Curve.fi in the future is uncertain. As seen in
this Dune Analytics page
, YFI distribution stopped yesterday as the community decides how to proceed with distribution and inflation. Meanwhile, it's indeed hard for amateur investors to keep up, and makes you wonder if the less technically inclined may be taken advantage of.

Y Not?
Yield farmer Weeb McGee explains that
YFI is a sub governance token for yield.finance with a pure heart.
(As of now, you can only vote depending on where you stake your YFI, hence the "sub governance"). Unlike other tokens and ICOs we've seen in the past few years, YFI has:
"No pre-mine. No pre-sale. No investors. Only DeFi."
But most of the attention on the YFI token right now is because of yield farming and price jumps, not the utility of the token, however useful it might be. Yearn.finance's founders do not seem worried about the misuse of the token. When asked if YFI will get into the hands of yearn.finance community members for governance purposes, Andre Cronje said, "It will eventually." There were concerns, such that the main holders of YFI could vote to print more YFI and drain the liquidity pools for
DAI
.
.@iearnfinance do u pinky promise not to print infinite $yfi and drain the 60M $dai currently in the balancer pool???

— trent e (@trentelme) July 20, 2020
But Cronje allayed those concerns. According to Santiment:
"…this was swiftly mitigated as Andre gave control of the admin key over to a Gnosis 6-of-9 multisig that consists of key community members and he is not one of the signers."
In other words, Cronje built it so that he wouldn't be able to exploit the token and thus take advantage of holders. This suggests he is committed to the project and not just in it for the money.
The Embarrassment of Riches
Furthermore, looking at Etherscan wallets, we can see which wallets hold the most YFI. Aside from the fee rewards
wallet
, the largest wallet holds about 3% of YFI or about $2.3 million as of writing. Still, 3% is hardly enough to become a governance token despot. Nonetheless, compared to the gains we've seen with crypto's most popular projects, it's easy to imagine that someone would hodl, yearning for more.
Disclaimer
All the information contained on our website is published in good faith and for general information purposes only. Any action the reader takes upon the information found on our website is strictly at their own risk.