With the May 2020 Bitcoin (BTC) halving out of the way, block rewards have dropped to a measly 6.25 BTC. Miners are gobbling up more efficient hardware to ensure they stay profitable.
Crypto mining manufacturers consistently roll out advanced hardware that delivers greater efficiency. These new releases usually provide lower power ratings and higher hash rate capabilities. A
report
published on Tuesday by BitMEX research examined this changing landscape and the evolution of Bitcoin ASIC's over the last year. With established players like Bitmain and Canaan Creative floundering, relative newcomer MicroBT appears to be increasing its market presence.
Powerful Bitcoin Mining Hardware
Between February and April, both
Bitmain
and
MicroBT
announced the latest additions to their flagship Bitcoin miner series. Both ASIC models saw the emergence of machines with stated power efficiency at or below 30 watts per terahash (W/T).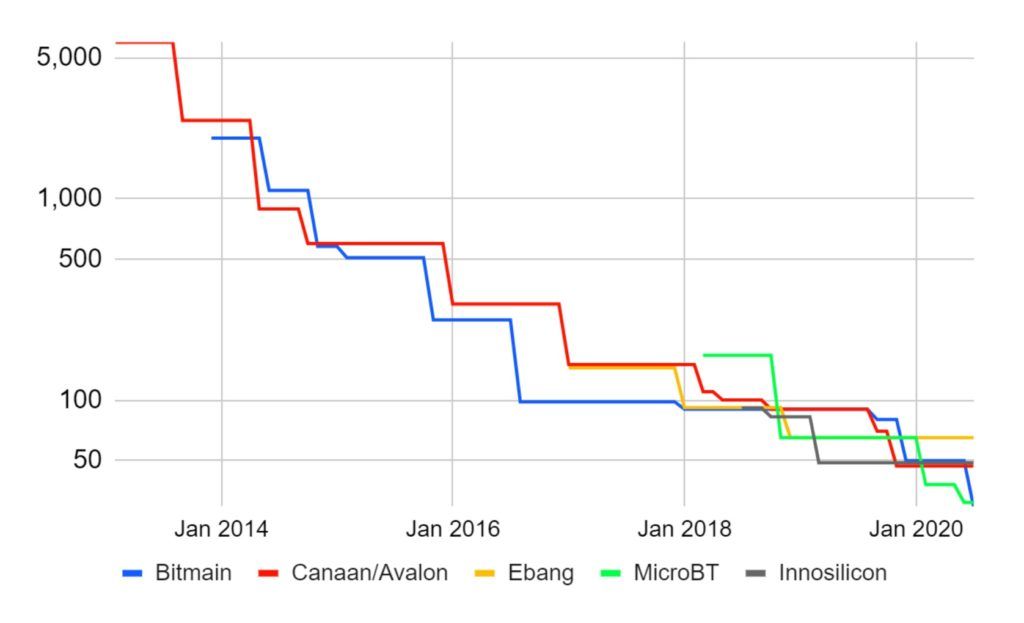 The W/T ratio of a Bitcoin ASIC indicates its power efficiency in terms of the amount of electricity required to perform one terahash of computation per second. Thus, the lower the W/T ratio, the more efficient is the Bitcoin miner. As seen in the chart above, rig manufacturers have consistently developed rigs with higher efficiencies. Given the energy consumption criticism routinely flung at BTC miners, the emergence of ASICs with lower W/T ratios is positive for the industry. Also, numerous factual and anecdotal evidence exists to show that
the bizarre 'ocean boiling' narrative ascribed to Bitcoin mining is exaggerated
. The arrival of these new hardware releases before the halving event highlighted the intense competition that took place among the major players. It also signaled an early death knell for inefficient operations unable to adapt to the new block reward subsidy.
Bitmain Hard Fork and Declining Dominance
Since 2019, Bitmain has seen its market share drop below 50% amid massive losses,
a failed IPO
, and
a leadership tussle
that is still ongoing. Bitmain co-founders Jihan Wu and Micree Zhan have been jostling for control of the company. The latter should by now be well-known for his unceremonious removal. In 2020, the division within the company effectively "hard forked" Bitmain forcing employees to pitch their tent in only one of the co-founder's yards. As previously reported by BeInCrypto,
Zhan stormed Bitmain's office in Beijing
and has since
halted Antminer shipments
. The delay will likely worsen Bitmain's declining sales figures. As early as February 2020, Fan Xiao Jun, sales director at Bitmain was already warning of
poor sales performance for the year
.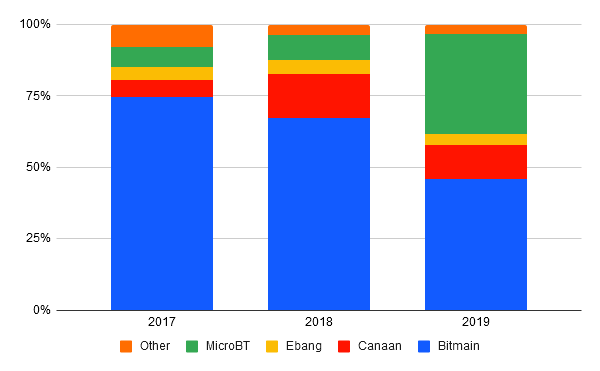 The decline in Bitmain's industry dominance has coincided with MicroBT's increase in market share. According to BitMEX Research, Bitmain's market share, at the height of its dominance, was about 75% but now stands at 46%. Between 2017 and 2019, MicroBT had moved from 7% to 35% market share. MicroBT is also seeing massive inventory orders from North American mining giants like
Marathon
and
Bitfarms
. So, while Chinese firms still hold the monopoly on hardware manufacture, miners in North America and Europe are beginning to upscale their operations, causing significant changes in the geographical distribution of Bitcoin mining hash power.
Canaan's Tumbling Stock Price
For Canaan, another major player in the industry, the situation appears to be far worse. While Bitmain and MicroBT have released next-generation mining hardware, Canaan's latest offering, by comparison, falls short on all metrics. Indeed,
as outlined in a previous BeInCrypto report
, Canaan's AvalonMiner 1166 and 1146 Pro offer hash rates about 50% lower than MicroBT's WhatsMiners M30S++. Canaan's newly released Bitcoin miners also use up more electricity than the latest competitor rigs. The inferior miners form only a small part of Canaan's troubles, though. Its stock price has also taken a beating. At the time of writing, data from Nasdaq shows Canaan stock down by over 66% year-to-date (YTD). Its poor stock performance in 2020 is a continuation of the trend following its
disappointing IPO which raised only $90M
against
a projected backdrop of $400M
. Following the expiration of the 180-day IPO lockup period in May,
the company's stock plummeted 25% over two weeks
.
[5/6] In April 2020, Ebang filed for an IPO in the US. However, given the current political tensions between the US and China, the Canaan profit warning & Ebang's relatively weak market positioning, we think it will be difficult for Ebang to successfully pull off an IPO pic.twitter.com/DB9rNcoa3c

— BitMEX Research (@BitMEXResearch) June 16, 2020
According to the BitMEX report, poor corporate governance appears to be a recurring theme for major ASIC players. The lack of structure within the hierarchy of Bitmain and Canaan is reportedly causing investors to cast a jaundiced glance at the industry. While Bitmain's dominance decline might point to an intensified level of competition, it appears far more likely that market share distribution will consolidate among two or three major players. For now, MicroBT and Bitmain remain the clear leaders in the field.
Disclaimer
All the information contained on our website is published in good faith and for general information purposes only. Any action the reader takes upon the information found on our website is strictly at their own risk.