In the last 24 hours, Bitcoin is the second worst-performing asset class, behind crude oil. It is currently down some -10.50 percent, at the time of writing.
Given Bitcoin's drastic drop in the last 24 hours amid the oil price war, the leading cryptocurrency does not seem mature enough to be treated as a global hedge against uncertainty just yet. The last 24-hour performance of major asset classes is telling on what the market thinks of the still-small cryptocurrency market. It seems that institutions and major investors have not given in to claims that Bitcoin is the 'perfect hedge.' At the moment where Bitcoin (BTC) should shine, it has quickly
dropped along with the rest of the global market
— in fact, it has fallen much worse than practically anything else today, aside from crude oil. According to
ICO
Analytics (@ICO_Analytics), the losses are staggering across the board. With crude oil being down some -21 percent, Bitcoin is not far behind. Gold remains the most stable but still posted minor losses. Since this chart was first posted, Bitcoin has actually fallen further and is now down -10.50 percent on the daily.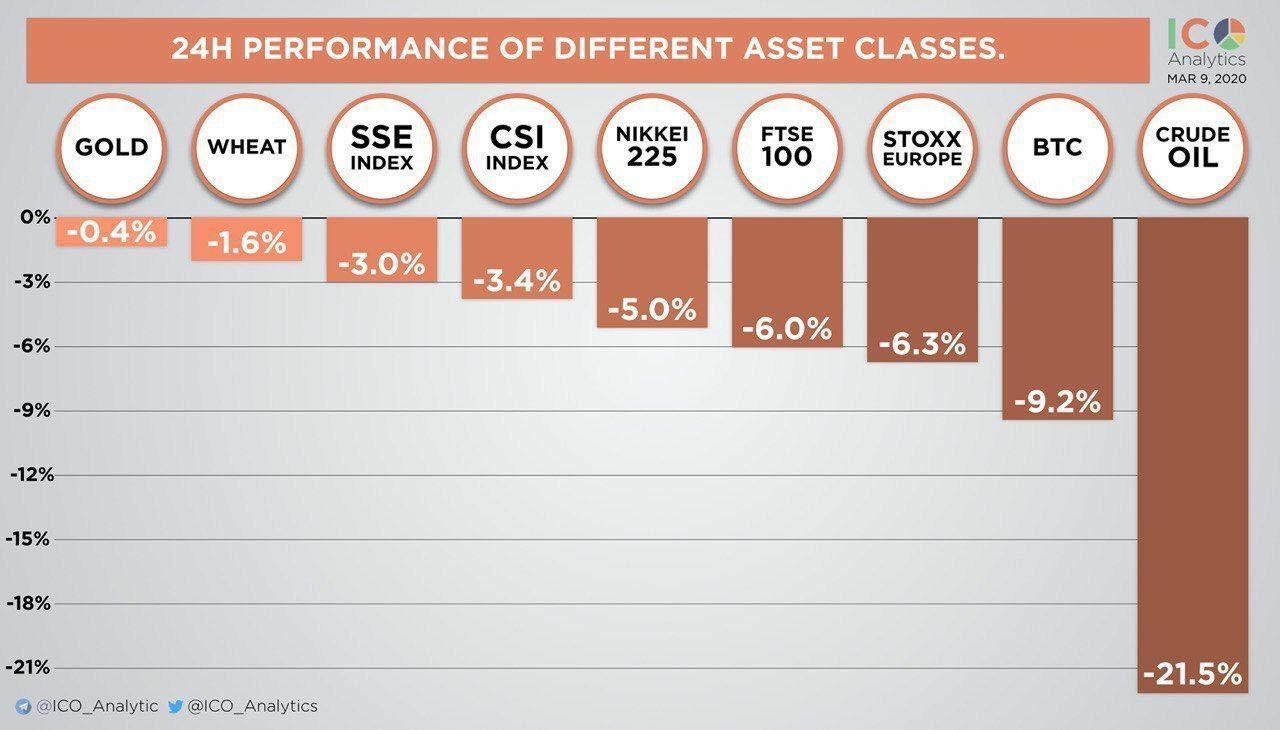 The losses have
sparked fears of a possible recession
. The last three days for the Dow Jones, so far, has
mirrored the crash of 1929
— if this trend holds up. Although many in the cryptocurrency world have been pushing the narrative that Bitcoin is the best hedge, we have to be reminded that it is still a young asset in the greater scheme of things. It also possesses a tiny fraction of global trading volume, when compared to more proven hedges like gold. Perhaps Bitcoin could someday be a hedge. In 2019, when the markets were relatively tame by comparison, it
proved to be a useful indicator. 
Now that we are amid a more serious economic crisis, along with the global pandemic, market faith in Bitcoin as an indicator is slipping. Investors are opting for more traditional options to say safe or, in many cases, preferring the sit the market out entirely with U.S. dollars. We must keep in mind that Bitcoin has never experienced an actual recession, so it is currently unknown how it will respond. In trying times like these, however, it has so far demonstrated that the leading cryptocurrency is not yet ready.
Disclaimer
All the information contained on our website is published in good faith and for general information purposes only. Any action the reader takes upon the information found on our website is strictly at their own risk.