Cryptocurrency exchanges continue to see significant Bitcoin (BTC) outflows since Black Thursday (mid-March 2020). Balances have reportedly declined by a staggering 12.7% year to date (YTD).
This emerging trend of deposit displacement likely indicates a growing appreciation for Bitcoin as a haven asset. Meanwhile, the reverse is true for Ethereum as ETH deposits on exchanges continue to increase with ETH 2.0 on the horizon.
The Decline in Exchange-held Bitcoin Balances Continues
Coinshares chief strategy officer (CSO) Meltem Demirors, highlighted the emerging Bitcoin
deposit displacement trend
currently taking place at crypto exchanges. Data from crypto analytics provider Glassnode shows that BTC balances on cryptocurrency exchanges are down about 10% since Black Thursday. On March 12, 2020, crypto prices plummeted by almost 50% as
panic over the COVID-19 pandemic spread throughout the broader financial market
.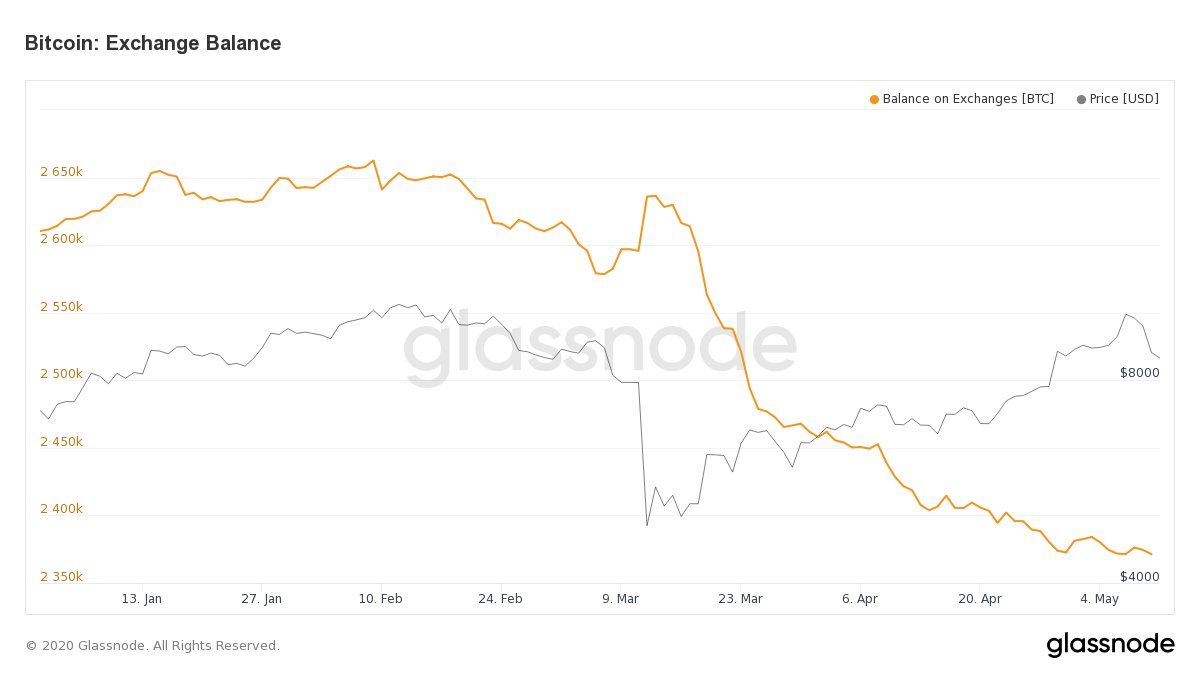 The cascade of forced liquidations during Black Thursday likely acted as the final catalyst for holders to remove BTC from the custody of crypto exchanges. As previously reported by BeInCrypto, platforms like BitMEX and Bitfinex have witnessed
sharp declines in their Bitcoin holdings
since March. While it isn't clear where these outflows are going, historical coverage from BeInCrypto points to
whales securing their hoard via cold storage
. If the captured flows by Glassnode's dataset are indeed moving to self-custody, then it's safe to say that some BTC holders are buying into the
haven asset narrative
. Given the substantial depletion of BTC held on exchanges, an argument could be made for holders pivoting towards long-term HODLing strategies. This effectively decreases the active turnover volume for the top-ranked cryptocurrency. Indeed, some evidence exists to support this. Over
50% of Bitcoin's active supply has not moved in the last year
. Also, consider the following report, which explains that
79% of the Bitcoin supply is in profit
, further lending evidence for the long-term HODLing theory.
Ethereum 2.0 Staking Encourages Accumulation
For Ethereum (ETH) – the second-largest crypto by market capitalization – the situation is the complete opposite. Cryptocurrency exchanges are increasing their ETH holdings. Indeed, the divergence between ETH and BTC in terms of exchange balances began in the middle of February 2020.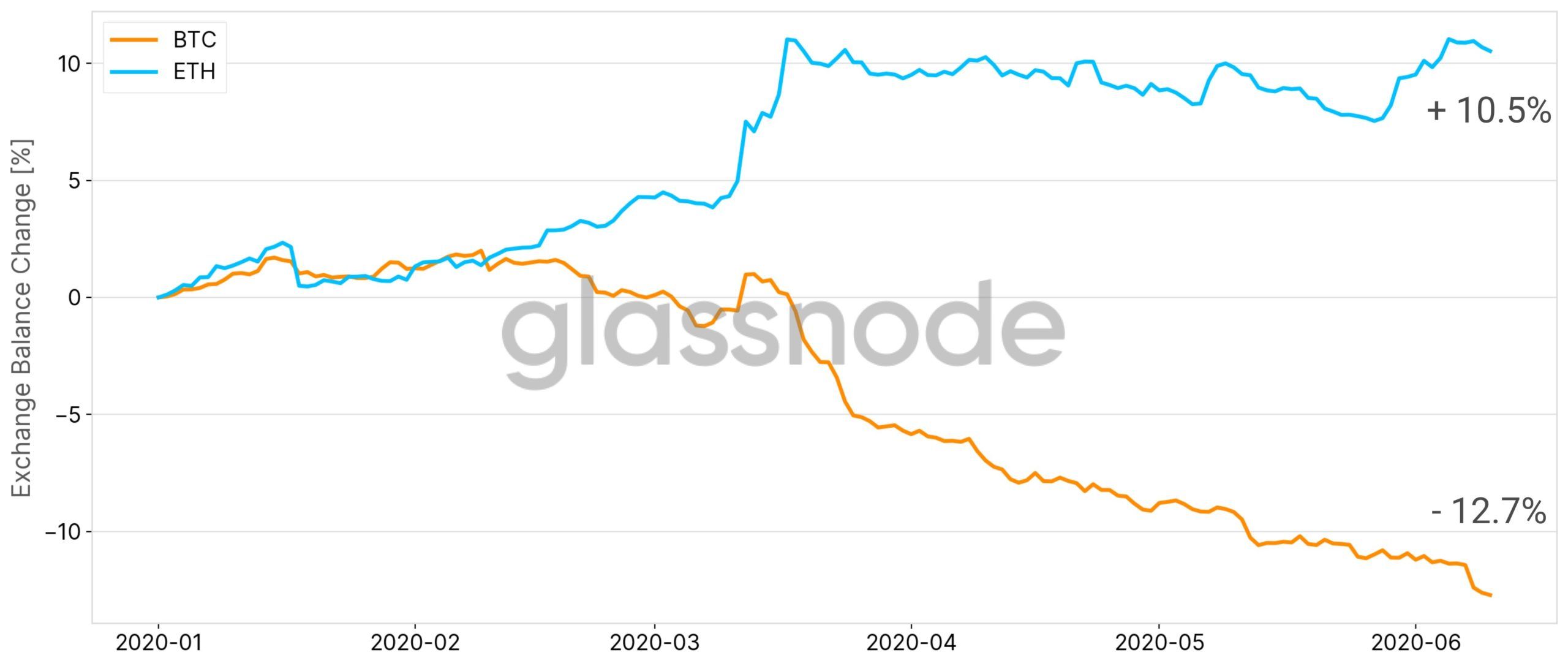 According to Glassnode, the ETH balance held by crypto exchanges is up 10.5% YTD. This increasing balance is happening against a backdrop of a looming ETH 2.0. Associated staking wallets with at least 32 ETH, the minimum amount of Ether required for validator nodes, is
almost at the 120,000 mark
, up by more than 13% YTD.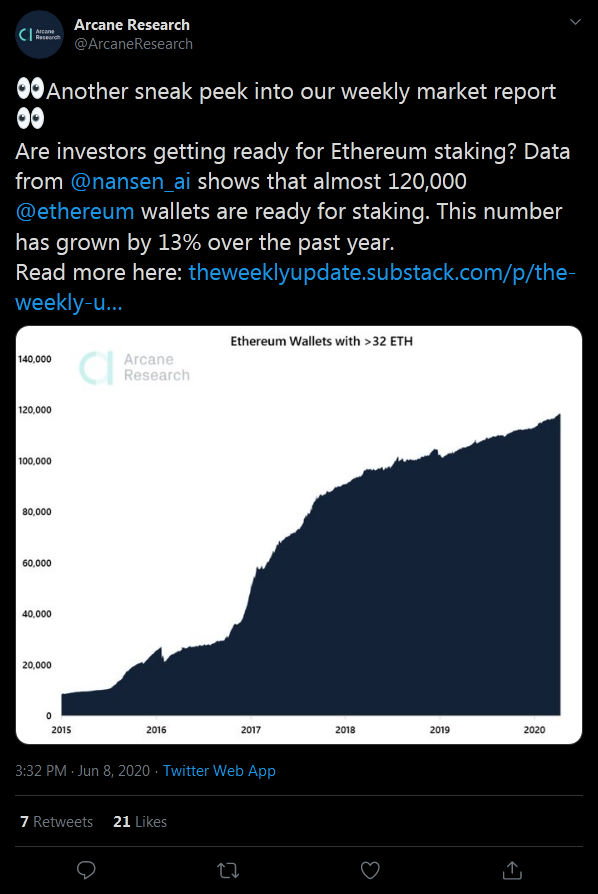 Ethereum holders looking to profit from staking on ETH 2.0 appear to be depositing their stash with crypto exchanges. Thus, even owners who don't own the required 32 ETH minimum can benefit from this "pooled" staking power that their crypto exchange can provide. Critics argue that the situation may lead to centralization, one of the many
potential flaws of the proposed protocol upgrade
.
Disclaimer
All the information contained on our website is published in good faith and for general information purposes only. Any action the reader takes upon the information found on our website is strictly at their own risk.