The Bitcoin Cash
hardfork
scheduled for Nov 15 has now been completed — resulting in the creation of two competing chains: Bitcoin SV and Bitcoin ABC. Currently, Bitcoin SV is considered the minority chain, after failing to attract the majority hash rate.
The split occurred over disagreements relating to the future of
Bitcoin Cash BCH)
and has been anything but friendly. The last block shared by both Bitcoin ABC and Bitcoin SV is block 556766 — with the split occurring at 17:52 UTC on Nov 15, 2018. Bitcoin ABC, which is backed by Roger Ver and Bitmain's Jihan Wu, looks to implement a new feature called Canonical Transaction Ordering (CTOR) as its scaling solution. Craig Wright's Bitcoin SV pushed a block size increase as the solution, seeing it bumped from 32Mb to 128Mb. Craig Wright, who recently came under fire for saying "I have more money than your country" in reference to Rwanda, took the opportunity to mock Bitcoin ABC on Twitter. https://twitter.com/ProfFaustus/status/1063375202262888449 On Binance, one of the few exchanges supporting both sides of the fork, both coins appear to be suffering. At the time of this writing, Bitcoin ABC has seen a 14 percent drop and Bitcoin SV has fallen 24 percent since midday. The combined total of both ABC and SV is just under $400, down 10 percent from the pre-fork value of Bitcoin Cash (BCH).
The Hashing War Begins
One of the major criteria thought to contribute to the success of a forked chain is its length. The more
hashing power
a blockchain has, the more blocks are mined and the length of the blockchain is thus increased. Shortly prior to the fork, Ver stated that his pool, Bitcoin.com, had more hash rate than the entire Bitcoin Cash network — in what appears to be a scare tactic for Bitcoin SV proponents.
The https://t.co/6EeRmpfaH7 pool now has more hash rate on it than the entire BCH network had earlier today.
Bitcoin is cash for the world! #BitcoinCash #bitcoincashfork pic.twitter.com/n2MqQ5mlfK

— Roger Ver (@rogerkver) November 15, 2018
However, since the day of the fork, Bitcoin ABC has gradually lost ground to Bitcoin SV — seeing its initial 137 percent lead diminish as the hours passed. Currently, Bitcoin ABC still leads in the hash rate race at 6,035PH/s to Bitcoin SV's 4,439PH/s — just 36 percent higher, with the majority of its hash rate contributed by blockchain.com and ViaBTC.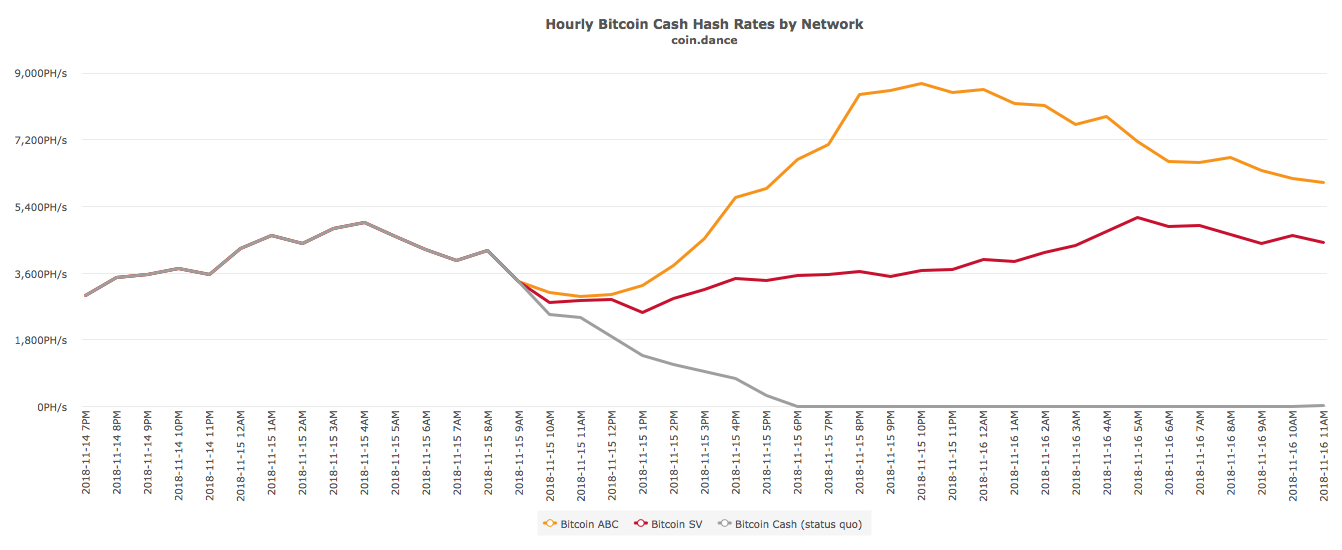 As it stands, Bitcoin ABC is currently 25 blocks ahead of Bitcoin SV — reaching block 556,958 compared to SV's block 556,934. However, the tides may turn soon as Bitcoin SV appears to be gradually gaining hash rate. Bitcoin SV has grown more than 20 percent in the last 24 hours, whilst Bitcoin ABC has lost more than 30 percent over the same time frame.
Exchanges React
Now, Bitcoin Cash (BCH) has been removed from several large exchanges and has been replaced by two separate trading pairs — Bitcoin ABC and Bitcoin SV. Binance was one of the first to credit its users with the forked coins, distributing what it calls BCHABC and BCHSV at a 1:1 ratio. Bitfinex has also made the switch, closing down all BCH trading pairs and crediting their users with BAB and BSV, while mentioning that the BCH ticker will not be applied to either chain until the fork is complete — likely meaning until there is a clear leader. Not content with simply observing,
BitMEX
appears to have chosen its favorite by recently estimating how much money it believes Bitcoin SV miners are burning while trying to catch up to Bitcoin ABC.
Although the ABC SV split is entertaining, we estimate that SV miners are burning US$280,000 per day mining the SV chain.

Assumptions:
* S9 miners
* Able to sell SV coins at the current spot price ($100)
* 5 cent per kWhhttps://t.co/U9hbK4peip pic.twitter.com/ULjwWSI0GA

— BitMEX Research (@BitMEXResearch) November 16, 2018
The vast majority of exchanges have disabled both
deposits and withdrawals
of Bitcoin Cash, ABC, and SV, while the networks stabilize.
With neither side looking unlikely to yield, which coin do you think will come out on top — Bitcoin ABC or SV? Do you think that the fork was for the good of the community, or just an attempt at a money grab? Let us know your thoughts in the comments below! 
Disclaimer
All the information contained on our website is published in good faith and for general information purposes only. Any action the reader takes upon the information found on our website is strictly at their own risk.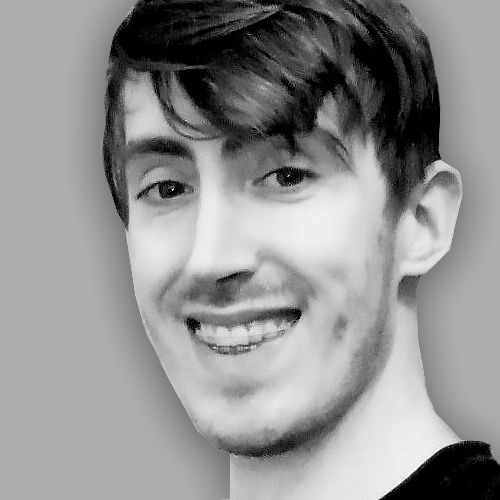 After obtaining a Masters degree in Regenerative Medicine, Daniel pivoted to the frontier field of blockchain technology, where he began to absorb anything and everything he could...
After obtaining a Masters degree in Regenerative Medicine, Daniel pivoted to the frontier field of blockchain technology, where he began to absorb anything and everything he could...
READ FULL BIO
Sponsored Sponsored