Things are not getting any better for the Terra ecosystem as Binance has now decided to delist LUNA and UST trading pairs.
On May 13, Binance, the world's largest crypto exchange by volume, posted a notice of removal of some margin and spot trading pairs.
The exchange added that it will remove and cease trading, close users' positions, conduct an automatic settlement, and cancel all pending orders at 00:40 UTC.
The spot trading pairs to be removed included LUNA/BTC, LUNA/BIDR, LUNA/AUD, LUNA/BNB, LUNA/ETH, LUNA/USDT, LUNA/GBP, LUNA/BRL, LUNA/TRY, and LUNA/EUR.
It was also ceasing trading activity for the UST stablecoin, removing the following pairs: BTC/UST, LUNA/UST, ETH/UST, BNB/UST, and UST/USDT. The company also axed the BUSD-margined perpetual contract LUNA/BUSD.
Terrible times for Terra LUNA
The move comes as LUNA crashed to zero, or $0.00001944 at the time of writing according to CoinGecko. The token has now officially lost 100% as reported by the platform and the circulating supply is a whopping 6.5 trillion tokens. Goldbug and crypto detractor Peter Schiff couldn't resist putting the boot in with this tweet:
"Terra Luna provides a perfect example of why you shouldn't always "buy the dip." Yesterday Luna was down 98%. If you bought that dip thinking the crash created a great buying opportunity you lost 99.3% today. This can happen to any crypto."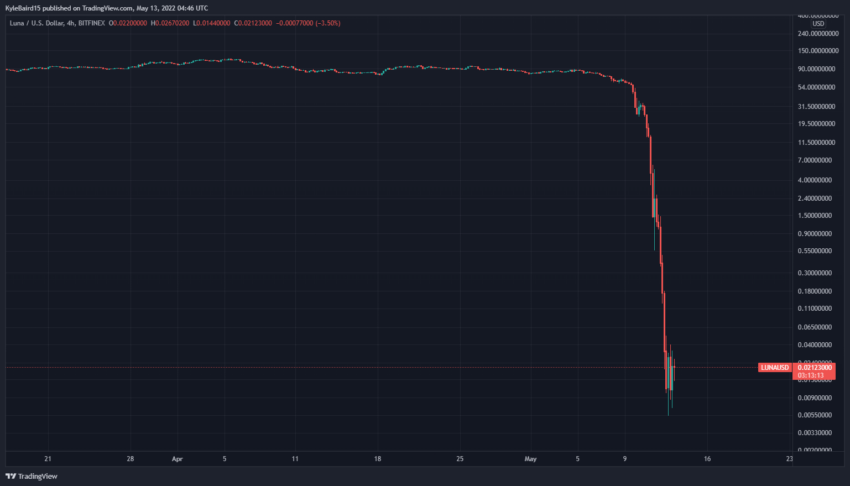 UST is still hanging in there, but just barely. The once third-largest stablecoin was hovering around the $0.168 level at the time of press, however, it was a lot lower on some exchanges according to industry analyst Colin Wu:
According to a South Korean publication, police are investigating a report that an unknown person visited the home of Terraform Labs CEO Kwon Do-hyung. Kwon's spouse has requested the police to designate a person for emergency personal protection.
The Terra blockchain was halted on May 13, to allow validators "to come up with a plan to reconstitute it."
Tether drops its peg
The world's largest stablecoin by market capitalization has also been affected by the fallout from the Terra collapse. Tether is currently trading just below its peg at $0.998 according to CoinGecko. The stablecoin dropped as low as $0.98 on May 12.
Circle's USD Coin appears to be the only stablecoin holding strong at the moment. USDC actually traded above its peg, briefly spiking to $1.06 on May 12 before returning to a dollar.
Disclaimer
BeInCrypto has reached out to company or individual involved in the story to get an official statement about the recent developments, but it has yet to hear back.