On Thursday, Terra Chain resumed operations just two hours after Terraform Labs announced a halt on block production to prevent governance attacks on the network as part of its emergency action plan.
In a tweet, Terra announced that its validators had officially paused the chain at a block height of 7603700, "following severe $LUNA inflation and a significantly reduced cost of attack."
At the start of this week, the UST stablecoin had de-pegged from the U.S. dollar, wiping off over 99 percent of LUNA's value. However, TFL has now initiated community proposals under 'emergency actions' to contain the debacle.
Burning UST in the community pool & Ethereum cross-chain
The proposal to burn the remainder of UST in the community pool has been initiated, and is currently in voting. Considering the pressure of the slow burn rate and inflated on-chain swap within the Terra ecosystem, the burning proposal can seemingly absorb the deviation of the past few days.
With six more days left on the Community Pool Spend Proposal, the majority of the votes are in favor of its application at press time.

"Eliminating a significant chunk of the excess UST supply at once will alleviate much of the peg pressure on UST," the proposal reads.
Over 1 billion UST is currently in the Community Pool, according to Terra. Additionally, TFL is also counting to burn the remaining 371 million UST cross-chain on Ethereum.
After the impending governance vote, the community believes that the Community Pool's UST will reduce the circulation of UST by roughly 8.05 percent. Meanwhile, cross-chain UST elimination reportedly covers approximately 11% of the outstanding UST liabilities.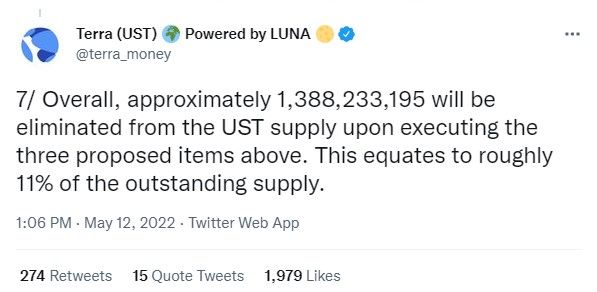 What will support the UST burn?
In a Twitter thread on May 11, Do Kwon, the co-founder of Terraform Labs, highlighted how the Terra economy will resolve congestion issues arising from the massive burning of UST.
Kwon had endorsed Proposal 1164 to expand the minting capacity of the ecosystem to $1.2 billion while increasing the BasePool size and decreasing the PoolRecoveryBlock.
Apart from the above actions, TFL stated that it staked 240 million LUNA as a defense against network governance attacks.
"The primary obstacle is expelling the bad debt from UST circulation at a clip fast enough for the system to restore the health of on-chain spreads," TFL stated.
However, Kwon had noted that the on-chain swap spread has stretched to 40%. Despite the deviation, Terra has asked the community to bear with the process as "TFL is in the war room" to stop the bleeding.
What do you think about this subject? Write to us and tell us!
Disclaimer
BeInCrypto has reached out to company or individual involved in the story to get an official statement about the recent developments, but it has yet to hear back.