The Ethereum community is holding its collective breath today as the final planned public testnet for ETH 2.0 goes live. Ethereum prices are close to the psychological $400 level again, but can they surge past the barrier with this building momentum?
Today is the big day for Ethereum's Phase 0 public testnet. A
timer
has been set up by the Ethstaker group on Reddit to mark the countdown to the genesis launch time of 13:00 UTC. The group has also
arranged
video meetings on Zoom which will be streamed to the Ethereum Foundation's YouTube channel. Groups such as this have become a mine of information, from people sharing their experiences to creating guides on setting up a
node
to stake on Medalla when it launches.
Tune-in to the Eth 2.0 Medalla Testnet Launch live stream happening in just 13 hours brought to you by /r/ethstaker! Stream starts at 12:30 UTC (8:30AM EDT). Stream link + Reddit thread:https://t.co/MDjx9Jr4quhttps://t.co/VExWQJC43c

(Image credit: https://t.co/4CNgkJOXIB) pic.twitter.com/f93iUyc6mR

— Hudson Jameson (@hudsonjameson) August 3, 2020
Medalla is Spanish for 'medal,' and is a reference to the Olympic testnet that was used to prepare the original ETH 1.0 launch
five years ago last week
.
Medalla Good for Launch
Lead developer Danny Ryan posted an
update
on the Ethereum blog stating that the minimum validator requirement of 16,384 was met on Friday. Ethereum protocol developer Terence Tsao, also added that the genesis state has been achieved with over
20,000 validators
. Ethereum researcher Ben Edgington
posted an update
for the Beacon Chain genesis process explaining how the launch time has been calculated. Medalla is a simulation that does not use real ETH tokens but instead utilizes Göerli testnet ETH (GöETH) tokens that generate simulated staking rewards with no real value. A Medalla testnet
Launchpad portal
has been developed to ease the process for potential validators and to help them get involved and monitor progress. At the time of press, over 716,000 GöETH had been staked in preparation for the launch.

The portal includes a graph that displays staking rewards that diminish in proportion to the amount staked in total. This is all in accordance with the ETH 2.0
economic model
. The staking reward system can be broken down as follows: 1,000,000 GöETH — 15.7% 2,000,000 GöETH — 11,1% 5,000,000 GöETH — 7% 10,000,000 GöETH — 4.9% At the time of press, the amount staked would generate an annual percentage rate of 18.5%.  When the mainnet launches, there is likely to be a lot more real ETH staked which will cause this yield APR to drop considerably. To further test the network, a new multi-client 'attacknet' has also been launched, offering bounties of up to $15,000 for the discovery of critical exploits.
Ethereum Testing in 2020
Medalla is the fifth and final stage on Ethereum's path to the Serenity upgrade that began earlier this year. The long-awaited
proof-of-stake
blockchain initially went live on the Sapphire testnet in April when 3.2 ETH deposits were trialed. Prysmatic Labs launched the next testnet called Topaz in mid-April which would enable full 32 ETH nodes to be validated.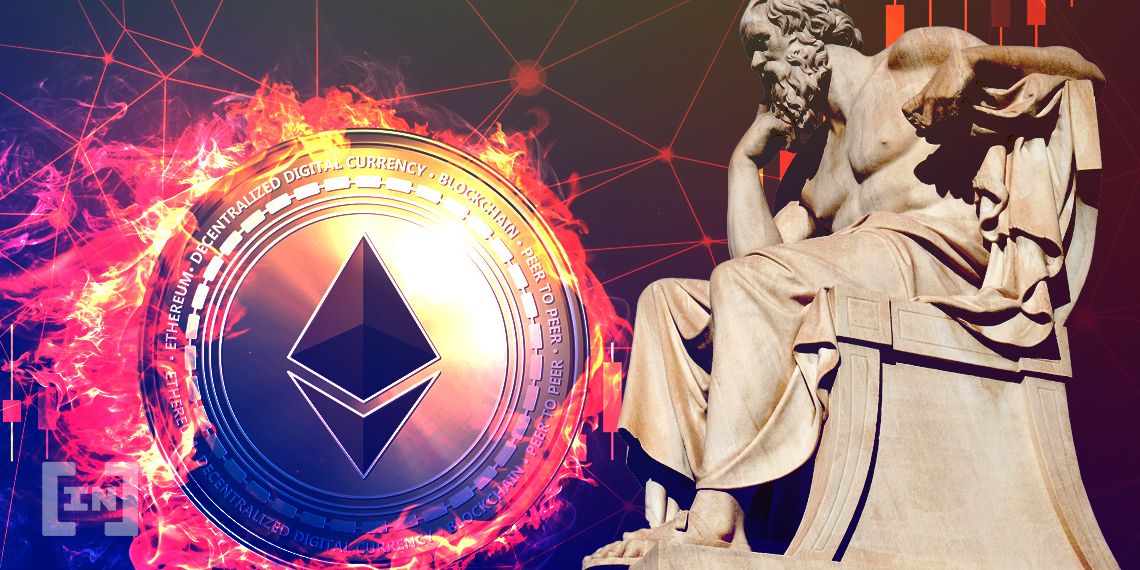 Following its success, the Onyx testnet went live in June to increase the validator count which topped 20,000 and remained stable. Finally, a coordinated multi-client testnet dubbed Altona went live in early July to ensure further stability before the Medalla testnet could be rolled out this month. There has been no time frame set for the duration of testing on Medalla but, with five months remaining in 2020, it is hoped that Beacon Chain, or Phase 0, will go live on mainnet before the end of the year. Staking will just be the first part of the planned rollout over a longer time frame for Phase 1 and beyond which will introduce scaling solutions and smart contract migration, possibly sometime in 2021.
Ethereum Price Outlook
The Medalla hype has been insanely bullish for ETH prices, more so than anything else over the past two years at least. The last time Ethereum rose so rapidly was in late 2017 when the
ICO
and crypto boom was taking off. For the second time in as many days, ETH has reached the psychological $400 level. The most recent was a few hours ago during Asian trading according to
Tradingview.com
, which also measured a slight pullback dropping prices to $390 at the time of writing.
Since breaking out of its range-bound channel on July 20, Ethereum has surged 70% to a two-year high of $415. Comparatively, Bitcoin has only climbed 32% over the same two week period to a yearly high of $12,080. Mythos Capital founder and Bankless newsletter author, Ryan Sean Adams (@RyanSAdams), aptly pointed out that this momentum has arrived way before ETH 2.0 has actually shipped:
Eth2 hasn't shipped yet pic.twitter.com/sSSdSJEkts

— Ryan Sean Adams – rsa.eth 🏴 (@RyanSAdams) August 3, 2020
To find the next level of resistance for current price momentum, we need to go back to August 2018 which was the last time ETH traded around these levels. Back then, it was around the $500 level, with $800 being the next major psychological stop. BitMEX CEO Arthur Hayes also
recently called $500
as the next target for ETH On the downside, prices should find immediate support at the 50-hour moving average (MA) near $380. If the price falls below that, the next closest support would likely be $345, where the 200-hour moving average sits. On the long term chart,
Ethereum is still severely undervalued
, even after a 70% surge. The network, ecosystem, and on-chain metrics have improved so much since the ICO boom that sent it all the way up to $1,400. This is despite
network fees surging
, which some say is a testament to the demand for Ethereum. Since those giddy heights, the asset has still marked a retreat of 72% to current levels, so there is a lot of room for further growth where the price is concerned. The Medalla testnet has certainly influenced recent market actions, but the big moves for Ethereum are likely to come later this year, if and when ETH 2.0 is officially rolled out.
Disclaimer
All the information contained on our website is published in good faith and for general information purposes only. Any action the reader takes upon the information found on our website is strictly at their own risk.

Martin has been covering the latest developments on cyber security and infotech for two decades. He has previous trading experience and has been actively covering the blockchain...
Martin has been covering the latest developments on cyber security and infotech for two decades. He has previous trading experience and has been actively covering the blockchain...
READ FULL BIO
Sponsored Sponsored