Global Blockchain Congress: BeinCrypto attended the 9th annual Global Blockchain Congress in Dubai for exclusive interviews and insights from powerhouse industry leaders.
Last month, the Agora Group and TDeFi Took co-hosted the 9th annual Global Blockchain Congress in Dubai. This congress is not the typical mega conference, so common within the crypto industry.
Rather, the Global Blockchain Congress is exclusive and "closed-door." It is a congress of more than 400 representatives – investors, sponsors, blockchain projects seeking funding – in various pre-scheduled and arranged one-on-one meetings. The event's location in Dubai speaks to the Middle East and North African (MENA) region's rise to prominence in the crypto scene.
The theme of this year's congress had everyone in conversation around: "The Decentralized Digital Reality – A gateway to the Metaverse, GameFi & DeFi." A Metaverse and DeFi themed conference is on trend with industry buzz around the rapid construction of the digital universe.
Just as Singapore dug in its feet as an outpost of digital innovation in Asia, Dubai is doing the same in the MENA. In the heat of conversation of Dubai's central role in the Metaverse, the conference coined the term, "MetaDubai". Recently, both Bybit and Crypto.com joined a host of other platforms with regional hubs in Dubai.
Power Players of Dubai
To ring in the Global Blockchain Congress, the keynote speech came from none other than Her Excellency Dr. Maryam Buti Al Suwaidi the CEO of Securities and Commodities Authority in the United Arab Emirates.
This set the stage for a host of big names to grace the event. Moreover, it was a great moment for female representation in the decentralized space, which often fights for visibility.
BeInCrypto's Parnerships Manager Alla Rudneva was on the ground in Dubai with some of the women at the congress to talk all things Metaverse, DeFi, and Dubai. #women-in-crypto
H.E. Laila Rahhal El Atfani – President and Founder, Business Gate 
H.E. Laila Rahhal El Atfani, is not one to miss. Somewhat of an icon in Dubai circles, she is the Founder and President of Business Gate and the Global President of CEC-UK. Her venture is one of the Gulf Region's foremost companies specializing in business studies, financial analysis, and the evaluation of new and existing projects and the feasibility of business projects in the MENA region.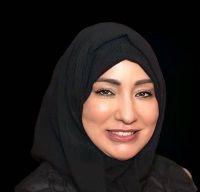 For El Atfani, spreading education and awareness in this emerging space is how to further spread adoption. "I think we have to spread awareness and build knowledge for the people and change old mindsets, because this is the future." 
Moreover, El Afani is the Goodwill Ambassador for "FAAVM" Women Empowerment and the President of International Affairs Anouar. Leading by example, she is a champion for diversity and female empowerment in the space. "When we talk about diversity in technology today, this is the future because it will take all countries to propel this technology."
Anna Tutova – CEO Coinstelegram
Another DeFi champion at the event was Anna Tutova. Anna's prominence is on the rise in Dubai. She is the CEO of Coinstelegram, a hub for crypto media relations, an advocate of the space, contributor to Forbes Middle East and co-producer of the recent documentary film Encrypted.
Anna sees the FinTech industry ready to explode with DeFi at the helm. "The FinTech industry is expected to grow from 1.35 billion to over 9 billion by 2025."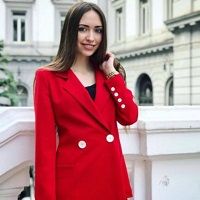 However she believes it's an uphill battle for DeFi against traditional monetary systems. "I see DeFi as the primary juxtaposition to traditional banking institutions. Traditional banks will certainly stay around, but there will be a high turnover to decentralized financial solutions.
"Already many major banking institutions started blockchain implementation for cross border payments, bond issuance, and more. There will be even more development in this direction."
Her's take on centralized entities entering the space is doubled sided.
"I speculate that they will just try to create their own solutions. We see this with governments creating their own central bank digital currencies (CBDC). Things like this give them more control over currency flows and citizens lose autonomy. DeFi doesn't allow for that. There are risks in DeFi, which governments are quick to point out."
However in terms of the Metaverse, the entrance of major corporations are a possible sign of further development.
"Frankly speaking, I'm quite skeptical about Metaverse, but we now see big corporations like Facebook investing $500 billion into Meta. Here I see the big potential in the use of NFTs. Still we are too early to see the major impact. It will undoubtedly allow new forms of connection with one another. It will be a huge reimagining of how we see our everyday life."
Zhanna Manzyk – Lead Operations at Recruin
To continue building this space into a sustainable, innovative industry it needs the right people in the right places. Zhanna Manzyk, Lead Operations at Recruin is one of the people with the power to make that a reality. She says the current blockchain job market is booming, especially when bitcoin is as well.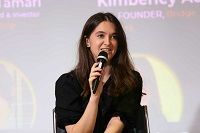 "We can see a high correlation between the price of BTC and the number of new hires. Despite the decrease in price and high volatility, demand for blockchain talent and interest in the crypto space has remained strong."
Moreover, she says the demand correlates to pay bumps. "The global demand for blockchain developers is up by 317 percent year-over-year. Their average salary is between $150,000 and $195,000 on average. Such a salary range puts blockchain developers on par with another in-demand group – engineers with expertise in artificial intelligence."
Zhanna hinted at a future in the Metaverse in which job hunting and acquisition will take an entirely new shape.
"MS Teams will be introducing Mesh for Teams by mid-2022 to enhance conventional 2D videos with 3D virtual rooms. This will enable people to experience a metaverse of corporate office buildings and branded virtual conference rooms during interviews. Initial versions will have avatar-based interviews, while next-stage technology is likely to include real faces in virtual settings. Meanwhile, Meta introduced Horizon Workrooms last August as a virtual collaboration platform using Oculus Quest 2 headsets."
She says the concept will expand to career fairs, assessment centers, and hackathons in the metaverse. Additionally, the upcoming "metaversal" job descriptions will allow users a preview of the work culture before applying.
"This can entail experiencing a walk of an office where the candidate will be working. It could be a visualization of the physical and virtual stakeholders with whom a sales manager will be dealing."
Valeriya Minaeva, Partnerships & Communications Specialist at 1inch Network
Last but not least, Valeriya Minaeva is the window to the world for communication and partnerships at 1inch Network. The network specializes in being a one-stop-spot for decentralized finance engagement. For Minaeva DeFi is the future – and not just in Dubai but around the globe.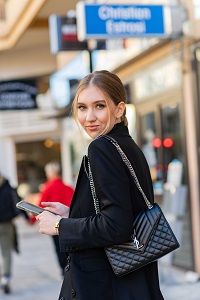 "Decentralization, first of all, means freedom. We are witnessing how decentralization is continuously evolving and becoming a part of major movements. DeFi technologies help to eliminate conservative centralized financial models by enabling anyone to use fintech anywhere regardless of who or where they are."
A hot topic in the industry these days is the power of decentralized tools in subverting censorship. Recently there have been complaints with MetaMask users over censorship, but concerns over Big Tech's influence continue to mount.
Minaeva says decentralization is key to the fight against centralized control. "It also helps to secure communications, transactions, privacy, and censorship resistance," she says.
"Decentralization in terms of data and cryptocurrencies takes the power out of the Big Tech's and Big Brother's hands while putting the individuals in complete control of their sensitive data."
Global Blockchain Congress: Leaders Inspire Followers
These women are just four of the thousands of attendees at the Congress with visions for a decentralized digital future. However, those at the event are deeply embedded in the industry.
To accelerate the space into the lives of more global communities Minaeva says its the success stories which inspire action. "To convince companies and spread mass adoption, for sure, will take time, but each of the successful examples makes us closer to this bright future. Simply, if we see someone making the leap and succeeding from it, others are bound to follow."
Got something to say about the Global Blockchain Congress or anything else? Write to us or join the discussion in our Telegram channel. You can also catch us on Tik Tok, Facebook, or Twitter.
Disclaimer
All the information contained on our website is published in good faith and for general information purposes only. Any action the reader takes upon the information found on our website is strictly at their own risk.