As the market opened on Feb. 1, 2021, precious metal futures jumped 10%, almost breaching $30 per ounce. So who is behind silver's sudden and meteoric price rise? Will other stocks, commodities, or even cryptocurrencies see similar price booms?
Multiple news outlets, including Bloomberg, have associated silver's meteoric rise with so-called anti-establishment redditors. Besides GameStop, the WallStreetBets subreddit has been buying up numerous other stocks, including Nokia, BlackBerry, and AMC. However, users and moderators of the platform have aggressively distanced themselves from the attempted silver short squeeze.
The talk of a potential silver short squeeze on r/WallStreetBets — often abbreviated to WSB — began on Jan. 27. A dedicated post claimed that the precious metal's price could go from $25 to $1,000, following a successful short squeeze.
The tide quickly turned against those advocating purchasing silver and its derivatives. A popular post on the subreddit loudly proclaimed, "There is no silver short squeeze happening. NONE. NEVER."
Moderators of the subreddit followed suit, removing one of the earliest posts that heralded users towards the precious metal. Meanwhile, a small subset of users broke off to their own new Reddit community, r/Wallstreetsilver, on Jan. 30. However, it failed to gain significant traction, attracting just over 16,500 subscribers, at press time. Putting it in context, r/WallStreetBets has amassed a following of over eight million users.
Reddit investors denounce silver squeeze

Many WallStreetBets subscribers believe that the silver price surge will benefit the very entities the subreddit has been rallying against. Indeed, leading firms and hedge funds are some of the largest holders of the precious metal.
Investment firm Citadel owns approximately six million silver shares. Banks like Morgan Stanley, Bank of America, and Wells Fargo own as much as double the number of shares. Citadel is one of the two firms that infused close to $3 billion into Melvin Capital, the notorious hedge fund that is betting against GameStop. WSB users reasoned that an increase in silver price will benefit these custodians much more than the average retail investor.
Furthermore, ETFs like iShares Silver Trust (SLV) simply track the price of silver over time. The ETF provider is not required to purchase physical silver as more investment piles on.
Buying shares backed by physical silver, on the other hand, could cause a substantial supply drought, redditors argued. This difference in supply and demand could put pressure on market participants to deliver large amounts of the precious metal. Many hope that this will quickly catapult silver price, similar to how GameStop's share price skyrocketed, last month.

Other users also pointed out that the calls for a silver short squeeze were concentrated from users with new accounts. This discovery lent some credence to earlier claims that the subreddit had been infiltrated by agent provocateurs. Over the past week, WSB members have also alleged that the silver squeeze could be a "coordinated attack" from Wall Street firms.
By shifting the community's attention to silver, hedge funds could reduce the buying pressure on GameStop. This would drive the price down and allow these firms to close their short positions safely.
Since Reddit is an anonymous message board though, it's impossible to know the true identity of its users. Whether or not hedge funds are responsible for silver's recent price momentum, members of WSB have returned to discussing GameStop. On Feb. 2, 2021, the vast majority of discussions on r/WallStreetBets centered around either GME or AMC.

Even though Melvin Capital reportedly closed its GameStop short position on Jan. 27, the short interest remained above 100%. On Feb. 1, however, that figure crashed to 39% of free-floating shares. This drop in short interest finally provides some credence to the claims that hedge funds are starting to close their positions once and for all.
Cryptocurrency enters the chatroom
While silver prices jumped almost 20% over three days, another asset saw even greater returns around the same time. On Feb. 1, Ripple's XRP digital token saw its price rise to $0.74, representing a 56% gain, over the previous day.
XRP has been on a largely downward trend since Dec. 2020 when the United States Securities and Exchange Commission (SEC) sued Ripple. Over the past month alone, the token has been delisted from several prominent exchanges, including Coinbase and Binance.
According to multiple reports, the price rally originated from a Telegram group named "Buy & Hold XRP." In a single day, the group reached Telegram's 200,000 member limit and had to break off into a second group.

While XRP has been on a steady rise over the past week, the frenzy reached its peak on Feb. 1. Investors across Reddit and other social media channels were encouraged to buy and hold for as long as possible.

The XRP pump was orchestrated and motivated outside the WallStreetBets forum. Nevertheless, the sentiment to "buy and hold" was echoed in discussions regarding XRP, even though there was no fundamental basis for the strategy. In a now-removed post on r/Ripple, a user claimed, "Why the pump WILL work on Monday."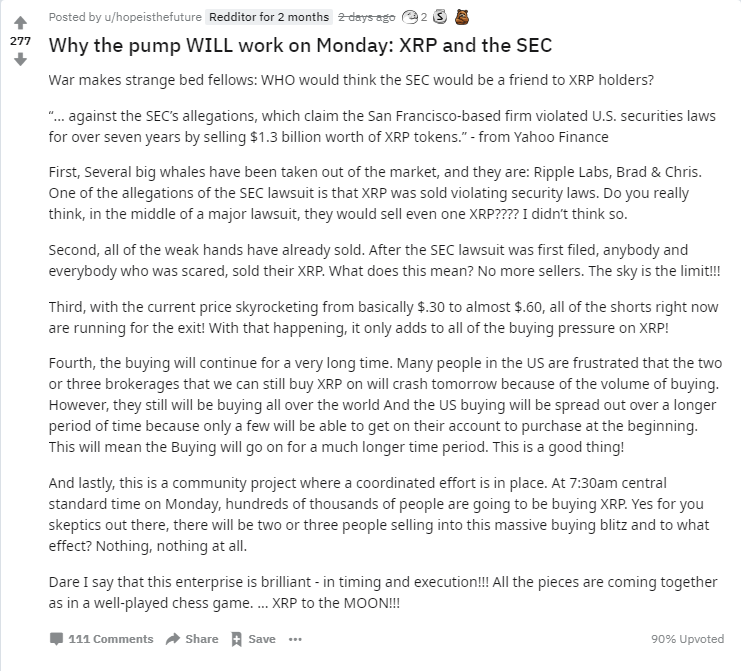 Even with the increased investor interest from WSB's surge in popularity, XRP's pump was only met with a tepid response. After breaching $0.744, the token's momentum quickly dwindled and saw its price pull back significantly. Within a matter of minutes, XRP was trading 20% lower at $0.60 per token. By Feb. 2, the token was back under $0.39.

GameStop and AMC shares were over-shorted by large institutions, representing a once in a blue moon opportunity for a short squeeze. The same cannot be said for XRP, which has had its fundamentals marred by factors such as the SEC's lawsuit.
Hours after the "pump and hold" failed to materialize, retail investors took to Reddit to voice their regrets and losses. The r/XRP subreddit received multiple submissions, either complaining about the event or sympathizing with the losses.
One user wrote, "I genuinely thought we could run it up and hold it, and now I, along with hundreds of thousands of others are stuck with the burden of watching the price go lower than when they bought in."
How crypto can still capture the next generation of investors
While XRP did blemish cryptocurrency's reputation in the eyes of some retail investors, the industry offers plenty of promise. Bitcoin (BTC) represents a fundamental shift in the way we think about money. Unlike traditional fiat currencies, governments cannot manipulate the supply of bitcoin.

More directly related to the short squeeze, decentralized finance, or DeFi, offers a paradigm shift for the financial industry. If there is anything that retail investors have learned during their tug of war with GameStop, it's that intermediaries cannot be trusted. With DeFi, users don't have to trust platforms like Robinhood to honor trades and continue acting in good faith.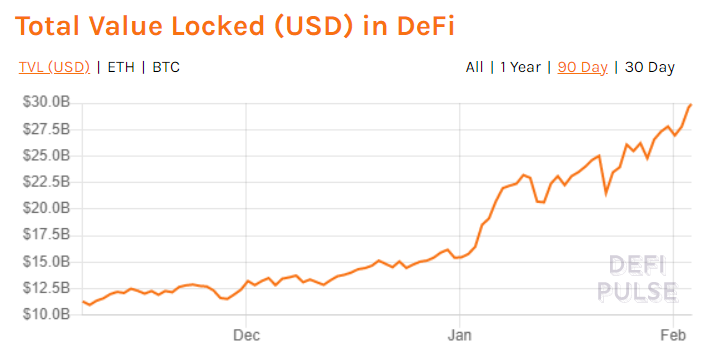 Indeed, many are warming up to this idea, as is evident by the ecosystem's nearly exponential growth, since mid-2020. According to DeFi Pulse, over $28 billion worth of assets has already been locked into various protocols. A whole variety of applications — from gaming to insurance — can be facilitated through these protocols.
The GameStop situation has proved that the purchasing power of retail investors is a force to be reckoned with. With short sellers reportedly losing $20 billion to retail investors, it's only a matter of time before some of that flows into crypto.
Disclaimer
In line with the Trust Project guidelines, this price analysis article is for informational purposes only and should not be considered financial or investment advice. BeInCrypto is committed to accurate, unbiased reporting, but market conditions are subject to change without notice. Always conduct your own research and consult with a professional before making any financial decisions.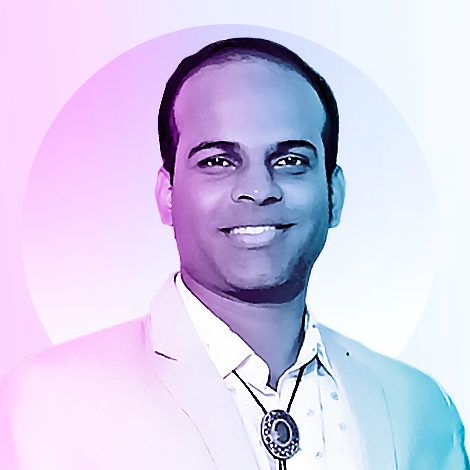 Rahul Nambiampurath's cryptocurrency journey first began in 2014 when he stumbled upon Satoshi's Bitcoin whitepaper. With a bachelor's degree in Commerce and an MBA in Finance...
Rahul Nambiampurath's cryptocurrency journey first began in 2014 when he stumbled upon Satoshi's Bitcoin whitepaper. With a bachelor's degree in Commerce and an MBA in Finance...
READ FULL BIO
Sponsored Sponsored