Polkadot CEO Gavin Wood has made good on his public promise to donate $5m to Ukraine's defense efforts after the Ukrainian government announced a Polkadot (DOT) address for donations.
On Tuesday, the government tweeted its gratitude for the crypto donations and support and released the address of a DOT wallet. The country says it plans to expand on the list of accepted cryptocurrencies in the future.
Ukraine has received more than $20m worth of crypto donations in Bitcoin (BTC), Ethereum (ETH), and Tether (USDT) towards the defense of their country.
Polkadot CEO makes personal donation
The government's announcement came after Gavin Wood tweeted that he would personally donate $5m if the Ukraine government accepted DOT.
Late Tuesday evening, Wood transferred 298,367 DOT to the government wallet, worth over $5.5m. A few hundred thousand was donated by other sources.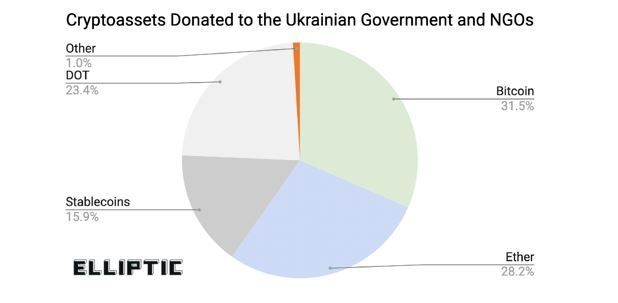 According to Elliptic, a blockchain analytics firm tracking crypto donations to Ukraine, the country has collected most of its donations in Bitcoin (BTC).
Recently, however, donations have been coming in the form of non-fungible tokens (NFTs). One donation was a CryptoPunk worth an estimated $200,000 and another came from an NFT collection that pays a 10% royalty fee to Ukrainian charities.
According to a post by Elliptic: "The Ukrainian government – and NGOs providing support to the military – have raised $24.6 million through more than 26,000 crypto asset donations since the start of the Russian invasion."
Opportunistic fraud on the increase
Sadly, the use cases for crypto have also presented opportunities for fraudsters trying to take advantage of the tragedy.
Scammers have now also taken to Ukrainian crypto NGOs and fundraising platforms as a means to make a quick buck.
According to a tweet from the creative director of SR Genesis, three scam accounts were found on OpenSea. The accounts in question are all posing as "RELI3F UKR" – a humanitarian fund helping with the crisis – with deceptively similar names.
Scammers attempting to exploit the crisis have been posting fraudulent fund-raisers and giving out fake crypto wallet addresses on social media. Potential donors are advised to do due diligence before sending funds.
Cybersecurity firm Avast released a blog post warning users to watch out for crypto scams. Threat intelligence analyst Michal Salát tells people to look out for posts that immediately mention Bitcoin, especially if they come from odd usernames that consist of numbers and letters.
"In the past, we have seen similar scams for people stuck while traveling or looking for love. Unfortunately, these attackers do not operate ethically and will use any opportunity to get money out of people willing to help others in need," he wrote.
Disclaimer
BeInCrypto has reached out to company or individual involved in the story to get an official statement about the recent developments, but it has yet to hear back.