Tether
(USDT) is on track to become the third-largest cryptocurrency and surpass Ripple's
XRP
. At the current rate it is issuing USDT, it could do so in the coming days.
BeInCrypto has been closely following Tether Treasury's activities. In the past two months, the stablecoin's treasury has issued a record amount of USDT. For comparison, BeInCrypto reported on April 19 that Tether's market capitalization stood at
$7 billion. 
According to Tether's own
transparency
numbers, the current amount of USDT stands at a stunning
$8,597,984,360
at the time of writing. In April, it averaged over $40M USDT issued
per day. 
Third Largest Cryptocurrency?
The growth of Tether has been nothing short of stunning—and it now seems poised to dethrone Ripple's XRP to be the third-largest cryptocurrency. XRP is valued at
$8.7 billion
or so at the time of writing. That means Tether just needs to add another $100M or so to its market capitalization to surpass it. Given the past two months, this seems likely to happen by the end of this week. Over the past few days alone, Tether has printed
more than 500M USDT
. So, it will possibly surpass XRP faster than most expect.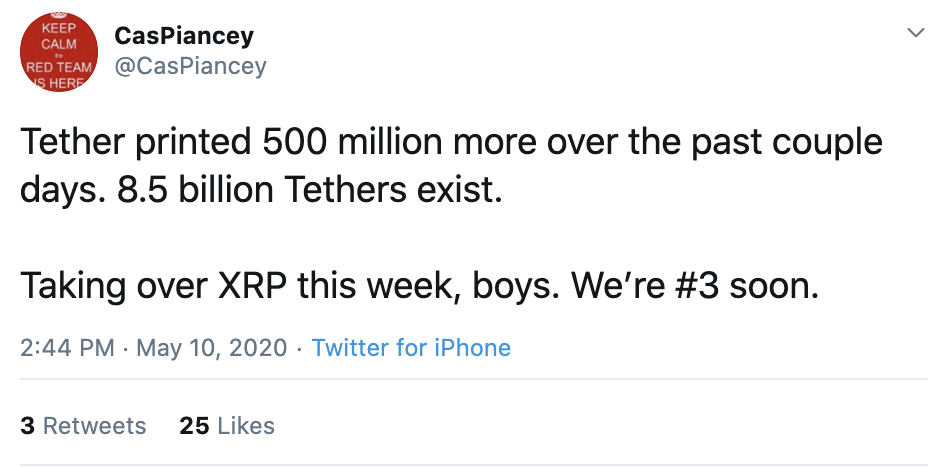 Currently, CoinMarketCap has not updated Tether's market capitalization and still shows $6.3 billion. However, Tether's own reported numbers tell the real picture. CoinMarketCap is expected to update its listing soon.
A Controversial Stablecoin
For years, Tether has always been shrouded in controversy. However, the critics have only gotten louder as the
stablecoin
prints more USDT than ever before. Many are wondering if Tether is actually backed by real dollars on a 1:1 basis.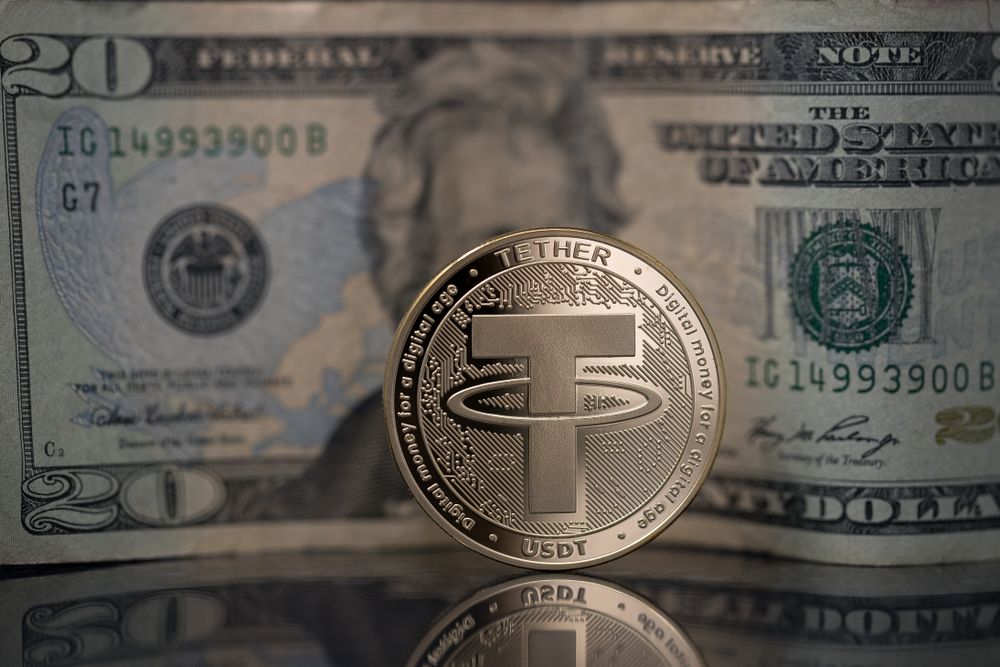 The common narrative has been that demand for the USD-backed stablecoin is surging. That is supposed to explain why Tether has issued more than $2 billion of USDT in the past few months. However, only Tether seems to be issuing more and more. Other stablecoins
have not seen the same increase
, not even Coinbase's own
USD Coin
(USDC). Tether has effectively become 'too big to fail.' However, as its market capitalization grows, the need for a proper audit only becomes more important. Tether was sued last year
by the New York Attorney General
for using USDT to 'loan' itself money to cover $850M in missing funds. A proper third-party audit of the largest stablecoin has still not happened. Tether's rise is a reason for pause. It only takes one serious investigation for the reputation of the entire industry to potentially be damaged. Soon to probably be the third-largest cryptocurrency, there's now all the more reason for a proper audit of Tether.
Disclaimer
All the information contained on our website is published in good faith and for general information purposes only. Any action the reader takes upon the information found on our website is strictly at their own risk.