The world's most popular
stablecoin
, Tether (USDT), has been driven to new heights by the explosion in transactions and token swapping.
According to a recent 'State of the Network'
Coin Metrics report
, Tether's weekly average adjusted transfer value has finally flipped Bitcoin's. That value has reached over $3.55 billion per day as of Aug 20, which is roughly 20% more than that for Bitcoin, reporting $2.94 billion.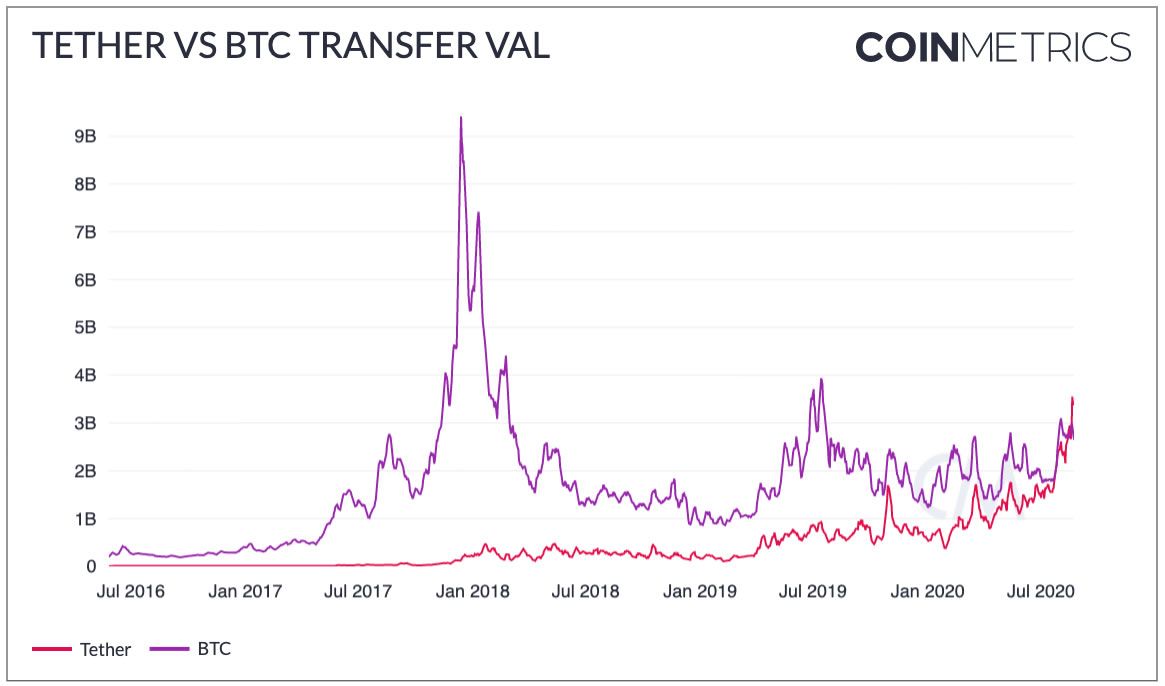 The researched attributed
DeFi
applications like Uniswap and
Curve
for the surge in USDT usage, adding; "This is a big milestone for stablecoins as Tether continues to take more and more of the market share of on-chain transfers." Economist John Paul Koning commented that PayPal's daily average transfer value was also less than Tether's according to its Q2 report.
Tether is now doing $3.55 billion in daily transfer value: https://t.co/CpW34wL3jA via @coinmetrics

Not bad. In Q2 2020, @PayPal did just $2.94 billion per day: https://t.co/kD3Bt9BEYF pic.twitter.com/uxaagM9pXU

— John Paul Koning (@jp_koning) August 25, 2020
He also cited a recent
Chainalysis report
and suggested that there could be an
increased capital flight
from China as over $50 billion in cryptocurrency traveled from East Asia to addresses in other regions over the past year.
Plenty of interesting data about Tether, the most popular US$ stablecoin: https://t.co/TUxKQleuWx

-Tether just beat Bitcoin to be the most-received cryptocurrency by East Asian addresses.

-Around $50 million Tethers leave East Asia each day. Chinese capital flight? pic.twitter.com/2umNo6Bhbp

— John Paul Koning (@jp_koning) August 25, 2020
Tether is by far the most popular stablecoin in East Asia, making up 93% of all stablecoin value transferred by addresses in the region. Around $18 billion of the $50 billion has been moved using Tether. Chainalysis debunked the capital flight theory, however, stating;
It's highly unlikely that all of this is capital flight. Much of it is likely related to mining activity, as we've heard anecdotally that China-based miners or their counterparties often convert newly-mined coins into Tether before sending it on to larger exchanges serving more regions
According to the
Tether Transparency report
, the total supply is now in excess of $13 billion, though crypto analytics websites such as CoinMarketCap still report it the total at $10 billion. Coin Metrics also noted the milestone and Tether's rapid growth. The USDT supply was less than $10 billion on June 1, and less than $5 billion on March 1, 2020. This year alone, USDT supply has expanded by 225% as the stablecoin continues to be integrated into more networks.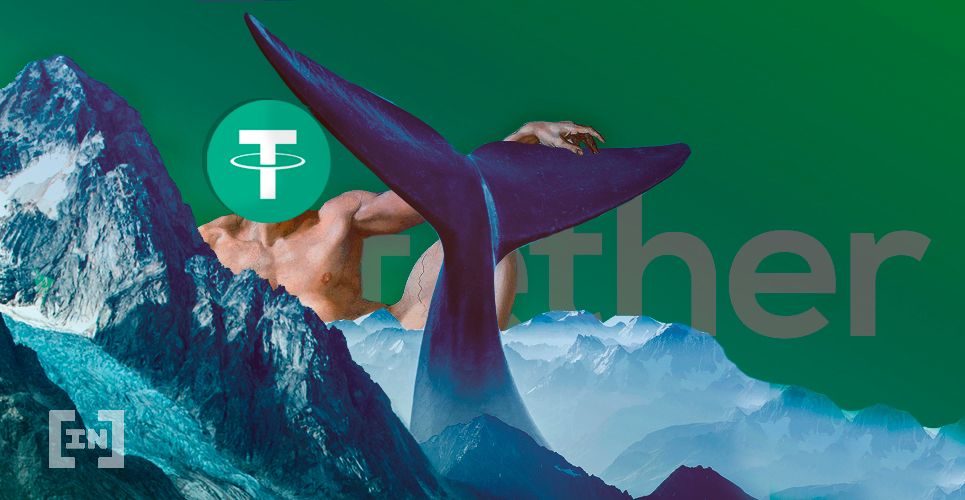 According to
ETH Gas Station
, Tether is the second-highest source of
Ethereum network fees
, with a gas usage of $8.6 million over the past thirty days. This has prompted it to seek faster and cheaper alternatives such as the
Layer 2 OMG Network
. The researchers noted that as a result, OMG's daily active addresses have already shot up to their highest levels since August 2018. Tether
stated
that uncertainty could be driving people to seek out better payment methods;
Amid these uncertain and challenging times, the utility, security and viability of digital currencies have come to the forefront. People are looking for alternatives to antiquated banking and payment systems.
The trend is set to continue as
DeFi
markets make new milestones on a regular basis, so it shouldn't be long before the USDT supply hits $20 billion.
Disclaimer
All the information contained on our website is published in good faith and for general information purposes only. Any action the reader takes upon the information found on our website is strictly at their own risk.