For investors, Hong Kong has long served as the global financial system's friendly intermediary with China. But after a year of social upheaval, the Chinese Government has imposed a comprehensive new national
security
law that would reportedly grant it "semi-autonomy" until 2048.
Passed on June 30, 2020, the new law features 66 articles that affect many aspects of life in Hong Kong, including the potential for financial censorship by Beijing. The conditions for capital flight are ripe in the wake of this legislation.
Investors Move 10% of Their Gold From Hong Kong
Initially, things were quiet, but in the six weeks that have passed since the law was enacted, evidence and further speculation are beginning to mount. On Aug. 7, the Financial Times
reported
that wealthy Hong Kongers were trying to move gold offshore. The same article notes that some 10% of private holdings have been moved to safer jurisdictions such as Singapore or Switzerland since the beginning of protests. Some have even speculated that recent developments in the world's 6th largest financial hub, have been responsible for bitcoin's latest rally. In an August 10 tweet, well-known Bitcoin advocate and TV
anchor
Max Keiser argued that bitcoin is being used to move large amounts of money out of Asia.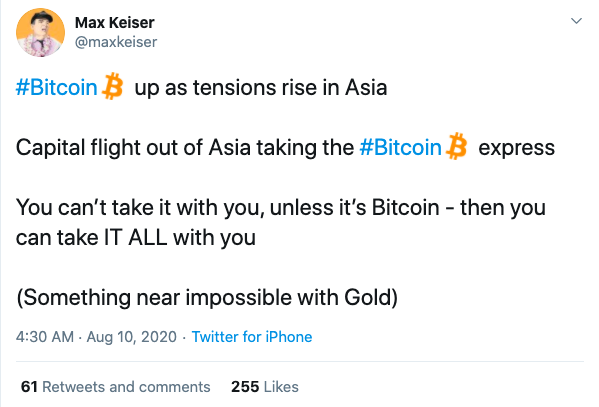 Keiser's point is underscored by the fact that leaving the region with large amounts of physical gold in tow is next to impossible. For instance, a Chinese national was
recently detained
trying to illegally cross into the U.S. with $28,000 worth of gold bars.
History Repeating Itself
Hong Kong citizens have started looking for hedges against a future clouded by an uncertain political climate. Liquidating assets into bitcoin is a logical move, but it's worth noting that such actions are not without precedent. After the
Sino-British Declaration of 1994
, many assumed that Hong Kong would completely lose its autonomy. As a result, thousands of Hong Kongers emigrated to North America, the United Kingdom, or other western countries. And as they did, they purchased billions in real estate abroad to protect their wealth in the event of a crackdown. This time around, instead of real estate, they may be gobbling up bitcoin.
Disclaimer
All the information contained on our website is published in good faith and for general information purposes only. Any action the reader takes upon the information found on our website is strictly at their own risk.