Samsung will allow users to purchase digital artwork through an NFT platform on its new line of smart TVs. The feature marks yet another major entity tapping into the NFT space.
Samsung has announced that its next generation of TVs will support NFTs. The electronics giant published a post on Jan 3 talking about its new line of smart TVs.
In this post, Samsung revealed that the smart TV product line would support NFT management.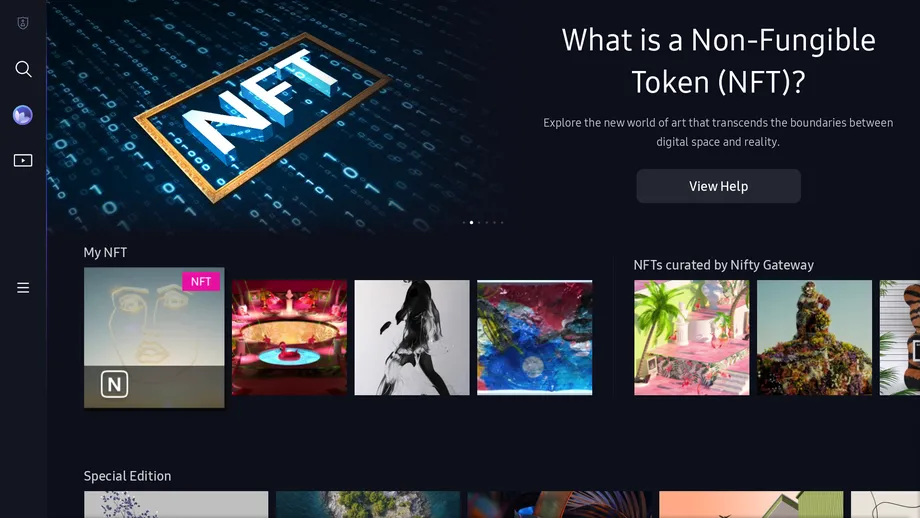 While the unveiling was largely about the newest technologies that resulted in the highest picture clarity on TVs, Samsung also paid some time to other features. Among these was the NFT management feature, which may come as a surprise to some.
The new line of TVs will come with a Smart Hub feature that is focused on content curation and discovery. Among other things, it will have a gaming hub and an NFT platform. The latter "features an intuitive, integrated platform for discovering, purchasing and trading digital artwork through MICRO LED, Neo QLED and The Frame."
Samsung's high-end TVs double as a frame for the artwork, and it makes sense that the company would consider bringing NFTs into the mix. However, allowing the purchase of NFTs through the platform is a bold and unexpected step from one of the biggest electronics manufacturers in the world.
Samsung has flirted with the crypto market and related technologies in the past. Its flagship smartphone, the Samsung Galaxy series, supports a crypto wallet and certain crypto assets. Among them is Enjin (ENJ), a gaming-focused project that is particularly relevant to the NFT space.
How individuals will take to Samsung's NFT platform will be interesting to see. NFTs are certainly popular, but there has been some pushback from within certain circles, most notably the established gaming industry. Still, Samsung's focus on art, as opposed to gaming, could give it an edge.
NFTs to dominate 2022?
NFTs were among the most prominent developments of 2021, if not the most prominent development. The niche exploded in popularity, attracting retail investors and even major celebrities. Some of these celebrities have gone on to release their own work, whether music or visual art, through NFTs — and they have proven to be a hit.
However, there has also been some pushback, as the question of value comes into play. Some investors feel that the NFT market has become bloated, as a result of too many individuals flooding the market with NFTs and improper valuations.
While there may be a general reassessment of the NFT space, it is hard to imagine that 2022 will see a huge dissipation of interest. Sports teams, businesses, and celebrities all have a lot of potential and revenue at stake with NFTs, and it seems unlikely that they wouldn't tap into it.
Disclaimer
BeInCrypto has reached out to company or individual involved in the story to get an official statement about the recent developments, but it has yet to hear back.