October marked the start of the 10th year in prison for Silk Road founder Ross Ulbricht. On this unhappiest of anniversaries we spoke with Ross' mother Lyn Ulbricht, to shed light on the real person behind the world's most infamous darknet marketplace.
It is now almost a decade since Ross Ulbricht was detained at the Glen Park branch of the San Francisco Public Library on Oct. 1, 2013.
He has spent every day since that day in custody. The first time nonviolent offender is serving two life sentences without the possibility of parole, plus 40 years.
In our chat with his mother, Lyn Ulbricht, we spoke about who Ross is as an individual, what it is like to have a loved one in prison, what Ross has been up to in jail, and whether there is any hope for the future.
 The real Dread Pirate Roberts
In any discussion about Silk Road, emotions tend to run high. On social media, strangers who have never met Ross offer their opinion on the man who, as Silk Road chief, was known only by the pseudonym Dread Pirate Roberts. 
Such a colorful moniker might naturally lean towards sensationalist reporting, but when Be[In]Crypto sat down to talk with Lyn, we wanted to learn a little more about the real man behind the mask. Just who is Ross Ulbricht?
"I've known him his whole life, and honestly, Ross is an exceptional person," said his mother. "He's someone who is the least judgmental person I've ever known… he's very compassionate. He's also always trying to think of solutions and ways to make things better. He wants to solve problems and to help make the world a better place, which is a lot of why he loves Bitcoin, because it opens up prosperity for people who can't get a bank account and people. That's his idealism."
Ross Ulbricht expresses regret
While there was certainly an element of libertarian idealism in the creation of Silk Road, the site also facilitated drug deals and a range of other criminal activity. That fact does not escape Ross Ulbricht himself, who has expressed regret at its creation.
As Ross wrote in 2015, "Silk Road was supposed to be about giving people the freedom to make their own choices, to pursue their own happiness, however they individually saw fit. [It] turned out to be a naive and costly idea that I deeply regret."
In prison, Ross has met many inmates with drug addictions, forcing him to face up to the consequences of his actions. Lyn does not seek to condone his actions either. She concedes that Ross broke the law and deserves punishment, but to that end points out that her son has already served nine years. She maintains that Ross has more than learned his lesson.
"Ross is 38 now. He's much more mature. He would never do this again," she explains.

Mother and son: Lyn Ulbricht with her son Ross
Always there
One of the issues we discuss with Lyn is the strain which incarceration places not only on the person in prison, but on all the people around them. Lyn has worked hard to maintain some normalcy over the past decade, but admits that it isn't always easy.
"When your loved one is in prison, you're also doing time," she explains. "I'll go on with my life, although much of it is devoted to trying to save him."
One of the things that crops up during our discussion is how Ross has encouraged his mum to travel and to enjoy her life, but she says finds it difficult to do that knowing that her son is "rotting in a cage."
"I do stuff, it's not like I don't do anything for fun, but it's always in the back of my mind," she says. "While I'm having a nice meal I think, 'Ross would love this meal,' or the weather that I am running away from, I think 'Ross would love to be in the rain'."
Perhaps though, the cruelest aspect of the case is the wasted potential of a talented individual who has so much more to offer.
"That's what's really terrible about a life sentence with no parole," says Lyn, who believes her son has more to offer. "There's no redemption there. There's no chance of restitution or a second chance…it's a death sentence. Literally a death sentence."
Wasted potential
On the subject of redemption, we ask Lyn what her son might do if he were released tomorrow. Ulbricht is a highly educated and capable individual who holds a bachelor's degree in physics and a masters in materials science and engineering. And even those who criticize the result can surely admire the ingenuity he demonstrated in creating Silk Road without previous programming knowledge.
"Well, he has said that he would work for criminal justice reform is one thing," says Lyn.
Having been exposed to the harsh realities of the U.S. penal system, both Lyn and Ross have become advocates for reform. One of the things that has shocked them both is what the penal system does to families, especially to those with young children.
"I started an organization called Mothers Against Cruel Sentencing (MACS) that's just getting started, but I want different mothers and others, family members to talk about what it's done to them," said Lyn.
One thing that shocked Lyn was seeing children's reactions at the end of visitation hours, "they're shattered when they have to leave, they're crying, they're harmed these kids, and it's just so heartbreaking."
NFT series raises $6 million for inmates' families
Even from behind bars Ross is now striving to make lives better not only for his fellow inmates but for their families too. In Dec. 2021, Ross Ulbricht released a series of non-fungible tokens (NFTs) which raised $6.3 million.
Part of that money has already gone to numerous visitation charities, allowing better visiting conditions for the children of mothers and fathers doing time "because [Ross and I] see how much the kids suffer."
Ross is now hoping to complete an MS in psychology, so he can better help his fellow inmates in his capacity as a suicide watch companion. With all that Ross is doing from inside jail, there is a feeling that he could be an even greater force for good were he not behind bars.
Hope for the future
To conclude we ask whether there is any hope for the future. For Ross and Lyn that hope now rests on a Presidential pardon.
"Ross says, where there's life, there's hope. Don't give up, because the thing is, we're talking about a signature on a piece of paper by a man or woman," says Lyn. "All they have to do is sign a piece of paper. And Ross is free. It's not like we want to literally move a mountain range."
From his Medium account, Ross continues to make posts on a variety of subjects from legal reform to the resilience of Bitcoin.
In his most recent post he said the following:
"I have been through many phases during my imprisonment: hopelessness, fear, guilt, acceptance, boredom, feverish desperation, and all the while Bitcoin keeps going. Today, I take inspiration from Bitcoin. I will keep going, day by day, just taking the next step over and over. I will keep adding the next block. Either I will regain my freedom or, at the end of my life, I can look back and say, 'At least I tried.'"
If you'd like to help Ross to do more, you can sign the next block in his petition for freedom.
Disclaimer
All the information contained on our website is published in good faith and for general information purposes only. Any action the reader takes upon the information found on our website is strictly at their own risk.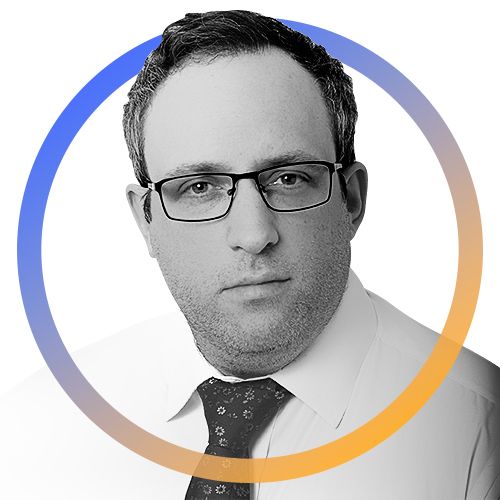 Robert D Knight is a journalist and copywriter who has specialized in crypto for over four years. His varied experience includes freelancing, in-project contracts, agency work,...
Robert D Knight is a journalist and copywriter who has specialized in crypto for over four years. His varied experience includes freelancing, in-project contracts, agency work,...
READ FULL BIO
Sponsored Sponsored