Psychic predictions have been around as long as humans have. Especially in times of instability, humans have turned to such fortune tellers to soothe their worries.
With even seasoned veteran analysts getting their forecasts wrong sometimes, we know that no one can predict the markets with any certainty. So, it's time to see what the other side are saying about the future.
Psychic Predictions: Michelle Whitedove
Celebrity Psychic Michelle Whitedove is a soothsayer who is probably the most well-known in America. She also has a fascination with cryptocurrencies.
Whitedove says that cryptos should not be correlated with the stock market. "They were created to be independent of all of that… they were created to break free from the ridiculous centralized money (fiat) system. With that said, right now, cryptos are correlated. However, Spirit has already shared, in time, cryptos will decouple. Eventually, cryptos will do well even in a recessionary period… I feel that inflection point coming. It could begin as early as 2023. We all know the FED cannot do much more with interest rates before they break everything."
Whitedove also says that she would not touch stocks with a ten-foot pole. She also has some interesting things to say about the US Dollar. "Eventually, the US Dollar will lose its 'world reserve' status. You can see that is already underway."
As for precious metals, Whitedove says their time is coming. "By the time people catch on, it will be too late… Silver is going to get to the point where it is just so hard to get. It is running out and it is not being mined at a rate right now that is going to meet demand in the future. Do I care if it takes a little while longer to get moving up in price? No."
Have we reached peak silver? Apparently, we passed it ages ago.
Psychic Predictions: World Currencies
Whitedove also predicts that there won't be one world digital currency, but there will be two or three, used by different groups. "China will have their group, and then the U.S. and the Western countries will have their version, but it'll be digital."
She also predicts a global depression. "It's going to get worse before it gets better."
Last year, the psychic predicted that Disney would build one of the biggest metaverse projects. It will have amazing levels of augmented reality. And it would be a wild success. Not only that, "they will partner with one of the top cryptos." While the Disney metaverse isn't here yet, the crypto certainly is.
As BeInCrypto reported, Disney paired with Polygon (MATIC) soon after the prediction.
Andrew Anderson
Andrew Anderson is a psychic who specializes in making crypto predictions. He says that now is the time to get in. "I see HUGE gains for those that buy and hold. There is some skepticism in regard to crypto not being stable enough to invest money for some people. I understand that it can be scary for those that do not know much about it. I see crypto being here to stay and increasing in value over the next few years. It's not going anywhere!"
He also says that it doesn't mean every cryptocurrency will be successful. "There will be some coins that drop off and fade out. Others will grow and be worth hundreds and even thousands of dollars in the future! Look at what happened with Bitcoin!"
Anderson says that after this year crypto is going to take giant leaps forward. "I think after the Super Bowl, we are going to see a significant gain with it. There's going to be more and more people getting on board with a crypto."
He also says that he never recommends investing a lot of money at once. "Gradually putting small sums of money into the crypto market can be something that you look back on in a year and thank yourself for."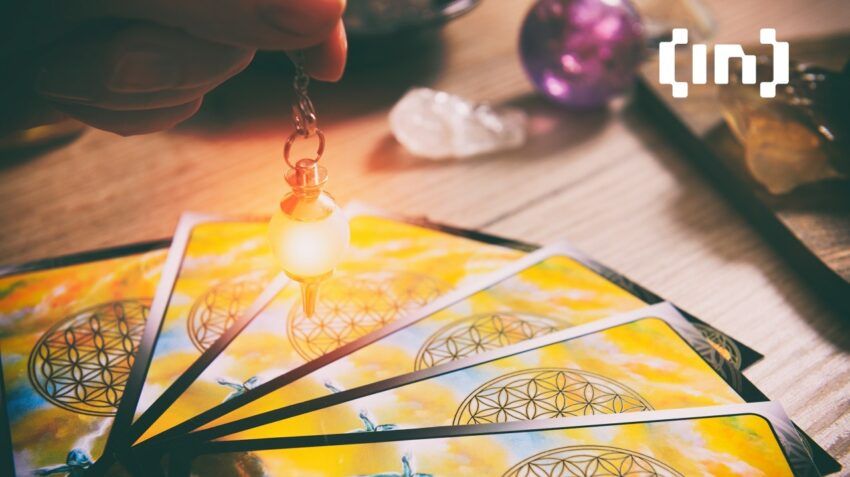 Aeron Lazar
Aeron Lazar is a crypto psychic who presents on TikTok. Some of his posts get more than a million views. He says, "We're on the verge of a global financial crisis and a banking crisis. And we are witnessing the controlled demolition of the economies around the world in real time. Mainstream media won't announce this to you. For those of you who understand the fractional reserve banking system, you'll understand that the banks don't keep all of your money on deposit. Historically, that was sort of 10%. Now, in the States, the banks keep zero of your money on deposit.
"In the next few months, there's going to be a banking crisis and a run on the banks. I can see people queuing up outside ATMs that don't have money. I can see banks closing their doors and withdrawing services."
Because the banks fail us, Lazar says that blockchain will be the new system of choice. "We're entering a transition period between the old financial system and the new blockchain tokenized financial system."
Psychic Predictions: Investor Prophet
Another TikTokker, called the Investor Prophet makes some predictions for cryptos using tarot cards. He says that Cardano is a buy for next month. "It's a buy in 2022. It's a sell in 2027. It looks like there may even be a government that takes this currency on. But with all that said, October is an opportunity. In the midst of a decline open up a long position. There's an important trough. My friends, this is one of the ones that I'm most excited about when I looked at the 10-year chart."
The Investor Prophet also makes some predictions for Terra Luna Classic (LUNC). "There's a big move coming in. In 2025 we have a breakout. It's bullish in 2025 and 2026, so it looks like we have a really good opportunity here."
He says that in 2027 there's a prominent decline. But, it will offer a buying opportunity at this time.
In addition, the Investor Prophet has a forecast for Shiba Inu (SHIB). He says SHIB looks very good over the next ten years. "I want to hold over the next 10 years."
Jessica Adams
Jessica Adams uses astrology to be crypto winners. She says that Bitcoin's crash in May of this year matched an astrology pattern that could be read one year before. "It's really no mystery. Every time we see transits at 0-1 degree and/or 18-19-20 degrees of any zodiac sign in astrology, Bitcoin hits an extreme."
Adams says that everything is connected in the unpredictable world of crypto. "Tether. Terra. Tesla. Twitter. And astrology connects them all. There are 30 degrees in any zodiac sign, and against chance, repeatedly, we find linked organizations and key people like Elon Musk, all have astrology chart factors at 0, 1 and/or 18, 19, 20 degrees. Musk's Twitter takeover was announced across one of the key degrees: he declared it as Mercury passed 0 Gemini."
Adams says that a car, or a business, can have a horoscope. "But astrologers pay attention to the dates that anything is launched, or founded. So, Tesla came into the world on December 21st 2020."
There are many ways to gather information about cryptocurrencies. But we are all really just guessing what the future holds. We should all circle back to this post in a year, and dissect it to death.
Got something to say about psychic predictions or anything else? Write to us or join the discussion in our Telegram channel. You can also catch us on Tik Tok, Facebook, or Twitter.
Disclaimer
In compliance with the Trust Project guidelines, this opinion article presents the author's perspective and may not necessarily reflect the views of BeInCrypto. BeInCrypto remains committed to transparent reporting and upholding the highest standards of journalism. Readers are advised to verify information independently and consult with a professional before making decisions based on this content.