When it comes to precious metals, gold typically gets all the attention. Silver, which is otherwise known as poor man's gold, may be the tortoise in this race, but it has silently gained more than 50% this year.
It's no secret that investors have been flocking to store-of-value assets since the economic turmoil, including the massive stimulus by central banks coupled with a weaker dollar. Assets like precious metal gold and digital gold bitcoin have been benefitting from the uncertainty, providing investors with a safe-haven in the economic storm.
Precious metal investors have a lot in common with cryptocurrency investors in that they are largely expecting the fiat system to implode, especially with no end in sight for the unprecedented monetary stimulus.
A Bloomberg report spotlights Merian Global Investors Manager Ned Naylor-Leyland, a silver bug who has been betting big on the poor man's gold for nearly two decades. His wager is finally paying off big time, as silver's appeal along with its price are on the rise. As a less pricey and more volatile asset than gold, silver's 51% returns have trounced those of its larger cousin this year, with gold up by roughly 25%.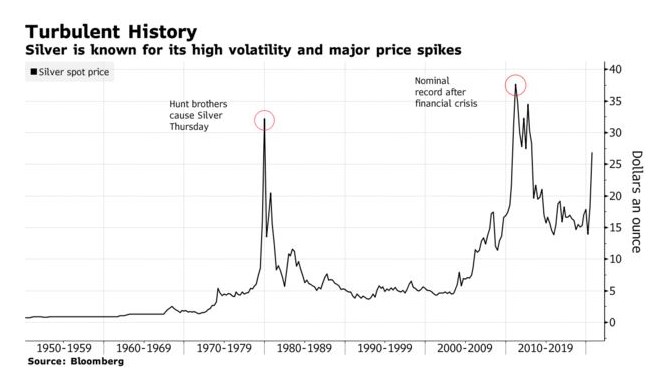 Demand vs. Supply
Silver's rise has been fueled by a spike in demand from dealers coupled with insufficient supply of the physical silver bars, which is the form in which investors prefer to hoard the asset. This phenomenon, which was fueled in part by a slowdown in production from the COVID-19 pandemic, has driven the premium for certain silver coins up twofold from the usual levels. Also, given that silver is cheaper, it takes more manpower to produce an amount that's worth investing in compared to gold.
Naylor-Leyland told Bloomberg,
I've been waiting since 2002 for the inevitable demise of this monetary system. I've been standing there waving on the top of a hill for the last 20 years, and suddenly everyone's pointing at me saying, 'That man's a genius.'
Meanwhile, Reno, Nev.-based Itronics, a company that produces silver bullion and silver-bearing glass, revealed in a recent report that the company has experienced a 200% increase in silver bullion sales through the first seven months of the year vs. year-ago levels.
In a recent podcast, retired MMA wrestler Ben Askren revealed that during the March 2020 market drop, he was considering buying silver but ultimately decided to invest in bitcoin and Ethereum.
Funky Crypto Podcast EP: 36 Livestream: Creator Of Litecoin Charlie Lee @Satoshilite in the house. #Bitcoin #BTC #Crypto #Litecoin #litecoinfam $LTC $LTCN https://t.co/4GDQ2l5nrz

— Bitcoin Ben (@Benaskren) August 18, 2020
Gold Not Too Shabby
It's not that gold's performance has been anything less than impressive. In August, the gold price surpassed $2,000 for the first time ever, hitting a high of close to $2,100 about a month ago. The gold price has since pulled back and is currently hovering at $1,933.
The difficult features of gold and silver are arguably that you need a place to store the physical assets.
Disclaimer
All the information contained on our website is published in good faith and for general information purposes only. Any action the reader takes upon the information found on our website is strictly at their own risk.