If you thought the crypto revolution was coming, then it's no surprise that it's coming with memes. The parody cryptocurrency Banano is embracing the popularity of crypto on the social media site TikTok.
Last week the world's favorite joke cryptocurrency, Dogecoin,
pumped massively with help from TikTok users
. The Doge gained almost $250 million in market cap thanks to the move. So who's up next? Well, the fruit-themed Banano coin is not here to monkey around. In a recent post, the Banano team
announced their arrival on TikTok
, explicitly stating they aren't here for the next pump and dump. Based on
recent memes
, their aspirations include free airdrops and the lofty ideal of reaching the number one spot on CoinMarketCap's cryptocurrency rankings by Q4 2021. That may just be some additional humor but Banano also exists as a vehicle to teach people about blockchain technology, and hopefully have some fun in the process.
Outpumping Nano
Banano forked from the cryptocurrency Nano in April 2018. As Twitter user
@mikeinspace pointed out recently
, Banano has been outperforming its parent chain Nano quite considerably. Nano is the
66th largest cryptocurrency by market cap
on CoinMarketCap. And just like Nano, Banano facilitates instant transactions for free. It's also not mined. Where it differs, though, is through
its website
and social media channels which almost exclusively contain monkey and banana-themed jokes.
Nice catch.
But @bananocoin isn't a parody of @nano. It's a team member of #DAG #technology and helps it's big brother @nano for adoption.

A lot of people learnt about #Crypto just because of @bananocoin.

— bananodev (@henze_sebastian) July 21, 2020
Banano's price is up around 16% for the month, at the time of writing. It is by no means the only banana-themed coin in the bunch, though it may be the most successful. Bananapepe (BANAPEPE), BananaBits (NANAS), and Banancoin (BCO) have all graced the internet at some point or another. The project's white paper, which is actually a 'yellowpaper™,' features a yellow Pepethefrog and a concise abstract:
Don't let memes be your dreams
. It lists all the advantages of Banano including the obvious fact that it started as a joke. On Twitter,
Bananaodev
points out that the purpose of
Banano isn't exactly a parody
, but a gimmick to engender adoption of the DAG ecosystem (a type of technology that facilitates both Nano and Banano). In fact, Banano's purpose is to do good in the world. According to their explanation at
Bitcointalk
, Banano uses tipbots on social media to help newbies:
"make the start with crypto as easy as possible, use a fun attitude and gamification to get new users started without all the usual hassle, and then educate them to handle crypto in general in a responsible way."
The Reddit, Telegram, and Discord channels place faucets,
airdrops
, and other ways to get free Banano up front and center. Besides plenty of memes that are as bright and flashy as kids' cartoons, each
wallet
address also generates monKEYS: crypto-kitty-like visual representations of wallet keys.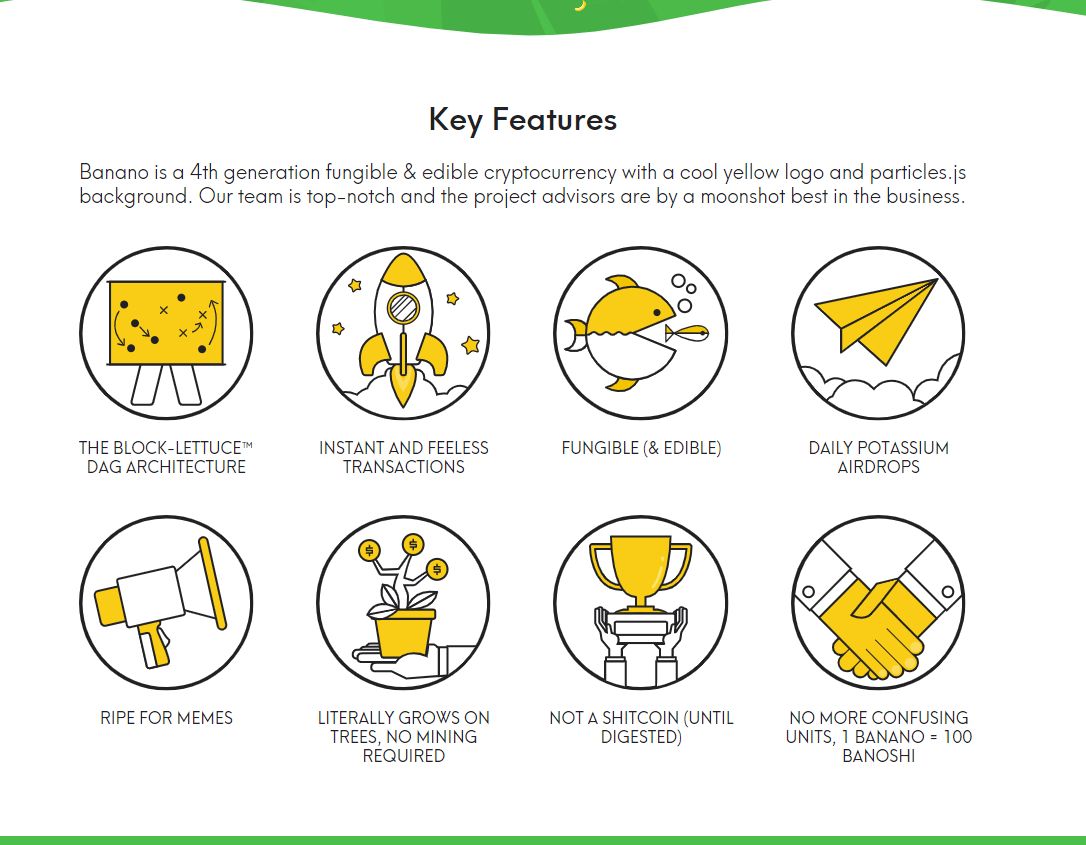 The Meme Revolution
It must be working since its Discord has a rather impressive 22,000 users. In that sense, Banano has garnered enough attention to attract a sizeable community. In some circles, the financial success of gags and supposedly worthless tokens reminds crypto fans of the wild west of 2017.
DeFi
protocol Compound Finance raised eyebrows when it's token rose 422% in a matter of days. Just this week, in fact, a
new DeFi token pumped a staggering 4000%
, even after its creator announced it was worthless and told people not to trade it. Does a strong month for Banano mark a renaissance of unbridled enthusiasm in coins that are less than serious? Unlikely, since Banano's price is not totally out of control. In terms of cryptocurrencies that began as jokes, Banano
does
serve a purpose. That may make it a very distant runner-up to spoof coins following Dogecoin. With a market cap of only $1.3 million, and most of the coins still out of circulation, Banano is worth at least keeping on the backburner, if only for the potassium.
Disclaimer
All the information contained on our website is published in good faith and for general information purposes only. Any action the reader takes upon the information found on our website is strictly at their own risk.
Harry Leeds is a writer, editor, and journalist who spent much time in the former USSR covering food, cryptocurrencies, and healthcare. He also translates poetry and edits the...
Harry Leeds is a writer, editor, and journalist who spent much time in the former USSR covering food, cryptocurrencies, and healthcare. He also translates poetry and edits the...
READ FULL BIO
Sponsored Sponsored