After hitting nearly USD($)20,000 at the end of 2017, Bitcoin (BTC) was valued at less than $4,000 as the ball dropped on New Year's Day. However, to understand the true value of BTC requires a multi-year analysis that integrates statistics from more than the year 2018 alone.
On Jan 1, 2018, BTC opened on Bitfinex at $13,763. Six days later, a value of $17,178 was reached. This was the highest daily value of the year. It marked an increase of 24.81 percent of BTC within the first week of 2018. The rest of 2018 was not so kind to BTC. After a steady downward trend, BTC reached its yearly low of $3,215.20. It lost 81.28 percent of the value it attained on Jan 7. Though an upward trend brought the BTC to a closing price of $3,832.60, BTC still saw a 72.17 percent loss of total value between its yearly open and close during 2018.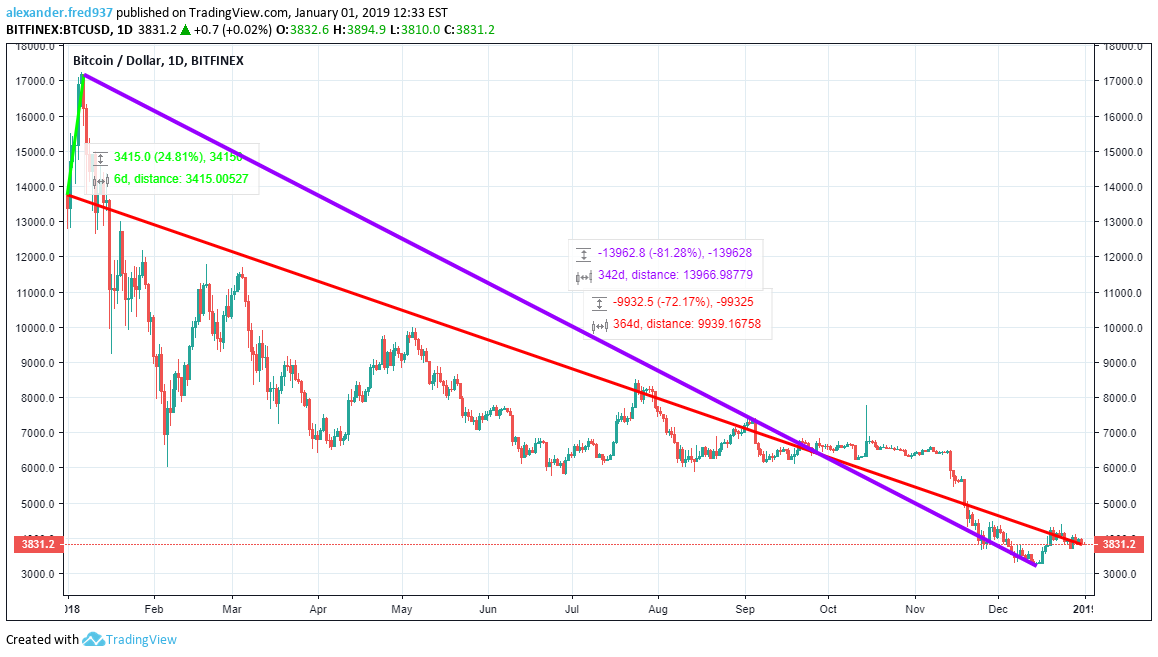 There were estimates made by individuals like
John McAfee
that BTC might end 2018 with a value of $20,000. He has also stated that if BTC does not reach $1 million by the end of 2020, he will eat his own private parts. Given that this is not the first of his false predictions, it is possible that, in two years, 
McAfee
will either be forced to eat his own genitalia or prove himself a liar.
Changes in Average Daily Value
Jameson Lopp tweeted the average daily price changes for BTC over the last nine years. The tweet emerged on Dec 30, 2018, which means that the final day of 2018 was not included in the data set. There was a slight drop in value between Dec 30 and 31 that might have minimally increased this value. Thus, the reported -0.33 percent must be taken as an approximate value.
Bitcoin average DAILY value change during:
2010: +0.82%
2011: +0.76%
2012: +0.26%
2013: +1.11%
2014: -0.25%
2015: +0.09%
2016: +0.22%
2017: +0.78%
2018: -0.33%

— Jameson Lopp (@lopp) December 30, 2018
Nonetheless, the information is still valuable. It illustrates that seven of the last nine years saw a positive daily average growth. Only 2014 and 2018 experienced negative daily growth in average value. 2018 saw a greater level of negative average daily growth than 2014. When the numbers are averaged for all nine years, however, a positive daily average of 0.38 percent is seen. The years 2014 and 2018 are outliers. While negative growth in average daily value was seen during these years, there remains a positive growth of average daily value between 2010 and 2018.
Beyond the Dollar
In Germany, the value of Bitcoin has seen similar trends. While the value 100 Euros in BTC dropped to less than 30, the two-year return on Bitcoin is nearly 300 percent. The two-year return on Deutsche Bank Shares (DBSs), however, dropped by nearly 60 percent — despite the fact that the value of 100 Euros in DBSs at the end of 2018 was higher than BTC.
A year to forget: 2018 was a horrible year, especially for German investors. Real estate was the only way to make money. There is, however, one comfort: #Bitcoin has lost even more than the shares of Deutsche Bank. https://t.co/rl8dOUPO9L via @welt pic.twitter.com/x3UguHPKbY

— Holger Zschaepitz (@Schuldensuehner) December 31, 2018
Examining the BTC statistics for 2018 may paint Bitcoin in a dismal light; however, when a multi-year analysis is conducted a different picture develops. Using both average daily growth and the yearly return rate over multiple years, an increase in value is exposed.
Conclusion
While 2018 may have been seen a crash in BTC value, there is still hope. What happened in 2018 is important, but when a broader analysis of its value is applied things do not look quite as dismal. However, placing absolute faith in BTC might not be the best decision. After all, the recent crash has shown that BTC miners and
ASIC manufacturers
may have attained centralized authority over the Bitcoin network. It remains possible that cryptocurrencies not yet developed using currently unimplemented consensus algorithms may attain social integration while Bitcoin and Proof of Work may become little more than
artifacts
. Though Bitcoin introduced blockchain technology to the masses does not mean that it will be the cryptocurrency that is ultimately selected for mass adoption.
Do you think Bitcoin will see increases in value in 2019 or will competition from other cryptocurrencies force Bitcoin out of the limelight? Let us know your thoughts in the comments below! 
Disclaimer
All the information contained on our website is published in good faith and for general information purposes only. Any action the reader takes upon the information found on our website is strictly at their own risk.