Coming off the end of an extensive bear-period, it can be difficult to track which cryptocurrencies are a hot prospect and which are likely duds.
Most of us have, at some point, identified lucrative opportunities ahead of time — or noticed a trend that could have been hugely profitable but missed out for some reason or another. Unfortunately, finding such opportunities is often a time-consuming process — requiring dozens of man-hours sorting through the latest news, performing technical analyses and gauging the current market sentiment. To help simplify the process of understanding the market, data analytics and market research platform Omenics produces an aggregate indicator known as the Sentscore, which is a measure of the overall outlook for a particular cryptocurrency. This Sentscore is an amalgamation of five different verticals, each of which plays a part in determining the overall quality and direction of a digital asset. These are:
News
Social Media
Buzz
Technical Analysis
Fundamentals
To form these individual verticals,
Omenics
 collates data from a large variety of sources, including blockchain data, social media content, news, and sentiment indicators — each of which forms a weighted contribution to the overall Sentscore. We took the opportunity to look at Omenics's April data to see just how closely market sentiment aligns with the price of a digital asset.
Trending in April: Basic Attention Token (BAT) and Binance Coin (BNB)
One of the major ways Omenics tracks the performance of a cryptocurrency is through its 'buzz score,' which is a measure of how much a digital asset is trending. The buzz score is used to help potential investors identify whether a cryptocurrency is gradually gaining popularity or whether it is simply experiencing a sudden burst of interest. Note that this score does not distinguish whether the buzz surrounding a project is positive or negative — it only tracks how interest in the cryptocurrency has changed over time. This is based on search volume, as well as social media and news coverage. Currently, a buzz score below 2.5 indicates that a cryptocurrency has very little interest, whereas between 7.5 and 10 indicates the coin may be trending. In April, Basic Attention Token (BAT), Binance Coin (BNB) and Dogecoin (DOGE) experienced the largest changes in buzz score, which indicates that interest in these cryptocurrencies changed significantly in this month.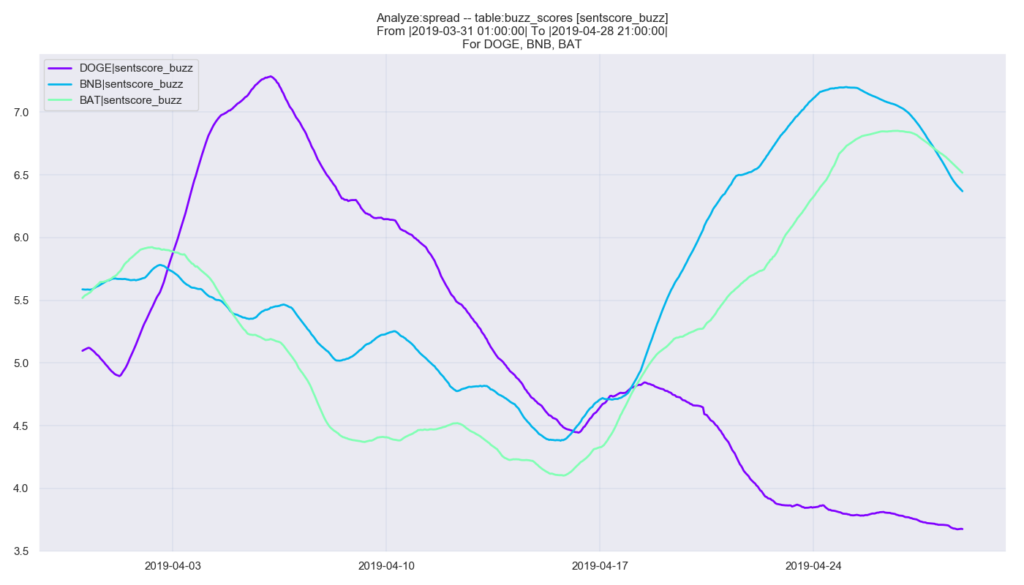 Here, we see that the buzz score for BNB (blue line) began to spike around April 16, just before Binance launched its own mainnet known as Binance Chain and announced BNB would be migrating to the mainnet. Over a period of just over a week, BNB's buzz score climbed from average (4.5) up to more than seven as chatter increased drastically. Basic Attention Token (green line) followed a similar trajectory, seeing its buzz score climb from just above four to close to seven amid news that Brave would be launching its advertising platform — allowing users to earn BAT in exchange for watching adverts. Both of these changes were accompanied by drastic price movements, with Binance Coin (BNB) gaining close to 15 percent as its buzz score climbed, while BAT gained as much as 65 percent in this period. Looking at Dogecoin (DOGE), however, we see find that its buzz score began to spike immediately after listing on Huobi, and Elon Musk declared his love for the meme coin in an apparent 
April fools joke
. In the days following, interest in DOGE subsided and it collapsed from its a peak buzz score of 7.3 down to almost 3.5, while the price took a tumble.
Best Recovery: Nano (NANO)
Looking at the Sentscore of a cryptocurrency can provide vital insights into how it is likely to move in future, as the Sentscore is a qualitative measure that measures the overall market sentiment of a cryptocurrency, whether positive or negative. As we can see we NANO, its Sentscore increased considerably throughout through late March and early April — and this closely aligns with the improved price it has seen over this period.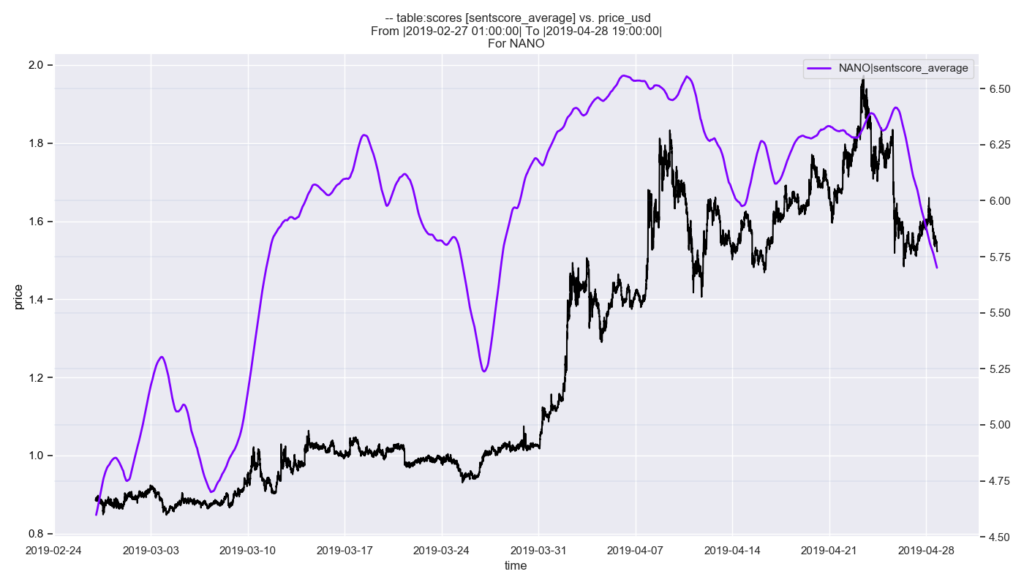 Beginning March 27, Omenics found that the overall sentiment for NANO started to climb, with its aggregate Sentscore increasing from 5.25 to 6.5 in just three weeks. During this same time-frame, the value of NANO spiked, surging from just $1 on March 27, to over $1.80 three weeks later. Had you invested in NANO just as its Sentscore began to increase, and sold out as its Sentscore began to fall, you would have netted as much as 80 percent profit — without having to track all the moving parts yourself. As it turns out, this recovery is owed to the launch of Nano's new public node API, making it easier for developers to build on the platform, and integrate NANO into their stores and applications.
Biggest Loser: Tether (USDT)
Although Predicoin can be used to reliably predict positive market movements, it can also be helpful to help avoid potential losses caused by an impending dump, or for short traders looking to capitalize on a downtrend. This can be clearly demonstrated when looking at the Tether Sentscore over the past month. Throughout the beginning of April and leading up to April 25, the Sentscore is closely correlated with the market value of Tether, with the Sentscore staying roughly around 5, while USDT remained stable above $1.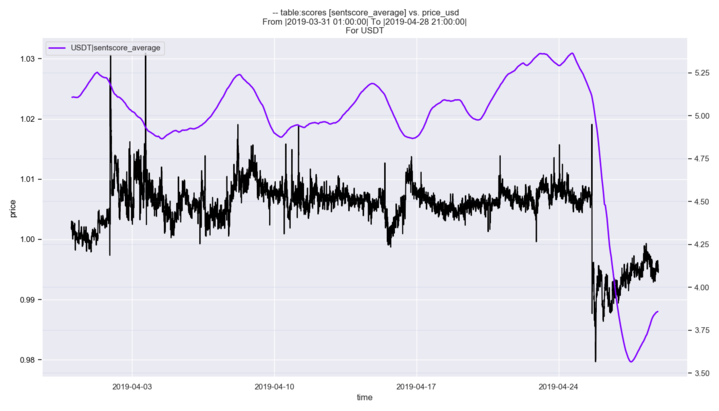 However, on April 25, things took a turn for the worse for the
stablecoin
, after allegations emerged that Tether's parent company Bitfinex had attempted to cover up an $850 million loss by using Tether funds. Shortly after, widespread FUD began as it was revealed that USDT is only 74 percent backed with fiat, causing USDT to lose its dollar peg and crash by as much as 2 percent. As shown in the above chart, we find that Tether's Sentscore began to fall hours before a significant crash in USDT value, essentially giving Predicoin users a warning that something odd was afoot. Overall, with the cacophony of signals pulling investors one way or the other, we find that the aggregate indicators such as Omenics's Sentscore can help distill the chaos into something manageable. With that said, it is not the golden bullet that will help you completely avoid mistakes, but it is certainly a step in the right direction.
What is your opinion on the Omenics Sentscore? Can you see a situation where this could have saved you from considerable losses? Let us know your thoughts in the comments below!
---
Charts courtesy of Predicoin.
Disclaimer
All the information contained on our website is published in good faith and for general information purposes only. Any action the reader takes upon the information found on our website is strictly at their own risk.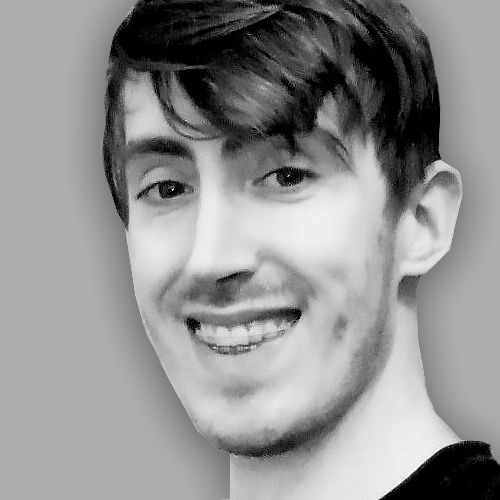 After obtaining a Masters degree in Regenerative Medicine, Daniel pivoted to the frontier field of blockchain technology, where he began to absorb anything and everything he could...
After obtaining a Masters degree in Regenerative Medicine, Daniel pivoted to the frontier field of blockchain technology, where he began to absorb anything and everything he could...
READ FULL BIO
Sponsored Sponsored