Lido (LDO) total value locked (TVL) fell to new high lows in the third week of May due to the bearish trends of the decentralized finance (DeFi) market.
Lido was the second decentralized application (dApp) with the most value locked throughout April. According to Be[In]Crypto Research, Lido lost 57% of its all-time high TVL on April 6. On that day, TVL was approximately $20.4 billion, and this declined to around $8.6 billion on May 22.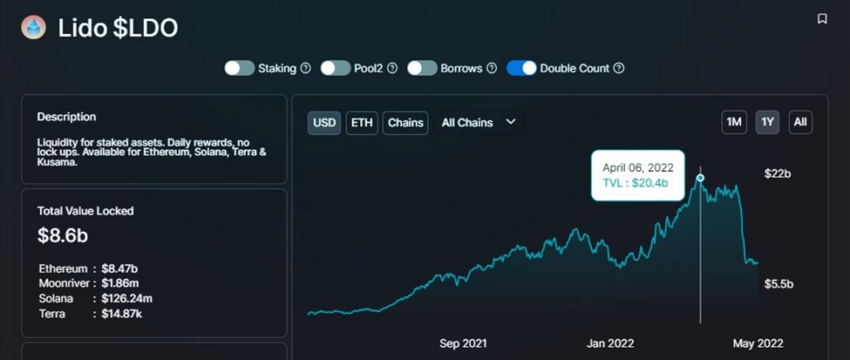 As a liquidity staking protocol, Lido has the aim of introducing millions of people to staking. Users can stake their assets for daily rewards on a protocol that does not have a minimum staking requirement. Some of the services and applications that have integrated with Lido include StakeEther, Curve, MakerDao, Ledger, Anchor Protocol, SushiSwap Onsen, and 1inch.
Why Lido TVL is waning
TVL fell significantly due to an overall market crash in the overall total value locked on the blockchains it is deployed on.
TVL on Ethereum on April 6 was in the region of $10.32 billion. Decreased investor interest saw a 17% decrease in this figure to around $8.47 billion on May 22.
LDO TVL on Terra on the day of its all-time high in value locked was approximately $9.66 billion. On May 22, the total value locked on Terra was $14,870, a 99% drop in six weeks.
TVL on Solana during Lido's milestone was around $417.17 million and declined by 69% to $126.24 million on May 22.
On Moonriver, LDO TVL was approximately $2.57 million at the peak of the dApps most value locked. Decreased investor interest in decentralized finance saw a plunge of 27% to $1.86 million within the same period.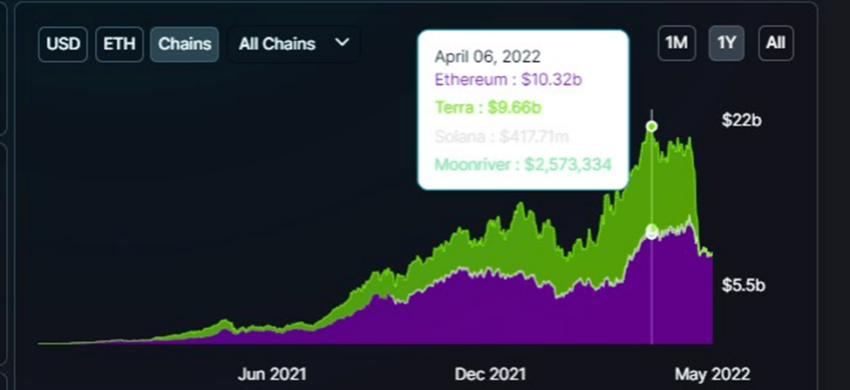 After dwindling by more than $11 billion thanks to the aforementioned chains, Lido has lost its place in line to Curve and MakerDAO.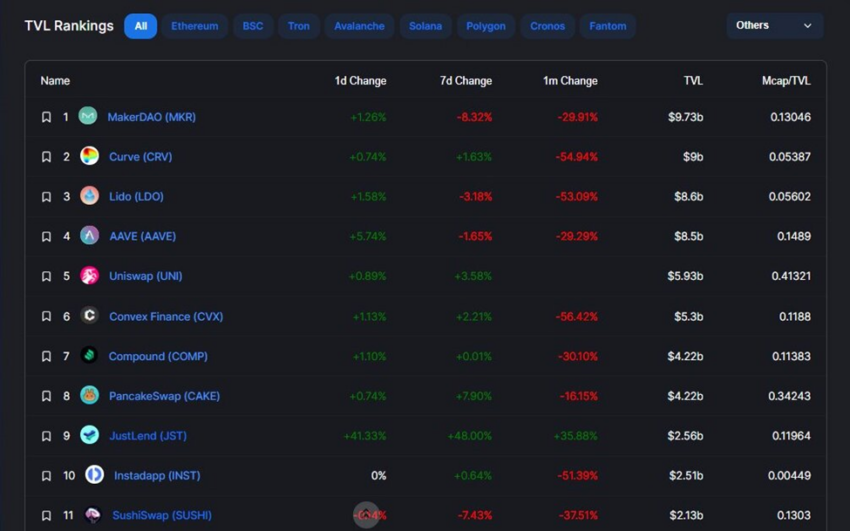 Despite the drop in TVL, Lido still holds a relatively higher value locked than Aave, Uniswap, Convex Finance, Compound, PancakeSwap, JustLend, Instadapp, and SushiSwap.
LDO price reaction
LDO opened on April 6 with a trading price of $4.27. The coin reached a low price of $1.23 on May 12 and was exchanging hands for $1.33 at the time of writing.
Overall, this equates to a 68% loss in the price of LDO in six weeks.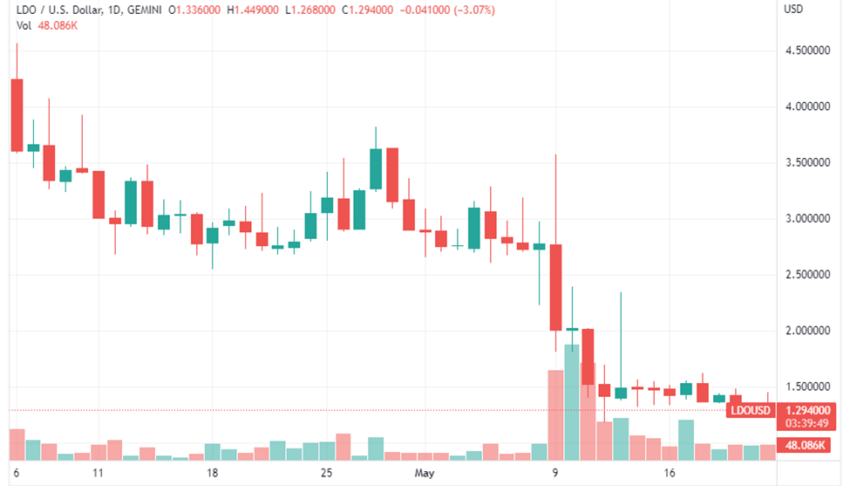 Disclaimer
BeInCrypto strives to provide accurate and up-to-date information, but it will not be responsible for any missing facts or inaccurate information. You comply and understand that you should use any of this information at your own risk. Cryptocurrencies are highly volatile financial assets, so research and make your own financial decisions.