The year 2021 marked an explosion of interest in NFTs. Since then, the concept of ownership over digital collectibles has become a focal point in many sectors. This is especially evident in the recent rise of DeFi gaming. Blockchain games have allowed players to monetize their activities through minting and trading in-game assets. However, many of these games still lack quality graphics and other features that might be expected in regular games. Sidus Heroes aims to solve these limitations, employing a metaverse landscape merged with the highest-quality technological gaming integrations. So this Sidus Heroes guide journeys into the world of 3D inter-stellar race species. We uncover the magic behind Sidus Heroes and its native token SIDUS and discover what's special about this blockchain-based game.
Want to get all the hottest news and reviews on the best crypto projects? Join BeInCrypto Trading Community on Telegram: read news, discuss NFT games, ask for technical analysis on coins and get answers to all your questions from PRO traders & experts! Join now
What is Sidus Heroes?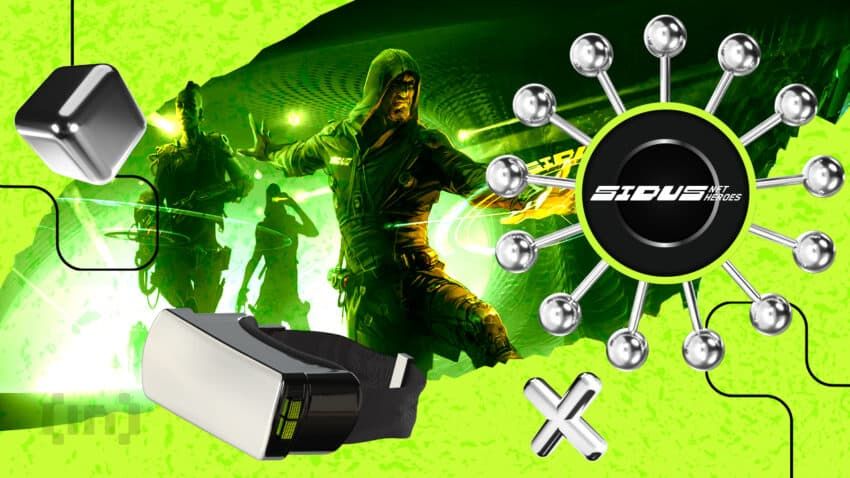 Sidus Heroes is a blockchain MMORPG game. It is the first DeFi game to introduce AAA and WEBGL into the play-to-earn (P2E) NFT ecosystem. AAA refers to games that are produced with extremely high budgets: we're talking in the tens and hundreds of millions. Thanks to this funding, AAA projects are made by some of the best publishers, are incredibly complex, and offer market-leading gaming mechanics and graphics.
Sidus Heroes runs on the gaming graphics engines Babylon.js, GLSL, and SideFX Houdini. Together, these provide 3D interactive virtual imagery that is compatible across devices. In addition, the programming language WEBGL offers players incredible visual performance without using plug-ins in a web browser. With Sidus Heroes, you don't need any special software to start playing. You can enter the game directly from its website anywhere in the world.
Currently in its early beta stage, Sidus Heroes aims to bridge the gap between web2 and web3 gaming by providing a more immersive environment for players to interact. The game is based in a futuristic metaverse featuring spaceships, intergalactic missions, and space heroes.
Sidus Heroes guide: A look at the gameplay
To begin playing, visit the Sidus Heroes site and click "Play Now." You will be prompted to connect your Metamask wallet. Players start at the Central Station of the game's universe. They can travel between planets, stations, and solar systems to complete tasks. The corners of the universe, including the planets, serve as economic entities. The main character of the game is the Hero you start with. Your Hero can participate in joint missions, complete quests, and enter battlefields. Each Hero is an NFT and is unique in its abilities, talents, clothing, and ammunition.
Arena
The game's most vital aspects are the battlefields in the Arena section of the universe. Here, teams of three players face off against each other. This game mode is where all the Hero enhancement takes place, such as character leveling, purchasing components, or changing attire. Moreover, the Arena is where the most valuable resources are distributed and where players can win real rewards.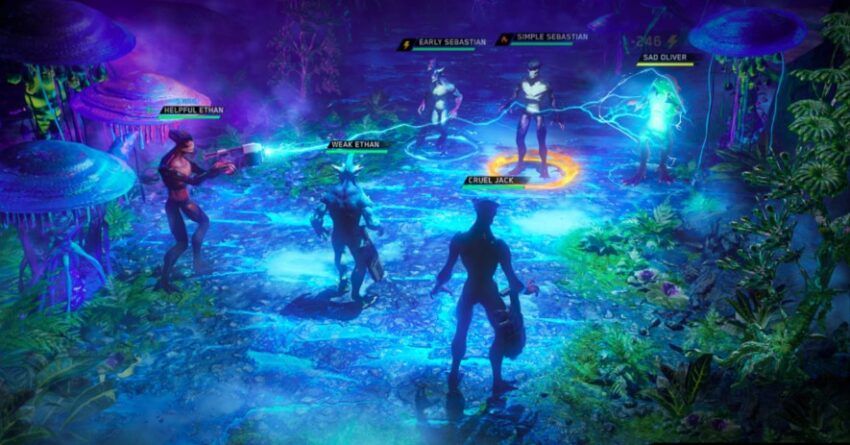 Pets
Players can adopt or acquire pets in missions, as they can be found on different planets. You can have several pets at a time. However, only one pet can be taken onto the battlefield. The pet is also a playable character and helps boost its companion Hero throughout the game. In addition, pets can be sold or exchanged at the Bazaar.
Universe
A total of 12 tech-based races inhabit the Sidus Heroes universe. Each race represents a different blockchain that already sounds familiar (e.g., Avalanya, Bitcoione, Etheredus, and Polkacyon). In the game, a Hero's character, features, and outlook on life is predetermined by their race. The universe allows Heroes to travel between planets to complete quests and earn.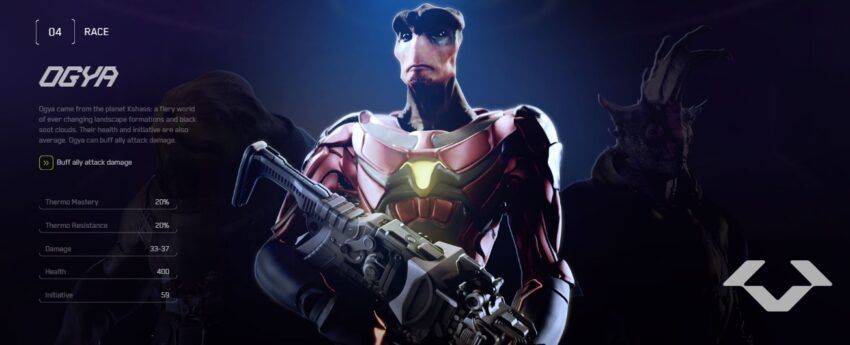 Sidus Heroes guide: coin ($SIDUS)
The project uses two different currencies: SIDUS and SENATE. The SENATE token is used for governance or the DAO. SIDUS is an ERC-721 token and ranks #913 with a market capitalization of $4,366,402. In addition, you can stake SIDUS and earn between 20% and 60% APY.
SIDUS token has a supply of:
Circulating Supply (3,683,772,829)
Max Supply (30 billion)
Total Supply (29,630,605,145)
Tokenomics
The tokens were distributed among various entities as follows: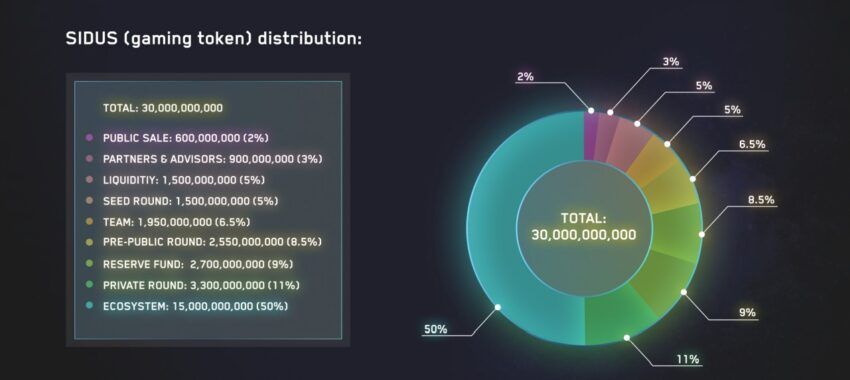 Price history
SIDUS sits at a price of $0.00119352 at the time of writing and is currently in decline. The price is down 5.2% in the last seven days and -18.8% in thirty days. Since January 2022, SIDUS has been in a descending trend without much support. There was a slight breakthrough between February and March, but trading action wasn't enough to hold. It may be a while before SIDUS can return to its all-time high of $0.19, last seen in January 2022. SIDUS reached its all-time low of $0.00104028 on Nov. 21, 2022, resulting in an overall 99.4% decrease in value. However, it's important to note the context of a bearish market and that many other tokens are seeing similar all-time lows.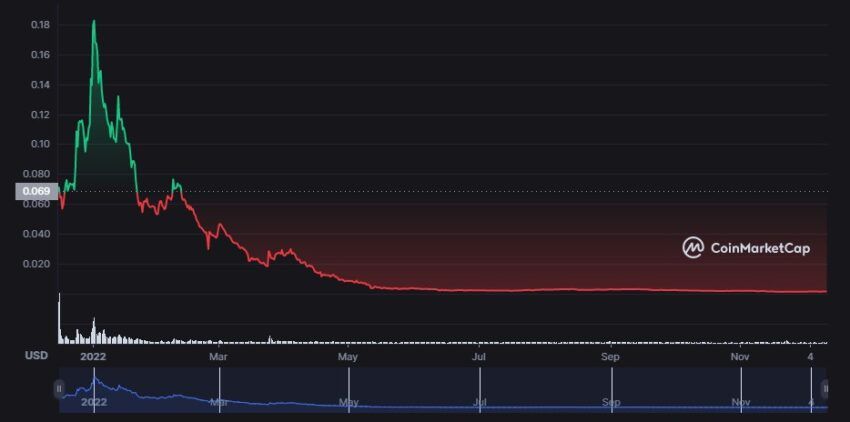 Where can I buy and trade ($SIDUS)?
SIDUS can be traded on several markets, including both centralized and decentralized exchanges (DEX).
Centralized exchanges
Decentralized exchanges
Sidus Heroes guide: How to earn money playing?
The mechanics of Sidus Heroes have been constructed so that every player who devotes their time to the game will earn money. In addition, game tokens gain value over time. Some of the many ways users can earn money while playing the game include:
Stake SIDUS or SENATE tokens
Battling other players to win rewards
Joining teams and completing quests
Purchasing and selling land plots with SENATE tokens
Enhancing character Heroes so they win more battles
Investing in modules for lifetime royalties
Collecting artifacts and selling them to traders
Buying, building and renting ships between intergalactic traffic
Opening a Sidus Bank Branch and earning from player's transactions
Creating and selling skins for space shuttles and Heroes
Sidus Heroes NFTs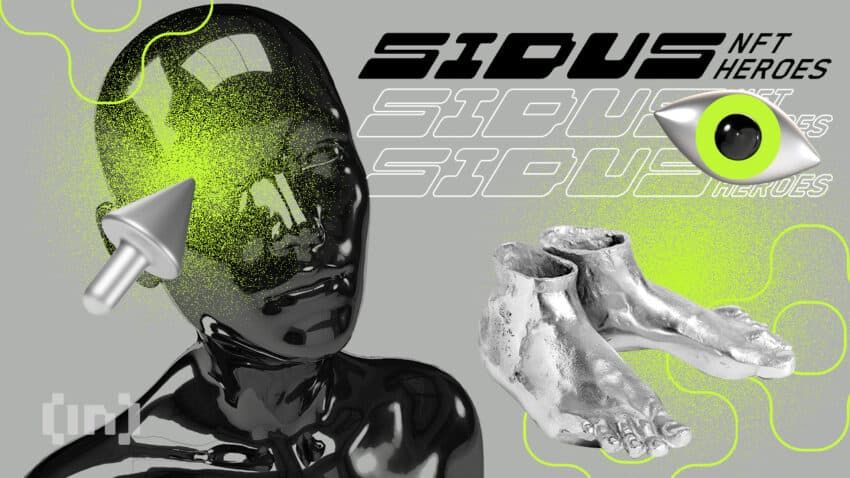 The project's SIDUS NFT HEROES consists of 6,000 original NFT works on the Ethereum chain that can be purchased on OpenSea. These 6,000 "Genesis" Heroes are characterized based on their rarity, which can be Original, Rare, or Legendary. With Upgrade cards, users can upgrade rarity levels (as many as 13 traits) for their heroes. However, players can increase their earning potential in the game if they hold the original NFT collectibles. At the time of writing, the floor price is 0.142 ETH with 1,204 current owners. Each NFT can be transformed into a character during gameplay since these Heroes unlock the doors to the game's metaverse landscape.
Each NFT Hero consists of a set of variations within its 13 traits:
133 background options
152 clothing options
102 planet variations
262 alternative skins


Sidus Heroes guide: Story and partners
Dan Khomenko is both the founder and CEO of Sidus Heroes. Alongside Khomenko, the team includes co-founders Andrey Sudarikov, Dmitry Andreev, and Roman Povolotski. The team behind the project comprises some of the most reputable partnerships in the NFT and gaming industries. The largest partnership and project is NFT Heroes, a collaboration between Playdisplay, multi-chain NFT marketplace NFT STARS, and NFT256. The NFT256 team is a large global network of over 400 artists led by some top names in the art culture. In addition, investors involved in Sidus Heroes include more than 50 top companies, most of them in the blockchain industry.
Sidus Heroes sets the stage for P2E gaming
As the adoption of blockchain technology increases, we can expect to see more play-to-earn games in development. While the earning aspect is what drives people to DeFi gaming, it's no secret that there's room for improvement. Sidus Heroes represents the next step in blockchain gaming as it integrates high-tech graphics with P2E opportunities. We are shown a sneak peek of what a truly immersive environment should really feel like. It's more than just visuals. The next evolution of gaming should give players that sense of really becoming one with their characters. With so many different ways to earn money while playing, Sidus Heroes has set a high bar for its competitors.
Frequently asked questions
Is Sidus Heroes worth playing?
Where can I get Sidus Heroes NFT?
Is Sidus Heroes free to play?
Disclaimer
In line with the Trust Project guidelines, the educational content on this website is offered in good faith and for general information purposes only. BeInCrypto prioritizes providing high-quality information, taking the time to research and create informative content for readers. While partners may reward the company with commissions for placements in articles, these commissions do not influence the unbiased, honest, and helpful content creation process. Any action taken by the reader based on this information is strictly at their own risk.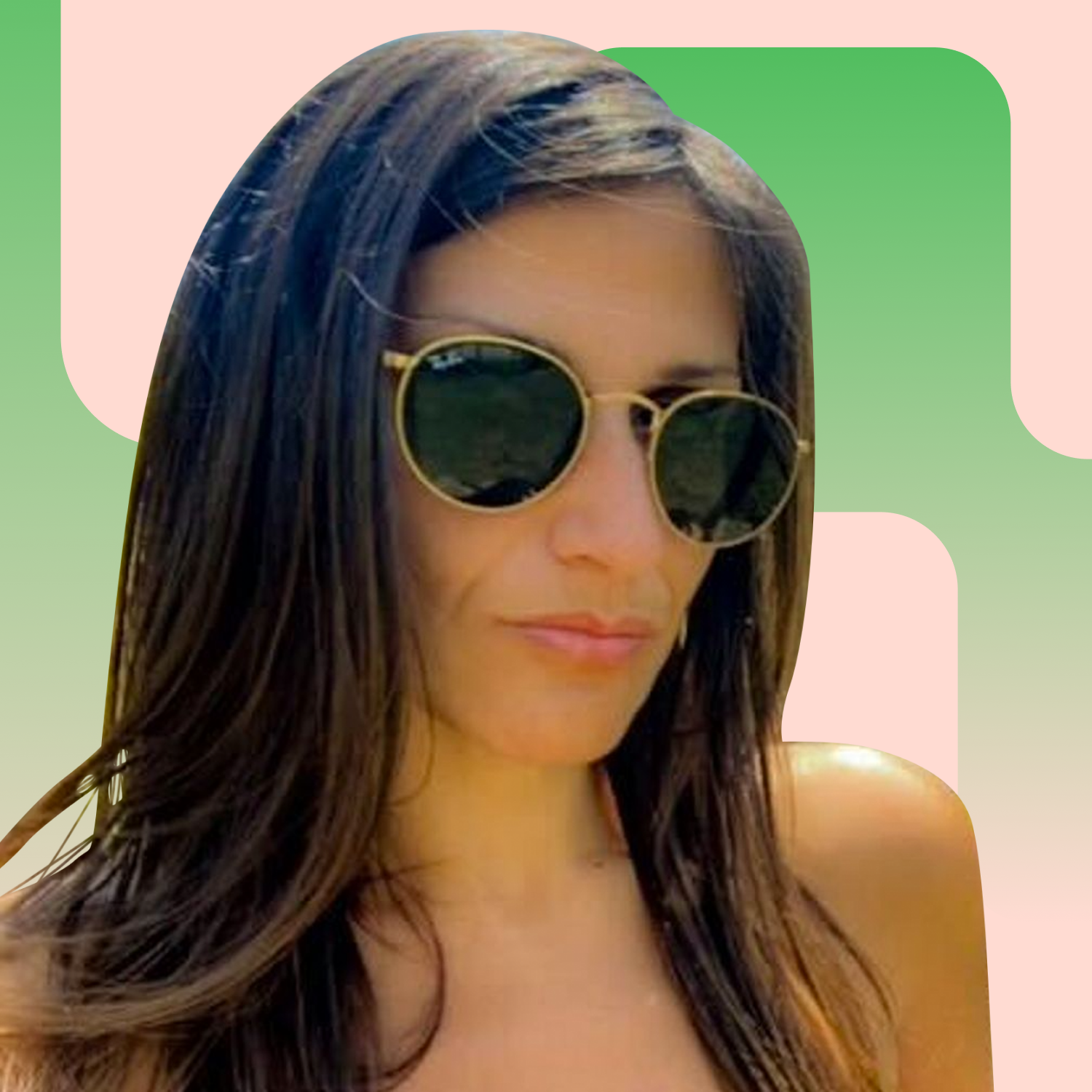 Xenia is a freelance writer and journalist in the web3 niche. Her work has appeared in major crypto publications around the world. She has been an investor in cryptocurrency since...
Xenia is a freelance writer and journalist in the web3 niche. Her work has appeared in major crypto publications around the world. She has been an investor in cryptocurrency since...
READ FULL BIO
Sponsored Sponsored