The new Lensa AI app is the talk of the town. Increasing numbers of social media users are utilizing the app to create AI-generated profile pictures and artistic images. What is Lensa all about, and how can you use artificial intelligence to make your social media images look amazing? What's the app like to use? Are there any downsides to the app, and how about privacy concerns? We cover the above and more in this comprehensive Lensa AI review. Here's what you should know.
🛡Surf the Internet safely and keep your personal data private!
Use Atlas VPN with -82% discount bypromo code ATLASWELCOME by THIS LINK!
What is Lensa AI?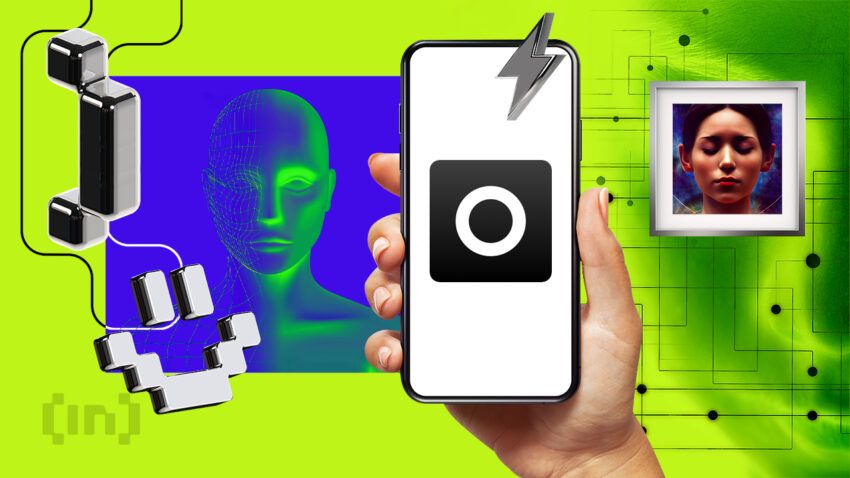 Lensa is an image editing app. It allows users to upload selfies and turn them into avatars, thanks to artificial intelligence (AI) image generation technology. The app also lets users can remove image imperfections, blur out image backgrounds, create short movies, and remove objects from photos. In a nutshell, Lensa appears as a fun, AI-driven app for social media users that want to refresh their content. It's available for Android and iOS devices.
Who built Lensa?
Prisma Labs is the company behind Lensa. It launched the app in 2018. Prisma Labs also has another photo editing app, Prisma, released in 2016, the same year the company was founded. Alexey Moiseenkov and a team of Russian developers are behind the California-based company.
According to a 2016 article in the Telegraph, Moiseenkov was 25 years old when he had the idea to build the Prisma app. At the time, he was working for Russia's tech giant, Mail.ru. The Russian tech company changed its name to VK Holding in 2021.
"It started as an idea, not a big business plan. We wanted to bring the opportunity to users to create beautiful images, and that's all," Moiseenkov told The Telegraph.
The Prisma app rose to popularity shortly after its release in 2016, taking over Instagram. It became the most downloaded app on the App Store and Google Play Store that year. This Lensa AI review will consider why the app is so popular and put it to the test. Is the hype warranted?
Why is Lensa AI going viral?
Just like its predecessor, Lensa AI has become a popular app. Its viral influence has become immediately obvious on Instagram as everyone rushes to try the newest coolest trend: turning selfies into striking AI art. Lensa's popularity is thanks to its AI-powered feature "Magic Avatars," which debuted in November 2022. Many people, including celebrities, are rushing to turn their photos into stylized, machine-made masterpieces.
The trend has made Lensa leap in popularity. Based on data from Statista, app downloads have climbed from less than a million in October 2022 to way over 5 million as of Dec. 8, 2022.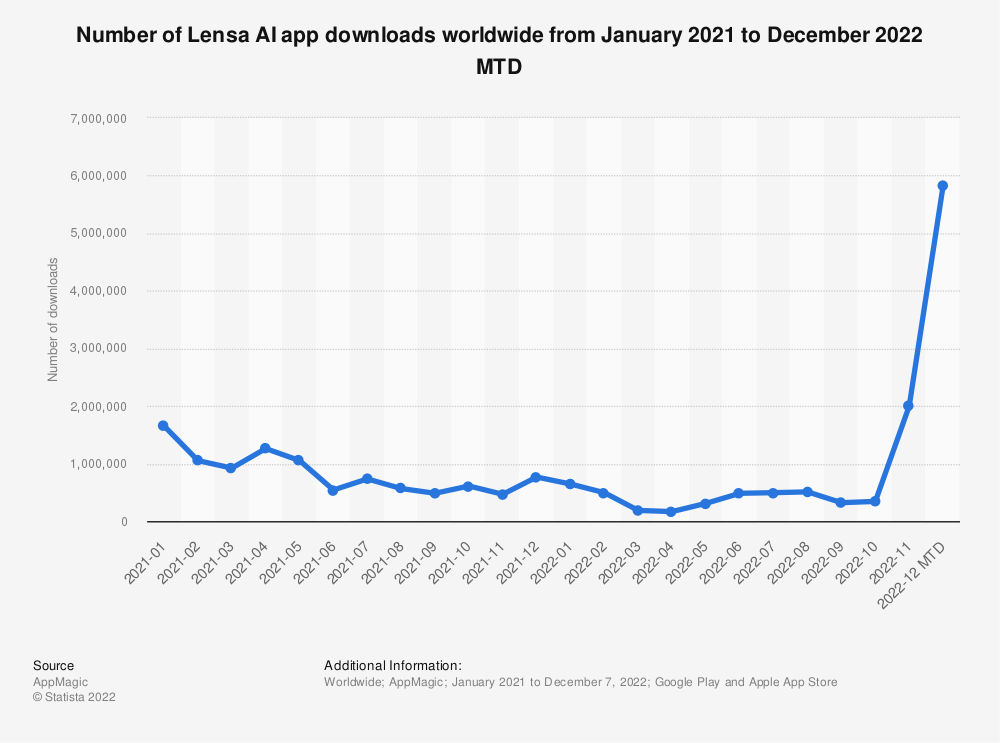 Lensa AI review
User Interface (UI)
After opening the app, the interface is pretty simple, with a few icons. It doesn't feel intimidating or cluttered. At the bottom, you'll see three icons: photos, videos, and settings. In the top left corner is a camera icon that enables users to take a photo directly. Below the camera icon is a plus sign that helps users add photos or videos to the app. Furthermore, the app takes users through its features after installation.
Pricing
At the time of writing, Lensa's annual plan was 70% off. So, instead of paying $99.99 per year, users were paying only $29.99 annually. Also, Prisma Labs was providing a 7-day free trial, allowing users to explore the app before a potential commitment to the paid subscription.
Besides the annual subscription fee, you also have to pay a small fee to generate avatars. According to Prisma Labs, users must pay for avatars because the generation process consumes "tremendous computation power […]." It's expensive, but we made it as affordable as possible."
Lensa offers three avatar packages with a 51% discount for subscribers as of this writing. They include:
50 unique avatars for $2.49 instead of $4.99. Users get five avatar variations in 10 styles.
100 unique avatars for $3.49 rather than $6.99. The avatars come in 10 variations and 10 styles.
200 unique avatars for $4.99, down from $9.99. This package gives users 20 avatar variations in 10 styles.
If you're not happy with the app during the free trial or if you're not interested in paying for it any longer, you can cancel anytime. To do this, go to settings, then tap "manage subscriptions."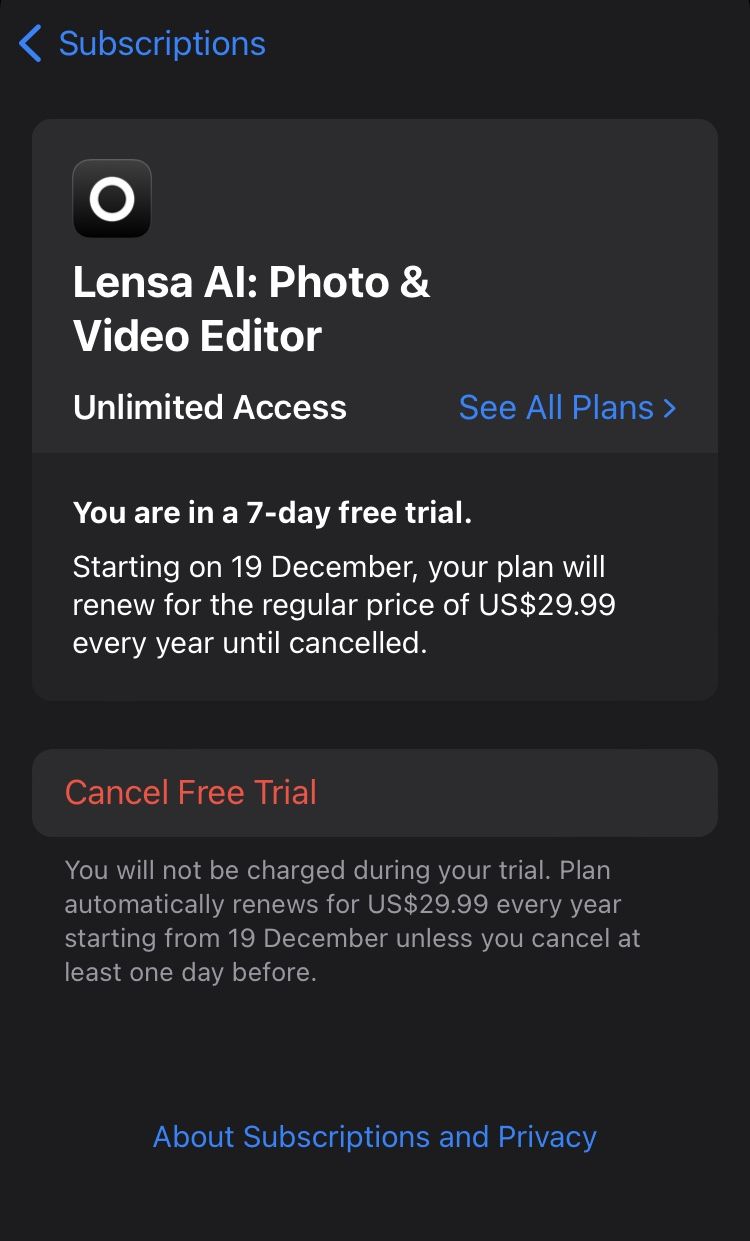 User Experience (UX)
This Lensa AI review also looked at user experience. We discovered that Lensa is a fun and exciting app mainly because of its magic avatar feature. Don't be surprised if you find yourself obsessed over Lensa as you generate one avatar pack after another. The app is also easy to use. Additionally, it comes with clear instructions and useful tips to help you get the best experience. The experience is smooth, with zero lags.
Features
Photo editing
Lensa offers a lot of editing tools to perfect your photos. Below are the tools you can utilize.
Magic retouch: This tool will make your face smoother. Moreover, it retouches the neck, removes eyebags, creates eye contrast, and refines eyebrows.
Blur background: Use this feature to blur out backgrounds or any objects you don't want in your photo.
Hair color: Do you want a punk look? If so, Lensa can facilitate: changing your hair color to purple or bright green.
Backdrop: If you have a sky backdrop in your photo, you can change it to any of the options the app provides. For instance, you can have a red sky if you wish.
Art styles: Convert your images into different art styles using the power of AI. The available art styles are retro, black and white, contemporary, cartoon, salty, dramatic, and landscape.
Filters: No editing app is complete without a filter. Lensa has a variety of them. If you can't choose, the AI will suggest a filter for you.
Borders: You can take your photo to another level by adding borders. Lensa provides several options to choose from.
Reset: You can reset your edited image to the original photo.
Redo and undo: Redo or undo your edits whenever you want.
Share: Share your edited photo via other apps.
Crop: Crop your selfie as you see fit.
Eraser: This tool permits you to remove any objects you don't want in your image.
You can edit photos by uploading them from your phone's photo gallery. Or, you can instantly take a photo using the camera icon located in the top left corner of the app.
Video editing
Besides editing photos, Lensa enables users to edit videos as well. Here's what you can do:
Add music: You can incorporate music in your videos on Lensa. The app will allow you to choose music from your iTunes library or files. Alternatively, it can extract audio from the video. Lensa has also made a variety of tracks available to its users. You can select them based on genre or theme.
Trim: You can trim parts of the video that you want to remove.
Filters: Select any of the available filters to make your video different.
Ratio: Change the ratio of your video to make it fit on any social media platform. For example, Instagram requires a video ratio of 9:16, while TikTok requires 1:1 or 9:16. Both ratios are available on Lensa.
Add a video or photo: You can add a photo or video to the video you're editing. It all depends on what you want to create.
Redo and undo: Use the convenient redo or undo buttons when editing your video.
Play your video: Edit your video while it plays. You can also pause it.
Reshuffle: If you have added several videos or photos, you can use the reshuffle icon to reorganize them.
Save: Tap the "Save" button to save your edited video to your device.
Magic Avatars
Avatars are images that look like you. Through the magic avatar feature, Lensa uses AI technology to produce magical avatars, drawing inspiration from your selfies. The type of AI Plasma Labs uses isn't perfect and can generate output images with defects and inaccuracies. That means some of the avatars you get may not 100% look like you. In fact, some avatars will look nothing like you and will be distorted.
Therefore, expect hits and misses. Prisma Labs claims that avatar packages with more variations are likely to give you better results. However, we got more accurate results with the 50-variation package than using the 100-variation one.
Magic avatars come in 10 styles. These are cosmic, focus, anime, pop, iridescent, kawaii (Japanese popular culture), light, stylish, fairy princess/prince, and fantasy. These styles may differ from user to user.
To illustrate, some users may get other styles like sci-fi, mystical, and superhero. Based on our experience, the kawaii category had the most inaccurate results. Nonetheless, we loved the avatars in the iridescent category for the 50-variation plan. The 100-variation plan had great results in the light category.
Usability
Lensa has a wealth of editing tools. It will meet most, if not all, of your photo and video editing requirements. This app is suitable for creating great content for Instagram, Facebook, TikTok, and Snapchat. However, you may require a different tool to edit images and videos to a professional level.
Privacy policy
Prisma Labs has a detailed privacy policy that every user should read. The document elaborates on the type of data Lensa collects, how it collects it, and how the company uses the data it collects.
Here are some key details every user should be aware of:
Prisma Labs claims that it deletes all the photos in its servers after generating your avatars.
The company may use the information you provide to train neural network algorithms, assess metrics like demographics, and improve Lensa.
Prisma Labs permits users to exercise their data protection rights. Hence you can email

[email protected]

to request data deletion.
Prisma Labs says it doesn't use face data for advertising and marketing purposes.
The company will collect your device model, IP address, email if you register, and other details, including the information you provide, like gender. Note that you can edit and create avatars without registering an account.
Prisma Labs collects information automatically, directly from you through the data you provide and via third parties — service providers that Prisma Labs uses to support its business. Such service providers may include cloud services like Amazon Web Services (AWS), professional advisors such as lawyers, and email delivery services.
Customer support
Prisma Labs only offers email support and no chatbot or anything similar. Nonetheless, we didn't find any occasion when one might need urgent assistance when using the app. Therefore, email support makes sense.
How to create avatars on Lensa
Here's a step-by-step process of creating magic avatars on Lensa:
Go to Google Play Store or App Store and search for Lensa.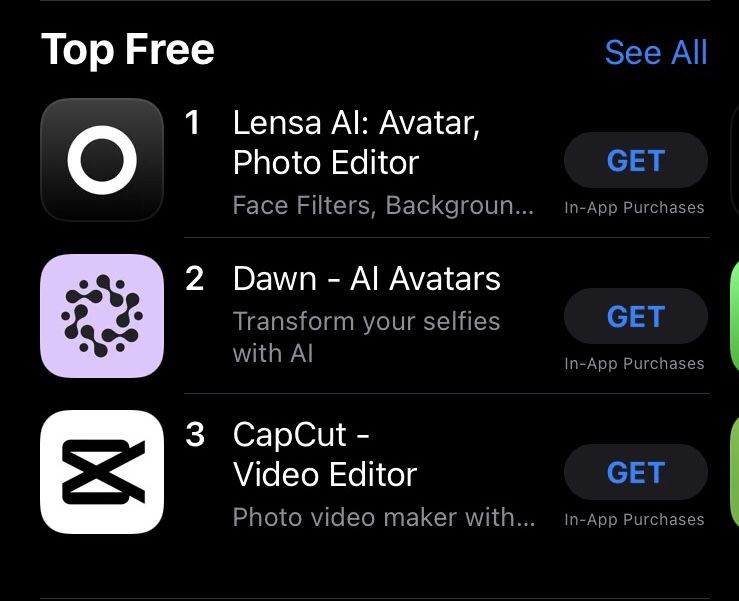 Download the app to your phone.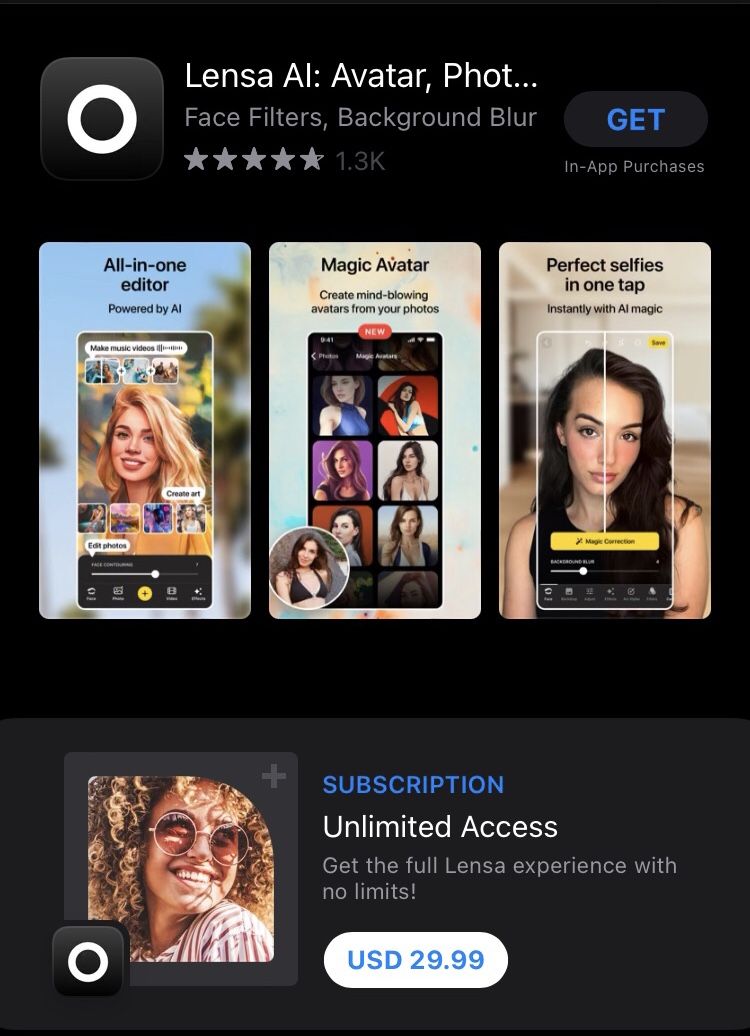 Once it's installed, open the app.
Check the privacy policy and terms and conditions box. We recommend reading these documents before getting started.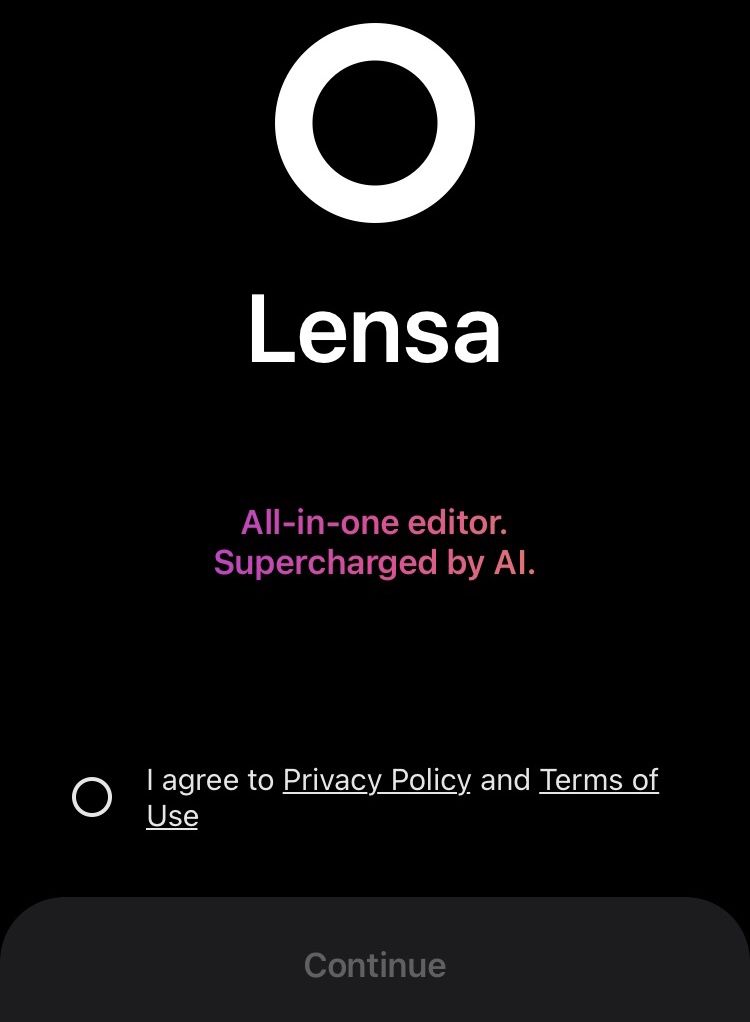 Tap "continue."
The app will take you through the features it offers. It will also give you a chance to try the app for free for seven days. This is a good option since you can cancel anytime.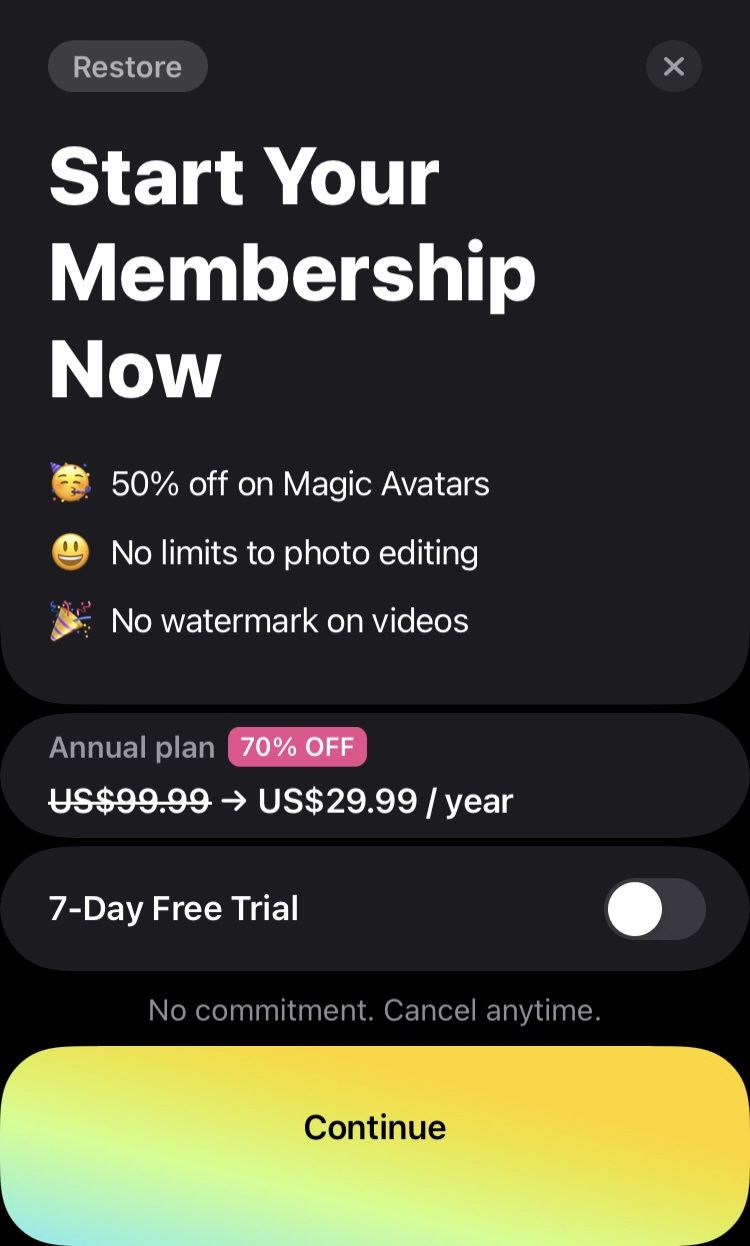 On the app's main interface, tap the yellow button labeled "Magic Avatars."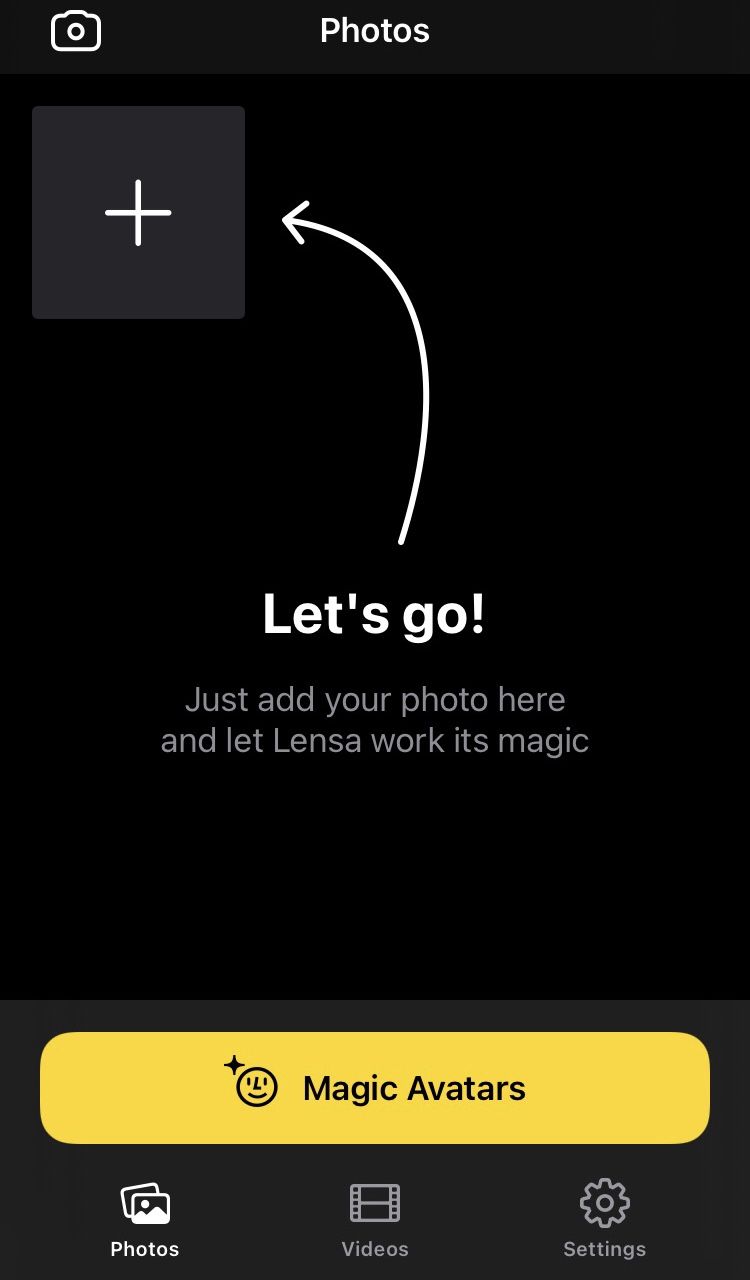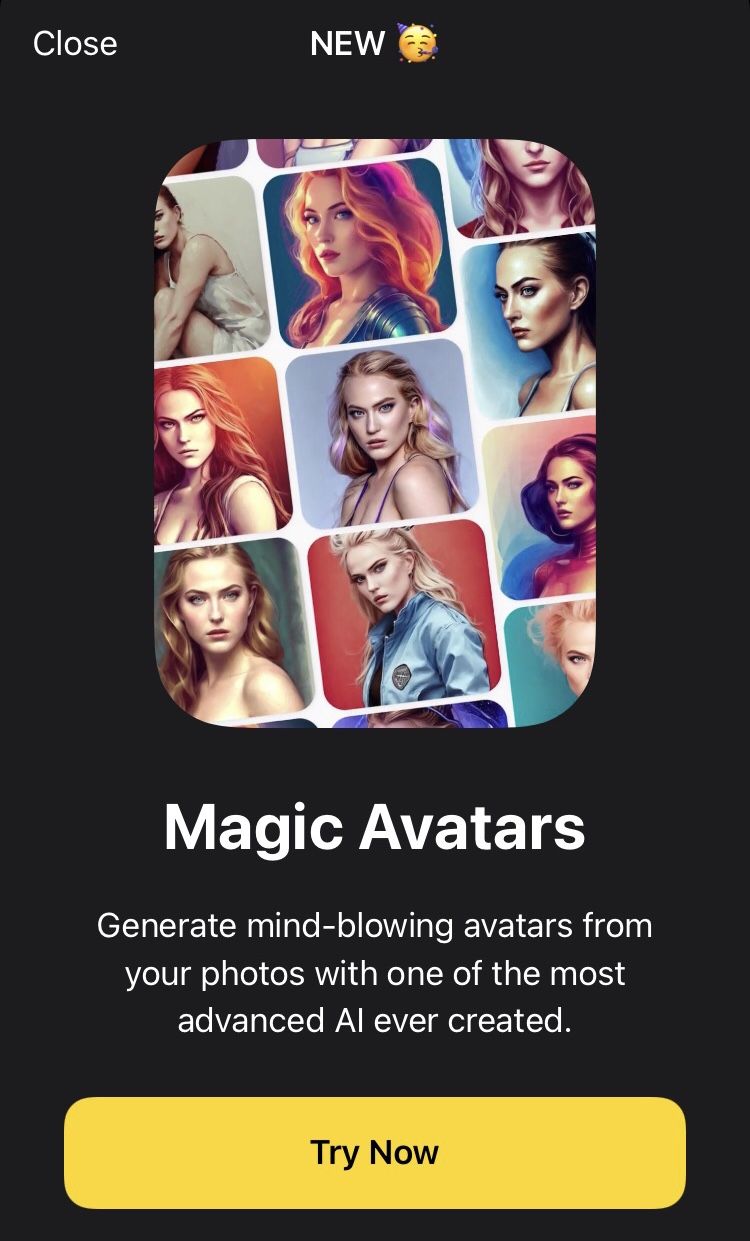 Lensa will take you through four steps. Carefully read the instructions in each step and then follow the prompts. In the second step, view the example of good and bad selfies before uploading your pictures. Examples of selfies you shouldn't upload are group photos, covered faces, nudes, images with children, selfie images with pets, and full-length pictures. Tap "select 10-20 selfies" to upload your images.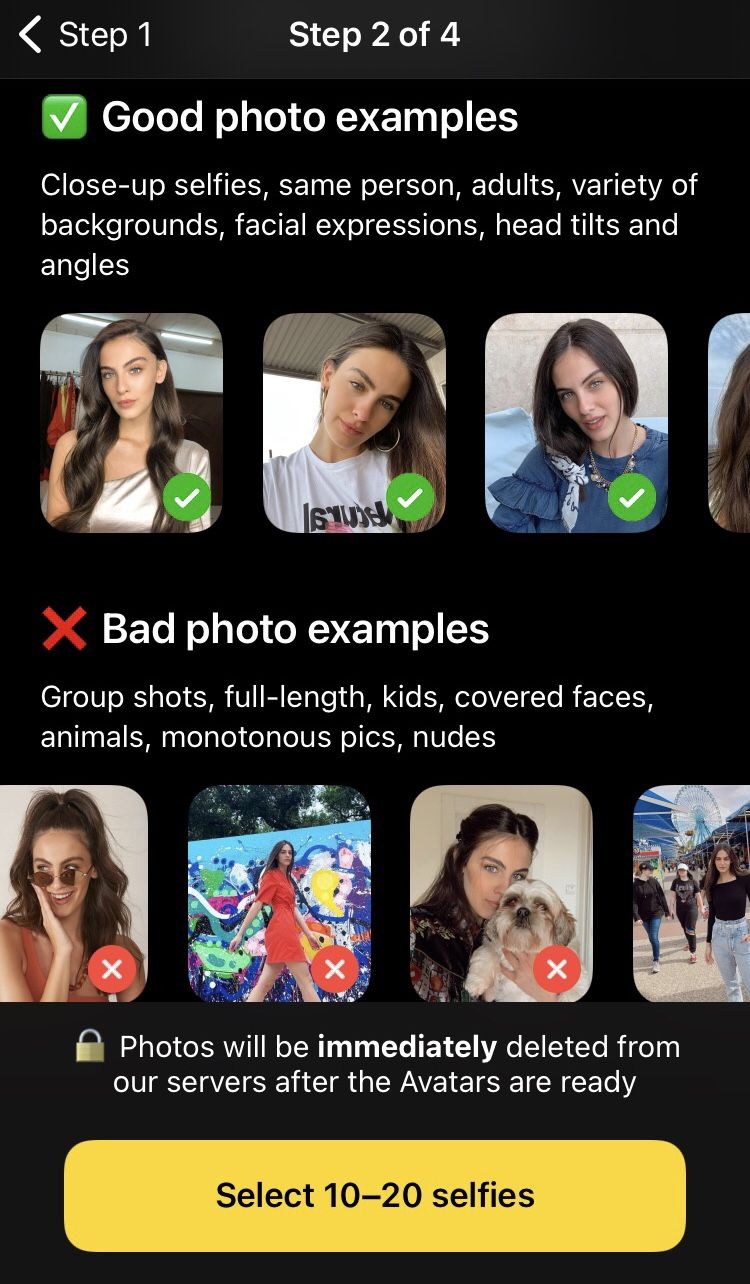 Wait for the app to import your photos.
Once the import process is complete, choose your gender.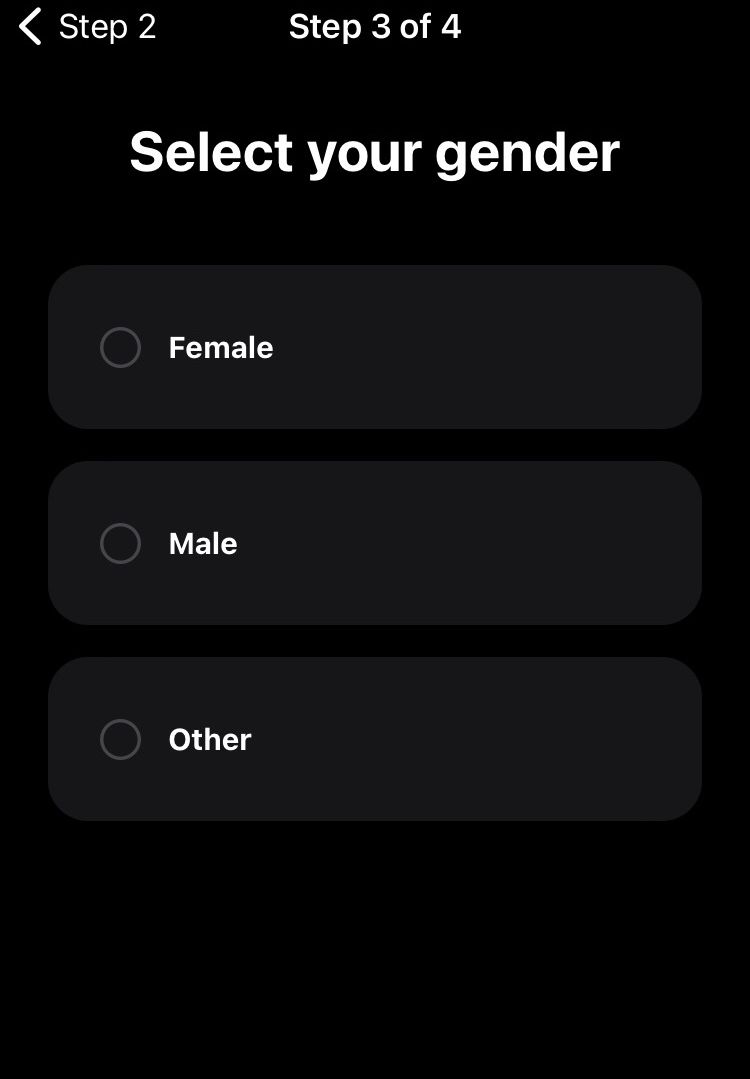 Next, select the avatar package you would like to buy.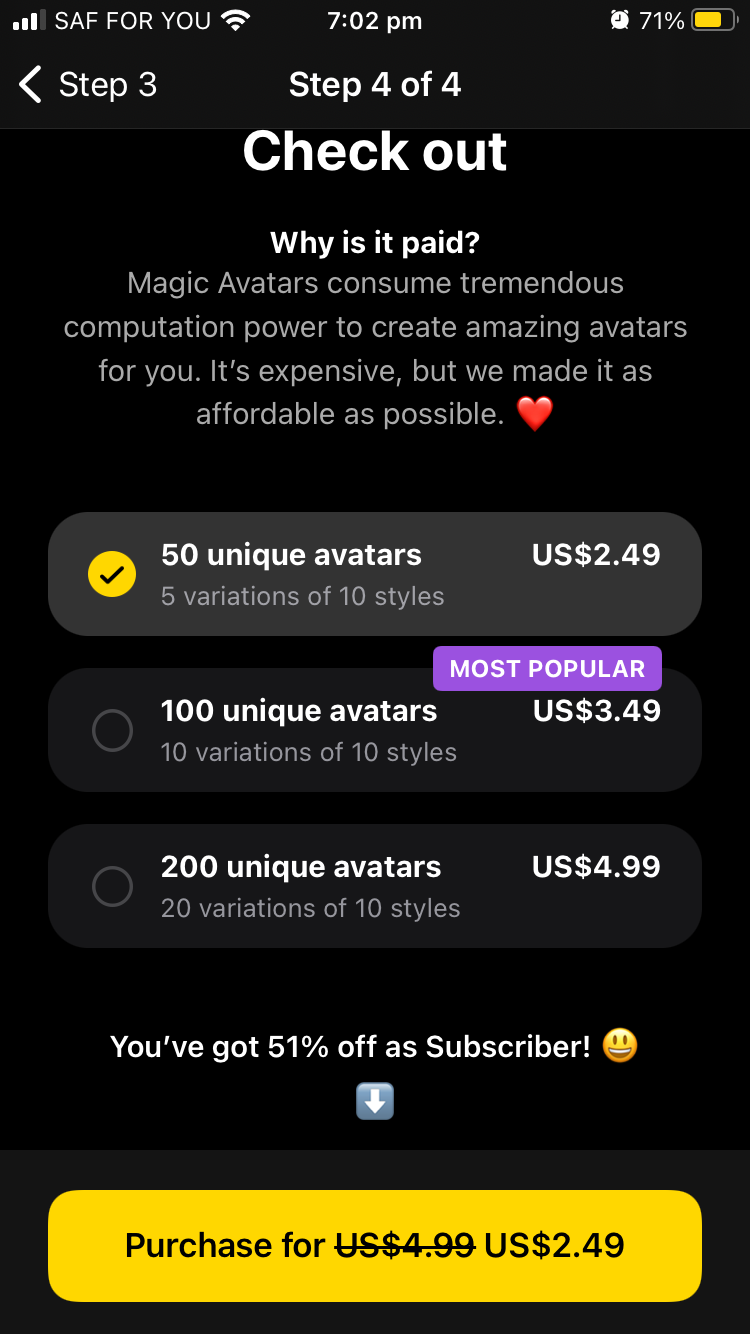 After making the payment, Lensa will start creating avatars based on your selfies. This will take a few minutes. Although it says 18 minutes in the image below, the process didn't last that long. You'll receive a notification once the avatar-generation process is finished.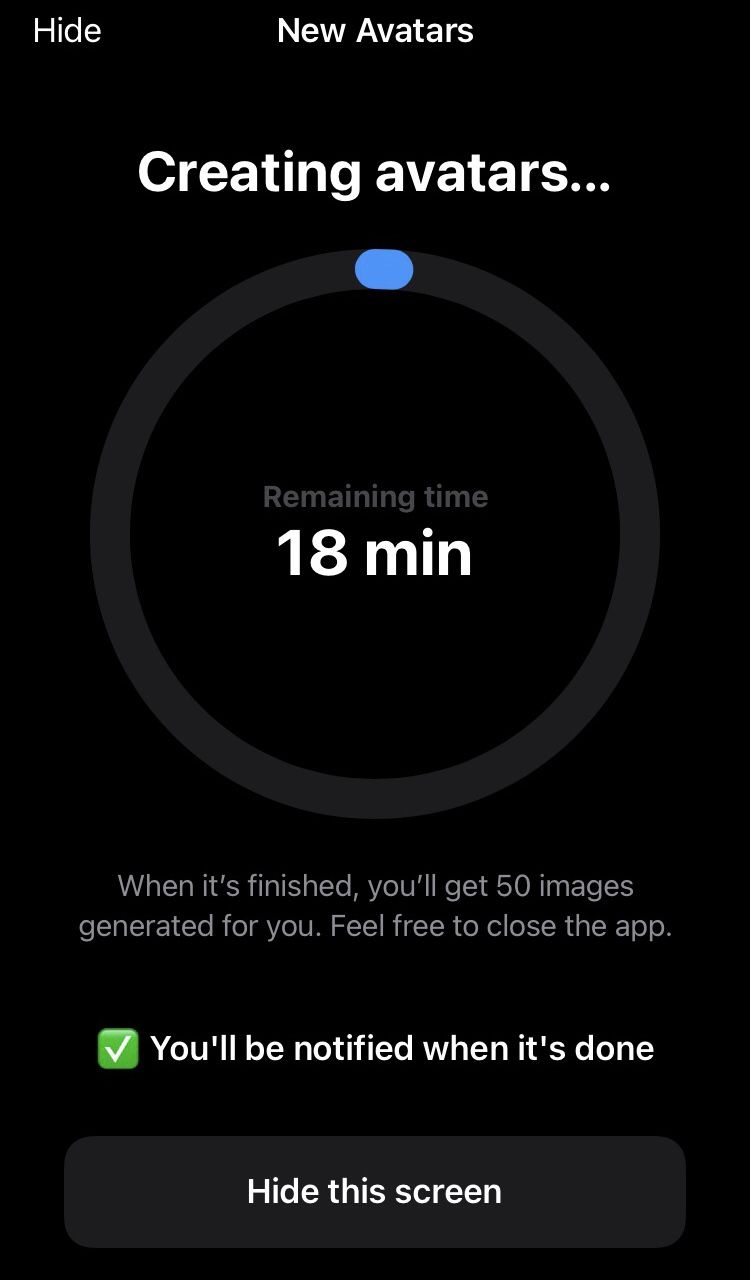 Open the app to view your avatar pack.
To save the avatars to your phone, tap "save all avatars." You can now show off all your cool avatars on your different social media channels.
After creating the first set of avatars, you can generate more avatars by tapping "create new avatars." You'll have to pay for the new set of avatars.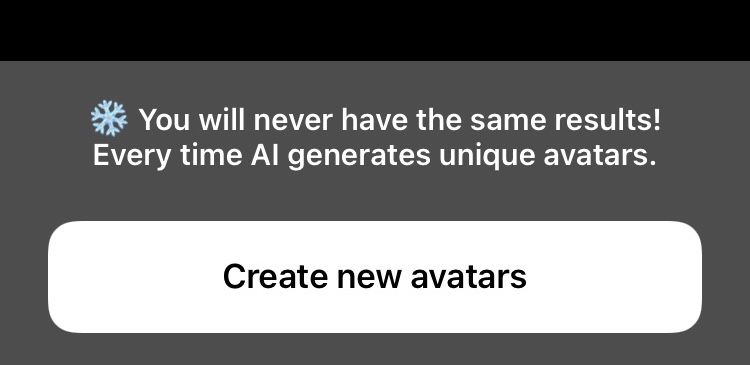 Lensa AI review: pros and cons
Pros
You'll never get the same avatar results.
Lensa provides a wide range of photo editing tools.
The app's AI generates avatars in minutes.
Lensa is easy to use, making it ideal for everyone.
The app is affordable.
You can take advantage of the 7-day free trial to explore the app before committing to a subscription.
At the time of writing, Lensa was offering a 70% discount on its annual plan and a 51% discount to produce avatars.
Lensa is suited for social media users that want fresh and flawless images and videos.
Cons
Some of the avatars you'll receive may not look like you. That said, Prisma Labs warns users about this in advance.
The more expensive avatar packages aren't worth choosing as they produce many inaccurate results.
Some artists have complained that Lensa is mimicking their artistic styles without permission.
We noticed some biases where selfies of dark-skinned people generate caucasian avatars.
Lensa AI review: assessing privacy concerns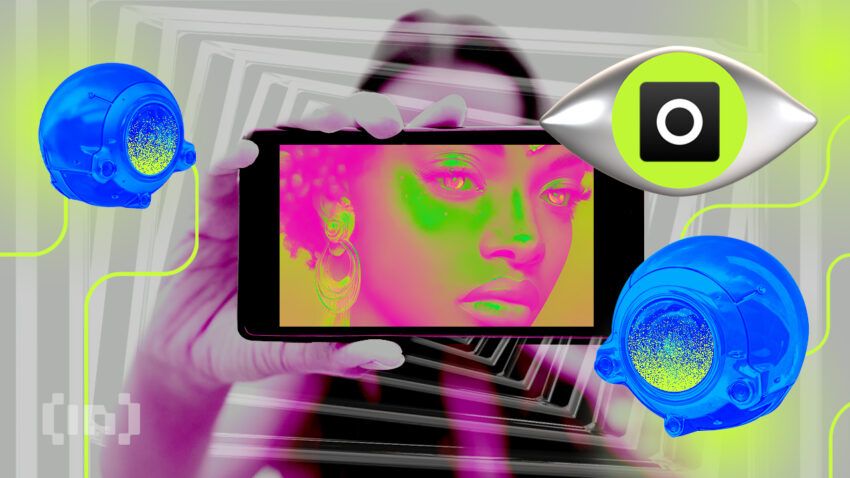 Since rising in popularity, privacy concerns have emerged about how Prisma Labs is utilizing users' data. Are users training facial recognition intelligence with their photos?
Prisma Labs says it automatically deletes photos and videos within 24 hours of being processed. Also, you can email [email protected] if you want the company to delete all the other information it collects. Still, it may take up to 90 days for Lensa to delete the personal information in its backup systems.
Lensa AI review: the verdict
We exhaustively used the app to build a comprehensive Lensa AI review. Here's how we rated it in every category:
| | | |
| --- | --- | --- |
| Category | | Comment | | Score out of 10 |
| User Interface | Clean and straightforward | 9/10 |
| Pricing | Affordable | 9/10 |
| User experience | Smooth and fun | 9/10 |
| Photo & Video editing | You can edit photos and videos with a wide range of tools | 9/10 |
| Usability | Does what it's meant to do | 9/10 |
| Magic Avatars | Cool, addictive, creative, and exciting | 7/10 |
| Customer support | Provided through email and more than enough | 8/10 |
| Data privacy | You can ask Prisma Labs to delete your stored personal data, but you have to trust them actually to do it. | 6/10 |
Overall, we're giving Lensa an average score of 8/10.
The app performs well as a photo and video editing tool. It also generates cool avatars that you can use to upgrade your social media accounts.
The inaccuracies and biases resulting from the AI-powered avatar generation process aren't a huge deal, since you still get a good number of usable avatars. Moreover, Lensa is a fun app; you shouldn't take it too seriously.
As for data privacy issues, they aren't limited to Lensa. Any app you use can expose you to data mining practices. So, you should be concerned about your data privacy while using such apps. That said, you can ask Prisma Labs to delete your stored personal information if you're worried about how the company might use it in the future.
Frequently asked questions
Do you have to pay for Lensa AI?
Yes, Lensa AI is a subscription-based app. However, it offers a seven-day free trial. Currently, Lensa's paid plan can be purchased for $29.99, on sale for 70% off it's annual set price (usually $99.99)
Who owns Lensa AI app?
Prisma Labs, a company based in California, owns Lensa AI. The company was founded in 2016, first launching the Prisma app, which has quickly become one of the most downloaded apps in the world.
What is the Lensa AI app?
Lensa AI is an app that generates avatars using artificial intelligence. It also provides tools for editing photos and videos. The app recently launched a 'magic avatar' feature which generates stylised portraits of users based on their selfies.
How much does Lensa app cost?
At the time of writing, Lensa's paid plan was $29.99, on sale from it's annual set price at $29.99 annually. The app comes with a one week long free trial for users who want to try it before committing to an annual plan, but generating avatars requires an additional fee.
How do I use Lensa AI app?
Install the app and then upload photos to create avatars or edit them.
Is Lensa free?
Lensa is only free during the trial period. However, avatar generation isn't included in the free trial. At the time of writing the paid annual plan costs $29.99, on sale from a usual price of $99.99.
Disclaimer
In line with the Trust Project guidelines, the educational content on this website is offered in good faith and for general information purposes only. BeInCrypto prioritizes providing high-quality information, taking the time to research and create informative content for readers. While partners may reward the company with commissions for placements in articles, these commissions do not influence the unbiased, honest, and helpful content creation process. Any action taken by the reader based on this information is strictly at their own risk.