Artificial intelligence (AI) is getting more prevalent in our day-to-day lives. From Alexa helping to keep track of your shopping list to using AI bots for customer service, there's no doubt that AI is here to stay. And now that we are used to smart home assistants like Siri and Cortana, it's easy to see how quickly this technology has grown over the past few years.
According to market research firm IDC, the global AI industry is expected to grow to $554 billion in revenue in 2024, up from $383.3 billion in 2021. Investors could possibly gain a lot from investing in these businesses. Here, we offer an overview of AI and list 9 of the best artificial intelligence stocks.
What is artificial intelligence?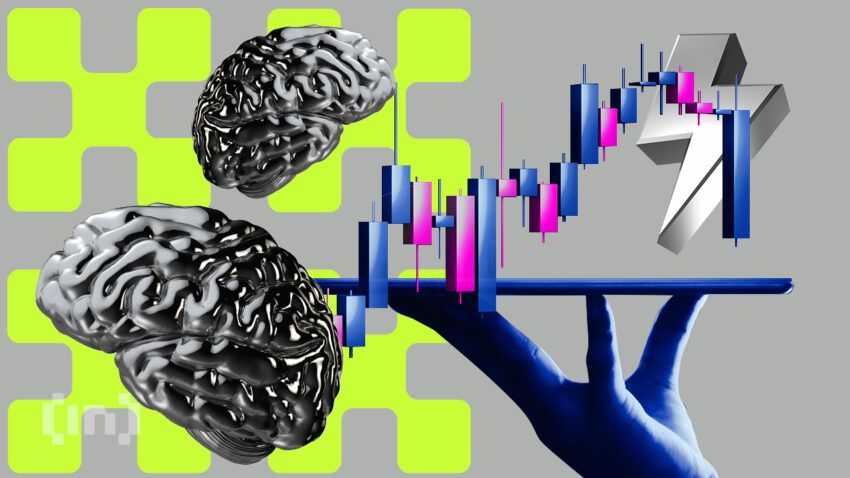 Artificial intelligence (AI) is a form of computer technology that allows machines to mimic human thinking and problem-solving. It can be used to automate tasks, such as identifying security threats in images or creating custom music playlists based on a user's preferences.
With machine learning, AI can adjust based on new information it collects over time. For example, an AI system could use machine learning to identify objects in an image after being shown thousands of pictures.
The benefits of artificial intelligence are broad-ranging. For example, It has the potential to reduce labor costs by automating repetitive tasks, improving efficiency, increasing productivity, and modernizing industries like healthcare, manufacturing, and transportation.
However, there are also risks when it comes to artificial intelligence. It may lead some people out of work due to automation. Furthermore, it may cause other issues involving privacy protection and cybersecurity if not correctly handled by businesses using the technology.
Top 9 artificial intelligence stocks to invest in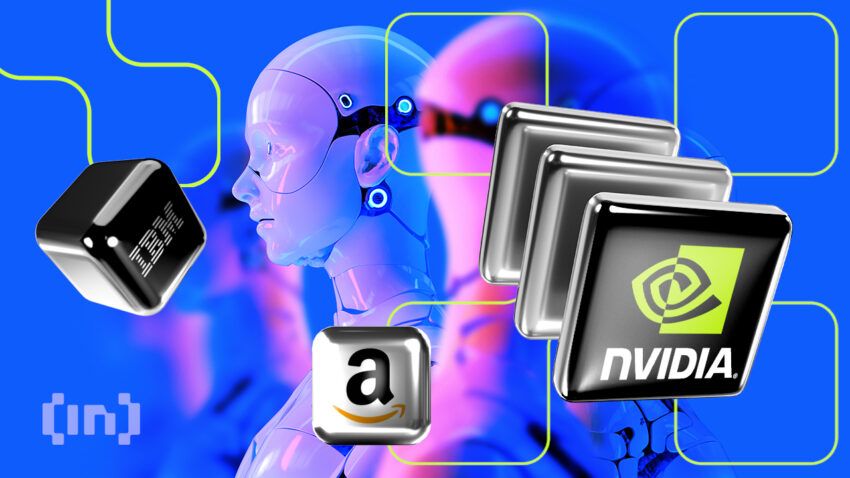 The following is a list of the 9 companies that are working with AI technology. It is by no means exhaustive, but it is a good place to start looking.
1. Nvidia (NVDA)
Available on: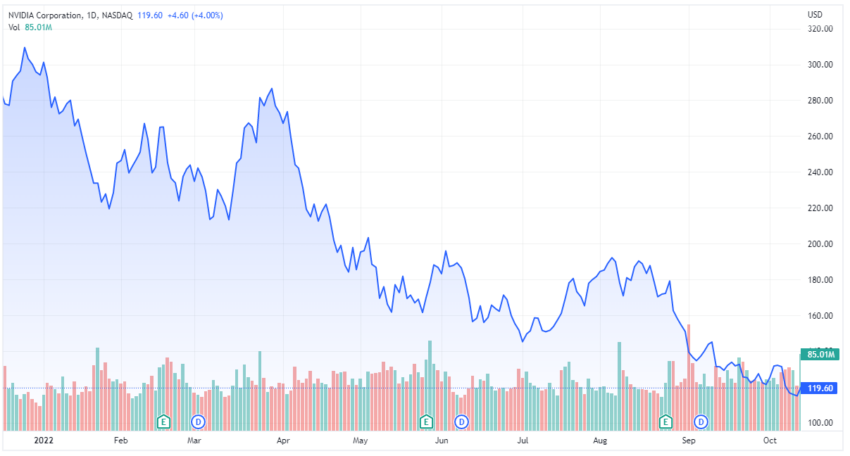 Nvidia is a graphics chip giant that has heavily invested in the AI market for years.
Nvidia's graphics chips are extensively used in everything from autonomous cars to supercomputers. The company has been a key player in AI research for years. In the third quarter of 2021, the firm reported total sales of $7.10 billion, an increase from the previous year's period.
The main reason why Nvidia stock might be good for investment is because of its extensive intellectual property. For instance, its portfolio is around silicon architectures, machine learning frameworks, and software development tools. Nvidia has a strong growth rate and a market capitalization of $297 billion as of October 2022.
2. International Business Machine (IBM)
Available on: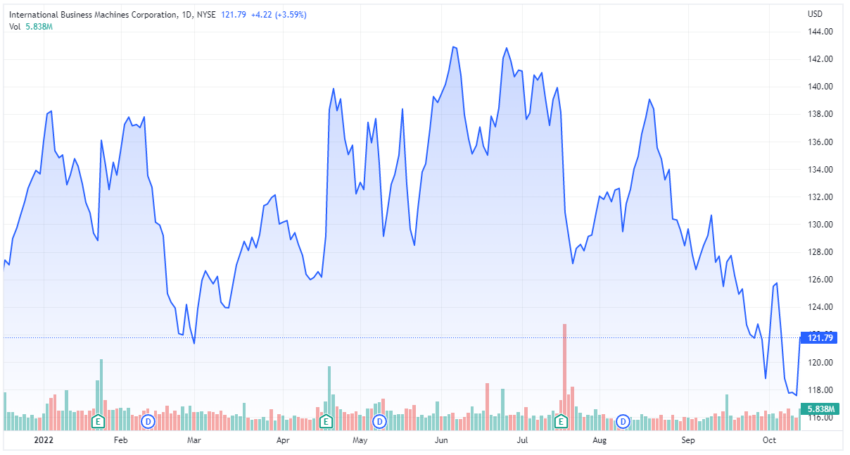 IBM has been in business since 1911, and it's now one of the most respected technology companies in the world. The company is known for its high-quality hardware, software, and services and its contributions to AI research.
In 2018, IBM's AI supercomputer Watson was used for healthcare purposes to analyze patients' medical records. Furthermore, AI can suggest treatments based on patient health history rather than just providing treatment options based on their symptoms alone.
In 2020, IBM corporation had a 13.7% market share, up 46% over the previous year. In the last quarter of 2021, IBM recorded a net income of $5.7 billion, an increase of 2.7% from the previous year. This is why you should keep IBM on your radar as a potential investment in artificial intelligence in 2022.
3. Amazon (AMZN)
Available on: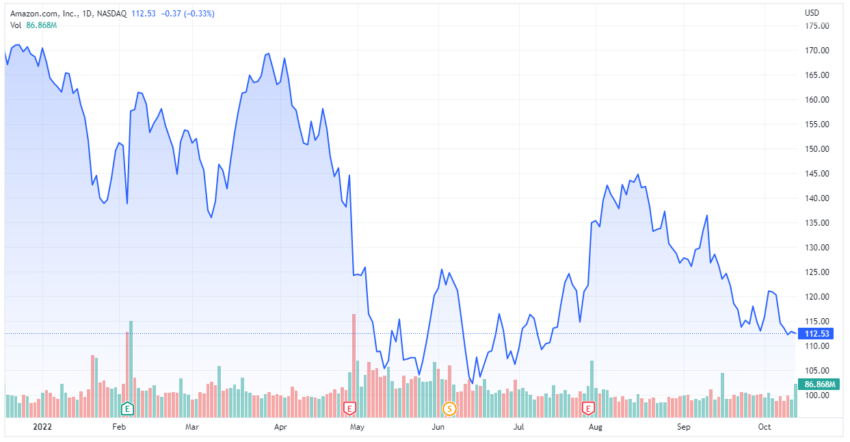 Amazon's offerings include Amazon Web Services (AWS). This cloud computing platform provides data storage, database services, analytics, and other functionality for large companies like Netflix and Spotify. It also offers on-demand web services such as content delivery network (CDN) storage and elastic load balancing service (ELB).
Amazon uses AI in its Alexa virtual assistant that can be used with its Amazon Echo home products. Another area where Amazon utilizes AI is in its advanced text analytics services offered through AWS Machine Learning. Its Lex software development kit (SDK) also offers chatbot creation services.
As part of the company's plan to expand into global households, it acquired iRobot Corp. for $1.7 billion in 2020, which seems to be working. In 2021, Amazon's total operational profits were $24.8 billion, with AWS contributing $18.5 billion (or 74%) of those profits. The second quarter of 2022 had a 7% increase in sales to $121.2 billion, compared to the second quarter of 2021, when sales were $113.1 billion.
4. Microsoft Corporation (MSFT)
Available on: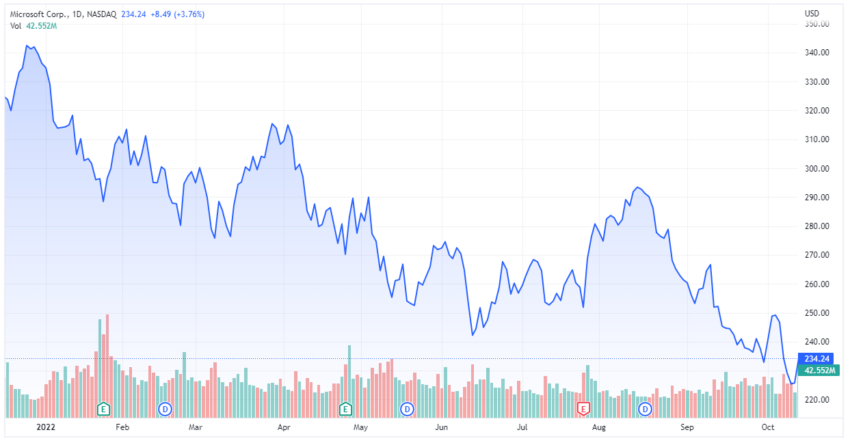 Microsoft Corp. (MSFT) is one of the largest companies in the world, and it has been at the forefront of using AI for health, humanitarian, and cultural problems.
In 2019, the company announced a new supercomputer with an investment worth $1 billion, hosted on Azure, its cloud computing software. The supercomputer is intended to help developers and organizations run AI apps.
Microsoft has also collaborated with TikTok parent company ByteDance for a project known as KubeRay. This project will help companies run AI apps more efficiently as a free, open-source container management system.
Microsoft's financial statistics for the third quarter of 2022 showed that the business had sales of $49.4 billion and a net income of $16.7 billion, which were significantly higher than analysts' projections. Microsoft has been at the forefront of using AI for health-related problems and humanitarian efforts like disaster relief; investing in this type of company feels good.
5. Alphabet (GOOGL)
Available on: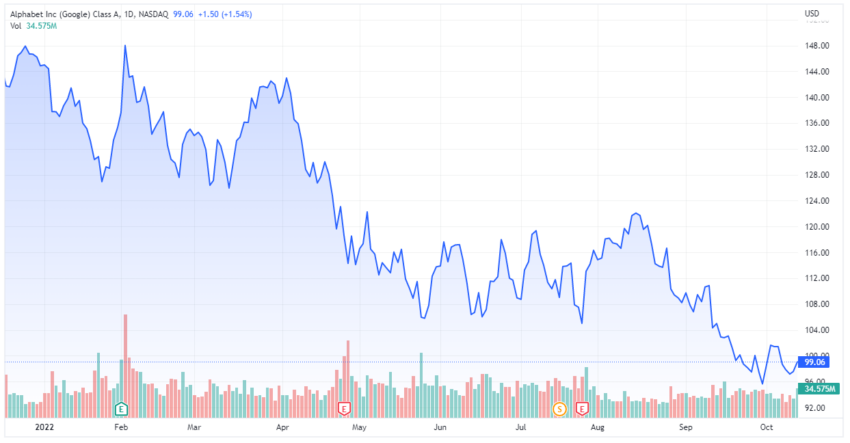 Alphabet Inc. is one of the most promising companies in the world of artificial intelligence. It's one of the first companies to focus on machine learning and has used AI for ad pricing, filtering Gmail spam, and content promotion.
The stock price for Alphabet Inc. has increased 131% in five years. This price increase is because of the company's commitment to AI research and development. It includes major projects such as Waymo, an automation vehicle company, and DeepMind.
As part of the DeepMind project, researchers and engineers have come up with versatile learning algorithms that companies can use in neuroscience and machine learning. In 2020, Waymo was the first to introduce a driverless taxi, making it possible for people who don't have access to cars to get around town.
6. Meta Platforms (META)
Available on: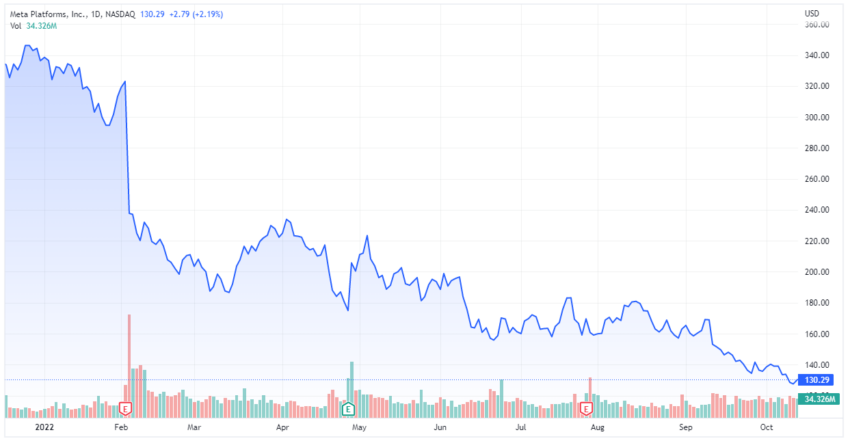 The parent company of Facebook, Meta Platforms Inc., has increased its focus on virtual reality products. This is just one example of how they are applying AI technology to create a world where users can interact in a digital environment. They call this world "Metaverse."
Meta has implemented AI technology in its advertising algorithms and news feeds. They also use AI for deepfake detection by tracking their origin using reverse engineering and identifying objects in videos. This is done through neural networks to ensure your watching videos are real.
In addition, Meta has announced a year-over-year 7% growth in the first quarter of 2022, though it's the slowest rate in over ten years. Despite this, analysts still hope to keep Meta at the top as the company to watch for buying stocks in 2022.
Recently, Meta launched a SuperCluster, a supercomputer. According to critiques, it is the world's most powerful supercomputer ever made. As a result, artificial intelligence models can learn from vast datasets, translate across dozens of languages, and detect potentially offensive images, texts, and videos using combined analyses.
7. C3 AI (AI)
Available on: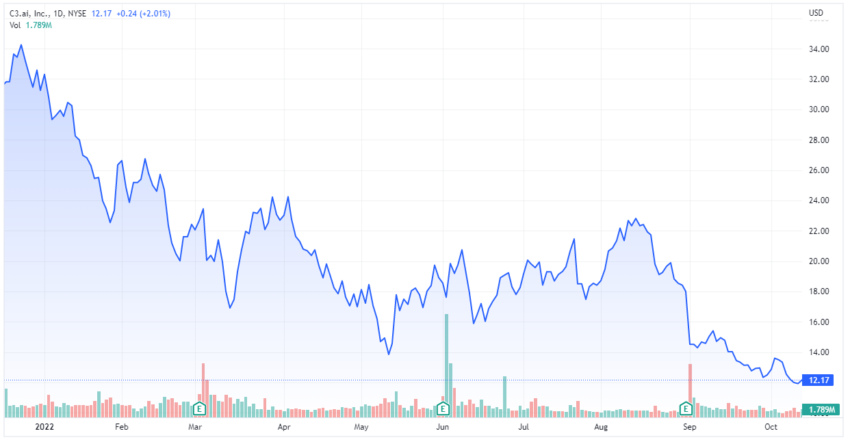 C3 AI is an AI software provider that develops AI algorithms to help organizations with their operations. It is based in California and offers CRM solutions to government organizations worldwide.
As a result of their experience, the Department of Defense signed a $500 million contract with C3 AI for five years. In 2022, C3 AI will be expanding AI-powered services. It serves 14 industries, including manufacturing, life sciences, financial services, agriculture, and health care.
Although it's a young company, it could be one of the best stocks to consider. During the second quarter of 2022, the company's revenue grew by 41% compared to the previous year's revenue, which was $58.3 million.
8. SentinelOne (S)
Available on: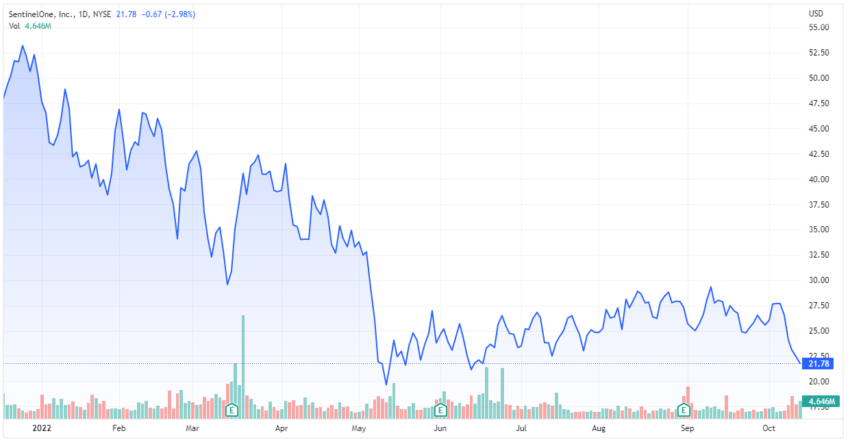 SentinelOne is a cybersecurity company, but it is not just any old cybersecurity company. It offers both cloud-native cybersecurity and on-premise for companies. In the first quarter of fiscal 2022, the company saw a significant jump in revenue to $204.8 million from $172.2 million in the same period last year.
SentinelOne's AI is used in healthcare, finance, and automotive areas by its biggest clients Electronic Arts (EA), Autodesk, and Sysco Corporation (SYY). The number of clients increased by 75% year on year to more than 6000 in the third quarter of fiscal 2022.
9. Palantir Technologies (PLTR)
Available on: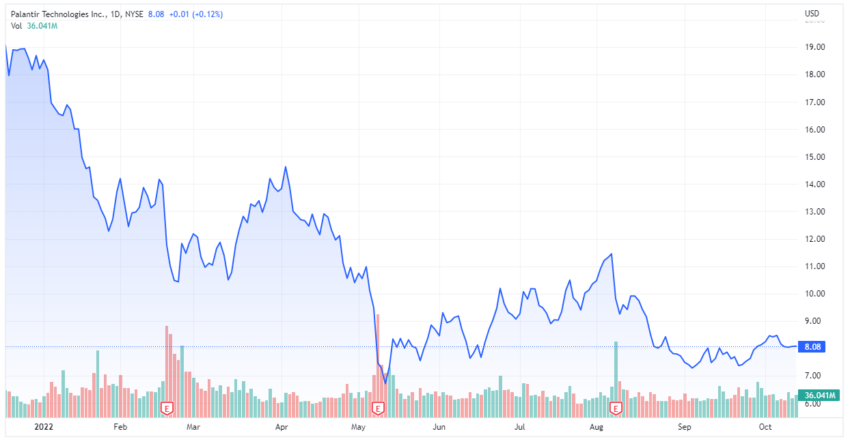 Peter Thiel founded Palantir, a data analytics firm, in 2003. The company specializes in data mining and leverages big data for private companies and the government. The company provides analytics and insight for a wide range of clients. It also has a partnership with Dewpoint Therapeutics biotech firm for drug discovery.
Palantir is a hotbed of artificial intelligence, and it's not just because its name sounds like the word "palladium." The company provides analytics and insight to many clients, including the CIA and other government agencies.
The company's Gotham platform mines for the government, while Foundry mines data for enterprise clients. Interestingly, Palantir also manages Apollo, which utilizes AI for space exploration. In fact, Apollo edge AI has AI software, PLTRS Meta-constellation technology for expanding satellite constellation and launching AI in space.
Palantir reported an increase of 41% in revenue in the fourth quarter to $1.54 million at the end of 2021. In Q3 2021, the company reported an increase of 36% year over year in revenue to $392 million.
Artificial intelligence stocks could pay off greatly
The AI industry is very early in its life and has plenty of potential for growth. The biggest companies on the planet are using the technology in their products. As more funding enters and more breakthroughs occur, the growth of artificial intelligence stocks will only accelerate.
The list we have described above is a good place to start if you want to invest in AI stocks. Expect a lot more growth in this field in the years to come.
Frequently asked questions
What is the best AI stock?
Is AI stock a good investment?
What company is the leader in AI?
Disclaimer
In line with the Trust Project guidelines, the educational content on this website is offered in good faith and for general information purposes only. BeInCrypto prioritizes providing high-quality information, taking the time to research and create informative content for readers. While partners may reward the company with commissions for placements in articles, these commissions do not influence the unbiased, honest, and helpful content creation process. Any action taken by the reader based on this information is strictly at their own risk.