Blockchain gaming is the latest craze in the crypto space. Now more than ever, game enthusiasts can take their passions to a new level. Monetization of assets is a widely attractive and desirable in-game benefit. Put simply, the introduction of decentralized games, such as Guild of Guardians, has enabled people to earn money as they play. Clearly, this represents the next gaming frontier, bringing an innovative perspective to RPG as players battle for actual earnings. But what's it like to play, and how easy is it to earn money? This Guild of Guardians guide takes a sneak peek into the dungeons. Here's what you need to know about the P2E game and its native token, $GOG.
Want to get all the hottest news and reviews on the best crypto projects? Join BeInCrypto Trading Community on Telegram: read news, discuss play-to-earn games, ask for technical analysis on coins and get answers to all your questions from PRO traders & experts! Join now
What is Guild of Guardians?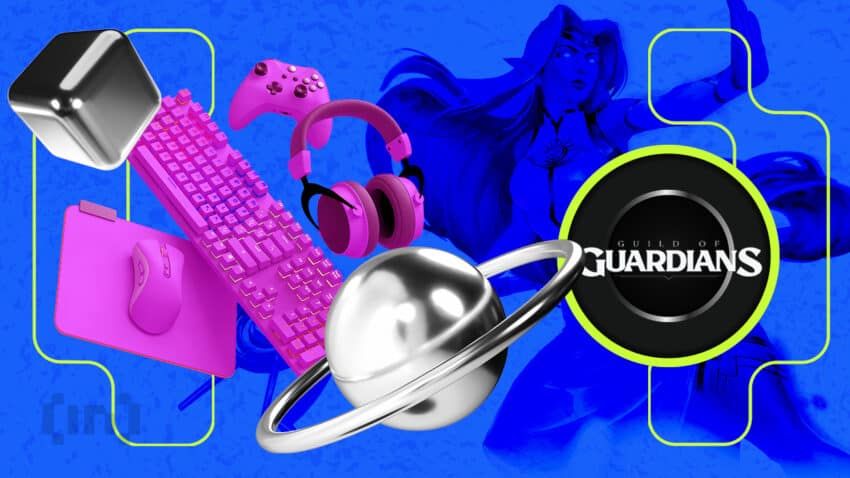 Guild of Guardians is one of the most talked about forthcoming play-to-earn (P2E) and NFT role-playing games. Currently only a demo, Guild of Guardians is set to be released on mobile only. The game promises a new dimension to NFT gaming with high-quality graphics and mechanics. It blends fantasy and action to produce an otherworldly experience. Furthermore, GOG players build a dream team of "guardians" while competing in guilds and earning tradeable rewards in NFT form.
Guild of Guardians guide: Gameplay
The Guild of Guardians play-to-earn feature allows players to engage in battles and trade NFTs with their customizable characters. The higher the character's level, the more monetary value is accrued. To get started, users choose the hero guardian they want to play based on their desired strategy. Each hero possesses unique abilities that will affect the way they play. After the hero (or heroes) is chosen, the player will join a guild. A dungeon of traps, frightful monsters, and endless threatening creatures await.
As the game progresses, upgrades will be available to give your character that extra edge. These will take the form of equipment, currencies, or resources. The type of guild a hero belongs to, along with the player's skills and elemental synergies, determines gameplay success.
Guild of Guardians token ($GoG)
The game's native utility tokens are the Guild of Guardian Gems ($GOG), which serves as both the ecosystem's currency and governance token. The token ranks at #453 on CoinMarketCap and currently sits at a price of $0.0852. $GOG currently has a market capitalization of $26,412,107.
Circulating Supply: 310 million
GOGs made from NFT minting fees in-game are allocated to a rewards pool. The token can also be used for staking and earning active rewards.
Token uses
Staking: Tokens can be staked to receive $GOG rewards, but active participation in the Guild of Guardians ecosystem is required.
Payment: $GOG acts as the main currency within the game, and new NFTs can only be minted using it. The token can also be used to trade NFTs in the NFT marketplace.
Governance: Token holders participate in community decisions, proposals, and game decisions.
Distribution
GOG aims to have a strong, active community, evidenced by the tokens distribution model.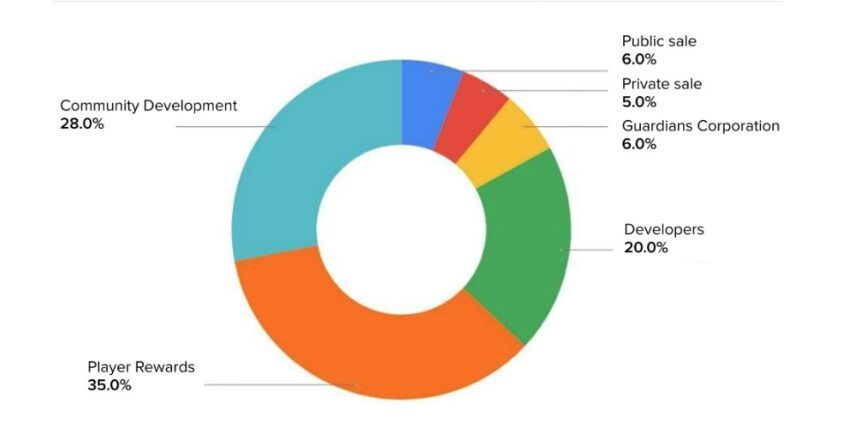 35% Player rewards (will unlock over 48 months following the launch date)
28% Community development (will be held in a discretionary rewards pool)
20% Developers (will unlock over 48 months with a 12-month cliff)
6% Guardians corporation (remaining will unlock over 48 months with a 12-month cliff)
5% Private sale (will unlock over 30 months with a 12-month cliff)
6% Public sale
Price history and predictions
On Dec. 22, 2021, GOG experienced its first peak when it reached its all-time high of $2.78. From there, we see a continued downward trend. A brief momentum was reached in April when the price hit just over $0.50 before retreating. GOG experienced its lowest price on November 14, 2022, at a price of $0.08. By applying AI-assisted technical analysis, price predictions are expected to hit $0.09 in 2023 and about $0.19 in 2025.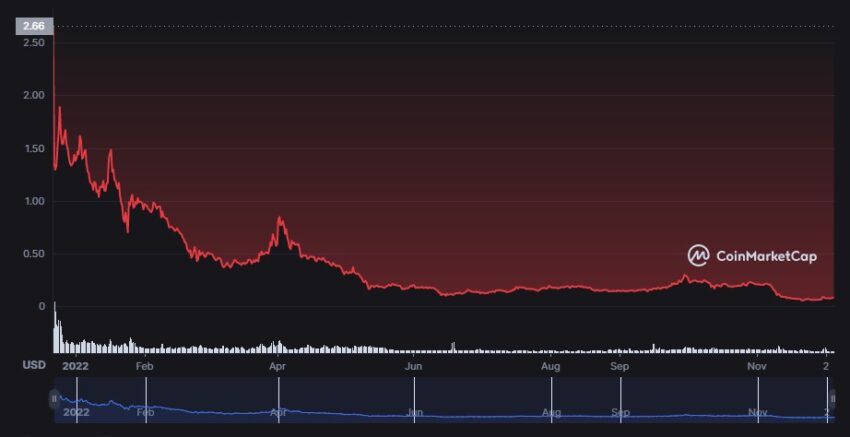 Guild of Guardians guide: Where can I buy and trade $GoG?
$GOG can be purchased on either OKX or the SushiSwap decentralized exchange (DEX). If using OKX, you can purchase with a credit card or by sending funds to your account wallet. Then, trade the OKX currency pair you choose in the marketplace. However, for Sushiswap, you must buy Ethereum first and connect your Ethereum wallet to the exchange.
Can you really earn money playing Guild of Guardians?
There are a number of ways a player can earn rewards while playing. Users can craft guilds, merge heroes to produce stronger versions, complete daily quests, and ace the leaderboard. To earn rewards in the game, a player can:
Merge heroes to sell: A player can merge a hero with another, which will also merge the traits of both characters. If two heroes are rare, for example, it can translate to a rarer type, adding more value to them.
Trade items: Guilds sell crafted items in the marketplace, and the proceeds are shared amongst the guild players who contributed to the items.
Daily playing: Daily playing will help generate more GOG tokens for a player. These tokens can then be traded for cash on the marketplaces.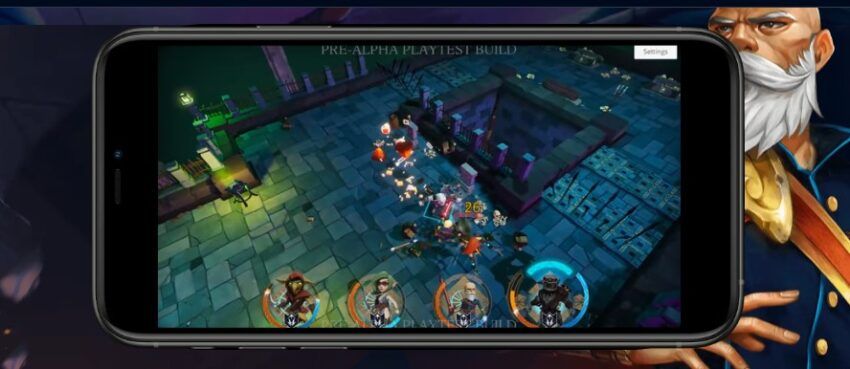 Guild of Guardians guide: NFTs
The NFTs generated in the game are ERC-721 assets designed on the Ethereum blockchain. The Immutable X layer-2 protocol assists in the transaction cost and speed. NFTs are sold as hero summons, energy boosters, pets, crafting tools, and more, depending on the gameplay and characters. Further, legendary heroes are sold on the marketplace as NFTs. Each possesses its own rare feature, while the energy boosters and pets improve your hero's abilities in the game. The NFTs are sold out on the Guild of Guardian website. However, you can purchase them on a secondary marketplace such as Immutable X or Tokentrove. Once the game is released, players can sell their NFTs on the marketplace.
Who made Guild of Guardians?
Immutable X is the company behind the Guild of Guardians game. It is a layer-2 scaling solution for the Ethereum network that helps facilitate a gas-free NFT ecosystem. Besides providing better scaling solutions for blockchain gaming, Immutable X also features a marketplace where players can trade their NFTs. Further, the Ukrainian developer studio Stepico Games is working alongside the team, which boasts more than 50 top developers and artists.
According to the GOG whitepaper, more than 20 members, all with backgrounds in game development, are currently working on GOG. Moreover, a number of significant industry players have partnered with the Guild of Guardians project. These include Blockchain Game Alliance, Ubisoft, Sandbox, and Yield Guild.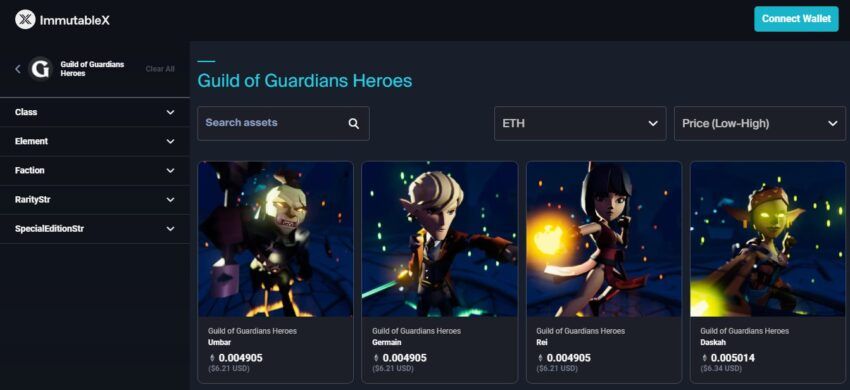 Guild of Guardians delayed release and waitlist
Initially set to launch in early 2022, the official date has been postponed to the second half of 2023. However, a beta mainnet is set to be released in the first half of 2023. According to Guild of Guardians, the reason for the delay is that they aim to improve elements of the game further, simultaneously obtaining valuable feedback from the community. In addition, they stress the unpredictability of web3 technology. Currently, over 500K gamers eagerly wait for the launch on the GOG's waitlist, which certainly adds a bullish sentiment to the project. With $4.6 million worth of revenue already made from guild NFT sales, their future looks promising.
What can we expect from the Guild of Guardians launch?
According to the GOG whitepaper, the team plans to implement additional features to the project's roadmap after its launch. This includes user-generated dungeons, guild raids, PvP, metaverse expansion, eSports tournaments, and more.
Here's what we know so far about the game's roadmap:
Q1-Q2 of 2022: pre-alpha gameplay with limited features
Q3-Q4 of 2022: alpha gameplay with limited features; blockchain interaction
Q1-Q2 of 2023: beta gameplay with core features
Q3-Q4 of 2023: full game launch
Guild of Guardians guide: the play-to-earn game sets high standards
Blockchain gaming allows players to earn money while doing something they're passionate about. Moreover, with the help of Immutable X, Guild of Guardians shows that scalability can be achieved in the gaming world. With 500,000 people on the waitlist and strong partnerships supporting the project, GOG is offering a window into the future of gaming. It's clear that even before its launch, Guild of Guardians has set a standard for NFT role-playing games. What's more, the future for $GOG remains bullish long-term. We're looking forward to tracking the game and token's progress as the rollout commences.
Frequently asked questions
How to invest in Guild of Guardians?
You can invest in Guild of Guardians by buying the game's native token (GOG) on a decentralized exchange. In addition, you can start investing early by purchasing time-limited heroes, pets, guild tokens, or energy boosters on their website before the launch. Keep in mind that many of these items are already sold out.
Is Guild of Guardians free to play?
Yes. Once the game launches on mobile, players will be able to play for free and earn items without spending money. So, users can earn Gems for free just by playing the game. The project's overall economy will be backed by NFTs and tokens.
Can I play Guild of Guardians on mobile?
Yes, the game will only be available on mobile. When released, users will be able to play Guild of Guardians on both iOS and Android. Perhaps in the future, the project will feature desktop and browser versions. Read our Guild of Guardians guide to learn everything you need to know about the heavily anticipated P2E game.
Can you play Guild of Guardians now?
No. Guild of Guardians is set to launch in 2023. The GOG team delayed the game's anticipated launch in 2022. Currently, you can be added to the GOG waitlist which is already over 500,000 people strong.
How long is the waitlist for Guild of Guardians?
The Guild of Guardians launch was set for 2022. But that  has now been postponed until 2023. The reasons given by the project team indicate a desire to improve the game's gameplay elements and obtain more community feedback.
Is Guild of Guardians worth waiting for?
Both technical and social indicators indicate a bullish forecast for the project. Due to the number of people on the waitlist, a lot of hype surrounds the game, which could translate into more value. GOG has already collected $4.6 million worth of revenue from guild NFT sales. By all accounts, players who enjoy RPG strategy and P2E games should be looking forward to the GOG launch.
Disclaimer
In line with the Trust Project guidelines, the educational content on this website is offered in good faith and for general information purposes only. BeInCrypto prioritizes providing high-quality information, taking the time to research and create informative content for readers. While partners may reward the company with commissions for placements in articles, these commissions do not influence the unbiased, honest, and helpful content creation process. Any action taken by the reader based on this information is strictly at their own risk.