If you're in the cryptocurrency space, it's vital to stay up to date with everything going on at all times. However, checking dozens of websites a day trying to find legitimate news is a daunting task. Fortunately, there's a solution in the form of crypto news aggregators.
Table of contents
This list will describe the top crypto news aggregators for you to follow.
CryptoPanic is a minimalist crypto news aggregator that actually looks pretty similar to Reddit. The website breaks down news into various categories, such as media (video) news, blogs, or simply news websites.
Posts that have the most upvotes rise to the top, as well as the top comments on each one. The site also contains a polls category that anyone can comment on, with user-generated pools as well.
Interestingly, you can link your cryptocurrency portfolio to the website, allowing you to track your assets while you browse the news. Otherwise, the platform is entirely open-source, meaning anyone can dig into the API and contribute new ideas to customize their CryptoPanic experience.
Finally, there's Linkhunt. This is a space for sharing what users claim to be the most important stories and news in crypto. Overall, CryptoPanic is one of the most popular news aggregators and for good reason. It features no distractions, emphasizing the important information so we can all become informed traders.
CryptoGoat is a blockchain news aggregator pulling from various sources to act as the perfect information hub. The platform almost achieves this, as it lists articles from reputable sites like CoinTelegraph, U.Today, and BTC Manager.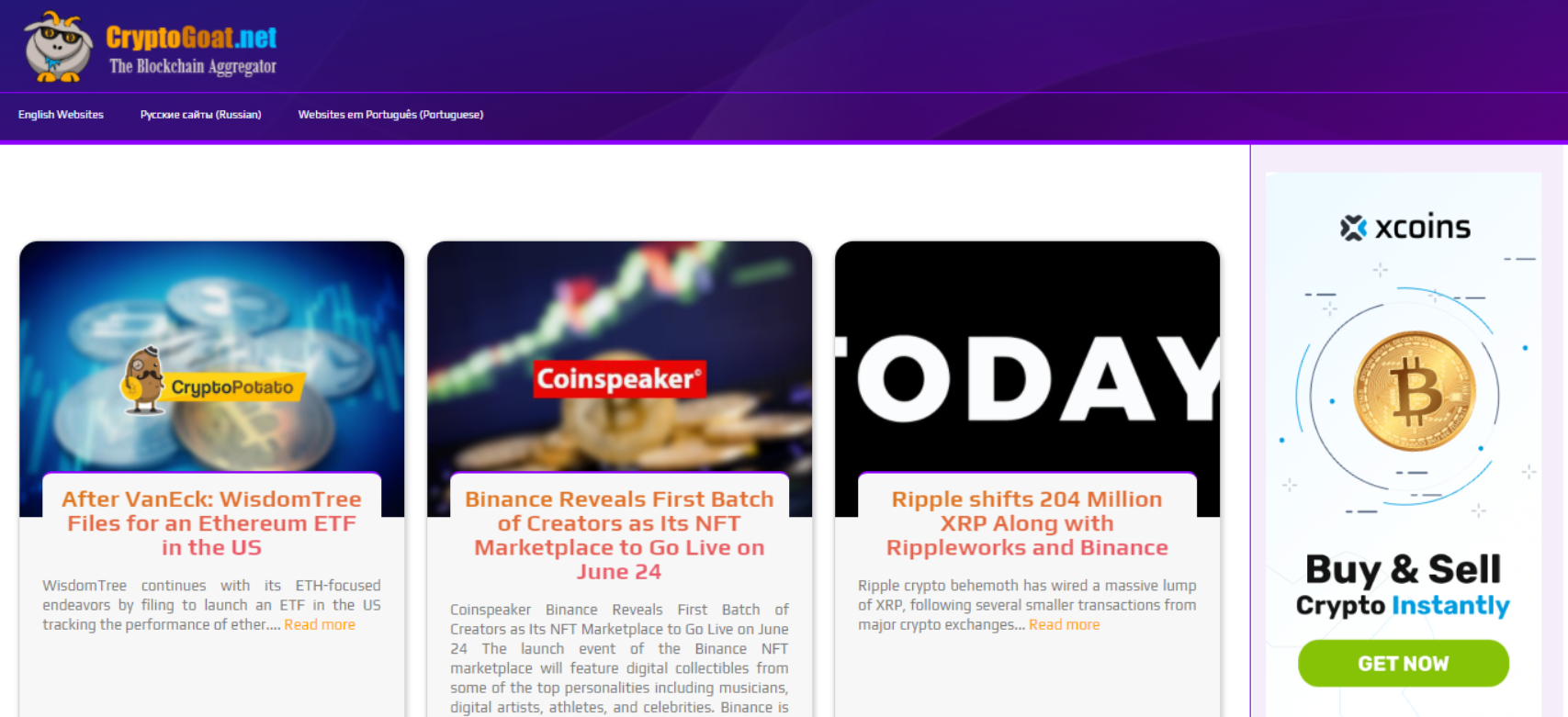 That said, make sure you only click on links from reliable websites. There are a few on the list that aren't very dependable, so pay attention to the listings. Unlike CryptoPanic, CryptoGoat is a great platform for those who don't want user interaction. There isn't a comment or voting system, for instance. News is organized based on its time of publishing.
Unfortunately, there aren't any category or tags systems either. Instead, CryptoGoat tends to focus on an overall image of the cryptocurrency space rather than allowing users to pick and choose their stories.
CoinSpectator is more similar to CryptoPanic than it is to the other type of aggregators. It's also minimalist, though it portrays information a little differently.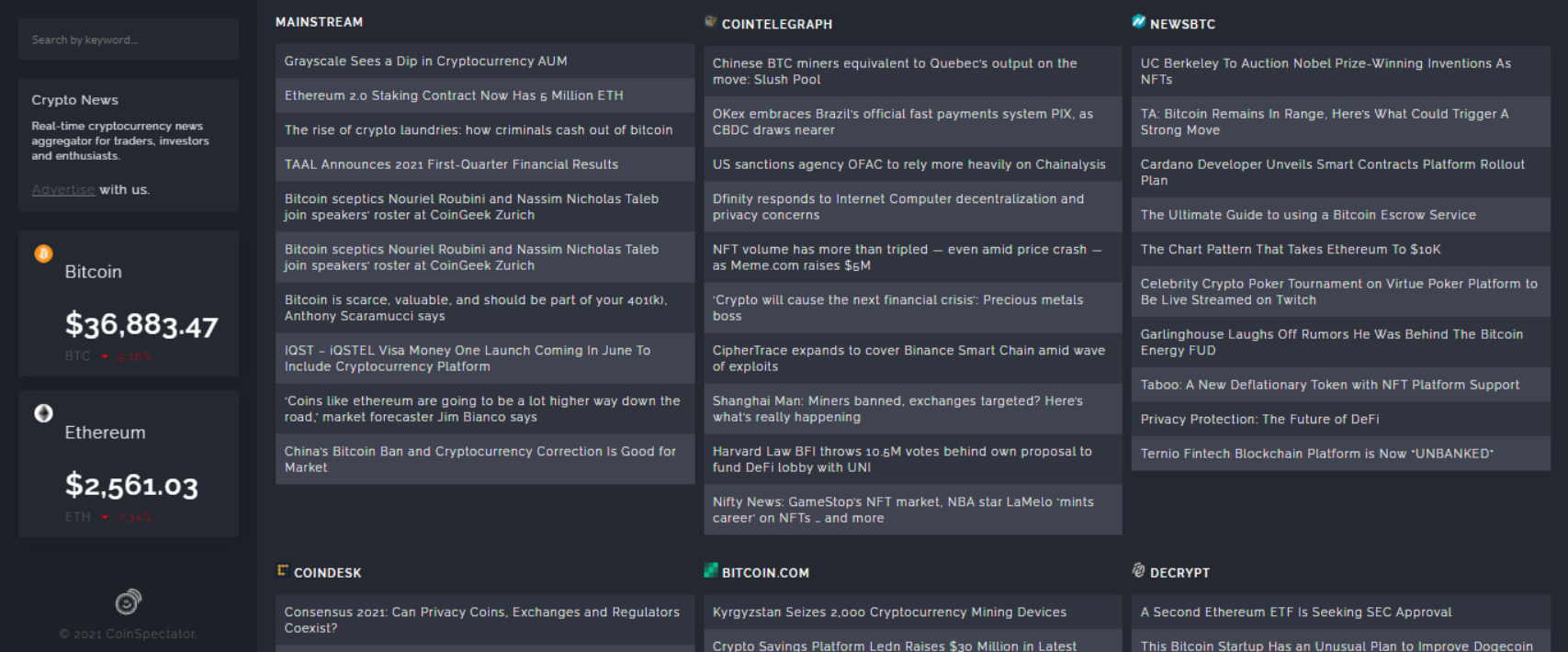 Instead of users voting and commenting on topics, this platform categorizes articles based on website. It features a fantastic level of quality sites such as CoinTelegraph, NewsBTC, CoinDesk, Bitcoin.com, and Decrypt. CoinSpectator also has its own blog content you can read aside from official news.
There's a mainstream news category if you're interested in what's breaking outside of crypto, and a Bitcoin and Ethereum price ticker to keep you updated. CoinSpectator also features a handy search bar to find keyword-related news if you'd like.
CCowl aggregates news from top websites like Bitcoinist, CoinTelegraph, and Bitcoin Magazine. It presents articles in an easy to read list, including a short description and timestamp of each one. You can search through the news as well via keywords or headline titles.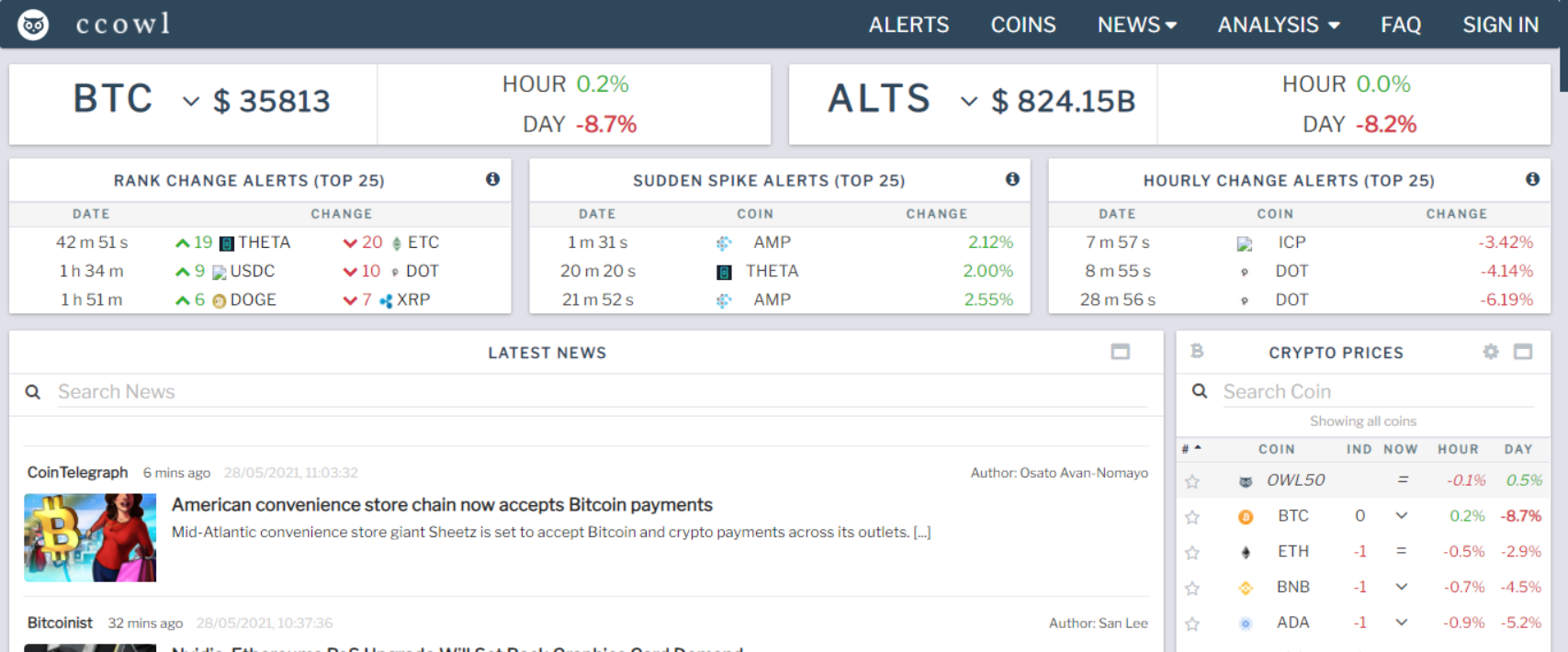 Unlike the others on this list, CCowl contains an extensive list of cryptocurrency prices to keep you informed, showing asset prices as compared to Bitcoin rather than USD. You can look at its current price, as well as movements over the last hour and day.
Appealingly, CCowl has an overall market cap indicator for all altcoins, as well as the top 25 performing coins in terms of their rank change, price spike, and overall hourly change. Basically, there's a ton of information on the website's home page alone, making it ideal for dedicated traders and general enthusiasts alike.
Like CCowl, CryptoPYS sports a dedicated list of coin prices alongside its news, though against the dollar instead of Bitcoin for easier conversions. The website categorizes its news by coin, through it pulls from some questionable sources as well as legitimate ones.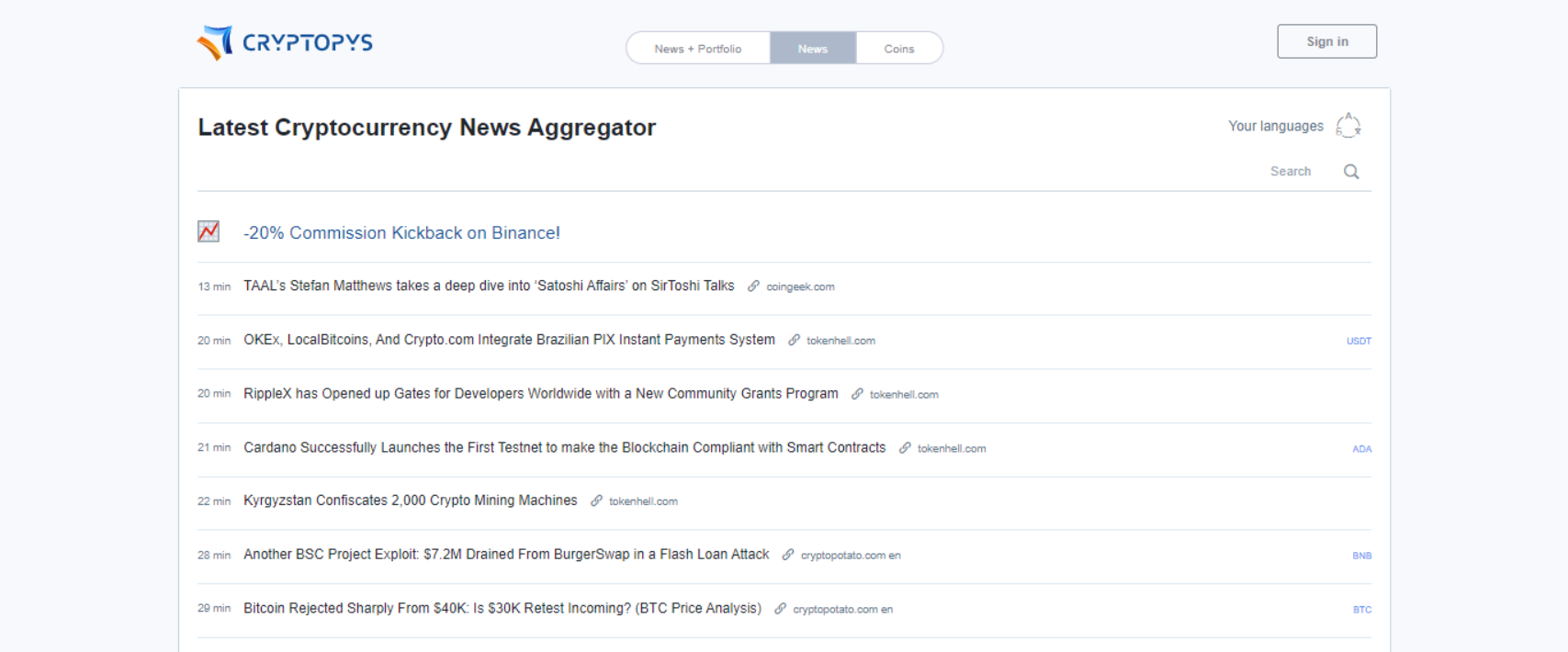 What's most exciting, however, is CryptoPYS' support of 18 languages. That's right, you can have news aggregated from as few or as many language sites as you'd like. Check off Korean or Polish so the platform will only aggregate posts in those languages. This support should cover a wide range of people, with languages like Hebrew, Portuguese, Russian, Serbian, and much more.
All of that said, make sure to pay attention to news or projects on top of each list. Advertisers can pay to fill either one, meaning anyone can place their project or website there.
CryptoGator.co is another top crypto news aggregator that lists news stories from media houses like CoinTelegraph, though the platform also publishes its own content such as guides and reviews of different trading platforms. There are also many documents catered toward beginners as well.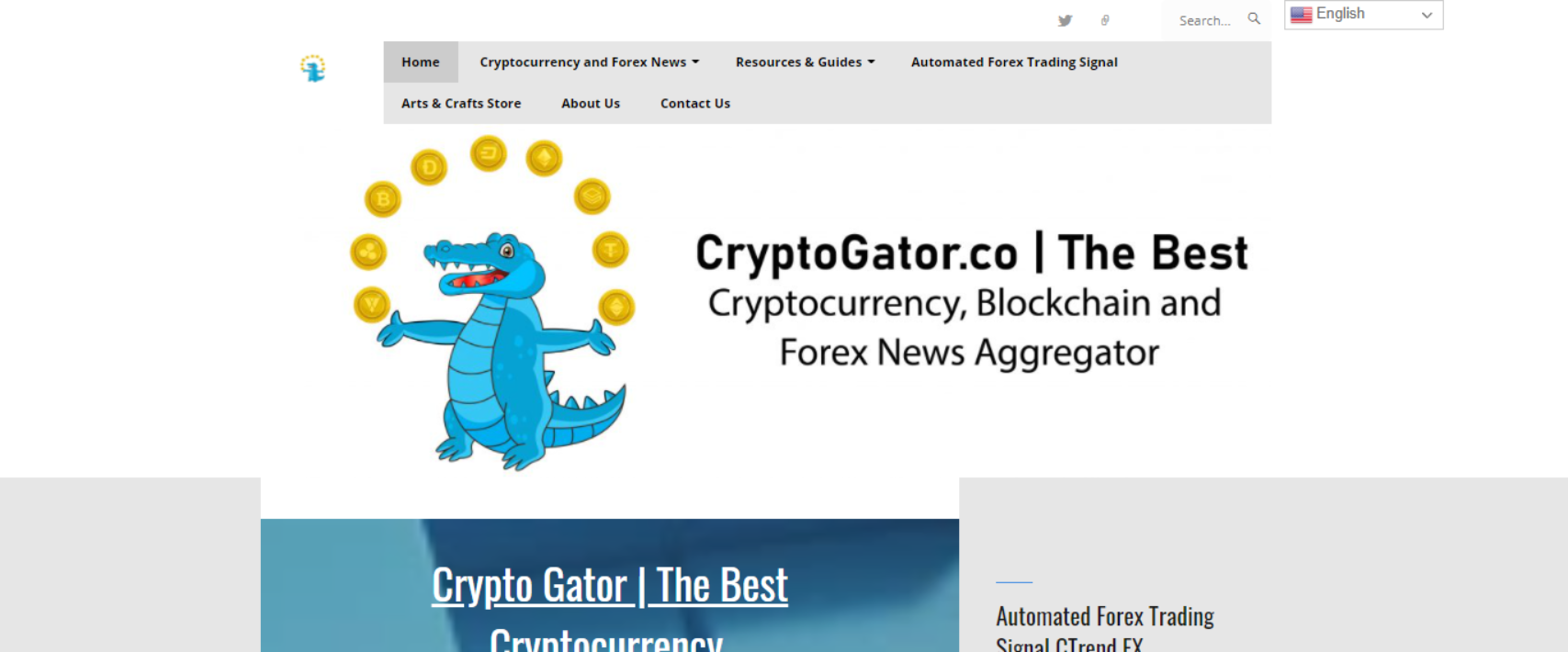 The platform also includes multiple plug-ins like an automated forex trading signal, one to buy cryptocurrencies via Binance, and options to automate your cryptocurrency trading.
Kryptotipy.SK is an interesting aggregator, pulling information from many foreign and Slovak websites in an easy to read space for all types of traders. The platform breaks articles into categories like Passive Income, Mining, and simple news.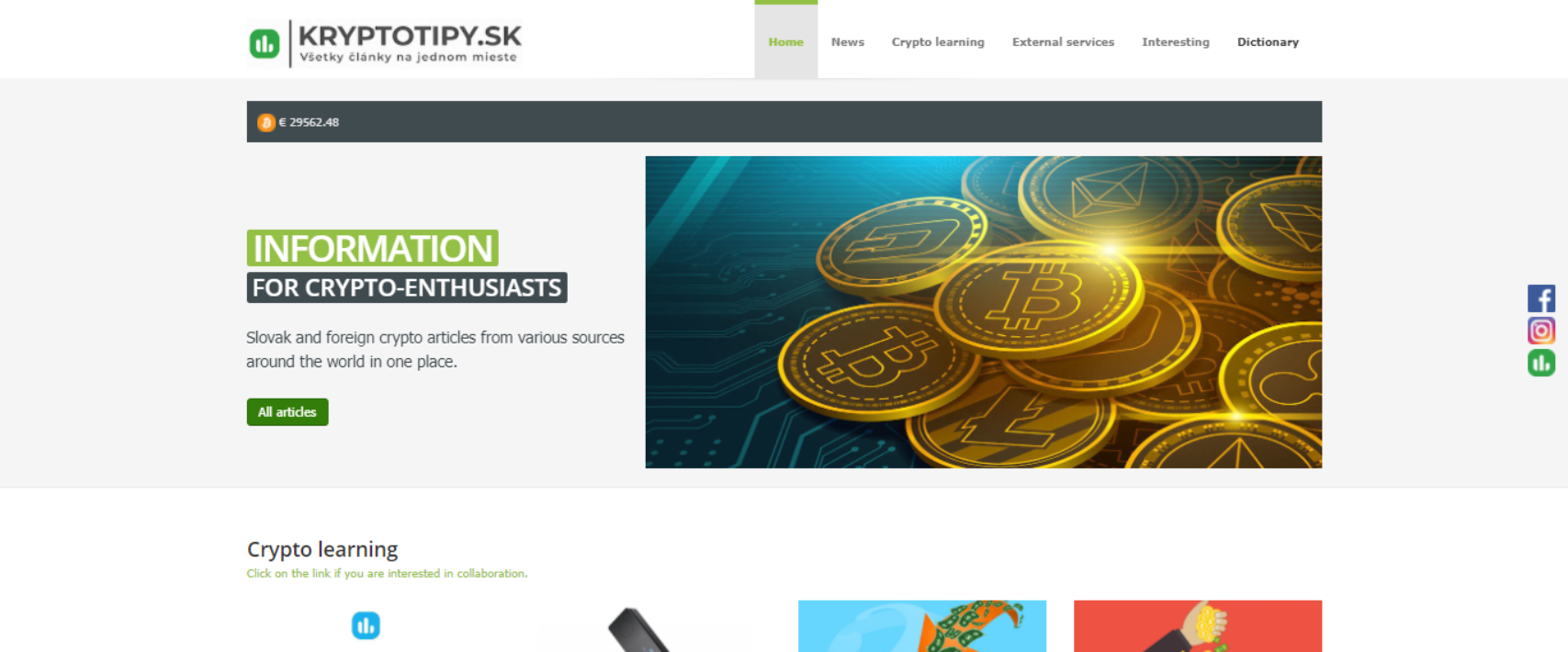 If you'd like, you can also find English language articles, though they're not the main point of the aggregator. It also provides a dedicated dictionary explaining all of the different cryptocurrency terms, assisting new traders in the space.
Finally, Kryptotipy.SK links to a ton of third-party services such as hardware wallets, cryptocurrency exchanges, and transaction services. It really has a whole bunch of information for anyone to learn from.
Conclusion
Now you're aware of the top cryptocurrency news aggregators out there. Each has its various pros, feature-sets, and cons. There's certainly something for every type of crypto enthusiast from full-time day trader to a simple speculator.
Disclaimer
In line with the Trust Project guidelines, the educational content on this website is offered in good faith and for general information purposes only. BeInCrypto prioritizes providing high-quality information, taking the time to research and create informative content for readers. While partners may reward the company with commissions for placements in articles, these commissions do not influence the unbiased, honest, and helpful content creation process. Any action taken by the reader based on this information is strictly at their own risk.