When discussing the Bitcoin vs Bitcoin Cash comparison, knowing which is better could save you a lot of hassles. This year has seen many changes in the cryptocurrency market, with the entrants of new investors in the nascent industry, even though the crypto of choice may differ depending on their approach. In this guide, we look at how both coins differ and their similarities.
What is BTC?
In 2008, Bitcoin was founded by Satoshi Nakamoto as one of the first and biggest cryptocurrencies. Initially proposed as a decentralized means of payment, it quickly became the favorite coin of crypto traders. One of the biggest things that remains a mystery is the exact identity of Satoshi Nakamoto, a pseudonym that the founder used.
For a short time, when the cryptocurrency was in its infancy when the currency held very little real value, many miners and traders interacted with the asset for fun or as an experiment.
However, two years after launch, the first use case of bitcoin as a medium of exchange would turn out to be a man paying for two pizzas at Papa John's. In 2010, BTC became available to trade on exchanges against fiat currency, such as the US Dollar and the British Pound. This led to a significant increase in its value, from pennies in 2009 to $33k today.
But, Bitcoin's ride has not been smooth since 2009. It's been faced with criticisms left, right, and center. Crypto skeptics have ripped it about its extremely damaging carbon footprint, its use to transfer money in illegal activities, and the lack of accountability (something many governments are currently trying to tackle). Commanding almost 50% of the cryptocurrency market, BTC is seen by many as a great option for traders in 2021.
What is BCH?
Bitcoin Cash (BCH) is a cryptocurrency that broke away from Bitcoin (BTC) on August 1, 2017. Founded by a group of people who had previously used Bitcoin, the coin resulted from a four-year dispute about the scalability of Bitcoin.
In 2008, Satoshi Nakamoto, the founder of Bitcoin, wrote a paper called "Bitcoin: A Peer-to-Peer Electronic Cash System," setting out what Bitcoin's original use was supposed to be. It was, in part, because of how far BTC had drifted from this that Bitcoin Cash was founded.
In 2020, one of Bitcoin Cash's founders, Jonald Fyookball, gave an interview, suggesting that, despite opposition and setbacks, they were pushing forward with the development of BCH to improve the cryptocurrency for its users. BCH had, subsequently, faced attempts to fork the cryptocurrency in both 2018 and 2020, one from none other than its founder, Amaury Sechet. However, according to Jonald, neither of these proved successful.
In 2020, BCH faced further controversy when a plan was revealed to fund the future of Bitcoin Cash from the rewards gained on CoinBase from the cryptocurrency. This was seen as a tax by the community. However, after several changes, this was implemented in May 2020.
As an altcoin which is considerably more affordable than Bitcoin, it has fallen from over $3k in late 2017 to just under $500 today, a price accessible to most retail investors.
Which is Better: Bitcoin vs Bitcoin Cash?
There are several factors to take note of when comparing Bitcoin vs Bitcoin Cash. This section explains the differences and similarities between the two.
Since the start of 2021, at the time of writing, Bitcoin has increased 20.18% this year, according to CoinMarketCap. By comparison, Bitcoin Cash has grown by 55.94%, significantly more than Bitcoin.
Reaching a high of $1,528.42 in early May, BCH has seen a greater return on investment (ROI) in the last six months than BTC.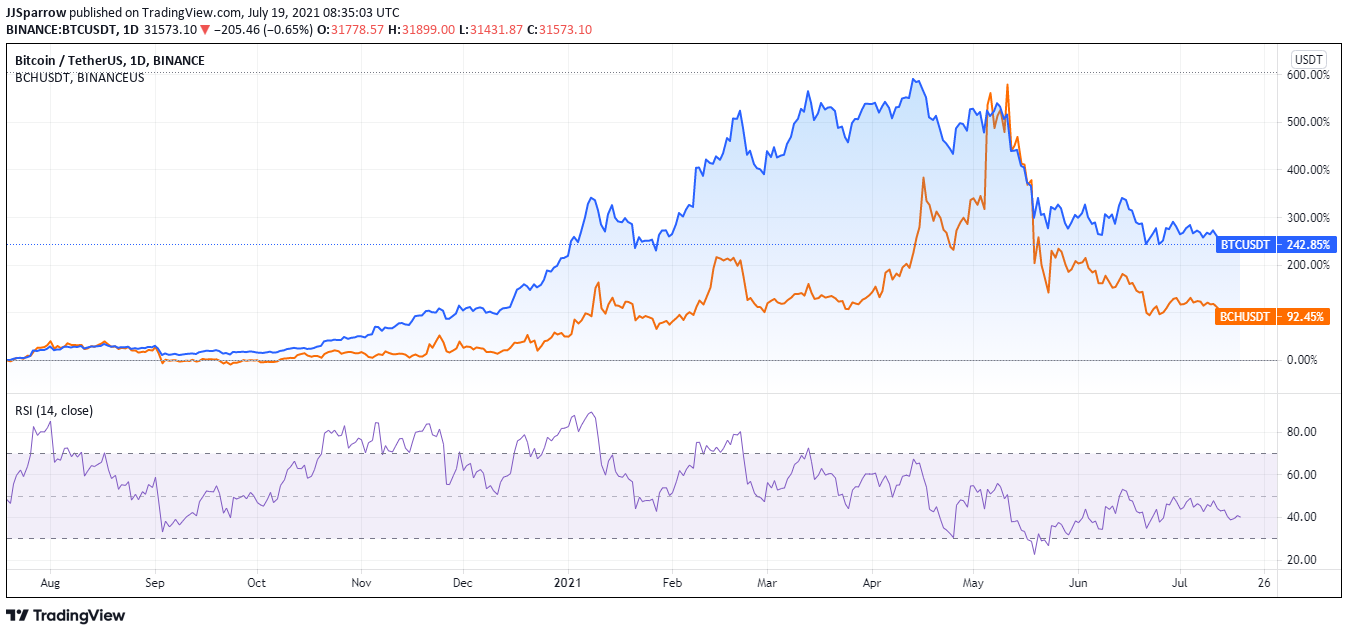 While dipping back to the previous price range last month, the cryptocurrency held its previous value. Furthermore, the cryptocurrency may be the better option for retail investors, priced at a more accessible valuation for first-time investors.
For investors looking to get into the market, BCH is a far safer investment option, experiencing far fewer dips in price over the last six months. However, if the investor is banking on volatility to trade cryptocurrencies, this is not the best option, despite the low fees. BTC is best if you are an avid trader.
Buying the Dip vs HODL
For investors, the dilemma of BCH vs BTC is important, depending on the individual investor's strategy. Many investors trade cryptocurrencies, believing that this will give them greater returns. In this case, the volatility that BTC brings creates profit opportunities. On the flip side, it could also result in significant losses.
However, for short-term investors, BCH is a more accessible and stable coin, which will likely bring greater returns over extended periods. The coin is more within the price range of the everyday retail investor, meaning that day traders can build up a sizable cryptocurrency portfolio.
Portfolio Building
While trading is the exciting part of cryptocurrency, it may prove more beneficial to build a portfolio of altcoins, lower in value and easier to afford, over the long term. At the price of Bitcoin Cash currently, for most investors starting, this is achievable and gives a better sense of progress towards a good ROI.
Efficiency
While the lower price of Bitcoin Cash is appealing, it also has the advantage of quicker transaction processing times and lower transaction fees.
One of the major takeaways of the Bitcoin vs Bitcoin Cash comparison is that, unlike BTC, BCH is more energy-efficient. This is positive news for ESG conscious investors; BCH uses only a fraction of Bitcoin's energy. According to a 2018 study by Alex de Vries, a former researcher at PwC, the energy consumption of BTC could be comparable to the usage of energy for countries such as Ireland or Austria.
The energy-saving from BCH itself is a massive positive for the planet. In this regard, BCH wins hands down.
Is Bitcoin Cash as big as Bitcoin?
In 2017, BCH was created, amongst disagreements about the future of BTC, from a fork of Bitcoin. In 2018, Bitcoin Cash transactions represented about a tenth of Bitcoin's, suggesting it is still to reach parity with other cryptocurrencies. Despite this, just as there is 21 million Bitcoin, there is also 21 million Bitcoin Cash.
Nevertheless, the number of active Bitcoin addresses stood at just short of one million at the time of writing. The number of active Bitcoin Cash addresses, however, is just over 85,000. While still in its infancy, Bitcoin Cash offers opportunities for those with limited funds to grow their portfolio, as this number increases with it.
Is Bitcoin Cash Worth Investing In?
Bitcoin Cash came as a reaction to the direction that Bitcoin was taking in 2017, as the price of Bitcoin began to make it inaccessible for many. Bitcoin Cash makes cryptocurrency more accessible to retail investors and has grown considerably more than Bitcoin last year. For HODLers, Bitcoin is a good choice. For traders, Bitcoin CASH would offer more opportunities.
Should I Buy BTC or BCH 2021?
In 2021, Bitcoin welcomed many new traders in the pandemic, making its value volatile while Bitcoin Cash stayed stable or grew. Bitcoin investors recently experienced extreme fluctuations in the market, with the BTC price reaching a high of $62k earlier this year before dipping down to $31k at the end of June.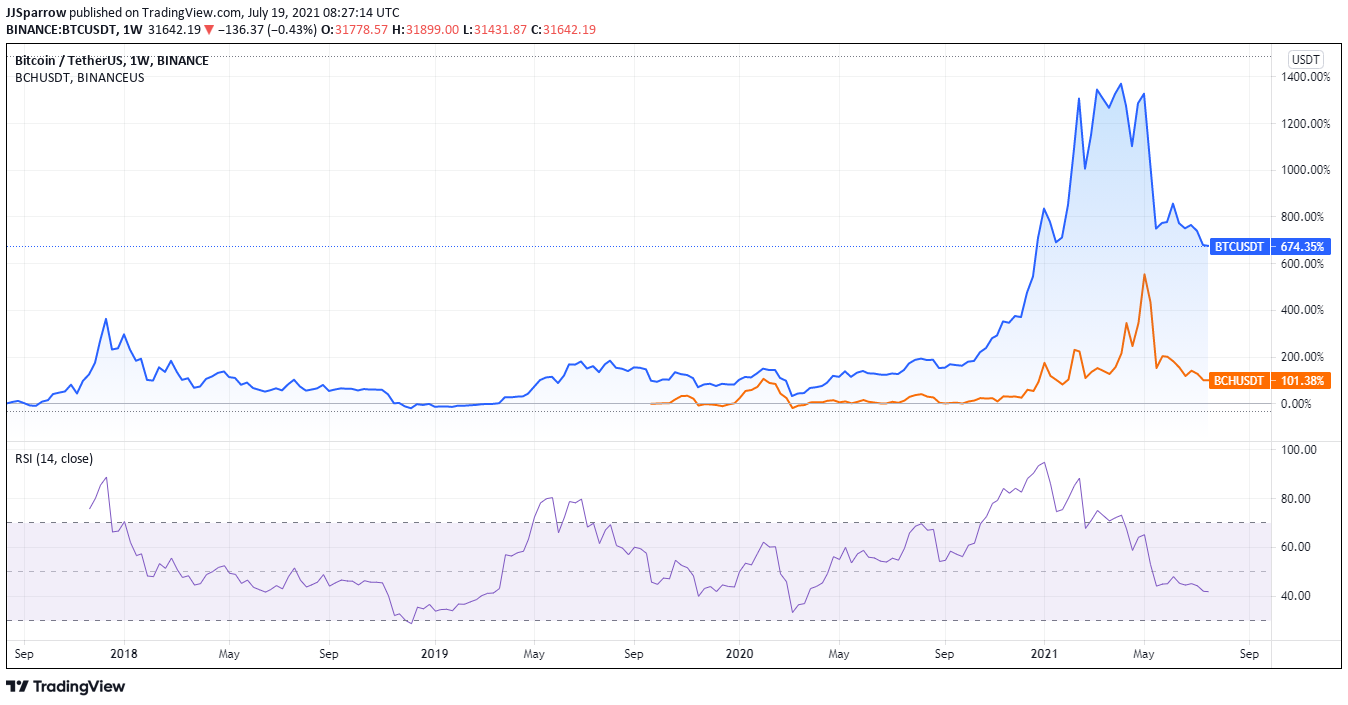 But despite the dip, Bitcoin has generated a 243% return for investors so far at press time.
For the last 30 days, Bitcoin has created 11% returns, while BCH has created investors about 22.43% ROI. BCH, on the other hand, has provided 92.1%. And for the previous three months, BCH and BTC generated 55%, while Bitcoin generated 44.5%, respectively. The data is clear. If you want to hold long-term, buy Bitcoin. If you're a short-term investor, stick with BCH.
Conclusion
The evidence is clear from our Bitcoin vs Bitcoin Cash review. Bitcoin is more suited for long-term value investors. BTC is popular. Many institutions are pouring funds into it and it has consistently posted massive gains over the long term. However, if you're an ESG advocate or want to invest in an asset that provides short-term returns, you might want to pitch your tent with BCH.
Disclaimer
In line with the Trust Project guidelines, the educational content on this website is offered in good faith and for general information purposes only. BeInCrypto prioritizes providing high-quality information, taking the time to research and create informative content for readers. While partners may reward the company with commissions for placements in articles, these commissions do not influence the unbiased, honest, and helpful content creation process. Any action taken by the reader based on this information is strictly at their own risk.