For the uninitiated, Arbitrum is a widely popular layer-2 scaling resource for Ethereum, helping with affordable network fees and higher throughput. In this Arbitrum price prediction, we consider how the price levels corresponding to ARB — the native token — might move over time.
Arbitrum — the network — has been around since August 2021. Yet, the native token ARB was only launched on March 23, 2023. Even before the launch, Arbitrum, the layer-2 platform, had an impressive DeFi presence — with a top 5 rank. Since the token launch, ARB's counter has seen some insane levels of trading actions courtesy of retail buyers and whales. With so much going on in relation to the price action, let's check out the purported future price of ARB using fundamental and technical analysis.
ARB price prediction and the role of fundamentals
We shall now look at the fundamentals to understand the growth curve of Arbitrum between 2021 and 2023. That will help us better relate the price of ARB to similar projects and token launches involving Optimism and Polygon — other popular layer-2 platforms for Ethereum.
Arbitrum uses Optimistic Rollups to scale Ethereum DApps. Needless to say, the network itself is EVM compatible, highly scalable, and can support around 40,000 transactions per second.
Let us now shift focus to Arbitrum's DeFi outlook — a value that peaked at $2.9 billion in November 2021. As of April 24, 2023, the TVL is at its highest at $3.2 billion, including the ARB pools and lending ecosystems that have recently surfaced with the launch of ARB.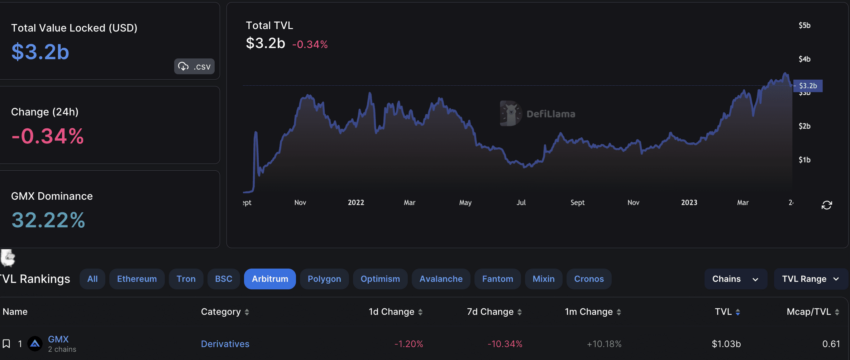 Overall, the highest-ever TVL a month after the token launch seems like a positive development. Let us now look at Optimism's TVL and price movement — another popular layer-2 platform, to see where the prices of ARB might settle in days to come.
Optimism TVL and the impact on ARB
Optimism's native OP tokens came to the fore on May 31, 2022, reaching an all-time high price of $4.569 immediately post-launch. Like ARB, OP tokens were initially airdropped, which aligns the price movement expectations of the latter with that of the former.
Despite the highs made in May, the price of OP dropped to its all-time low of $0.400 on June 18, 2022.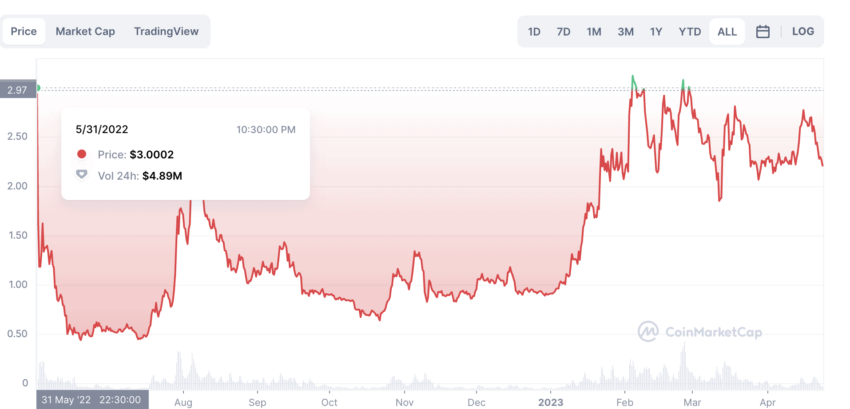 Do note that the price TVL of Optimism peaked on Aug. 10, 2022, at $2.65 billion. On the same day, the price of OP was $1.69 — a 322% growth from its all-time low. Assuming that the price action of ARB moves similarly to that of OP, it might be safe to assume that ARB might take lesser time to move past its all-time low.

Yet, there remains a catch. Optimism reached an all-time low in under a month after the token launch. Therefore, it is safe to wait and see if ARB moves any lower than the current low of $1.104. Only if we can get the all-time low can we quickly chart the path ahead. For now, let us assume the all-time low is $1.104.
Also, Optimism's TVL was around $242.73 million on June 18, 2022 — the day when the all-time low was reached. In under 60 days, the TVL surged by over ten times, and the price moved up by almost 322%. However, ARB's TVL growth has been steady, and we might have to wait longer for another low to surface and for the TVL presence to correct before the price of ARB can start moving toward its new high.
The roadmap for Arbitrum
Regardless of what has transpired already in regard to Arbitrum, here is everything that might be in store for this layer-2 scaling giant in the years and months to come:
An upcoming layer-3 scaling resource called "Orbit."
Multi-language DApp deployment
Expanding the validator set to institutions
Arbitrum price prediction and the associated tokenomics
Tokenomics plays a major role in determining the price action of any cryptocurrency. As for ARB, the total supply cap is 10 billion, with close to 12.75% being moved out already as nearly claimed airdrops. Do note that ARB is primarily a governance token, not intended to pay gas or transaction fees.
Here is what the initial token allocation looks like: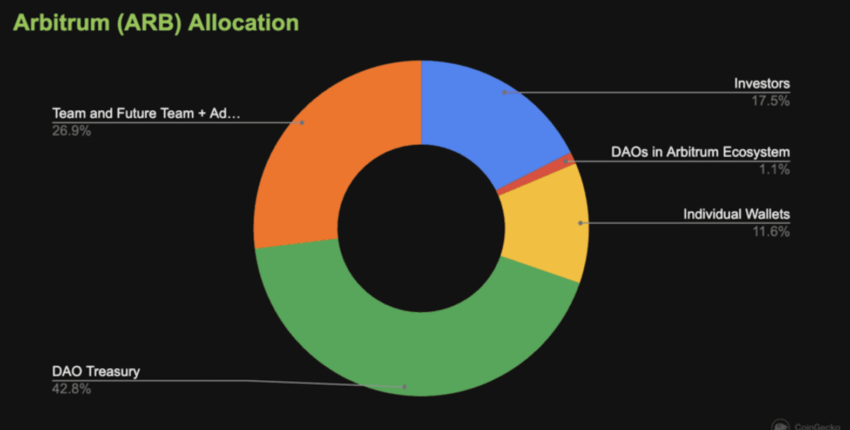 Also, here is what the vesting schedule looks like:

Considering the 4-year lock-ups, we can expect the total 10 billion support to become the circulating supply by 2027. Once fully diluted, the scarcity quotient might creep in, trying to push the prices higher — considering the demand remains the same or increases.
At present, 44% of the total supply seems to be locked, with the next cliff token unlock expected on March 23, 2024. This could be when the prices drop slightly more than expected.
As of now, the price fluctuations are mostly due to the buying and selling of unlocked ARB tokens.
Key metrics and ARB price prediction
Even though it is quite early to evaluate the future prices of ARB based on the on-chain metrics, here are a few insights that can nudge you in the right direction with the expectations.

Per data from Dune Analytics, Arbitrum transactions have continued to move up. As of April 24, 2023, the cumulative transactions are increasing.
Another important aspect is the percentage of ARB held by the top addresses. Per data from CoinMarketCap, the top 100 ARB holders manage almost 76.5% of the total supply. This might be a cause for concern if there is a market-wide sell-off.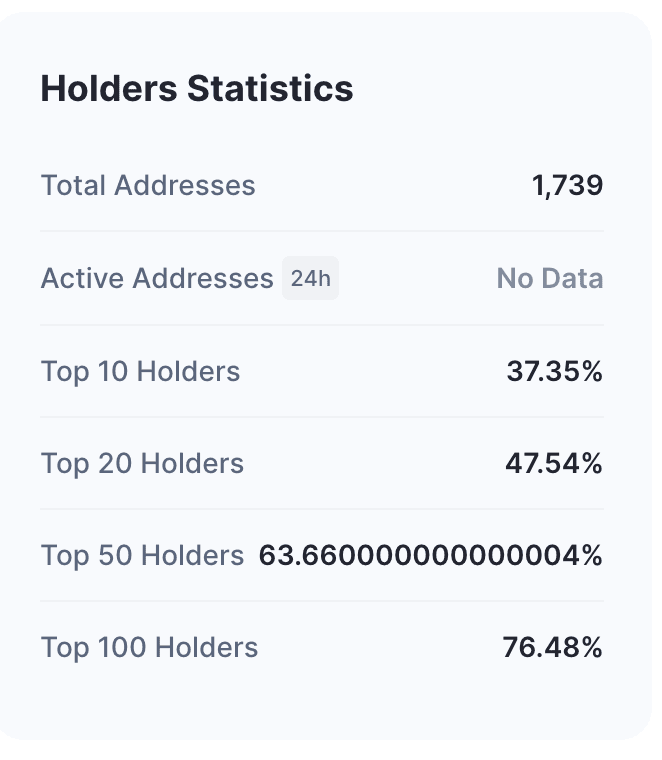 Arbitrum price prediction and technical analysis
Before we go deep into the technical analysis of ARB, it is important to note that there isn't a lot of historical data available for us to chart everything up to 2035 accurately. Therefore, we shall frequently refer to the price movement of Polygon (MATIC) and Optimism (OP) to help you identify the short-term and long-term ARB prices.
But first, let us look at the short-term technical analysis of ARB to locate the upcoming support and resistance levels, if any. Below is a 2-hour chart for your reference.
Do note that ARB is tracing a falling wedge pattern, closing in on the upper trendline. In case the price of ARB manages to breach the upper trendline, we can expect the first resistance to be at $1.44. If broken, the next level could be at $1.50.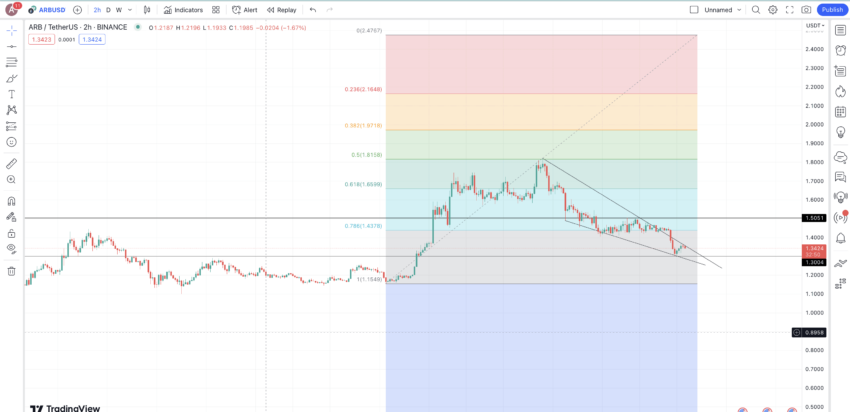 Here is a more detailed short-term technical analysis of ARB using the Elliot wave theory.
Then again if ARB breaks lower than the $1.30 level, the bullish trend might cease to exist, pushing the prices lower.
Also, here are the moving averages corresponding to the 2-hour chart. Notice how the 200 MA line (red) is about to cross above the 50 MA line (green). This would be a death crossover and can lead to some quick correction at ARB's counter.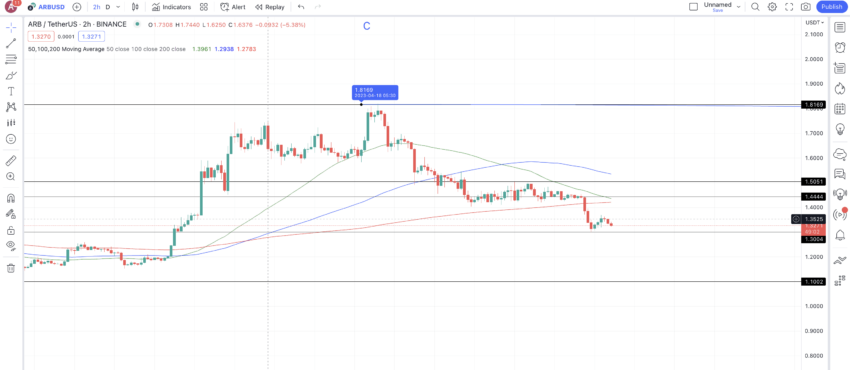 Arbitrum (ARB) price prediction 2023
Outlook: Very bullish
Now, let us pull up the daily chart of Optimism to see the price drop possibilities, assuming that ARB tokens will follow in the footsteps of OP tokens.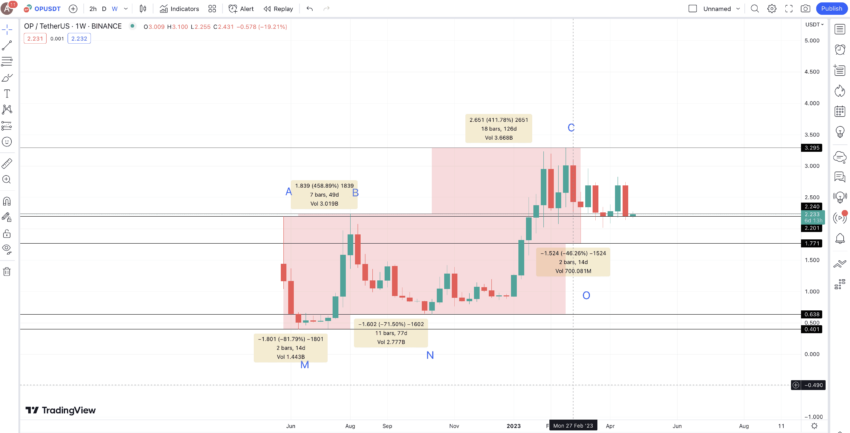 Starting from A, we can chart the high-to-low and low-to-high moves as follows:
A to M: -81.79%
M to B: 458.89%
B to N: -71.50%
N to C: 411.78%
C to O:-46.42%
So from the last high to the next low, OP moved -46.42%. Also, the max drop timeframe could be 77 days (the move between B to N)
For ARB, the last high was $1.82. Keeping this in mind, the next low could be at a drop of 46.42% in 77 days (the timeframe can vary depending on the state of the crypto market). That would put the ARB price prediction low for 2023 at $0.9725 in July 2023.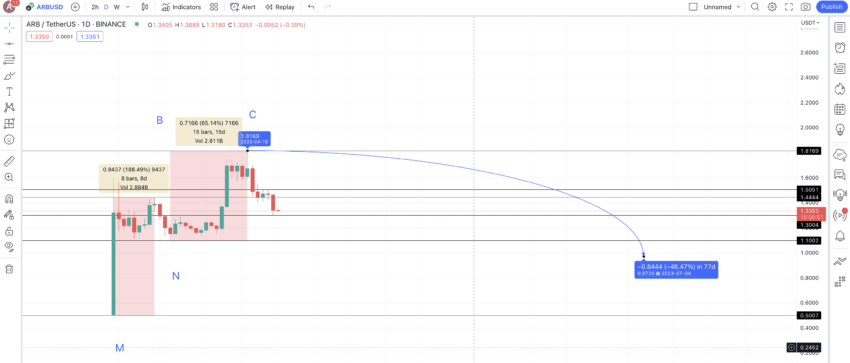 Circling back to the OP price analysis, the average of low-to-high moves comes forth as 435.33% in 88 days (approx). Also, if we look at the daily price chart of ARB, the last two low-to-high moves were:
188.49% and 65.15% for M to B and N to C, respectively.
Taking the average of these two values puts the ARB-specific low-to-high level at 126.82% in 12 days.
Now, we can find the average between the OP and ARB moves to get to a common ground for the next high. This puts the average high and time frame at 281.075% and 50 days. Therefore, the Arbitrum price prediction high for 2023 could surface at $3.70.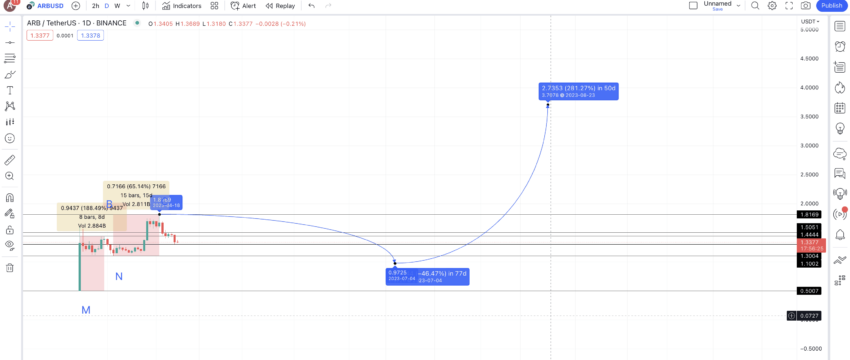 Projected ROI from the current level: 174%
Arbitrum (ARB) price prediction 2025
Outlook: Very bullish
If we now revisit the daily chart of ARB (with some assistance from OP's chart), we can identify all the high-to-low moves.
These include drops of 68.44%, 23.34%, and 46.42%, respectively. Therefore, with three data points, we can assume the next high-to-low drop percentage is 46%.
Now that we have the expected price of ARB at $3.70 in 2023, the next low could surface at a drop of 46%. Therefore, the next low for ARB could be at $2. If we now use the low-to-high moves from the ARB's chart alone, the next high could surface at 203.95% (taking the average of 126.82% and 281.075%).
And while 203.95% looks significant, Polygon and Optimism are still seeing a bulk of developer action for the layer-2 scaling platforms. Therefore, a price growth of 126.82% seems more plausible in the next few months. This puts the price of ARB tokens at $4.55 by early 2024.
However, we can expect a token unlock closer to March 23, 2024. Considering this event, we can expect a price drop of 68.44% (per ARB's deepest price drop, hours after the launch). This expectation puts the price of ARB at $1.43. Do note we expect this dip to happen anytime after March 23, 2024.
Road to 2025
If we revisit the ARB and OP price chart, a move of 281.075% might be on the cards after a low of $1.43. Also, the time taken for the same could be 126 days, per Optimism's low-to-high timeframe for the N to C path.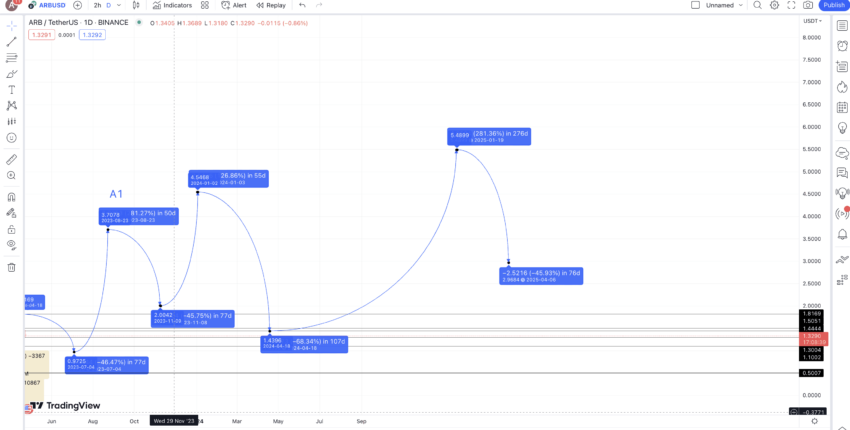 This puts the high in 2024 at $5.49. But then, if OP and MATIC also keep growing, we can expect this high to surface closer to early 2025.
The next low could go back to the average drop of 46%, using ARB's previous percentage drops of 68.44%, 23.34%, and 46.42%.
This would put 2025 low for ARB tokens at $2.97.
Projected ROI from the current level: 306%
Arbitrum (ARB) price prediction 2030
Outlook: Very bullish
If you take a look at our MATIC price prediction for 2025, the expected high and low could be $5.38 and $1.75, respectively. Our Arbitrum price prediction puts 2025 high at $5.49, which is similar to that of MATIC. Hence, we can assume that the price of Arbitrum follows the same growth trajectory as that of Polygon and its native cryptocurrency MATIC.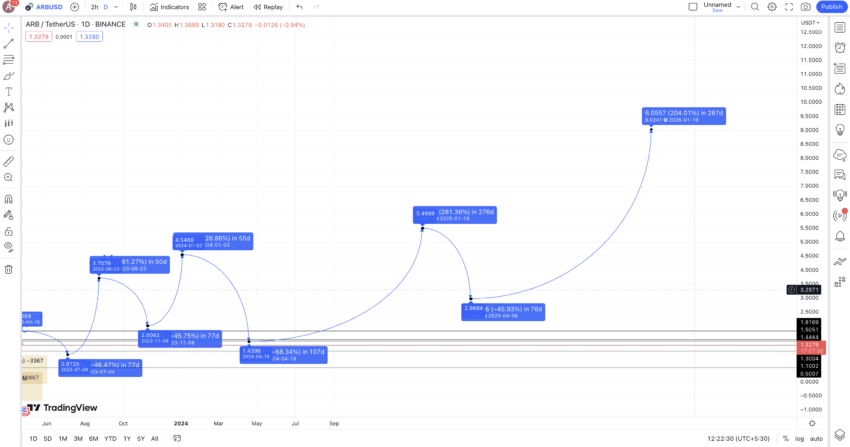 From the 2025 low, the next high could follow a growth curve of 203.95% (taking the average of 126.82% and 281.075%). For the sake of easy calculations, we can expect this high, or $9.02, to surface in 2026.
We now have the 2023 low ($0.9725) and the 2026 high ($9.02). It is now time to extrapolate the path between them to locate the price of ARB tokens till 2030. Do note that this extrapolation might not be accurate, but it can still provide a rough estimate of how ARB might move in the years to come.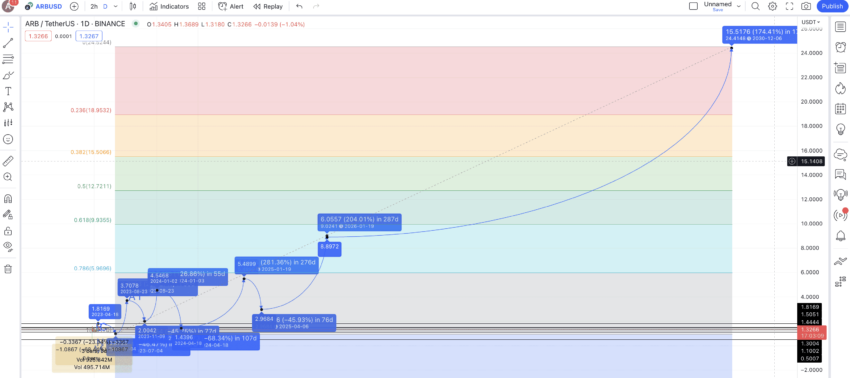 Extrapolating the same puts the price of ARB at close to $24.50 by the end of 2030.
Projected ROI from the current level: 1714%
Arbitrum (ARB's) long-term price prediction (up to 2035)
Outlook: Bullish
If you plan on holding ARB longer, through 2035 or even further, here is a quick table that captures the Arbitrum price prediction levels up to 2035:
| | | |
| --- | --- | --- |
| Year | Maximum price of ARB | Minimum price of ARB |
| 2023 | $3.70 | $0.9725 |
| 2024 | $4.55 | $1.43 |
| 2025 | $5.49 | $2.97 |
| 2026 | $9.02 | $5.59 |
| 2027 | $10.82 | $6.71 |
| 2028 | $13.25 | $10.33 |
| 2029 | $20.28 | $12.57 |
| 2030 | $24.41 | $19.03 |
| 2031 | $28.07 | $21.89 |
| 2032 | $49.12 | $30.45 |
| 2033 | $58.95 | $36.55 |
| 2034 | $76.63 | $59.77 |
| 2035 | $88.13 | $68.74 |
Is the Arbitrum price prediction model accurate?
Our Arbitrum price prediction model considers fundamentals, on-chain metrics, and technical analysis. Plus, we have drawn parallels with the price action of the other layer-2 Ethereum scaling solutions like Optimism and Polygon. All of that makes this ARB price prediction piece as realistic as possible. However, these levels might change depending on the state of the broader crypto market.
Frequently asked questions
Is Arbitrum a good investment?
Can Arbitrum reach $100 dollars?
Is the Arbitrum chain safe?
Is ARB a good investment?
Will ARB crypto go up in 2030?
Disclaimer
In line with the Trust Project guidelines, the educational content on this website is offered in good faith and for general information purposes only. BeInCrypto prioritizes providing high-quality information, taking the time to research and create informative content for readers. While partners may reward the company with commissions for placements in articles, these commissions do not influence the unbiased, honest, and helpful content creation process. Any action taken by the reader based on this information is strictly at their own risk.