Blockchain technology has blossomed at an incredible pace, leading to improvements in scalability, security, and decentralization. However, the primary framework of this technology comes with a challenge, commonly called the "blockchain trilemma." This involves designing a network that will retain all three listed features without any compromise.
While some popular networks like Ethereum have made progress in terms of security and decentralization, scalability remains an issue. As a result, many platforms are developing both layer-1 and layer-2 solutions to solve this blockchain trilemma. Among these platforms is Algorand, a payments-focused network aiming to meet all three criteria.
This guide will explain everything you need to know about Algorand and its token ALGO.
What is Algorand?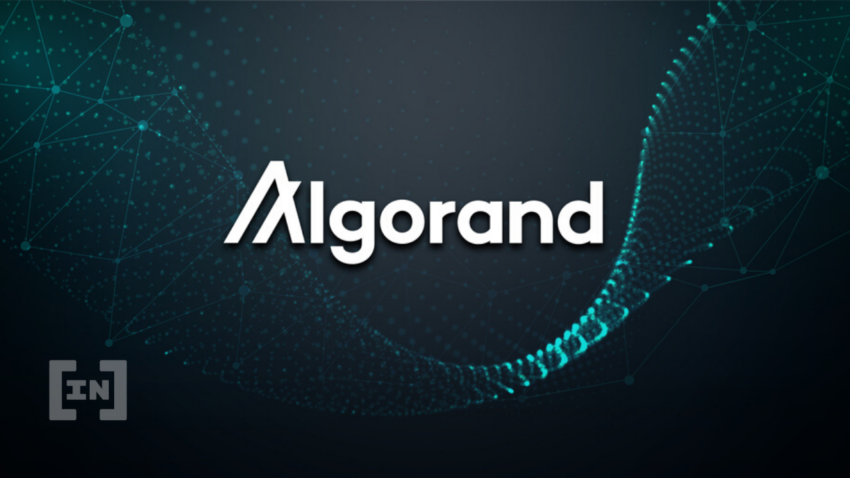 Algorand is an open-source blockchain infrastructure that helps create an open, borderless economy where everyone can participate. The platform is committed to solving the "blockchain trilemma."
Decentralization
The Algorand blockchain is decentralized, eliminating any form of the third party. The platform has a distinct committee of randomly and secretly selected users to validate every block. The nodes runs via entities all across the globe.
Security
Security is necessary for an open-source network to allow all users to safely transact, build value-added applications, and hold high-value assets. Algorand balances security with other features preventing the network from data breach via its pure proof of stake consensus mechanism and the overall ecosystem. Overall, it protects user's data and ensures the safety of users' accounts.
Scalability
Algorand blockchain is designed to host millions of individuals and enterprises, allowing them to build their products and services on the network. This means that the network can cope with the influx of many transactions at a time. Furthermore, as stated on its official website, regardless of the growing DApps, transactions will still occur in under 4.5 seconds, with little to no bugging and fast transaction confirmation.
Asides from being a gateway to many NFT and DeFi projects like IDEX, Circle, etc., it has a diverse global group of partners representing the technology, venture capital, fintech, and entertainment communities.
Recently, FIFA announced a partnership deal with the project. Furthermore, El Salvador — a bitcoin-friendly country — partnered with Koibanx to build the government's blockchain infrastructure using Algorand. Let's take a look at its background.
The background story of Algorand
The Algorand blockchain was founded in 2017 by Silvio Micali — an Italian MIT professor and Turing Award-winning cryptographer. The computer scientist has been an MIT faculty member since 1983, and he's also a member of the preeminent communities like the National Academy of Sciences, the National Academy of Engineering, etc.
Being in the crypto space for a long time, he was fascinated by the intersection of cryptographic, distributed incubation, and economic incentives in blockchain technology. So, Silvio started looking into solving the problems of bitcoin and ethereum and published a video.
Subsequently, he and his team of engineers and researchers launched Algorand in Jun. 2019.
The goal of Algorand revolves around the idea of "democratic" user membership. Instead of Bitcoin's mining-based proof-of-work (PoW), Algorand uses an optimized proof-of-stake (PoS) and self-validating transactions.
Following the launch, they founded Algorand Foundation, and it has since been working to boosting the fulfillment of the platform's global promise. It does this by taking responsibility for its monetary supply economics ($60 million), decentralized governance, and solid open-source ecosystem.
How does Algorand protocol work?
Algorand is a permissionless blockchain that uses an improved version of PoS, Pure proof of stake built on a decentralized Byzantine agreement to achieve consensus.
Typically, Algorand is a layer-2 blockchain framework. The base layer, also called layer-1, allows the creation of DApp, and smart contracts and handles basic transactions like swapping, buying, and selling of assets. In addition, individuals and enterprises can design their own tokens as Algorand Standard Assets — ASAs. Users can then use this to build standard cryptocurrency tokens, stablecoins, CBDCs, and non-fungible tokens (NFTs).
Compared to other blockchain networks like Ethereum, all applications built on Algorand retain the same features (security) as the consensus protocol itself.
The layer-2 structure handles the technical smart contracts and complex transactions that happen off-chain. The concept involves preventing the base blockchain from congestion, one of the main challenges (alongside high gas fees) that has swarmed Ethereum.
The network is partitioned into multiple non-connected networks, dividing the transaction process into units and improving the overall functionality of the ecosystem.
Currently, the network operates at over 1,000TPS and finalizes a transaction at about 4.33 seconds. Its transaction fee is as low as 0.001 ALGO.
Pure proof of stake (PPoS)
Generally, PoS is a consensus algorithm that works by choosing validators with respect to their quantity of holdings in a network. However, unlike other variants of PoS like Delegated Proof-of-Stake and Bonded Proof-of-Stake that rewards validators with Pure proof of stake, validators are not rewarded nor do they get sanctioned, also known as slashing.
For scenarios where participants act malevolent, Algorand makes cheating impossible for the minority and cheating by the majority illogical. So, as long as 75% of the majority is honest, the protocol will work efficiently.
Block production
Blocks are produced in two phases through a weighted lottery known as cryptographic sortition — (self-selection). This method facilitates instant finality. As a result, users don't have to wait for many confirmation procedures to ensure that a transaction really happened. A protocol called Binary Byzantine Agreement, or Byzantine Agreement, helps attain swift transactions. The two-block production phases include:
Proposal phase: A single token is selected at random, this is done by Verifiable Random Function (VRF), and its owner proposes the next blocks. In addition, the selection process is done randomly, secretly, and continuously. In the Pure Proof of stake algorithm, every token has the same right to be selected.
Voting round: Afterwards, 1000 random tokens are selected with their owners then approving the block proposed by the first user. In contrast to the fixed system in some Proof-of-Work or Proof-of-Stake blockchains, randomly selecting committee members improves the network's overall security and prevents any breach.
Notably, in the Algorand protocol, participants are selected every round of block selection. Once they participate, their data is already propagating through the network, so it is already late for an attacker to gain from attacking them.
Staking
Pure proof of stake algorithm not only secures the blockchain but is an algorithm to attain a balanced consensus. Just as on other PoS platforms, users can stake their coins. However, the term 'Pure' means users do not have to lock up their ALGO tokens to participate in the staking process and validate transactions. In pure PoS, all token holders have equal right to stake as participants are randomly selected to propose and validate blocks.
Features of Algorand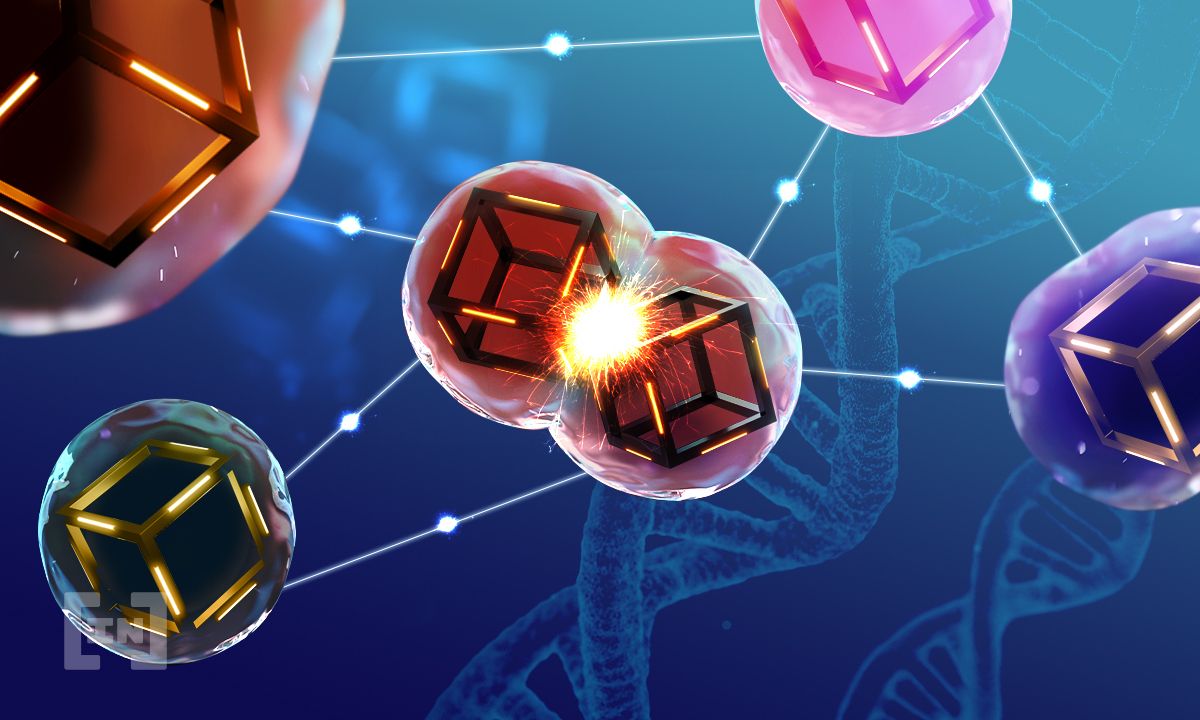 Asides from many solutions like speed, optimized scaling, trustworthiness, transparency, security, staking, and a lot more, Algorand also has new innovations that fine-tune the existing functionalities of this blockchain.
Vault
Algorand offers a proactive measure in dealing with its blockchain's storage functionality. Algorand's Vault improves scalability by allowing easy and instant integration of many products. It does this by:
Reducing the storage cost of the network by freeing up local storage on the node and creating transaction expiration into the protocol
Distributing the storage costs in the Blockchain across different parts of the network
Reducing the bandwidth required to join the network
Instant transaction finality
Unlike PoW protocols, you cannot add two separate blocks to the chain in the same position. Only one block can have the required number of signatures to be confirmed in a particular round. As a result, it becomes difficult for the blockchain to be hard forked.
In Algorand, all transactions are final. Users may immediately depend on the transactions contained in a block since they know the block will remain part of the chain indefinitely.
Protocol evolution
Algorand is created in such a way that new updates can be easily implemented. It is flexible, enabling both the community and the protocol to evolve. In addition, the Algorand platform takes a consensus approach to implement changes, which facilitates continuous evolution of the protocol and removes potential hard forks that could break down the ecosystem.
Algorand consensus algorithm powers this feature and allows network participants to reach an agreement on anything. They can become a participant by holding 1 ALGO, and they do not only decide the next block but also on a protocol upgrade.
What gives Algorand value?
Algorand derives its value from many distinct factors, including low transaction fees. It can be use as collateral, a medium of exchange for trading and NFTs, and staked for interest.
Algorand also has speculative value and is gaining increased attention and interest from institutions. Other value-added services include:
Scalability: Algorand has put some actions in place to ensure maximum scalability and transactions taking place in less than 4.5 seconds.
Transparency: Since its launch, the total supply of ALGO is immutable. At any time, it's visible to the public, and everyone can see how many ALGO tokens are in use.
Security: Algorand and its products are safe thanks to the unique Pure Proof-of-Stake consensus that powers the blockchain.
Flexibility: Algorand blockchain is also flexible and can literally run any application. Ranging from DApps to NFTs.
The ALGO token
ALGO token is the native currency of the Algorand blockchain. Ultimately, ALGO secures the consensus that builds each block. Likewise, you can use it to pay for every transaction within the ecosystem. The token also governs the growth of the Algorand ecosystem.
These functions make the ALGO token the backbone of the Algorand blockchain while also being an efficient and secure way to transact.
Tokenomics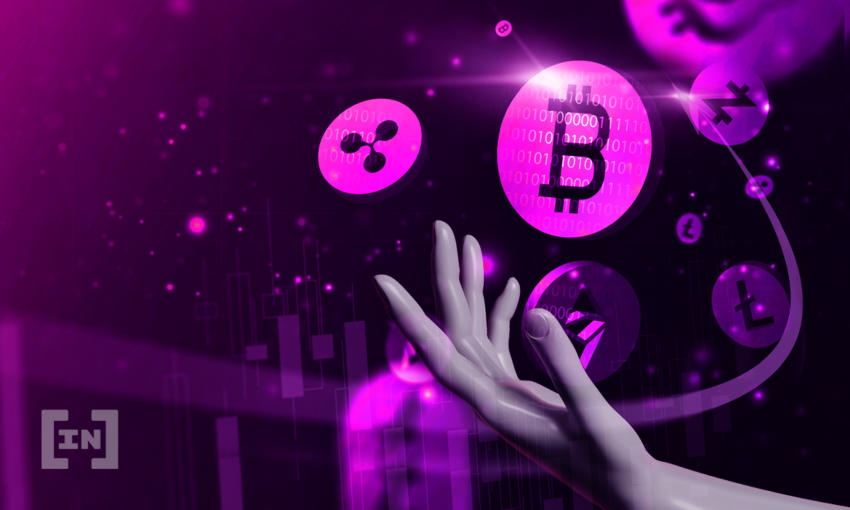 The platform minted ten billion ALGO tokens during the launch. Overall, there are about 6.8 billion of it in circulation — accounting for 68% of the total token supply, with a total supply of 7.2 billion ALGOs. It is currently trading at $0.448 with a total market cap of $3 billion.
Token allocation
Algorand rounded up its first auction in Jun. 2019. The public auction sold 25 million ALGO, 0.25% of the initial supply at $2.40 per token. The sale raised a total of $60 million. Buyers have the right at any point during the first year of purchase to sell tokens back to the Foundation at 90% of the purchase price. The project released three billion ALGOs, 30% of supply + the initial auction, with no further token sales.
Other allocated tokens include:
Founders and the Foundation team: received 2.5 billion ALGO tokens and 25% supply to foster the network development.
Relay Nodes: got about 1.75 billion ALGO as rewards for Participation Nodes
Grants: end-users got 0.25 billion ALGO
Price and price prediction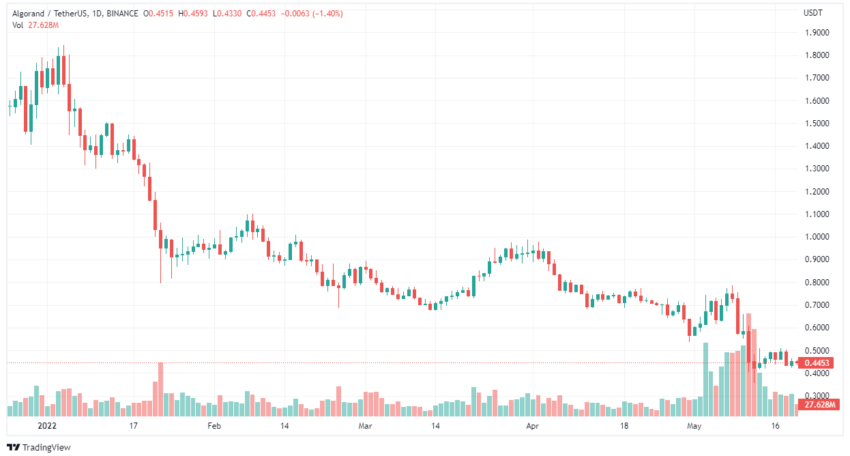 Many technical and professional traders in the crypto space have predicted the probable price of ALGO in the coming years. For instance, Wallet Investors gave long-term and short predictions. They predicted that the ALGO price might reach $7.662 by 2027. Likewise, in the short term, they forecast the maximum price to hit $3.291 by the end of 2022 and $2.254 at the beginning of the first half.
Likewise, Digital Coin Price stated that the ALGO token is entering a high. It predicted the price to surge above $3 by 2025.
These predictions all show a bullish outlook for both the short and long term. However, this is pretty common for price prediction outlets, and it doesn't mean they are right. Generally, Price predictions only give you an overview of a token price. If you're looking to invest in ALGO, you should do your own research and follow your investment plan.
How to buy ALGO token
Algorand is available on major crypto exchanges, so it's quite easy to purchase. Exchanges, where you can buy ALGO, include Binance, Coinbase, Crypto.com, Kraken, etc. Furthermore, this section will show you how to buy ALGO from your Binance account.
First, you should note that you cannot directly buy ALGO with fiat. Instead, you'll need to buy another token (stablecoin) in an ALGO trading pair. USDT is a good option.
Step-by-step guide:
Login to your account
Head over to the market tab down at the right of the homepage
Search and select the crypto pair ALGO/USDT you want to buy from.
After this, you will see the price chart, then you can use different order types, such as a Limit, Stop Limit, and Market order.
Click Buy

Lastly, input the amount you are willing to purchase, and your ALGO will reflect in your wallet.
What does Algorand's future look like?
The Algorand blockchain network is growing fast and has steadily been gaining adoption since its launch in 2019. Also, the platform offers some cutting-edge features from DeFi to NFTs, and its strong security and high TPS are very appealing. This has led to attention from governments, investors, and mainstream industries.
These are all good signs of a blockchain project. However, Algorand is still in its early stage, and considering the fluctuating crypto market, you should always do your own research on any token before investing.
Frequently asked questions
Is Algorand a good investment?
What does Algorand crypto do?
What is so special about Algorand?
Disclaimer
In line with the Trust Project guidelines, the educational content on this website is offered in good faith and for general information purposes only. BeInCrypto prioritizes providing high-quality information, taking the time to research and create informative content for readers. While partners may reward the company with commissions for placements in articles, these commissions do not influence the unbiased, honest, and helpful content creation process. Any action taken by the reader based on this information is strictly at their own risk.