The annual Israel Crypto Conference, hosted by the Israel Crypto Community, took place in Tel Aviv on May 23 -25.
The three-day conference featured some of the biggest names in the industry—both local and international—including Tezos, INX, SCRT Labs, Celsius, Fireblocks, and Redefine. Overall, more than a thousand participants took part in the event, which featured several expert panels discussing a wide array of industry topics, workshops, and much more. 
The event came on the heels of the Terra-induced crypto crash that saw the BTC price drop below $30,000, leaving industry leaders wondering whether the bear market will turn into another crypto hibernation.
Still,  the atmosphere inside Tel Aviv's ZOA House remained optimistic, with plenty of momentum on which to build. That's especially true of the Israeli crypto scene: One of Israel's leading banks, Bank Leumi, recently announced that it plans to enable crypto trading on its digital Pepper Invest platform, becoming the first bank in the country to offer this service. 
The sentiment that the bear market won't stop innovation—indeed, that serious companies will innovate their way out of the bear market—reigned supreme.
Developing killer crypto projects in between bull cycles
One panel in particular laser-focused on the current market: "Developing Killer Crypto Projects Between Bull Cycles," moderated by the CEO of global tech PR firm ReBlonde, Motti Peer. 
The panel featured four distinguished industry leaders: Yann Toullec, CEO of Univers, a network providing the infrastructure to create interconnection and interoperability in the Metaverse, offering a future-focused alternative to tech giants known for exploiting user information and intellectual property; Ruth Levi-Lotan, VP of Sales and Marketing for ClearX, a blockchain-based settlement and clearing solution for global enterprises across multiple industries; Asaf Naim, Founder and CEO of Kirobo, a decentralized application developer creating a safer infrastructure for Web3.0; and Nir Miretzky, Co-Founder of Loopycore, a decentralized game studio working on the upcoming Six Muskotiers game. 
The panel discussed how, and to what extent, the industry tumble affected their own company and its vertical within the greater blockchain space.
For Toullec, the current bear run is nothing new, and the best way to power through is simply by focusing on polishing their products. "We've already been in a bear market, it just gives us more time to develop," he said, adding that the downturn "pushes us to focus more on innovation."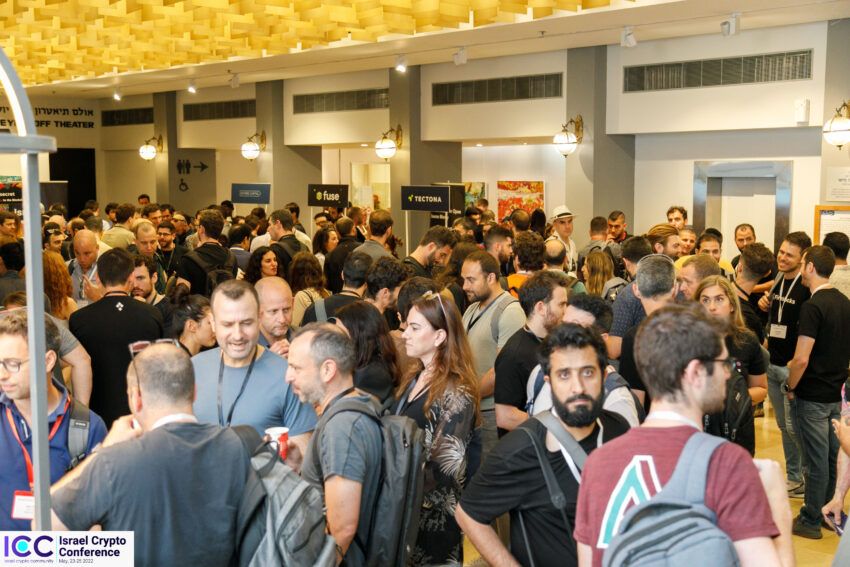 For Univers.IO, this means continuing to build key pieces of the Metaverse infrastructure, which is expected to become an $800 billion industry by 2024. 
Naim had a slightly different perspective, believing that the big companies who already have a solid product will be fine because they "emerged from the last winter" and are continuing to build and innovate. Only time will tell if this is in fact the case.
Miretzky remarked that he hasn't "been in the Web3.0 world too long but I've already met a few bears and a few bulls, so I think it's a matter of timing… there is a right time to ride the bull and not fight the bear. I just believe in the market and in the product."
With big enterprises already experimenting with blockchain use cases, Levi-Lotan said the bear market hadn't really affected ClearX because "we're outside this cycle." She noted ClearX's relationships and customers are mostly big enterprises, and therefore it's "about focusing on creating more value."
With so much uncertainty hanging over the industry right now, it was refreshing to hear industry voices with different attitudes and backgrounds share their nuanced views and not just regurgitate the usual talking points.
Not just a bear market
Crypto bear markets tend to bring out skepticism among investors and big names, and most recently Bill Gates discussed his refusal to invest in crypto because he doesn't think it adds value to society the way other types of investments do. Of course, the panel of crypto innovators disagreed.
"Crypto is leading a way to achieve new innovation, more data freedom, more ownership… maybe he is a little old-fashioned," Toullec said.
Such an answer is a no-brainer for the blockchain-industry panelists. All of them, after all, are in this because they firmly believe that technology is going to transform everything we know about money, digital ownership, and more. Still, Miretzky predicts "we will see Microsoft versions of Web3.0," but "leave the games for us!"
When asked if he thinks the Metaverse will be built on blockchain, Toullec replied with a resounding "yes, absolutely." He added that "the integration of data is the purpose" of the Metaverse, so therefore building true digital worlds using blockchain is the best route.
As more and more people invest in crypto, and hackers increasingly pull off massive thefts, discussions surrounding how to best provide custody services have taken center stage. When asked what crypto custody will look like in the next bull market, Naim responded that an MPC (multi-party computation) wallet is the best bet. 
"There are a few protocols that work on MPC in a decentralized way. It's not bulletproof like some big companies who use this technology today, but in two years it will be in a much better place," he explained.
We are always hearing about how blockchain is the future and that it can provide great value for so many different industries. To this point, Levi-Lotan said the telecom, healthcare, and energy sectors stand to benefit from blockchain technology because they are plagued by "antiquated systems and workflows set up decades ago."
Going back to the cyclical nature of the crypto markets, NFTs played a major role in the last bull market. Miretzky believes that the next bull run will see more gamers joining in, while the previous one was driven by crypto-oriented speculative traders.
Perhaps more importantly, he sees "many other Web3.0 games trying to build better games rather than a better use case for blockchain. We are trying to be ready for when [gamers] come." 
The ICC comes on the heels of the more than $1 billion raised in funds for crypto and blockchain companies from the Startup Nation over the last year. Furthermore, last November saw the centralized exchange powerhouse CoinBase acquire Petah Tikvah-based Unbound Security for $150 million.
The press release announcing the acquisition stated that CoinBase has "long recognized Israel as a hotbed of strong technology and cryptography talent." 
The Israel Crypto Community has several upcoming events, where it hopes to continue establishing the country as a crypto hotbed. The Web3.0 for developers Conference will be held on September 22 and, for the first time, developers with or without knowledge of blockchain and crypto are invited to join for a full day of learning and workshops with some of the biggest companies in the space from Israel and abroad.
Additionally, the next Israel Crypto Conference will be held on December 7-8 and will feature many international companies.   
Disclaimer
The information provided in independent research represents the author's view and does not constitute investment, trading, or financial advice. BeInCrypto doesn't recommend buying, selling, trading, holding, or investing in any cryptocurrencies