Gold hit a 9 month low on Monday. The yellow metal has been in steady decline in 2021, despite the incoming commodities supercycle.
Gold has often been perceived as a reserve asset that holds its own despite the macroeconomic climate. This year, amidst the global pandemic and turbulent markets, gold has been in steady decline.
2021 Hasn't Been Gold's Year
At the time of writing, Gold is trading at $1,687 per ounce. Year to date, the asset has lost more than 11% in value.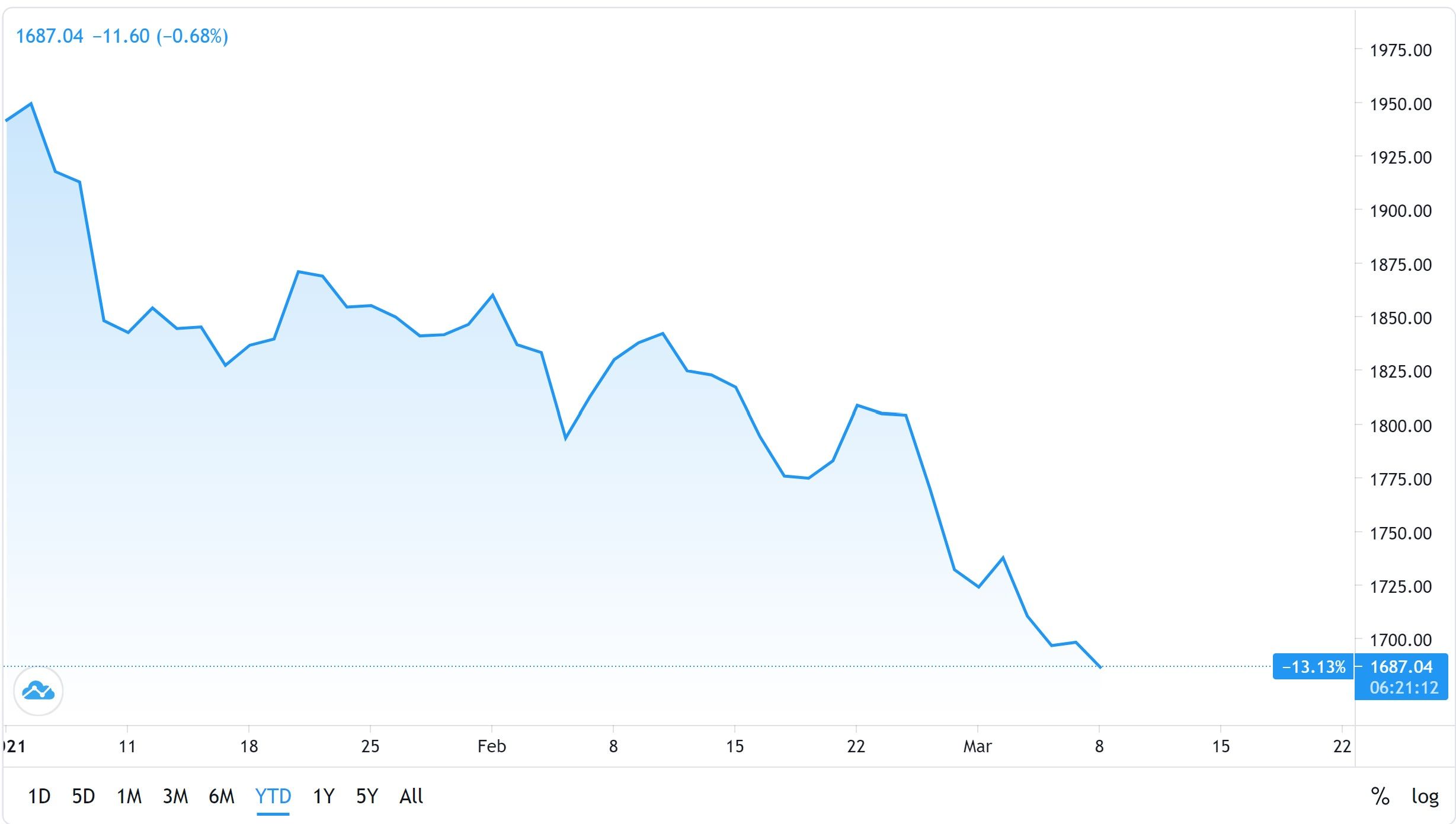 In contrast, Goldman Sachs proclaimed at the start of the year that this could be the beginning of a "much longer structural bull market for commodities."
Even JP Morgan stated that commodities seem to have begun a new supercycle of years-long gains. This boom seems likely due to Wall Street betting on a robust economic recovery from the pandemic's setback and as a hedge against inflation.
A commodities supercycle could be incoming based on industry experts' opinions and the COVID 19 restrictions slowly being lifted across countries. Gold has been the outlier considering other metals like Silver, Copper, and Nickel have been on an upwards run.
BTC Bounces Back
Meanwhile, Bitcoin (BTC) has been recovering from the market slump that hit the market on Feb. 22. The price dip led institutional investors like MicroStrategy and Square to buy the dip strategically.
After a period of uncertainty and sell-offs, on Monday, bitcoin breached the $50,000 mark again. At the time of writing, bitcoin is currently trading in the $51,000 range. This bounce back in price has given bulls hope yet again, hoping the asset moves upwards here on.
The last time Bitcoin breached the $50,000 mark; it reached its all-time high of $58,341 on Feb. 21.
Bitcoin is often also referred to as "Digital Gold." Thus, the constant comparisons with Gold as an asset follow closely. When comparing recent returns of the two assets, it is evident that Bitcoin has been giving superior returns to investors. Bitcoin's YTD gains are 72.62% whereas, Gold has given a negative return of 11% year to date.
Disclaimer
BeInCrypto has reached out to company or individual involved in the story to get an official statement about the recent developments, but it has yet to hear back.